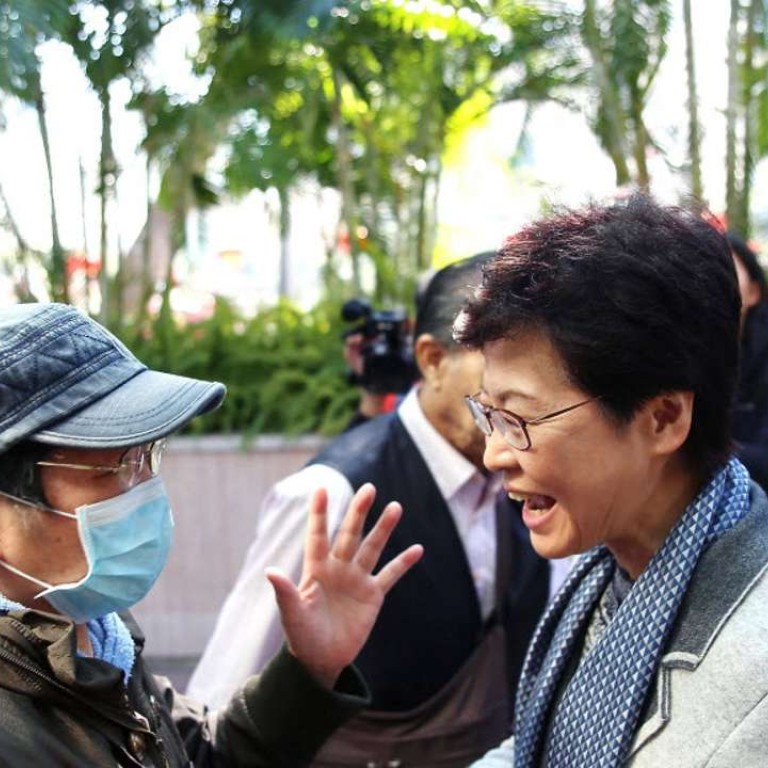 Carrie Lam says she could lose Hong Kong chief executive race in showdown with John Tsang
Ex-chief secretary also admits reluctance to do unfamiliar things and struggle to adapt to new life following her resignation
Chief executive contender
Carrie Lam
Cheng Yuet-ngor has admitted she could lose when members of the election panel make their choices in a secret ballot if her rival
John Tsang
Chun-wah musters enough nominations for a final vote showdown on March 26.
"I know well some business people have reservations about me. Some said I don't have a good grasp of economic and financial affairs. Others criticise me for spending too much on welfare," she said.
The former chief secretary said yesterday that while she recognised the need to boost her popularity, she would stay the person she was when campaigning.
"It would sound odd if you did something you wouldn't normally do," she said. "I'd like to do something of which I have a track record, such as visiting people in the community with whom I have maintained contact for years."
Lam conceded a reluctance to do unfamiliar things, and said she had struggled to adapt to her new life since resigning from her job as the city's No 2 official last Monday. "On January 16 when
Beijing approved my resignation
, I had to finish clearing my office ... and move out of my official residence within 30 days," she said.
Lam moved yesterday to a Wan Chai unit but said she found at midnight it had no toilet paper. "When I went to a nearby convenience store, I realised that they didn't sell toilet paper ... so I had to return to my official residence," she said.
Lam said she would try her best to protect her family's privacy during her leadership bid. Her husband Lam Siu-por, a mathematician, and her younger son, a student in the US, would not join in her election efforts.
She added that her elder son, now working on the mainland, would be the only family member possibly willing to take up a campaign role.
Meanwhile, former commerce minister Frederick Ma Si-hang said he believed all four candidates in the Hong Kong leadership race were "capable, accountable and devoted".