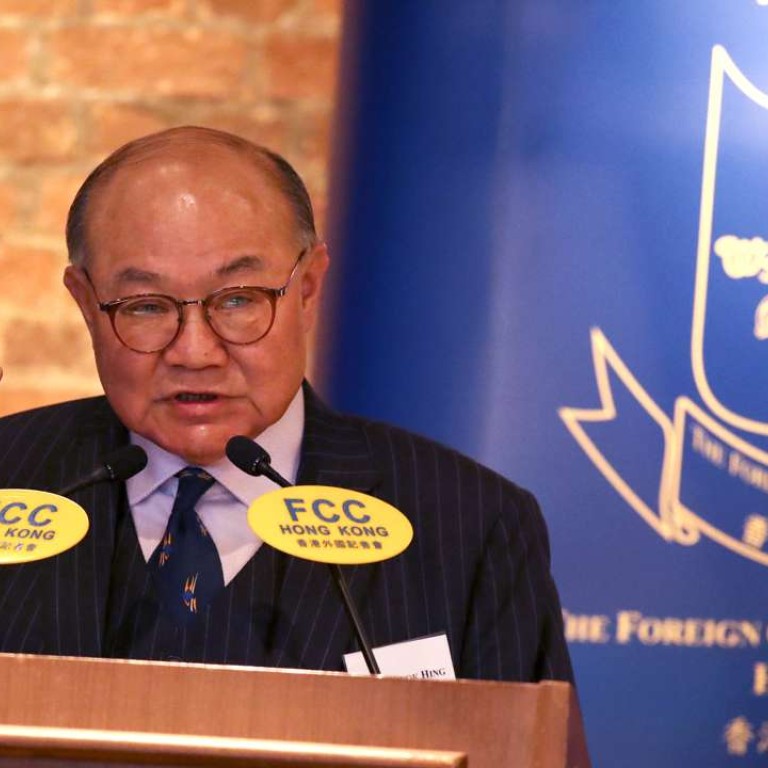 Woo Kwok-hing 'confident' about obtaining enough nominations to formally run in Hong Kong chief executive election
He believes most will come from pan-democratic camp, though he is unsure how many will vote for him
Chief executive contender Woo Kwok-hing said he remains "quite confident" about getting at least 150 nominations to formally enter Hong Kong's leadership race, as he believes pan-democrats will form the majority of his nominators.
Woo, a retired High Court judge, spoke on Tuesday amid worries among pro-Beijing politicians that there might be "too many candidates" in the March election after former ministers Carrie Lam Cheng Yuet-ngor, John Tsang Chun-wah and Regina Ip Lau Suk-yee announced their bids.
He also urged media executives who attended a closed-door meeting with Lam on Friday to disclose whether the former chief secretary had launched a veiled attack on her opponents. Lam was quoted as saying during the gathering that Hong Kong could face a constitutional crisis if Beijing found the winner unacceptable and refused to appoint him or her. She denied targeting anyone, saying she was just stressing a general principle.
Speaking at a luncheon at the Foreign Correspondents' Club on Tuesday, Woo said he was "quite confident that [he] would get sufficient" nominating votes.
Referring to the pan-democratic camp which has more than a quarter of the Election Committee's 1,194 seats, Woo said: "Apparently most of my support will be from the pan-democrats, not the pro-establishment.
"The pro-establishment people don't want to expose their inclinations because if they nominate you, their nomination may be … said to be wrong eventually."
He continued: "Apparently, the mainland [authorities] will not care so much about how [the pan-democrats] are going to vote … But that's important for me, because I need to get sufficient votes, to get through the gate."
However, Woo conceded after the luncheon that he did not know how many democrats would be nominating him.
"Many people support me, but if you ask them to sign the [nomination] form, they will say they need to go back for more internal discussions or study … or more time to read other candidates' platforms," he said.
On Monday, Ip cautioned that overwhelming support for Lam from the Beijing-friendly camp, especially its newspapers, could be counter-productive and end up harming Lam's campaign.
Woo echoed Ip's point, warning: "If Lam is getting more than 700 nominating votes, other candidates don't need to run. That will be 'game over'."
At Tuesday's luncheon, he also reiterated that he wanted to bring changes to Hong Kong through six proposals. The proposals comprise political reform to achieve a popular ballot for the chief executive race in 2022, introducing an archives law, a national security legislation, amending the anti-bribery law to include the chief executive, limiting the chief executive's legal power over universities' governance, and introducing a bill to make mainland officers' meddling in Hong Kong affairs a criminal offence.