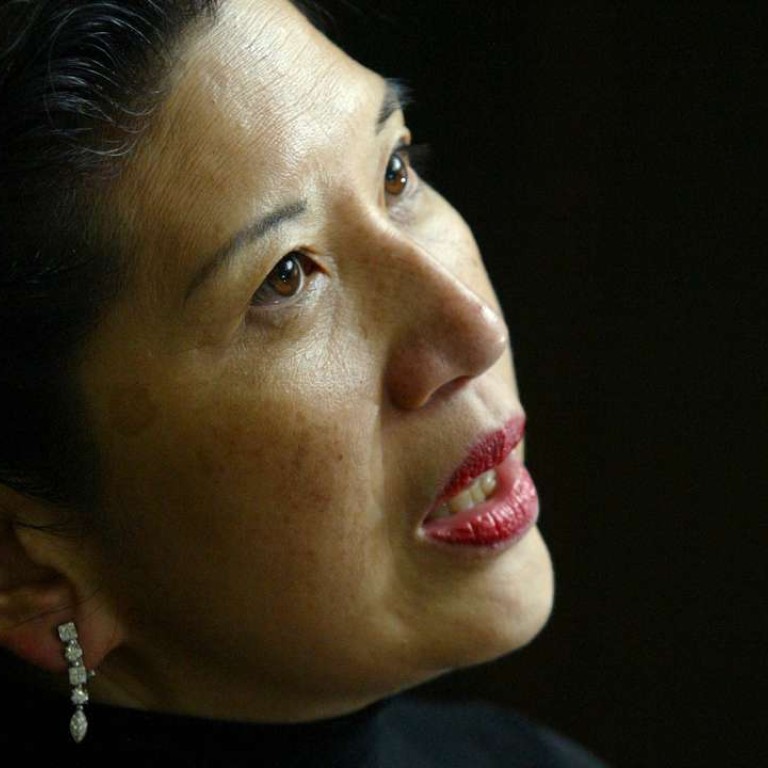 Hong Kong tycoon Marjorie Yang backing John Tsang's chief executive campaign
Marjorie Yang bankrolling old friend's bid, and could become former finance chief's top public backer
A businesswoman who helms a global shirtmaking enterprise and is a close friend of Hong Kong's richest man, Li Ka-shing, is among the few heavyweights behind former finance minister
John Tsang
Chun-wah's
bid for the city's highest office
, the
Post
has learned.
Marjorie Yang Mun-tak – dubbed the "Cotton Princess" because of her family business, Esquel Group – is backing Tsang's campaign financially, according to two well-connected businessmen. One of them said Yang supported Tsang because they had been friends since their undergraduate years at the Massachusetts Institute of Technology in the United States.
"She favours John because she believes Hong Kong badly needs a respite after society has been split for years," the businessman said.
Ahead of the two-week nomination period, which starts on February 14, all four contenders are canvassing support from the 1,194-member Election Committee that will pick one of them for the top job.
Yang, a committee member, is among the few in the pro-establishment camp to side with Tsang.
Each contender must receive 150 nominations – which are openly declared – to enter thepoll on March 26.
Tsang's campaign office declined to comment on whether Yang had donated, only saying the office was still raising funds. His team has declared to the electoral office an estimated campaign budget of HK$15.7 million.
Yang did not respond to requests for comment.
Seen as a liberal figure in the pro-establishment camp, Yang is a former executive councillor and is currently a deputy to the Chinese People's Political Consultative Conference. In 2015 she was seen with Li Ka-shing at the funeral of Singapore's founding prime minister, Lee Kuan Yew.
A week since Tsang announced his candidacy, he is seen as an establishment underdog, operating with a team of mostly former civil servants, without any heavyweights publicly backing him.
Another strong contender, former chief secretary
Carrie Lam
Cheng Yuet-ngor, has an all-star campaign team and is said to be backed by Beijing's liaison office in the city. Some Election Committee members have said the liaison office persuaded them to nominate Lam and vote for her, to help her win by a landslide.
With Lam's firepower, the question now is whether the other three candidates, Tsang included, will get those 150 nominations.
A Tsang supporter in the industrial sector, who declined to be named, said he would not nominate Tsang due to pressure from seniors in his sector. Two newspapers have reported that on Tuesday, in a closed-door meeting between Lam and the sector, veteran businessman Chan Wing-kee said: "Not backing Lam means not backing Beijing."
Chan denied that, but the Tsang backer said: "His pre-emptive move would make it difficult for others to disagree as nominations will be made public."
But Tsang may be able to find some friends in the Liberal Party, whose leader, Felix Chung Kwok-pan, has also reported the liaison office lobbying him.
"It is most important to have a fair election. Those who should be in the race should be allowed to enter," Chung said.
The party can influence about 100 votes, Chung said, including the 20-plus its own members hold and about 70 seats held by its allies in the four business sectors in the committee that they represent in the Legislative Council. The party's honorary chairman, James Tien Pei-chun, was the first to pledge support for Tsang.
But Tsang could still need a boost from the pan-democrats, a situation he acknowledged in his declaration speech when he said he would lobby voters from across the political spectrum.
The pan-democrats, taking up 326 Election Committee seats, could still nominate Tsang, even after he disappointed the camp last week by saying he would refer to a Beijing-decreed framework for universal suffrage, which Hong Kong lawmakers voted down in 2014, as the basis for any future voting reform.
The camp said for "strategic" reasons it would relax its nominating criteria in relation to the reform issue in order to maximise competition and resist Beijing's "manipulation".
It has enough votes to nominate two people, and has not ruled out anyone except Lam. Apart from Tsang, it will have extra votes for the two other hopefuls,
Regina Ip
Lau Suk-yee and
Woo Kwok-hing
, to compete for.
Woo, a retired judge, has made it clear that he will only count on pan-democrats to qualify. His relatively liberal stance on electoral reform might earn him some sympathy from the camp.
The case for Ip would depend on how flexible she could be with her platform. The former security minister said on Thursday she also needed pan-democrats' nominations.
Civic Party chairman and legal sector committee member Alan Leong Kah-kit said: "It is up to Regina Ip to make her case if she wants nominations from the pan-democrats. If she sticks to her position that the reform framework [set by Beijing] is unchangeable, she can save the fuss."
This article appeared in the South China Morning Post print edition as: Close friend of Li Ka-shing backing Tsang's campaign