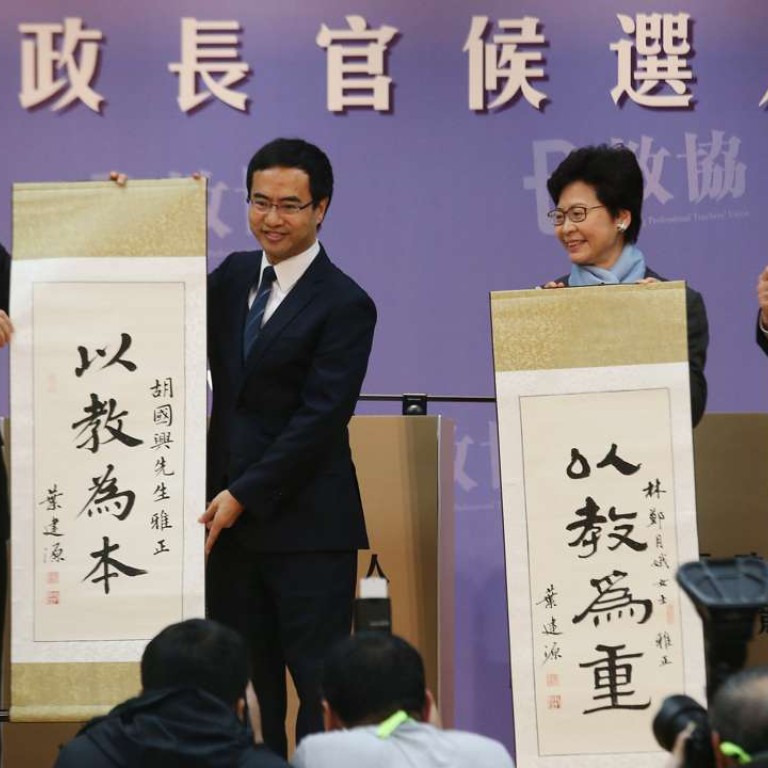 I've become victim of white terror, Hong Kong chief executive candidate Carrie Lam says
Former chief secretary tells forum for chief executive candidates that online criticism has extended to supporters, including actress Josephine Siao
Considered Beijing's favourite as Hong Kong's next leader,
Carrie Lam Cheng Yuet-ngor
claimed she had become a victim of "white terror", accusing her opponents of resorting to rhetorical attacks against even those who voiced support for her bid.
The former government No 2 also tried to play down the symbolic hug given by former chief executive Tung Chee-hwa last December, saying they usually "hug as a greeting" when they meet, as sources said Tung had asked pro-establishment figures in Beijing to vote for "the person he had hugged".
Lam raised the "white terror" issue on Sunday during an otherwise bland forum in which she went head-to-head for the first time with rivals
John Tsang Chun-wah
and
Woo Kwok-hing
.
The two-hour forum, held at a primary school in Cheung Sha Wan, was organised by the Hong Kong Professional Teachers' Union, which has 43 votes in the 1,194-member Election Committee that will pick the city's next chief executive on March 26.
The candidates took 13 questions from the 400 people in the audience.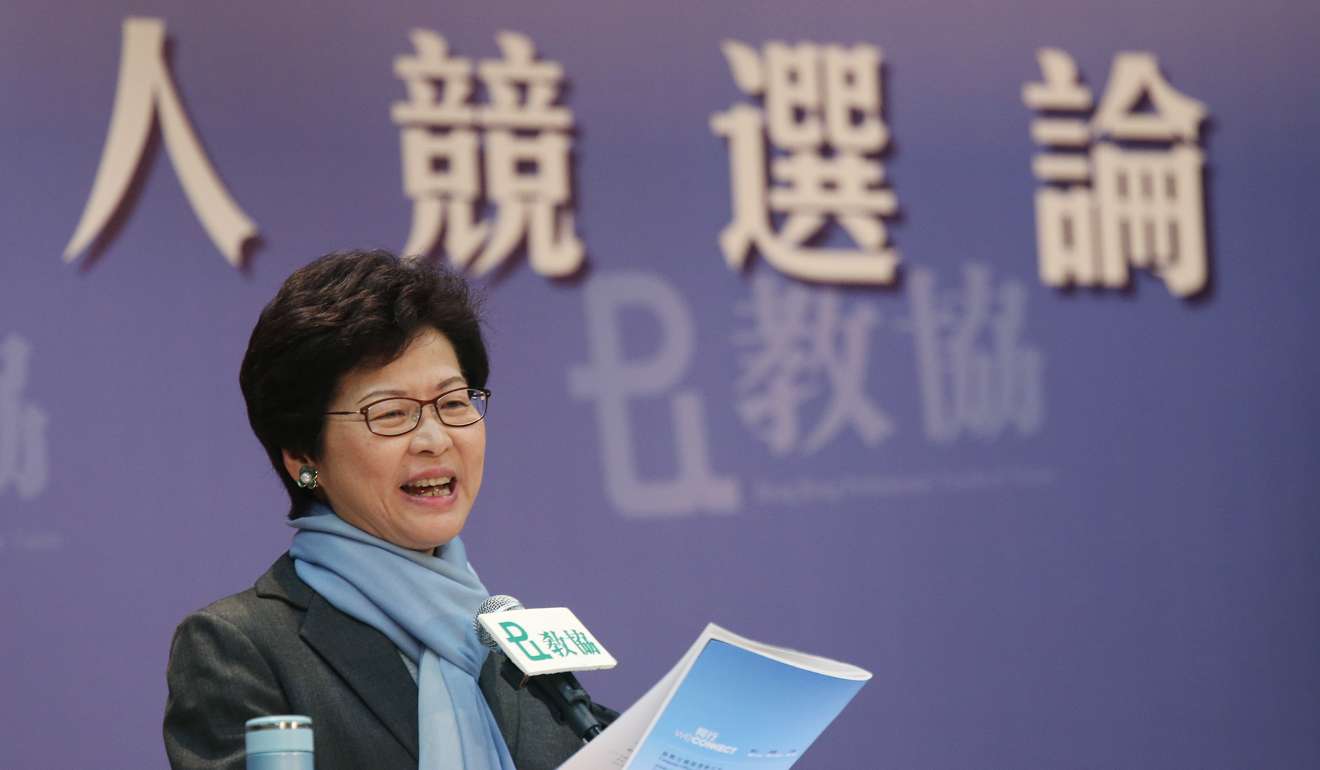 Lam replied: "I have recently become a victim of white terror. Whatever I say will draw criticism on the internet. I have been prepared for that. But this kind of white terror has extended to those who support me, including [popular actress] Josephine Siao ... It drew personal attacks against her on the internet. This kind of white terror should not be tolerated."
Last week, Siao praised Lam and thanked her for her help in charity work when Lam was social welfare director in a video uploaded on to the former chief secretary's Facebook site.
This drew criticism of Siao, who has hearing problems, with critics saying she was getting "blind" after becoming "deaf". Some also accused her of being "brainless" for supporting Lam.
Tsang came to the defence of Siao's critics, saying "freedom of speech is Hong Kong's core value." He added: "Online comments are not white terror. There has been a series of incidents lately – everybody knows what they are – real white terror."
He referred to media reports that Beijing was working behind the scenes to exert pressure on Election Committee members to vote for Lam.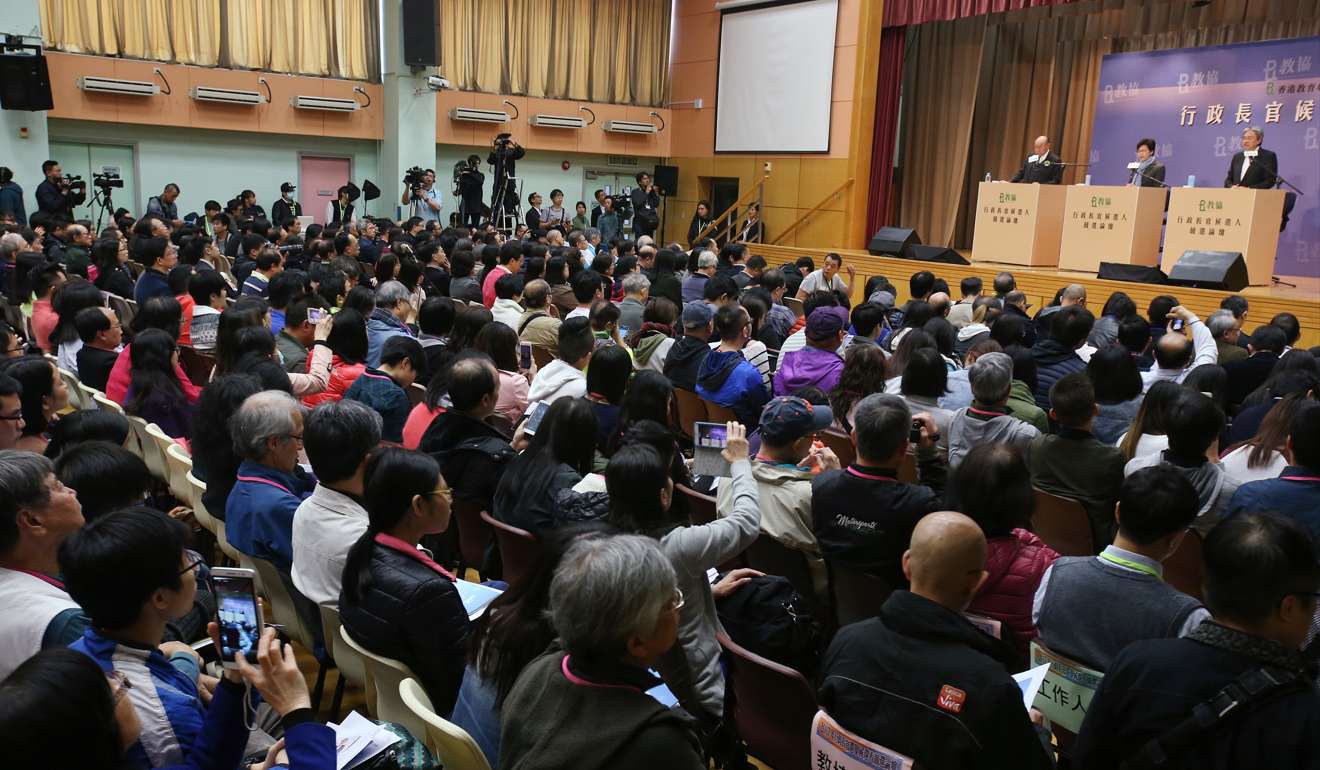 On Saturday, Tung, now a vice-chairman of the Chinese People's Political Consultative Conference, was reported to have told a group of pro-establishment figures in Beijing that
they should vote for "the person I hugged"
.
Tung hugged Lam during a ceremony to mark the 1937 Nanking massacre, sparking speculation that it signalled Beijing's approval of Lam.
A spokesman for Tung said there would be no further comments on the reports.
The forum was largely repetitive, with most questions about the candidates' plans to improve the education system. The trio mainly gave rehearsed answers, repeating previous arguments.
However, tension grew after a participant asked a question about political reform.
Lam became stony-faced after Tsang criticised her for
her failure in the reform exercise
. After the forum, she argued it was not her "personal failure" as all other secretaries were also involved in promoting the reform.
Tsang argued that it was Lam who had been in charge of the exercise and he himself only took part in "one car parade" to promote the plan to allow the people to elect the chief executive.
Additional reporting by Jeffie Lam
This article appeared in the South China Morning Post print edition as: I've become a victim of white terror, Lam says