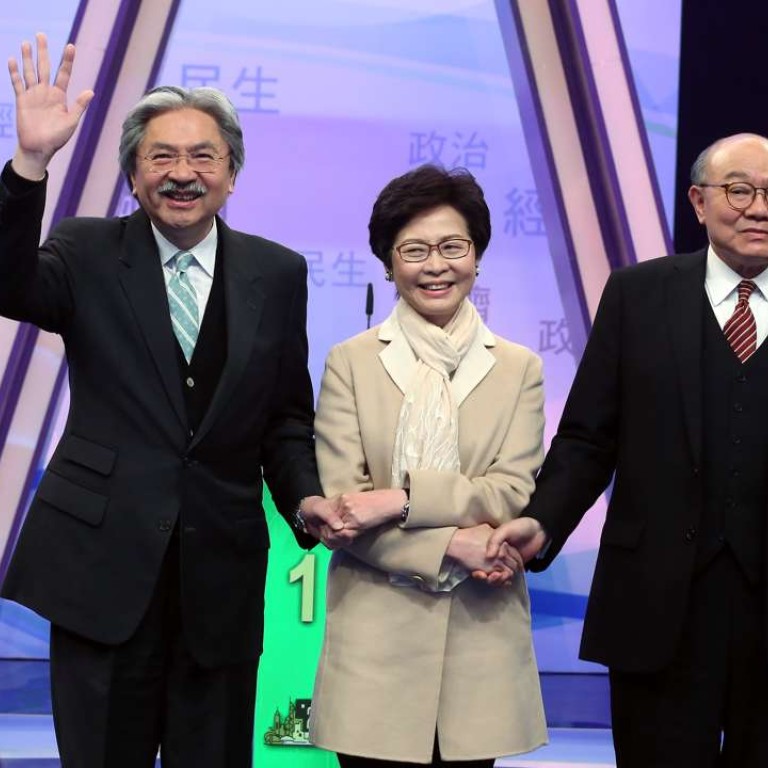 'I'd resign if mainstream opinion against me,' Carrie Lam says as leadership rivals trade blows in debate
Chief executive candidates pull no punches when questioning each other in contest's first televised debate
Chief executive hopeful
Carrie Lam Cheng Yuet-ngor
said she would quit if she became too unpopular to continue after being elected, as she and arch-rival
John Tsang Chun-wah
traded blows during the contest's first televised debate on Tuesday night.
Tsang began by teasing the former chief secretary about her nickname "CY 2.0" – the implication being she would continue in the divisive style of the outgoing chief executive, Leung Chun-ying.
Lam hit back by challenging Tsang for advocating a progressive profits tax, an idea he had opposed when he was financial secretary. The former chief secretary, considered Beijing's preferred candidate, also pulled up Tsang for not allocating sufficient funding for public hospitals.
The two-hour debate, hosted by seven electronic media outlets, began at 8pm, with opening remarks on the candidates' policy platforms. This was followed by questions from journalists and members of the audience.
But the highlight came when the three candidates directed their questions at one another.
Tsang, Lam and retired High Court judge
Woo Kwok-hing
pulled no punches as they tackled topics like political reform, ways to mend rifts in the community, economic development and soaring house prices.
"Do you know why you are called CY 2.0?" Tsang asked her.
"Because CY 1.0 has decided not to run," she replied. "Some people need a substitute to vent their grievances."
"People do not fear CY 2.0 much, but they do fear society will continue to split 2.0 if you win," Tsang said.
He argued that political problems required political solutions – such as by relaunching the failed electoral reform process. Lam disagreed that political reform could solve all problems.
She emphasised her regular meetings with members of the public in recent years and queried why Tsang had not done so more often, saying it was probably because he was "busy writing things on his keyboard behind closed doors".
She was surprised Tsang had so much time to gather so many "likes" on his blog during his time in government. "You [Tsang] have a good political assistant. If you don't win the election, I welcome your assistant Julian Law Wing-chung into my team," she said.
Responding to a question from the audience on her popularity once in the job, Lam said: "If mainstream opinion makes me no longer able to continue the job as chief executive, I'll resign."
Woo took Lam to task for failing to consult the public on the building of a Hong Kong version of Beijing's Palace Museum in the West Kowloon Cultural District.
Regina Ip Lau Suk-yee
, who withdrew from the race two weeks ago after failing to secure the required 150 nominations from members of the Election Committee, said Tsang was the best performer and emerged as the most likeable candidate.
She said he was the more sincere and confident, and scored marks for his human touch.
Ip said Lam "did OK" by showcasing her strength – familiarity with policies – but she sounded "too bureaucratic".
The Election Committee's 1,194 members will pick the winner on March 26.