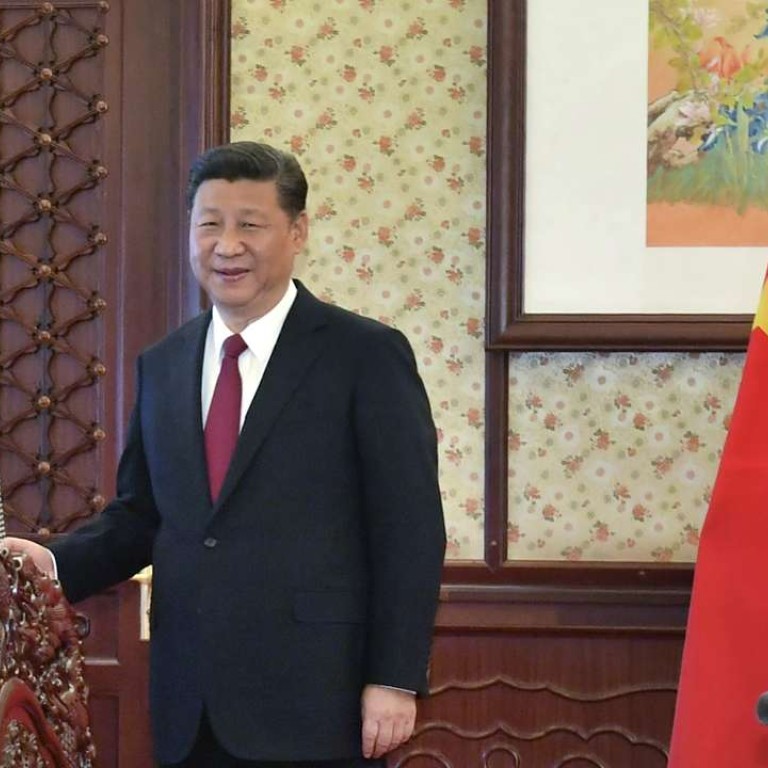 Xi Jinping reminds Carrie Lam of need to solve Hong Kong's conflicts and challenges
President showers praise on leader in waiting while emphasising her heavy responsibilities, while Lam says she raised city's concerns about political reform
In their first meeting since
Carrie Lam Cheng Yuet-ngor
was elected Hong Kong's next leader,
President Xi Jinping
on Tuesday reminded her of her heavy responsibility to resolve conflicts and challenges facing the city, while throwing his "full support" behind her.
Wrapping up her duty visit to the capital, Lam told the media she had conveyed Hongkongers' concerns and sentiments regarding Beijing's rigid framework for the city's constitutional development, though she reiterated the blueprint would remain the basis for future political reform.
All eyes were on the meeting in Zhongnanhai, the state leaders' compound, just hours after Lam received her official certificate of appointment as the city's chief executive from Premier Li Keqiang.
Xi showered praise on Lam, but also reminded her of the need to resolve conflicts in the city as he pledged the central government would not sway in its determination to uphold the "one country, two systems" governing formula.
"In the past 20 years, Hong Kong has gone through many ups and downs. Especially in recent years, some long-standing conflicts and problems have been gradually exposed," he observed.
"At this stage, there are challenges and risks, but there are also opportunities and hopes. As the new chief executive, you have a great responsibility."
"You firmly love the country and love Hong Kong, you have been willing to shoulder responsibilities and you are capable of controlling complicated situations. You have high recognition in society," he said, adding that the former chief secretary fitted the central government's criteria for the top job.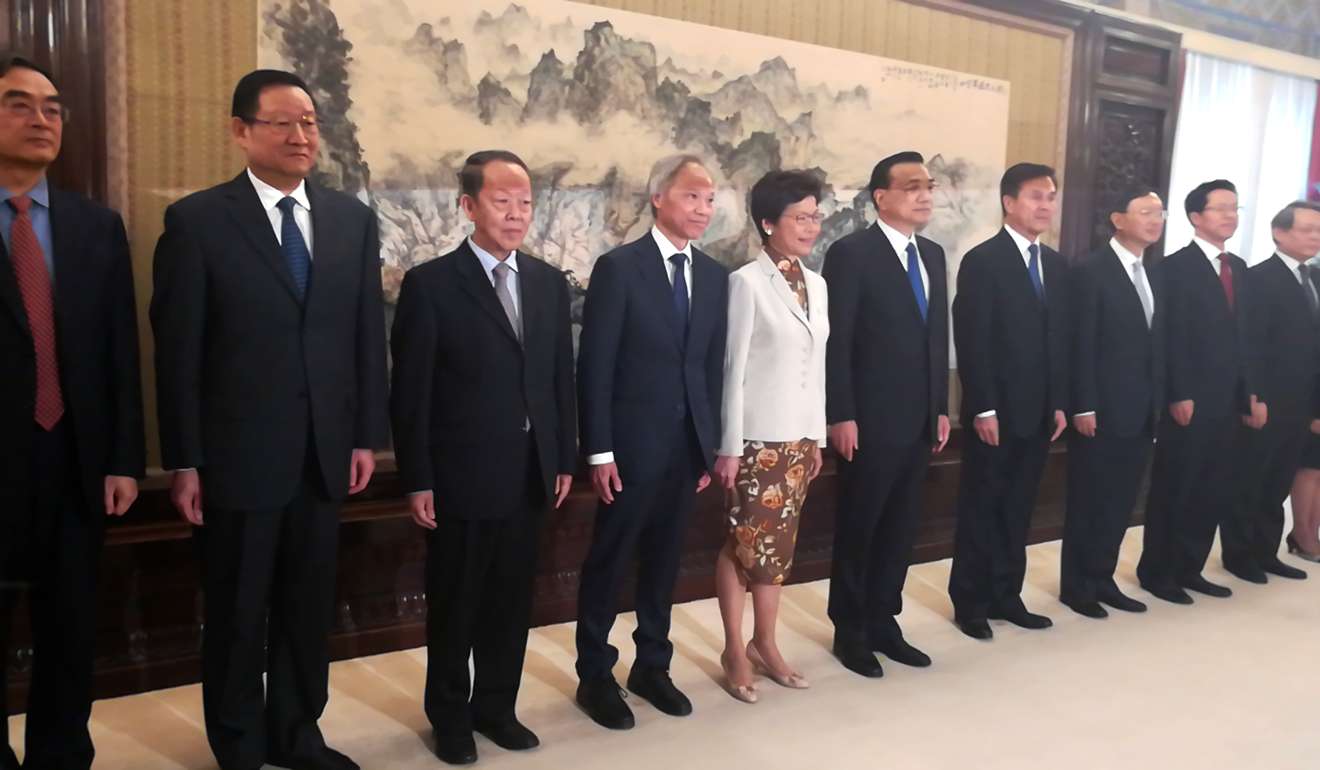 It was the first time that Xi had spoken publicly about Hong Kong affairs since Lam, perceived as Beijing's favoured candidate, beat popular underdog John Tsang Chun-wah in the March 26 poll.
Xi looked at a script most of the time as he spoke to Lam, while she sat beaming at him throughout.
In 2012, when Leung Chun-ying won the chief executive election, then president Hu Jintao asked him to unite various sectors of the community, boost economic development, improve livelihoods, advance democracy and foster harmony to ensure the "long-term prosperity and stability" of Hong Kong.
But the call to "advance democracy" was conspicuously missing from Xi's remarks on Tuesday, as well as in the opening remarks by Li, who only urged Lam to develop the economy, unite all sectors of society and take the city to "a new level".
The approach contrasted with that of former premier Wen Jiabao, who encouraged the past two chief executives to work towards advancing democracy.
Lam on Tuesday cautioned against over-interpreting the missing democracy reference, as it had already been highlighted by the State Council last month in relation to her appointment.
Lam said she had briefed Xi on Hongkongers' sentiments regarding the "August 31 framework". That referred to the 2014 resolution handed down by the National People's Congress Standing Committee, which would allow universal suffrage subject to a 1,200-member nominating committee approving chief executive candidates deemed acceptable to Beijing before a public poll.
"I did refer to some sentiments and concerns about the NPCSC resolution on August 31 about the constitutional development," Lam said. "But of course, the leaders would also notice that in my manifesto, my position on restarting constitutional development in Hong Kong is pretty clear ... Those discussions will have to continue to use the August 31 resolution as the basis."
She said she also told Xi that Hongkongers "very much" cherished their freedoms, way of life and democratic aspirations.
Lam, who did not commit in her manifesto to restarting the stalled political reform process, refused to disclose Xi's response. Instead, she pledged to create a conducive environment for it.
Civic Party leader Alvin Yeung Ngok-kiu suggested Lam was attempting to downplay people's worries about the issue.
"If she thinks it's enough to convey 'concerns' in order to honour a pledge, I'm afraid it's far from the political responsibility she should be shouldering," Yeung said, adding it was a "good sign" that she stressed Hong Kong's core values.
Chinese University political scientist Ivan Choy Chi-keung suggested Lam was not revealing the president's response because it might not be what most Hongkongers wanted to hear.
This article appeared in the South China Morning Post print edition as: xi reminds Lam of need to solve hong kong's conflicts