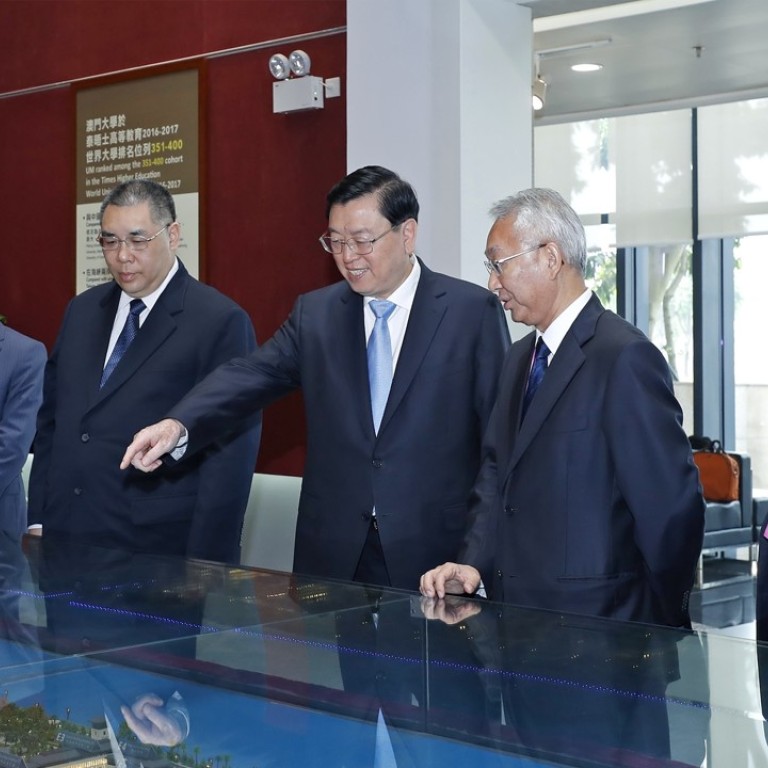 China's No 3 official warns Macau teachers against spreading 'evil thoughts' in veiled shot at Hong Kong separatists
Zhang Dejiang reminds educators of their importance as pro-independence sentiment bubbles away in Hong Kong universities
China's No 3 official has warned educators in the former Portuguese enclave of Macau against "instilling selfish desires and evil thoughts" into the minds of young people, in comments quickly labelled a veiled attack on the spread of pro-independence sentiment at schools and universities in neighbouring Hong Kong.
Zhang Dejiang, chairman of China's national legislature, was speaking a day after he heaped praise on Macau for its patriotism and regard for national security, holding up the special administrative region as an example to its counterpart across the Pearl River Delta of how to meet Beijing's expectations.
Before boarding a flight out of the gambling hub at the end of a three-day visit, Zhang, the state leader in charge of Hong Kong and Macau affairs, was asked if his comments were aimed at Hong Kong, which has been far less pliant to Beijing's influence than Macau since the two former colonies were returned to China under deals that allowed them to retain a high degree of autonomy.
"This trip has been very successful, I am very satisfied," was Zhang's reply.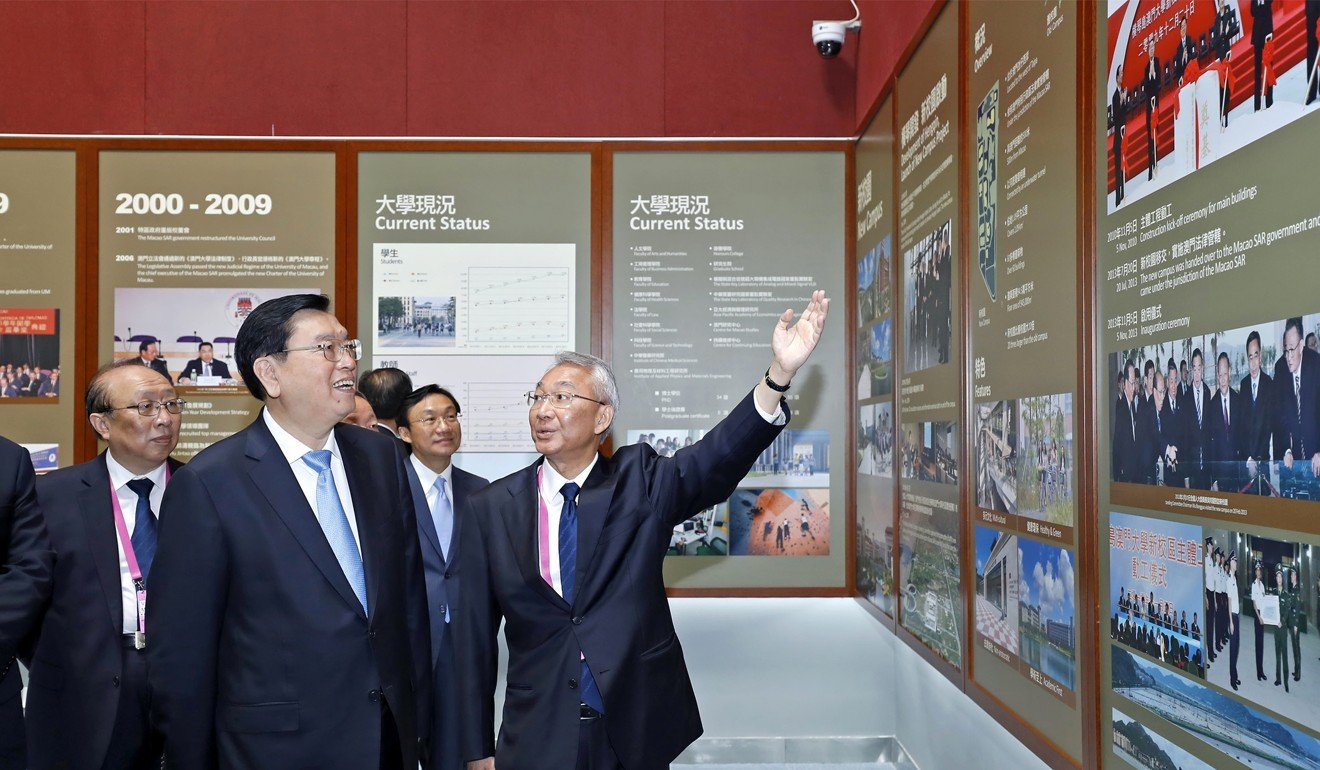 Zhang's last stop on Wednesday was Macau University's Hengqin campus, in the neighbouring city of Zhuhai, just across the border in mainland China. Beijing awarded the site to Macau on special terms in 2009 to encourage the city to diversify its economy and wean itself off overreliance on gaming.
Addressing about 100 officials, educators and university student leaders during a seminar, Zhang said teachers should help students build the right character and core values.
"Teachers have a huge responsibility in grooming and moulding people. Your morals and personal character have a direct influence on students ... [You] must teach the right concepts about life, the world and morals, and not instil selfish desires or evil thoughts that would lead them astray."
He said educators were especially influential because students did not always listen to their parents, but "they listen to teachers".
On Tuesday, Zhang urged the Macau government to experiment with the implementation of national education – a curriculum to teach pupils about China and its history – which remains a sensitive topic in Hong Kong after the city's government shelved such a plan in 2012
amid public opposition
.
Sulu Sou Ka-hou, vice-president of the pro-democracy New Macau Association, said Zhang's remarks were another warning to Macau about what it should not learn from Hong Kong.
"There is a Hong Kong factor in his remarks ... but I don't think ideas such as localism or independence can be discussed in campuses here like in Hong Kong, because there is no such freedom or space," Sou said.
Zhang also said that the "one country, two systems" framework, the formula under which Macau and Hong Kong are governed, had been at the core of Macau's success since its handover to China from Portugal in December 1999.
He said Macau's key economic figures since that year, including gross domestic product, GDP per capita and government revenue, had multiplied, while the unemployment rate had fallen from 6.3 per cent in 1999 to less than 2 per cent.
"It is an important mission for Macau to groom and line up a large group of virtuous and capable people to govern the city and make it flourish," Zhang said.
He said his three hopes for students were that they would be determined to contribute to their hometown and the country, know more about China's achievements, and inherit and continue with the implementation of the "one country, two systems" framework.
This article appeared in the South China Morning Post print edition as: Don't spread evil thoughts, Zhang warns Macau teachers