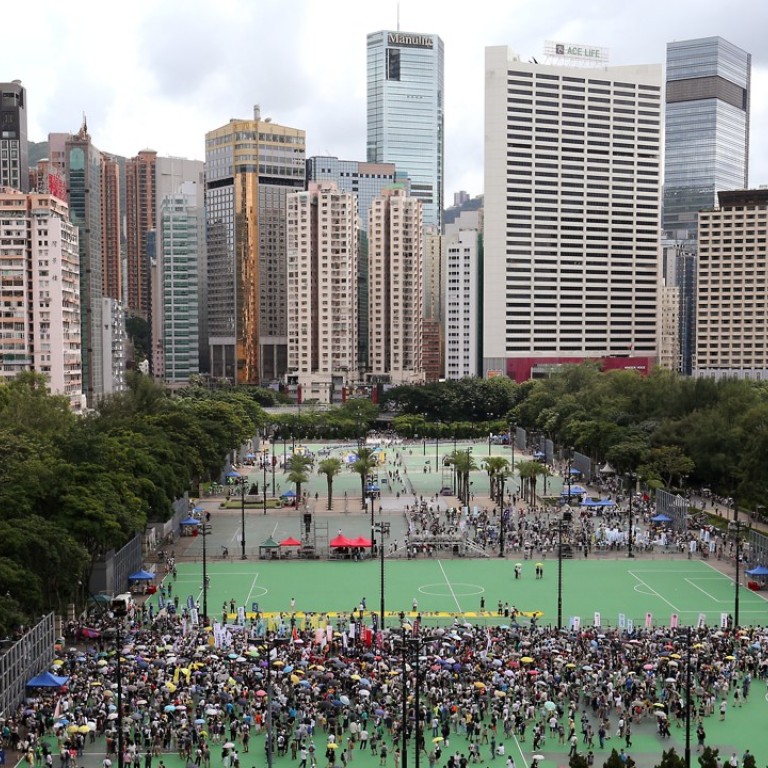 Pro-Beijing group given priority for July 1 march venue at Victoria Park over annual event organiser
Anger after Hong Kong Celebrations Association books football pitches used at the start of annual protest demanding democracy
Hong Kong's annual pro-democracy march on July 1 may be unable to start at Victoria Park because a pro-Beijing group celebrating the 20th anniversary of the city's ­return to China has been given priority.
Au Nok-hin, convenor of the Civil Human Rights Front, ­queried the decision by the Leisure and Cultural Services Department, which is responsible for ­allocating the venue.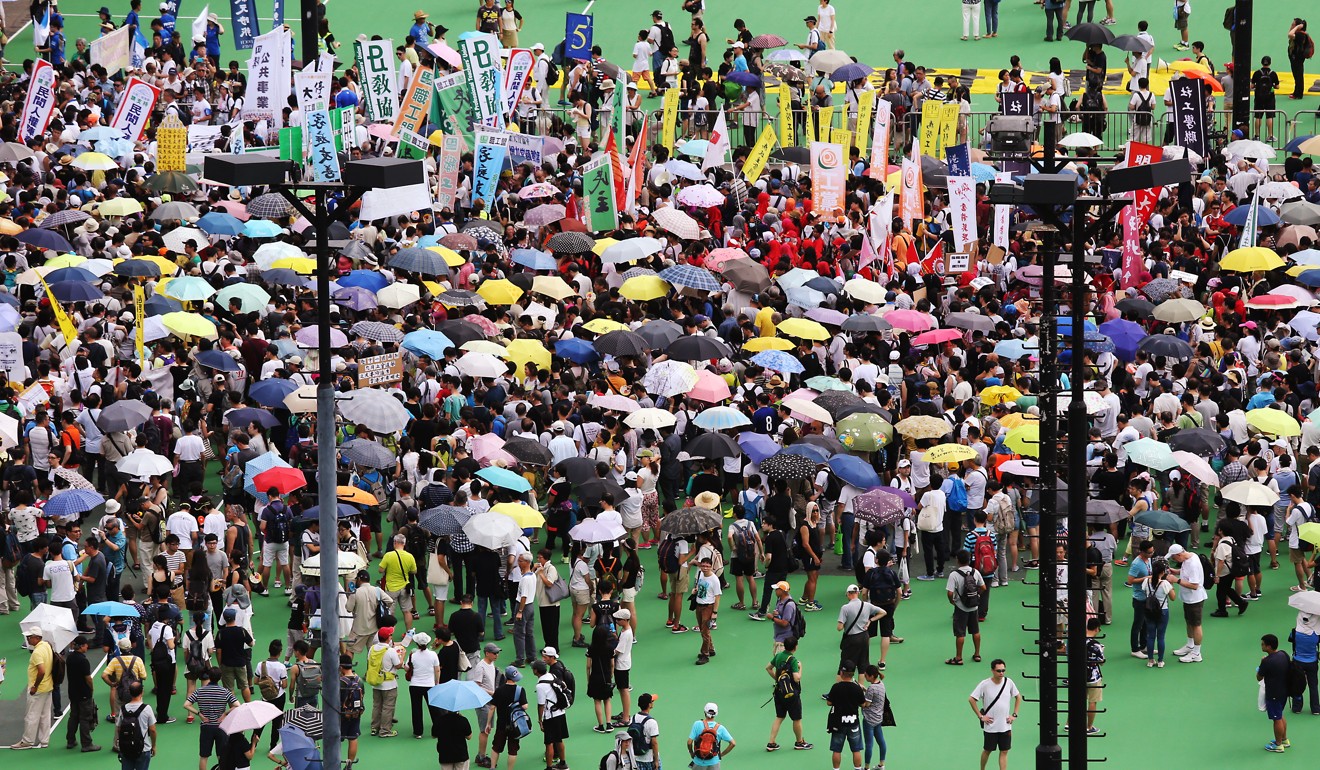 The front applied for use of the six football pitches at the Causeway Park as it has done since 2004.
"A department member of staff called us yesterday telling us that they would allocate the football pitches to another group based on an internal guideline, which said if two groups applied for using the same venue at the same time, consideration would be based on the 'nature of the ­organisation'," Au said on Wednesday.
Watch: The annual July 1 pro-democracy march in 2016
The department had yet to ­approve the use of the lawn, which would accommodate a much smaller crowd.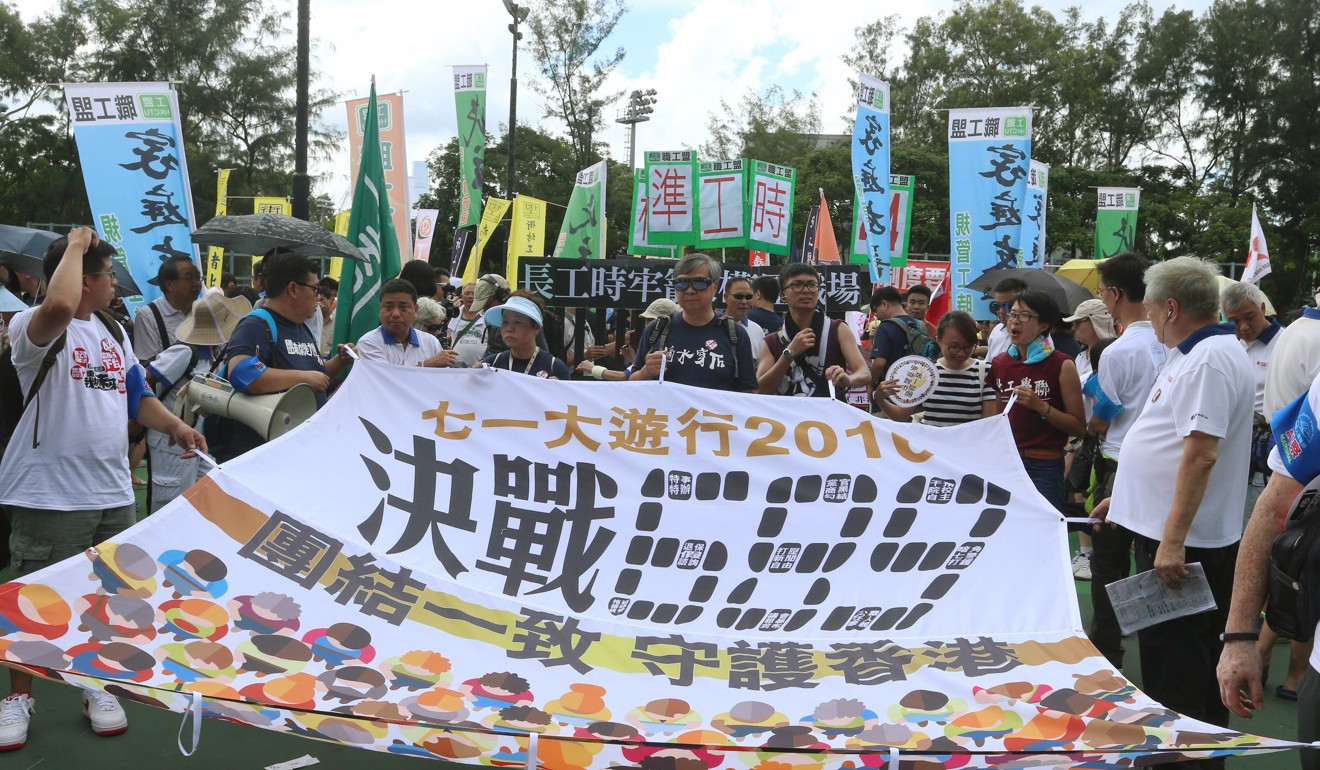 "Is the government trying to shut out opposing voices when the state leader is in town? Is it only allowing celebrations but no demonstration? I don't rule out political factors are in play," Au said.
The group given use of the park's six football pitches is the Hong Kong Celebrations Association, which is composed of 40 pro-Beijing groups, including business chambers and the ­Federation of Trade Unions.
Chief Executive
Leung Chun-ying
and Zhang Xiaoming, director of Beijing's liaison office in Hong Kong, are the honorary ­patrons.
The front has used pitches at the park, which can accommodate tens of thousands of people, as the starting point for marches since 2004.
The pro-democracy marches, which have been
held since the 1997 handover
, became increasingly significant in 2003 after drawing 500,000 protesters against the introduction of a ­national security law and in the wake of severe acute respiratory syndrome.
The front submitted its application for renting the pitches on the earliest possible date, three months in advance in April.
However the department said the association submitted its ­application to hold a science expo on March 15, before that of the front.
Au said the pro-Beijing association had always leased the pitches in the morning, and the front occupied the area for the march in the afternoon.
"Now the association has ­applied to occupy it in the afternoon too – obviously they planned to kick us out," Au said.
Tam Yiu-chung, honorary president of the association, said it was reasonable to grant the ­venue to his group because it was "representative".
"The march can always go elsewhere," he said.
A police insider said the leisure department had sought security advice from the force about the application and there had been no objections.
A police spokesman said: "Police earlier received a department's request for comments regarding an organisation's plan to hold activities at Victoria Park on July 1.
"Police have already ­replied to the department."