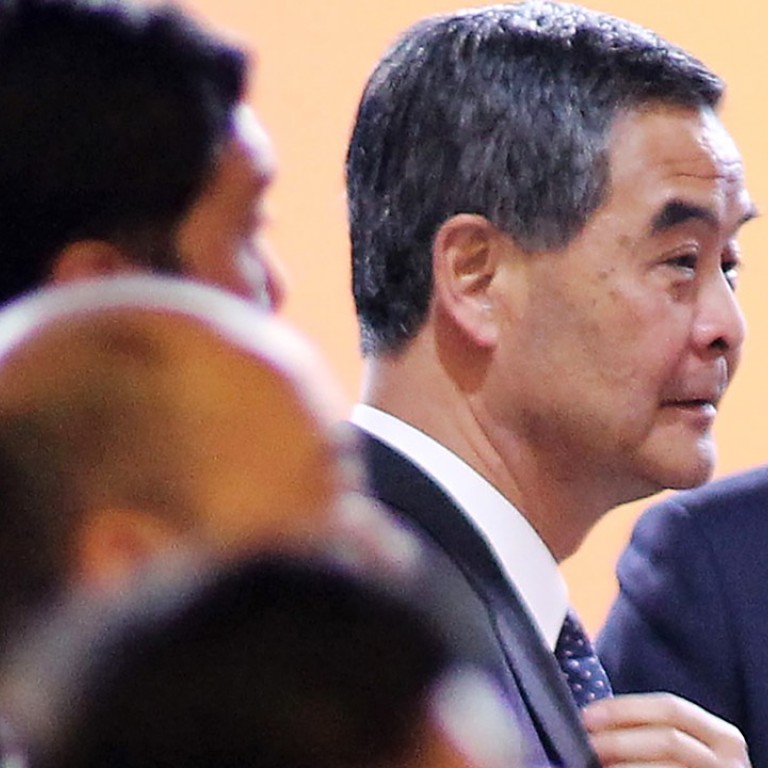 With trillions of US dollars on the line, Hong Kong and London bid to become finance hub of China's global trade strategy
The two cities were among 28 jurisdictions that Chinese President Xi Jinping invited to the forum, which promoted global commerce for the trade scheme
Hong Kong and London have locked horns at a two-day high-level forum in Beijing over which city is best placed to act as the ­finance hub for China's global trade and commerce strategy.
Leung cited the city's status as the largest offshore settlement centre for yuan trade and its title as the world's No 1 stock market for new listings in 2016.
However, his bid was swiftly challenged by British Chancellor of the Exchequer, Philip Hammond.
Referring to the sheer scale of funding required for
China's "Belt and Road Initiative"
, which promises to be in the trillions of US ­dollars and would require mobilising the world's capital markets, Hammond said Leung's pitch was "elegantly made", but "London is not an alternative to Hong Kong".
Hong Kong and London were among more than 100 nations and territories that President Xi Jinping (習近平) invited to the forum, which promoted global commerce for the trade scheme.
The initiative aims to open trade along two key corridors – the land-based old Silk Road across the north and the 21st century maritime Silk Road in the south.
A key challenge facing ­Beijing's ambitious trade strategy is establishing financial connectivity between more than 60 countries that sit along the trade route, and funding the infrastructure projects involved, with many already proven to be too high risk for some private investors.
Speaking during a panel ­session, Leung said Hong Kong was both China's international financial centre and "the world's China financial centre".
"Hong Kong is the preferred destination of capital from the mainland," he said.
"We go out to overseas economies together with mainland Chinese enterprises, and we go into China with enterprises from other countries."
Hong Kong is the largest offshore yuan trade settlement centre, with 507.2 billion yuan (HK$573 billion) deposits as of March, according to government data.
Leung said the Hong Kong Monetary Authority had already set up an office specifically tasked with facilitating the financing of Belt and Road investments in July last year.
"Hong Kong is right at the heart of the maritime Silk Road, with the development of Guangdong, Hong Kong and Macau as the Greater Bay Area," he said.
Hong Kong Monetary Authority chief executive Norman Chan Tak-lam said the authority's office had already allied dozens of "like-minded stakeholders".
"There is a big cluster of equity and debt investors for belt and road projects," he said.
"They want to know not just about the infrastructure projects and their investment return, but risks, corporate governance, transparency in procurement procedures and corruption."
Hammond, however, said London remained the financial centre of the world and had the skills and capability needed to deliver China's trade initiative.
He said the biggest challenge of financing investments in belt and road countries – mostly developing nations – was ensuring projects are structured in a way that was internationally "bankable" or with investment grades.
"We have the skills and capability in London to make infrastructure projects attractive to private investors," he said.
Fearing that capital could be funnelled into illegal activities, such as money laundering and terrorism financing, International Monetary Fund managing director Christine Lagarde warned that financing for China's trade scheme needed to be handled with caution.
This article appeared in the South China Morning Post print edition as: money, power and trade