Hong Kong students at UK universities could help decide the next British prime minister
Group starts campaign to raise awareness that Hongkongers born before 1997 and studying or working in the UK can cast a ballot for June 8 election
Hong Kong students at universities in Britain are rushing to register to vote ahead of the upcoming UK general election, as the race heats up to decide the country's next prime minister.
There are an estimated 30,000 Hongkongers studying in UK universities who were born before the 1997 handover, thus making them eligible to vote on June 8.
Those from the University of Sheffield, the London School of Economics, Keele University and the University of the Arts London have launched a Facebook campaign called
"Hongkongers, Vote!"
to encourage a higher turnout.
Clement Ngu, 22, one of the campaign's coordinators, said most Hongkongers studying in the UK were not aware they were eligible to vote. "We thought we should do something about it," the third-year politics student at the University of Sheffield said. "It does not matter if your British National Overseas passport is not valid anymore – you can still take it to your local authority and vote if you register."
The number of Hong Kong students at UK universities has
increased in recent years
despite the government introducing a new tuition bill which led to an increase in fees. Currently, international students pay up to £30,000 (HK$303,000) per year.
According to a study by the Higher Education Funding Council for England, the number of Hong Kong students at universities in England grew by almost a quarter in 2012. More than 4,600 were enrolled in undergraduate courses in the academic year 2012-2013, up 24 per cent from the previous year.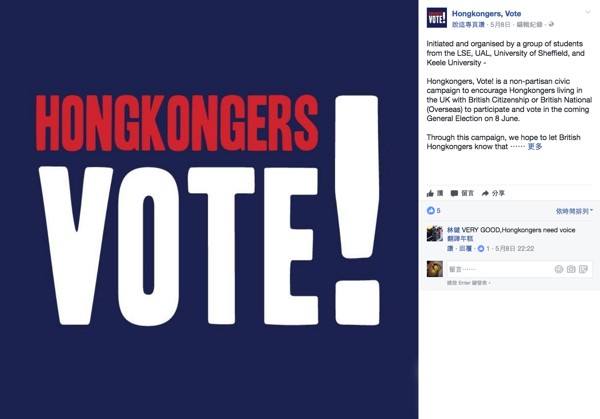 Hong Kong does not allow its general population to cast ballots for its leader, and instead reserves that right for members of its Election Committee, most of whom are pro-Beijing businessmen.
In contrast, the estimated 100,000 Hongkongers living in the UK are eligible to vote in the country's elections.
"For some people here, one simple vote is taken for granted, but where I grew up in Hong Kong, people do not get that say over their next leader," Ngu said. "It is quite symbolic for Hongkongers to vote."
Ngu, who received a small amount of funding from his university to promote his campaign on campus, said the upcoming UK election was particularly important after Brexit.
"Hongkongers have heard about the politics going on in the UK, and they can have a stake in it," he said. "They might feel strongly about visa issues. I have seen reports that Britons find it unbelievable we can still vote, but ... there is a campaign encouraging people from the Commonwealth to vote. It is part of the rights we are given."
Three main parties will be vying for votes. Current Conservative Prime Minister Theresa May faces opposition from Labour leader Jeremy Corbyn and Liberal Democrat chief Tim Farron for the top job.
Early predictions say May, who called a snap election on April 18 amid the UK's Brexit negotiations, could be on course for a landslide victory, with some polls suggesting she has double the vote share of Corbyn's party.
A British consulate-general spokeswoman said only British citizens eligible to vote in the UK for the past 15 years can vote in elections as overseas voters.
"However, other groups including British Nationals (Overseas) can vote in UK elections if they are residents in the UK," she said. "They cannot register as overseas electors, even if they have previously been residents in the UK in the past 15 years."