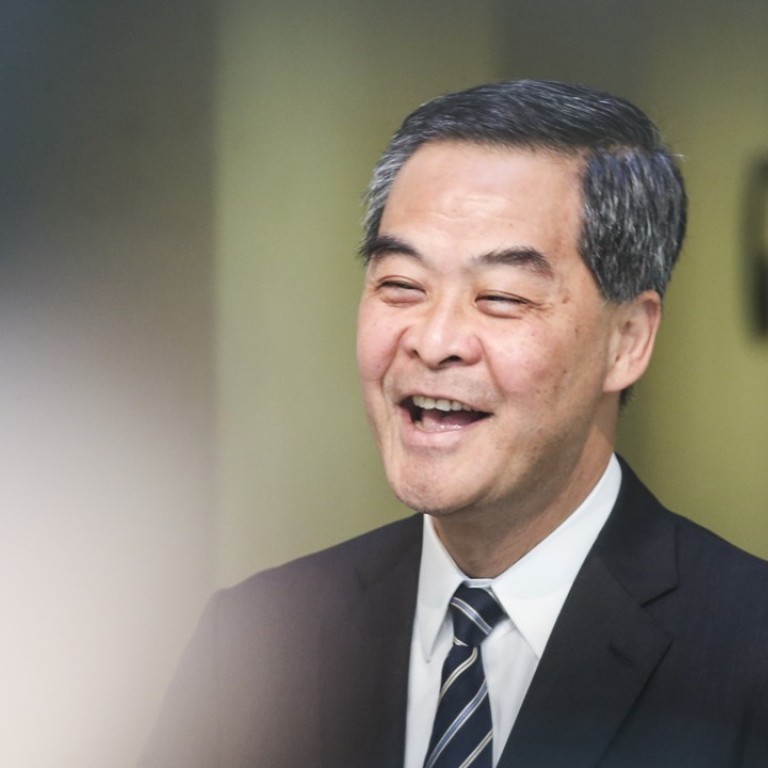 Frequent flyer: Hong Kong leader CY Leung racks up air miles with two trips to Beijing in two days
Leung will attend event on Thursday in capacity as vice-chairman of top advisory body, fly back to Hong Kong on the same day, then return for Basic Law seminar as city's leader on Saturday
Leung Chun-ying will have a busy schedule for the rest of this week as he is to perform duties in his dual capacity as a state leader and Hong Kong's chief executive, flying between the city and the national capital four times in three days.
He will return to Hong Kong on the same day and fly to the capital again on Friday afternoon to give a speech on Saturday at a forum on the 20th anniversary of the implementation of the Basic Law. He will give the speech in his capacity as chief executive. The event is being organised by the Standing Committee of the National People's Congress..
The Chief Executive's Office said Leung was not using taxpayers' money to pay for his air ticket to attend the CPPCC event as it was not part of the chief executive's duty. He will be on leave from his office that day. Chief Secretary Matthew Cheung Kin-chung will become acting chief executive.
During his second absence, Financial Secretary Chan Mo-po will be acting chief executive as Cheung will also attend the Basic Law forum.
"That he is not carrying out chief executive duties is also why he is not staying behind for the next event. There will be problems as to who should pay for the accommodation if he chooses to do so," a person familiar with the situation said.
Leung will spend more than 12 hours on his four flights. The amount of carbon dioxide emissions attributable to his trips will be 1.08 tonnes, according to Cathay Pacific's online calculator.
When Leung was elevated to the CPPCC leadership in March, pan-democrats expressed strong objections, arguing the practice went against "one country, two systems".
But Leung said he saw no conflict taking up the dual roles and he would be able to handle both duties.
Leung's trips will be sixth and seventh to the mainland since he was appointed a CPPCC vice-chairman in March.
Other trips included one in which he led a delegation to Guangdong to study the "Greater Bay Area" plan - an ambitious joint development scheme for the Pearl River Delta including Hong Kong and Macau.
Other visits included a follow-up trip to Shenzhen and the belt and road summit in Beijing in May. They were all made in his capacity as chief executive.