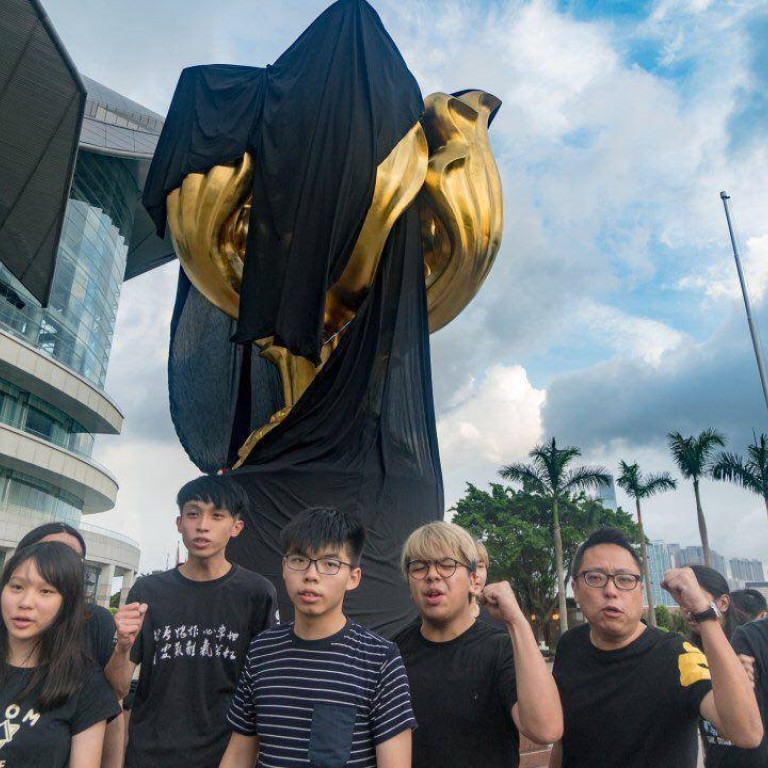 Joshua Wong and other activists cover iconic Golden Bauhinia statue in black cloth ahead of Xi Jinping visit
Demosisto secretary-general, People Power's Tam Tak-chi and others from radical pan-democratic groups say move is protest against central government's interference in Hong Kong's internal affairs
Members of three radical pan-democratic groups covered an iconic symbol of Hong Kong's handover in black cloth on Monday in protest against the administration ahead of President Xi Jinping's visit later this week.
Protesters including Demosisto secretary-general
Joshua Wong Chi-fung
, People Power activist Tam Tak-chi and representatives from the League of Social Democrats swathed the Golden Bauhinia statue in Wan Chai – a gift from the central government to mark the city's 1997 transfer of sovereignty from Britain to China – in black fabric at about 6am.
Security guards at Golden Bauhinia Square tried to stop them but failed.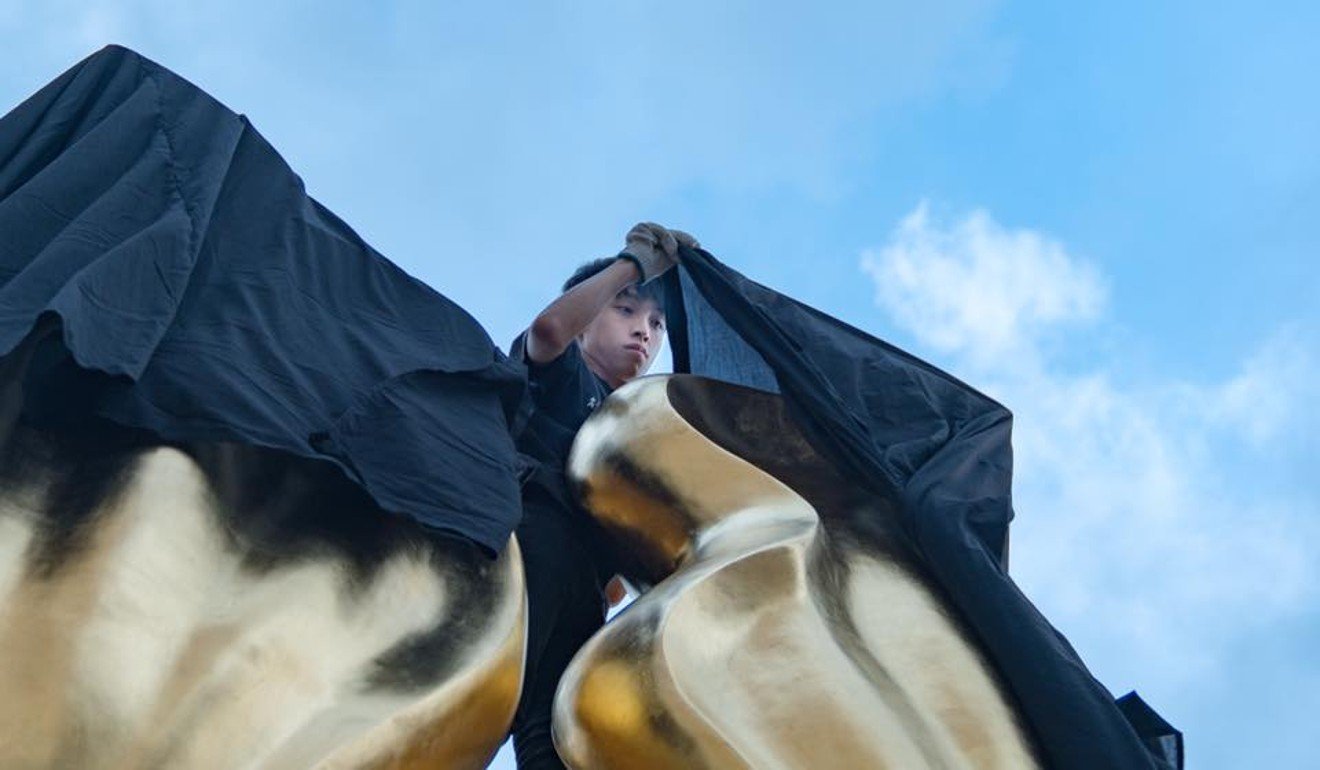 The act comes just before an
official visit by Xi
, who will be in Hong Kong from Thursday to Saturday to mark the 20th anniversary of the handover and to swear in the city's new administration.
"The black-cloaked statue symbolises the hard-line rule of the authoritarian regime over the past 20 years, meaning that the Chinese government failed to honour the promises made in the Sino-British Joint Declaration, depriving Hong Kong people of civil and political rights to free elections and democracy," the groups said in a statement.
They said their move was meant to express anger and disappointment at the administration for major political blunders since 1997.
"The grip on civil society has been tightened since the Umbrella Movement. China also interferes with the internal affairs of Hong Kong through various means. Our confidence in 'one country, two systems' has waned and has been replaced by the fear of it becoming 'one country, 1.5 systems'," the statement continued.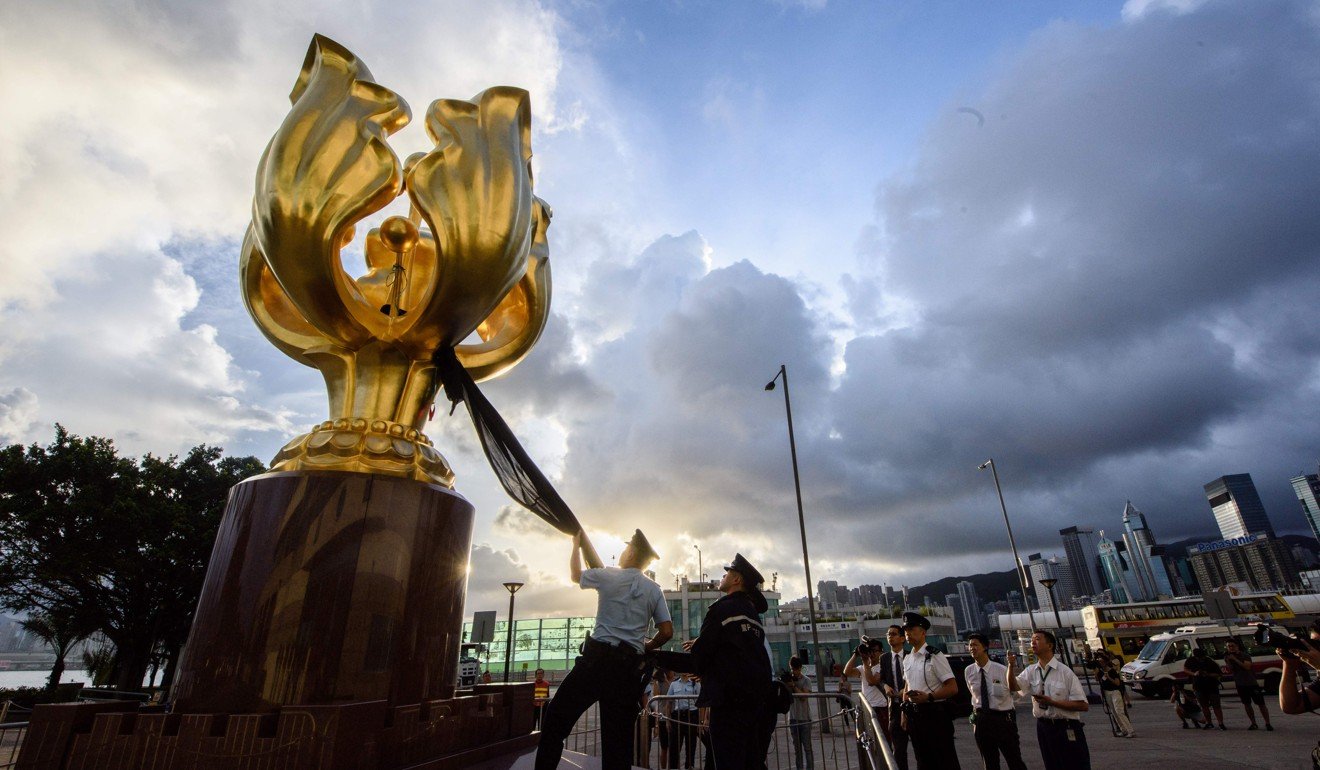 A security guard made a police report at about 6am and officers helped the guards remove the cloth.
According to police, the case has been classified as a "nuisance complaint", and officers from Wan Chai police division are handling the case. So far, no one has been arrested.
Pro-establishment lawmakers condemned the protest. Elizabeth Quat, from the Democratic Alliance for the Betterment and Progress of Hong Kong, called it childish and disrespectful.
Luk Chung-hung of the Federation of Trade Unions said it was not an appropriate way to express discontent. "It did not respect 'one country, two systems' and national sovereignty."
This article appeared in the South China Morning Post print edition as: Activists target Bauhinia statue ahead of Xi visit