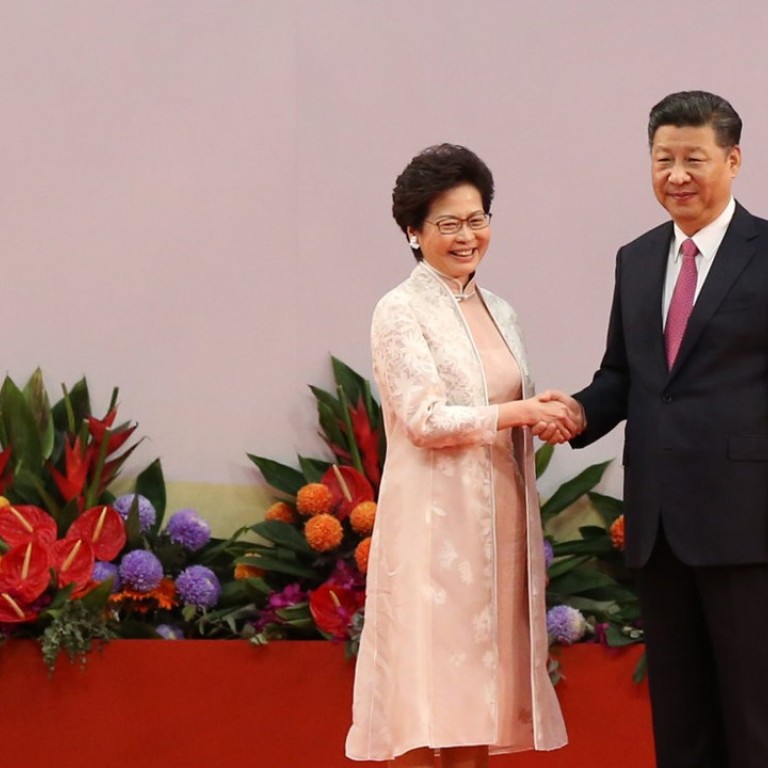 Hong Kong's first female chief executive Carrie Lam sworn in by President Xi Jinping, as city marks 20 years since handover
Lam officially begins five-year term as Hong Kong chief executive and has vowed to heal a divided city
Lam, clad in a pink cheongsam and a long white coat, pledged to uphold the
Basic Law
and also pledged allegiance to the country.
In her inaugural speech, Lam vowed to repay the trust and support of the people and the central government's support with "with diligence and achievements".
"It is with a humble heart that I accept this greatest honour of my life and prepare to take on the greatest challenge in my public service career," Lam said.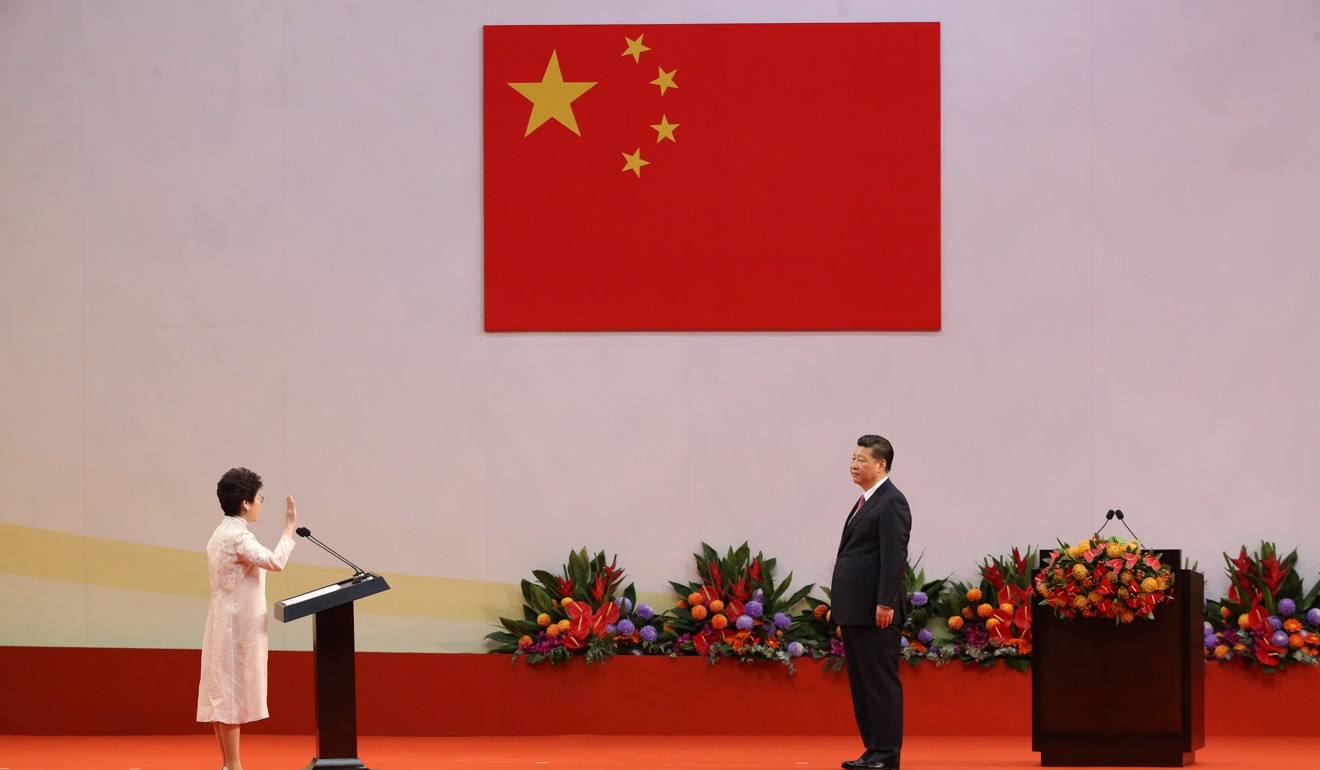 "To accurately and comprehensively fulfil my duties as chief executive, I will resolutely do everything within my ability to implement the 'one country, two systems' principle, uphold the Basic Law, defend the rule of law, and promote a deep and positive relationship between the central government and the Hong Kong SAR.
"I will, as I always have, rise to these challenges and firmly take actions in accordance with the law against any acts that will undermine the country's sovereignty, security and development interests," she vowed, in front of Xi, and some 2,000 guests.
She reiterated that her election campaign had helped her to better understand the business sector and young people's worries, and she promised to rebuild social harmony and trust.
Lam gave her 12-minute speech predominantly in Putonghua, but switched to Cantonese as she quoted the lyrics of Sail On, the theme song of the "Hong Kong: Our Home" public participation campaign she spearheaded as chief secretary in 2013.
"There is a world we can go [to], there are bright spots in life. Soaring above the busy harbour and bustling city, lies narrow heritage lanes filled with love and passion. Everyone feels lost sometimes, but we won't give up hope; we embrace all who show us trust in their eyes. All you need is to see me by your side, caring for you, all the way," she said.
Then she quoted her election campaign slogan and said: "I look forward to connecting with you all, to build an even better Hong Kong."
After the ceremony, Xi held separate meetings with Lam, then Lam and her ministers, executive councillors, and heads of the legislature and judiciary.
During Xi's one-on-one meeting with Lam, the president said: "You have great responsibilities on your shoulders, and your mission is a glorious one. I am confident that you would not fall short of the central government and the people's expectations, in creating new glory for Hong Kong."
To that, Lam said: "I understood that I have great responsibilities on my shoulder, I hope to utilise Hong Kong's advantages and my 37 years of experience in public service in doing my job."
After these meetings, Xi also witnessed the signing of the Framework Agreement on deepening cooperation among Guangdong, Hong Kong and Macau in the development of the "Greater Bay Area" scheme, a Beijing-backed project for closer economic and social ties in the region.
The agreement was signed by Lam, He Lifeng, chairman of National Development and Reform Commission; Guangdong provincial governor Ma Xingrui and Macau chief executive Fernando Chui Sai-on.
Only four pan-democratic legislators attended the inauguration on Saturday and all were from the Professionals Guild: Kenneth Leung, Charles Mok, Ip Kin-yuen and Joseph Lee Kok-long.
Leung said he hoped Lam's new administration would demonstrate a new form of governance, as Leung Chun-ying's five-year term had left the city heavily divided.
Others in attendance included CK Hutchison Holdings chairman
Li Ka-shing
, Chen Zuoer, the former deputy of the State Council's Hong Kong and Macau Affairs Office and former chief executive candidate
Woo Kwok-hing
.
After the swearing-in at the convention centre in Wan Chai, Lam, 60, will officially begin her five-year term as chief executive.
On Friday, Xi called on Hong Kong's political and business leaders to get behind Lam, making it the first of four wishes that he expressed.
Allan Zeman, chairman of Lan Kwai Fong Holdings, said he had worked closely with the new chief executive both officially and unofficially but said it was too early to say if he would join her cabinet.
He believed that Hong Kong would benefit from Lam's administration and urged people to "give her a chance".