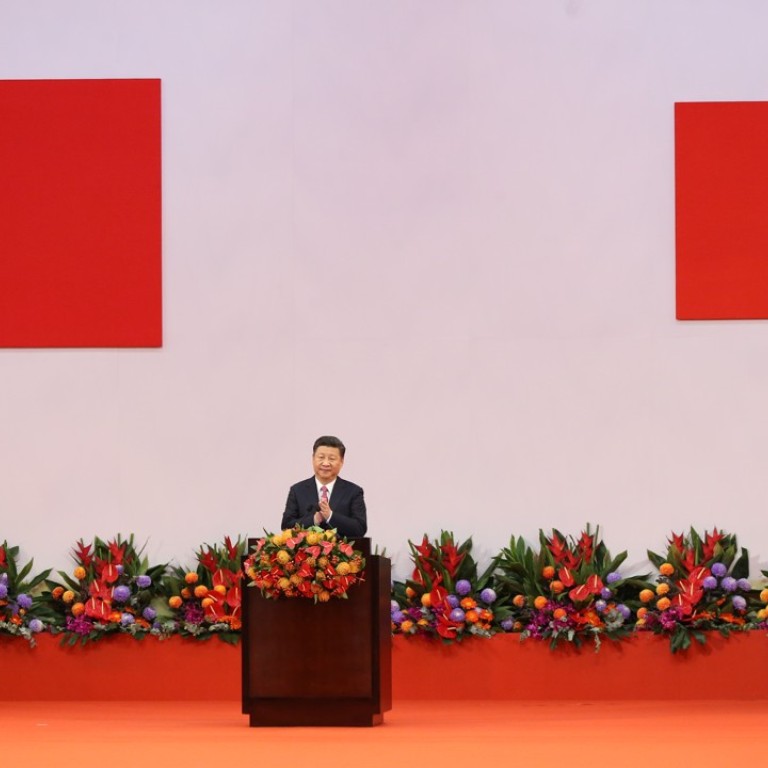 Xi Jinping: challenging Chinese sovereignty in Hong Kong crosses a 'red line'
Speaking to a crowd of more than 2,000 officials following Carrie Lam's inauguration as chief executive, Xi warned young Hongkongers to have a 'full understanding' of China's constitution
Xi also asked the new administration to focus its energies on development, which he said would be the key to resolving the city's problems.
"Today, the new SAR government is officially inaugurated. It shoulders major responsibilities and has a lofty mission to perform," Xi said. "It is my hope that in the next five years, the HKSAR government will unite people of all sectors in Hong Kong to fully and faithfully implement the principle of 'one country, two systems'."
Alluding to Hong Kong's
lack of a law on national security
, Xi said: "Hong Kong needs to improve its systems to uphold national sovereignty, security and development interests.
"Now that Hong Kong has returned to China, it is all the more important for us to firmly uphold China's sovereignty, security and development interests," Xi said.
Any attempt to endanger China's sovereignty and security, challenge the power of the central government and the authority of the
Basic Law
, "or use Hong Kong to carry out infiltration and sabotage activities against the mainland is an act that crosses the red line, and is absolutely impermissible", he said.
His speech comes in the wake of
calls for independence
that have emerged in recent years among young people frustrated with the pace of democracy in Hong Kong.
In a 30-minute speech at the Convention and Exhibition Centre, Xi did not make reference to the need for further political reform but said the central government was prepared to meet any group that loved the country and Hong Kong.
He also called on Hong Kong to focus its energy on development, saying it was development that was "the golden key to resolving various issues in Hong Kong".
Xi also made it clear that too much political bickering was dragging the development on the economy, adding: "Harmony brings good fortune, while discord leads to misfortune".
"Hong Kong is a plural society. So it comes as no surprise that there are different views and even major differences on some specific issues," Xi said. "However, making everything political or deliberately creating differences and provoking confrontation will not resolve the problems.
"On the contrary, it can only severely hinder Hong Kong's economic and social development."
Pro-establishment lawmaker Michael Tien Pei-sun, also a delegate to the
National People's Congress
, said Xi's remarks placed the new administration under mounting pressure to enact Article 23 of the Basic Law.
The clause requires the SAR to enact its own laws to prohibit any act of "treason, secession, sedition or subversion" against the central government.
"There would be much more pressure now as he has mentioned that Hong Kong's system in upholding the national sovereignty requires further improvement," Tien said.
Chan Wing-kee, a member of the standing committee of the Chinese People's Political Consultative Conference, said Xi had given a very clear framework of one country, two systems with a calm and peaceful tone.
"One country comes first and two systems after, this is very clear," Chan said. "The system of Hong Kong should not interfere with the system on the mainland ... similar to how river water does not intrude into well water."
On the enactment of the national security law, Chan said Hong Kong had the constitutional responsibility to do so but he believed there was no timetable for the job yet.
Asked if Xi's speech highlighted the urgency to enact the national security law, Article 23 of the city's mini-constitution, Elsie Leung Oi-sie, vice-chairwoman of Beijing's Basic Law Committee, said: "The whole speech did not mention Article 23. This is only your own conjecture."
Pan-democratic lawmaker Kenneth Leung, representing the accountancy sector, said Xi had placed significant focus on economic development in his speech but he argued that was not the way to resolve all the "deep-rooted problems" in Hong Kong.
It was the basic values of Hong Kong – such as the rule of law and freedoms – ­which made the city attractive to foreign investors and sustained its competitiveness, he added.
Allan Zeman, chairman of Lan Kwai Fong Holdings, said: "Hong Kong needs to fit in. But it's one country. [Xi] really understood that Hong Kong people are not bad. We all want the same thing as Beijing."
Retired judge and former chief executive candidate
Woo Kwok-hing
said it wasn't right that the central government said the joint declaration no longer has any realistic meaning.
Liberal Party chairman Felix Chung Kwok-pan said: "Under the premise of 'one country', Hong Kong has to cooperate with the central government. Like President Xi said, we can't bend discussions around central issues such as those related to sovereignty. Positions like independence are not acceptable.
"I think there's room for discussion on Article 23. Under the Basic Law, I think it's a constitutional responsibility. I think we can put that discussion back on the table. I don't think that is a topic which should not be discussed."