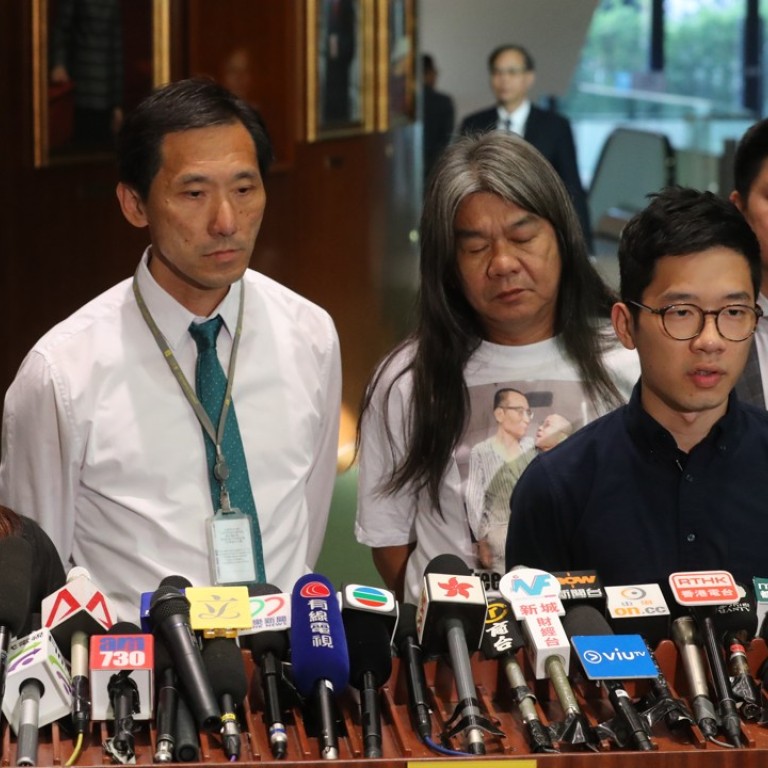 Court ruling disqualifying Hong Kong lawmakers over oath-taking controversy 'a declaration of war'
Landmark court battle saw city's executive branch pit against legislature
An intense political drama gripped Hong Kong on Friday as the High Court stripped four opposition lawmakers of their seats in the legislature for improper oath-taking, in a tough ruling that further alienates the pan-democratic camp and sets the stage for months of legal appeals, protests and acrimony ahead.
"Long Hair" Leung Kwok-hung, Nathan Law Kwun-chung, Lau Siu-lai and Edward Yiu Chung-yim were disqualified by the Court of First Instance while in the middle of a Legislative Council meeting which was postponed for a day as they refused to leave the chamber immediately.
The court, ruling on legal action initiated by former chief executive Leung Chun-ying, was unambiguous in clarifying that oath-taking must be done strictly by the book with no additions or deviations – before, during or after an oath – no matter how well intended.
Mr Justice Thomas Au Hing-cheung based his ruling on both common law principles and a controversial interpretation of the city's mini-constitution by China's top legislature that earlier saw two newly elected pro-independence lawmakers kicked out of Legco for insulting the nation during their swearing-in.
"It is also not only to provide a legal basis to check and punish future breaches by the oath taker … It is also a constitutional legal requirement that the oath taker, in taking the oath, must also ­sincerely and truly believe in the pledges under the oath that he or she is taking," he said.
All four vowed to appeal, presenting a picture of defiance at a press conference first and a protest at night joined by hundreds of supporters outside government headquarters.
"The National People's Congress has, through the interpretation, rewritten the [Legco] election results in September last year," an outraged Leung Kwok-hung said. "This can't happen in any place with true democracy."
The judgment dashed any hope of reconciliation between opposition ­lawmakers – who called it a "declaration of war" – and the new administration of Chief Executive Carrie Lam Cheng Yuet-ngor. Responding to the ruling, she made it clear she would not intervene for the sake of better relations.
"Building bridges still has to be done in a lawful way," she said. "I don't think a chief executive or any government official should sort of compromise on the rule of law just because we want to be friendly."
The ruling has effectively curtailed
the bargaining power
of the pro-democracy bloc. With Leung, Law and Lau – all directly elected lawmakers – out of the picture, the pan-democrats, already a minority in the legislature, have lost their limited veto power to block motions and amendments to bills tabled by their pro-establishment rivals. They will also be unable to stop Beijing loyalists and government allies from changing Legco rules to prevent the pan-democrats from filibustering contentious bills.
The disqualification is retroactive to October 12, 2016 – the date the four were sworn in, raising the prospect of further clashes with the government over the salaries and allowances they will be asked to return. All four will have to pay legal costs as well – a total of HK$3 million to the government and HK$1 million each to their own lawyers. The court ruling includes an injunction barring them from acting as or claiming to be lawmakers.
Legco president Andrew Leung Kwan-yuen said the four would have to pack their bags within two weeks, during which time they were banned from entering the chamber or attending meetings. But votes they had already cast would remain valid.
Last year the administration succeeded in having Sixtus Baggio Leung Chung-hang and Yau Wai-ching, of the political group Youngspiration, disqualified for their anti-China antics while taking their oaths. The case prompted Beijing to issue an
interpretation of the Basic Law,
ahead of the court ruling, that would make such offences punishable by disqualification. Armed with that success, Leung Chun-ying and Secretary for Justice Rimsky Yuen Kwok-keung then went after the other four last December, which led to Friday's ruling.
Lawyers for the government had ­argued during the court proceedings that the four failed to take their oaths on October 12 solemnly, sincerely, and in entirety – requirements listed in both past cases and Beijing's interpretation.
Yiu and Law were penalised for additions to their oaths. Law added an upward inflection to the word "Republic" in "People's Republic of China", as if asking a question. Yiu inserted an extra sentence in his oath: "I will uphold procedural ­justice in Hong Kong, fight for genuine universal suffrage and serve the city's sustainable development."
Lau deliberately read each word at six-second intervals, which government lawyers said divided her oath into "90-odd linguistic units devoid of any coherence".
Leung Kwok-hung was accused of undermining the solemnity of the ceremony by chanting slogans, wearing a T-shirt that read "civil disobedience" and turning his oath into a "theatrical performance" – by brandishing a yellow umbrella, a symbol of the
Occupy movement
. He also tore up a copy of the controversial framework set by Beijing in 2014 for democratic reform in the city.
The Department of Justice said it had no plan to go after any other lawmaker. As for by-elections to fill the seats left vacant, the chief executive said the government would wait for the judicial process to be completed first.
Starry Lee Wai-king, leader of the largest pro-establishment party, the Democratic Alliance for the Betterment and Progress of Hong Kong, welcomed the ruling. "Today's verdict has effectively safeguarded the Basic Law, the rule of law in Hong Kong, and also the dignity of Legco," she said.
Rights group Amnesty International Hong Kong was fiercely critical: "Today's decision confirms the Hong Kong ­government's agenda to silence and ­effectively punish any speech critical of the present political system, wherever it may occur, even within the legislature."
Additional reporting by Tony Cheung and Brian Wong
This article appeared in the South China Morning Post print edition as: Court Ruling 'A declaration of war'