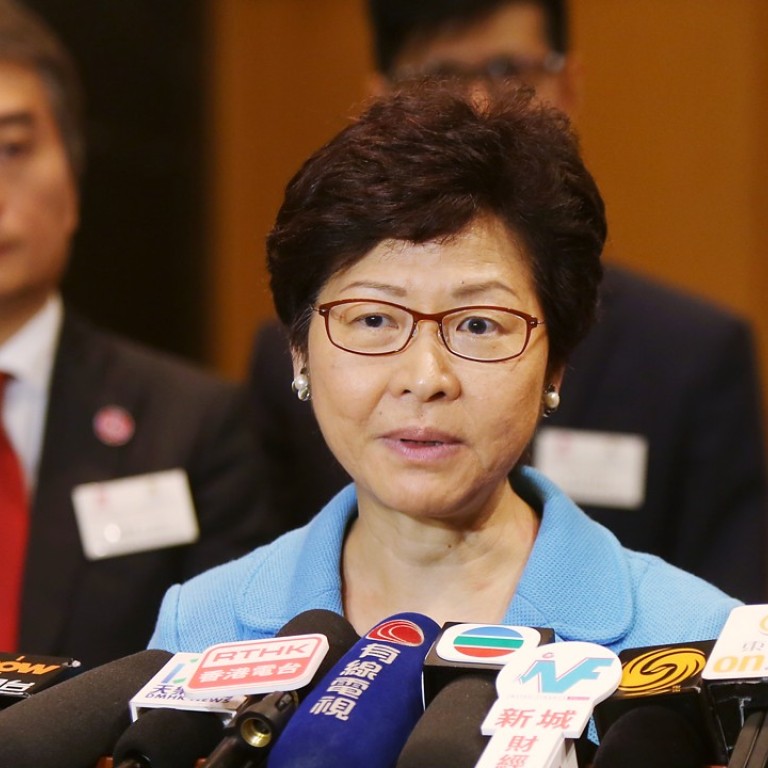 I won't target more Hong Kong pan-democrats in oath-taking saga, Carrie Lam says
Chief executive was commenting on Friday's court ruling disqualifying four pan-democrats over the way they took their oaths
A day after the court ruled against the four – "Long Hair" Leung Kwok-hung, Nathan Law Kun-chung, Lau-Siu-lai and Edward Yiu Chung-yim – for improper oath taking and unseated them, Lam sought to calm worries arising from an earlier warning by a senior Beijing official about the behaviour of other lawmakers.
"My sincerity to improve relations between the executive and legislative branches remains unchanged," Lam said on Saturday. "I absolutely have no intention or plans to open fire [at pan-democrats]."
"I hope the pan-democrats do not think this will affect our cooperation with lawmakers,"she said, adding that the action of the former government against the four lawmakers was based on legal justification.
But Lam refused to promise that no more judicial reviews would be filed over the oath-taking saga. The four have vowed to appeal.
Some applications for judicial reviews have been lodged over oath-taking by Shiu Ka-chun, Eddie Chu Hoi-dick, Raymond Chan Chi-chuen and Cheng Chung-tai.
Watch: Four more lawmakers disqualified
The latest court ruling weakened the influence of the pan-democratic bloc in blocking members' initiatives. For example, pro-establishment members could now amend the council's rule book.
Pan-democrat anger was on display on Saturday
, when some help up a black banner reading: "No way business as usual." They did this during a Finance Committee meeting to discuss Lam's pledge to earmark HK$3.6 billion for education.
Veteran pan-democrat James To Kun-sun described the ruling as a "thorough and abrupt" overthrow of voters' decision, posing a challenge to their relationship with the administration.
"We still have diverse views towards the relationship with the government and the positioning of pan-democrats," To said after an internal meeting among lawmakers in the bloc. He said another meeting would be held on Monday to discuss future tactics.
Meanwhile, Legislative Council president Andrew Leung Kwan-yuen said the four disqualified lawmakers were "unwise" in what they had done and the court case was "unfortunate".
Leung also said disqualified lawmakers could be ruled to be in contempt of court if they broke into Legco meeting rooms.
Speaking in a radio interview, Secretary for Constitutional and Mainland Affairs Patrick Nip Tak-kuen said by-elections to fill the six Legco seats left vacant by the disqualified members would be arranged after all legal procedures were settled.
Baggio Leung and Yau will have their final chance to overturn their disqualification before the Court of Final Appeal next month.
Nip refused to comment on whether the pair could run again if their final appeal was rejected.
This article appeared in the South China Morning Post print edition as: I won't gun for more pan-dems, lam says