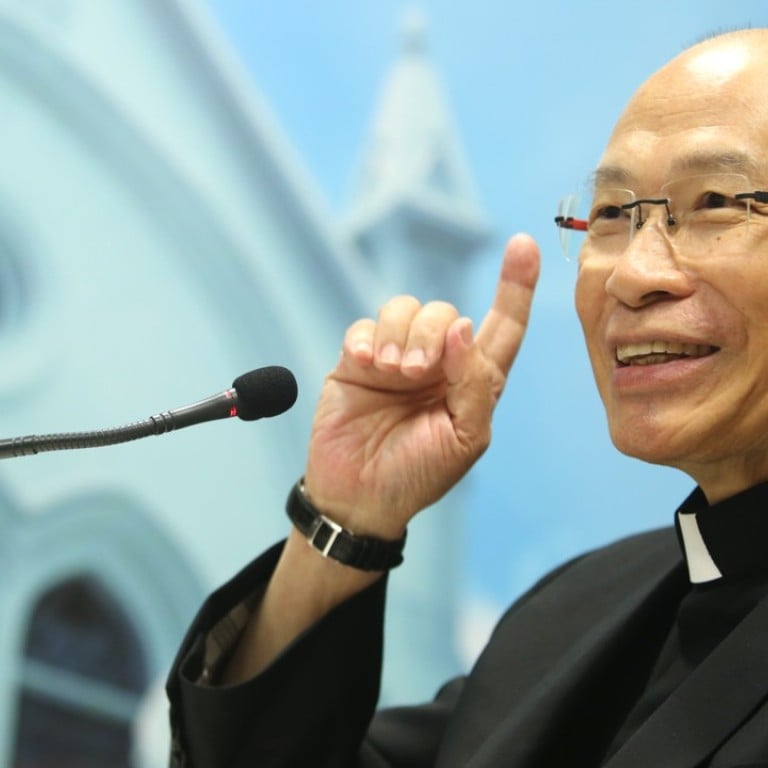 New Hong Kong bishop pledges to speak out on freedoms, but insists no compromise on gay rights
Michael Yeung says his priorities will be to care for the poor and neglected and has little role to play in pushing for better ties between Vatican and Beijing
Hong Kong's newly appointed bishop has pledged to speak out on issues of freedom and human rights, but insisted that the Catholic Church could not compromise on biblical teachings against homosexual behaviour.
Yeung pledged to pay more attention to the underprivileged in Hong Kong and urged the government to listen to young people's voices.
He also expressed condolences over the death of mainland Chinese dissident Liu Xiaobo, who spent more than a decade in jail before dying in a mainland hospital last month.
But Yeung was coy on efforts by the Vatican and Beijing to secure a breakthrough in bilateral ties, saying he had little role to play in international relations.
Hosting a press conference on Wednesday, Yeung said his priorities would be to care for the poor and neglected in Hong Kong.
"Our elderly need to feel dignified and valued," he added. "We must also care about our younger generation ... Not all of them want to fight the government, they just need to express their discontent, and those in power have to listen."
Citing a Chinese idiom which describes how people bow down to the rich for material gain, Yeung said: "I will bow down for the sake of the poor and beg [the wealthy] if they are willing to help."
Yeung also admitted that he had a good relationship with Chief Executive Carrie Lam Cheng Yuet-ngor, who is also Catholic, as he has worked with her since Lam headed the Social Welfare Department from 2000 to 2003.
Asked if he would be outspoken on political issues, Yeung said: "The church is not a political party. However, when facing some problems that affect the whole society, like human rights, justice, openness and accountability, I think the church must stand up to speak."
Yeung insisted on Wednesday that he was misquoted at the time, as all he wanted to say was that the church would love gay people even though it did not accept homosexuality.
"Maybe that was really a bad example. I said maybe your son is a drug addict, do you love him still? Yes , you still love him ... The only thing I haven't really said very clearly [was that] homosexuality was not like that," Yeung said.
He added that even if a Catholic said he or she was homosexual, there was little he could do but to teach that person what the Bible said.
The bishop said he would be more careful with his words in future to avoid confusion.
He added that the church would move on and continue to communicate with mainland authorities. "The incident has happened and we expressed our view; are we just going to sit here and cry?" he asked.
Asked to comment on the matter, Yeung said crosses should not be removed arbitrarily unless they were unauthorised structures.
"If it is because of building safety, maybe it should be removed. But did they communicate this to residents before it was done? That might be another problem," he said.
Asked if he could be a middleman between the two, Yeung said: "You place too much value on me. What can I do? ... That's a negotiation between two governments and there is no point for us to become a third party in it."
This article appeared in the South China Morning Post print edition as: New bishop pledges action on freedoms, but not gays