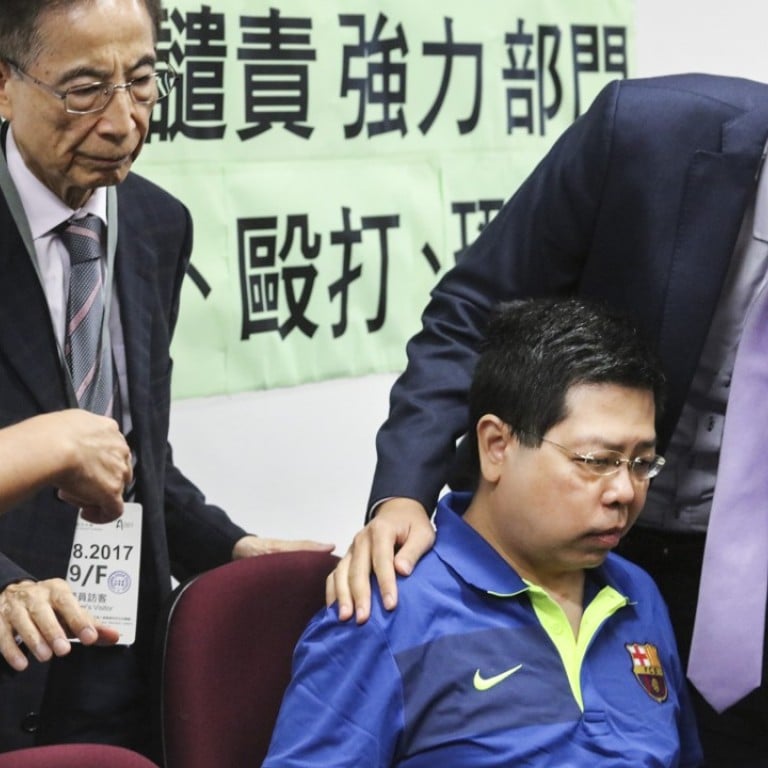 Democratic Party on defensive after footage and arrest of Hong Kong activist Howard Lam
Less defiant tone taken by veteran members as commentators and lawmakers claim political credibility and leverage have been damaged
Hong Kong Democratic Party veterans tried to put up a brave front on Tuesday after one of their founding members who claimed mainland agents abducted him was arrested on suspicion of misleading police.
But they struck a different tone from the full support they pledged Howard Lam Tsz-kin at a press conference they held for him last Friday that "revealed" how he was allegedly kidnapped, tortured and then dumped on a beach. Instead, they insisted investigations ought to be completed before saying anything further.
Commentators and lawmakers across the political spectrum were openly critical, with some calling for an apology from the pan-democrats for wantonly spreading fear. The veterans had undermined their party's position and credibility, critics said.
Pro-establishment lawmakers asked them and other pan-democrats to clarify whether they did their best to verify Lam's claims.
Critics also said the pan-democrats had lost any political ­advantage they had tried to squeeze from the alleged abduction to bolster their case against the government's controversial plan for
a cross-border rail link to Guangzhou,
part of which is to fall under mainland jurisdiction.
Speaking after an emergency meeting of the party's central committee on Tuesday, the Democrats' chairman, Wu Chi-wai, said the group had wholeheartedly believed Lam's account and had studied his wounds.
"We held a press conference for his own safety," Wu said.
Earlier yesterday, Democratic Party veteran Albert Ho Chun-yan said it was a "very natural decision" to publicise Lam's claims.
"I don't think we did anything wrong," he said.
After CCTV footage showed Lam had not been kidnapped, Ho said he asked him about it and the activist insisted the footage was not of him. "He said he was telling me the truth and that he would not betray us."
Asked if he still believed Lam, Ho said: "There are questions that he must answer, but there's no special reason why I should completely change my view of him."
A core member of the Democratic Party, speaking on condition of anonymity, said the episode had dealt a blow to the party's credibility.
"Martin Lee Chu-ming and Albert Ho sincerely believed what he said. You can't argue that after seeing over 20 staples on his legs," he said of the party elders at Lam's press conference.
Pro-establishment lawmaker Ben Chan Han-pan, of the Democratic Alliance for the Betterment and Progress of Hong Kong, was unimpressed by the Democrats' explanations.
"They owe the public an apology, because they made some very serious allegations and caused public fear ... Twenty-two lawmakers even demanded a meeting with the security secretary," Chan said.
He was referring to a petition on Monday demanding a session with Secretary for Security John Lee Ka-chiu to discuss Lam's case.
Lawmaker Wong Kwok-kin, of the pro-Beijing Federation of Trade Unions, agreed that the Democratic Party should reflect on its decision to "make a big fuss" out of a member's account.
"A party's credibility is undermined whenever a member does something unacceptable," Wong said.
Chinese University political scientist Ivan Choy Chi-keung said if Lam was proved to have lied, the whole saga would "unavoidably ruin" the Democratic Party's credibility and image because senior members, including Ho, Lee and lawmaker Lam Cheuk-ting backed Lam at the press conference.
Choy added it was wise for the Democrats not to link Lam's claims with their opposition to the government's checkpoint "co-location" plan.
"Ho did not pin the blame on mainland officials, while Lee remained silent throughout [the press conference]. Their approach was totally different compared with Ho's attitude during the press conference with Lam Wing-kee last year," Choy noted.
Lam Wing-kee was
one of five Hong Kong booksellers who vanished
at the end of 2015 and turned up in the custody of mainland Chinese authorities. He returned to Hong Kong on bail after eight months in detention and held a conference to go public with his story, flanked by Ho.
Last month, the government announced that national laws would be applied in a quarter of the West Kowloon terminal to be leased to the mainland, when the HK$84.4 billion rail link is scheduled to open next year.
Pan-democrats have opposed the joint checkpoint plan, and previously suggested Lam's claim would weaken confidence in it.
Wong believed the pan-democrats' opposition to the rail ­arrangement would lose traction.
But Civic Party leader Alvin Yeung Ngok-kiu said his party would continue to address the arrangement's problems.
"There are ups and downs in every war. The incident may be a blow in our [plan], but we will say what we have to say."