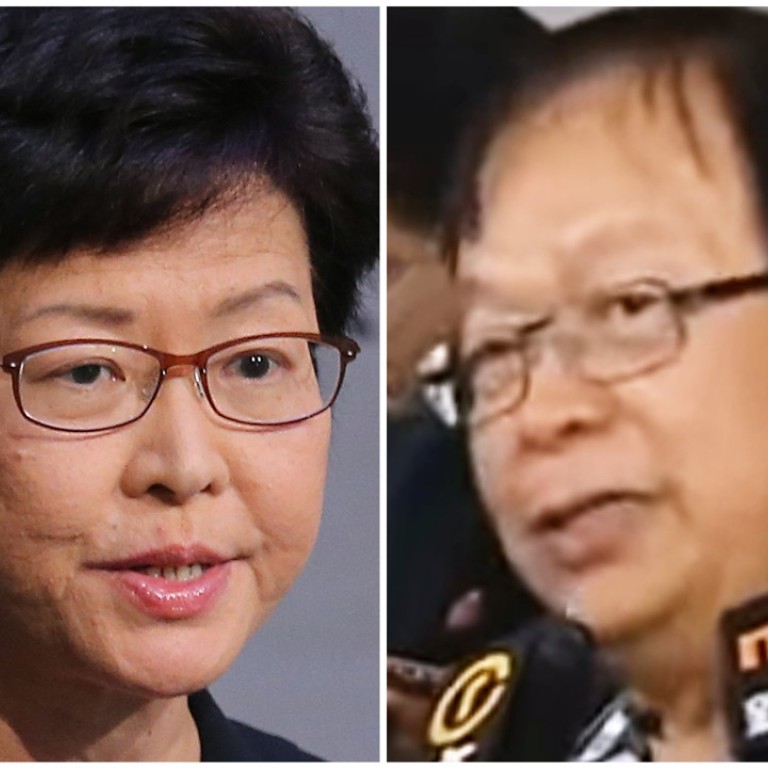 Don't use maternal love for political capital, father of jailed protester tells Hong Kong leader Carrie Lam
Chief executive had addressed mothers of student activists convicted of storming government headquarters in 2014 in response to reporter's question
The father of one of three prominent student leaders jailed for their role in a protest that triggered the Occupy sit-ins of 2014 has advised Hong Kong leader Carrie Lam Cheng Yuet-ngor not to attempt to garner any political capital by posing as a sympathetic fellow parent to mothers of the young activists.
The chief executive was speaking at a
Monday evening press briefing
about the Court of Appeal's decision to mete out jail terms to student leaders Joshua Wong Chi-fung, Nathan Law Kwun-chung and Alex Chow Yong-kang last week, when a reporter asked her, as a mother, what she would say to the protesters' parents.
Lam responded that it was the Department of Justice's responsibility to prosecute according to its guidelines and laws. The trio was convicted in an open trial, and they had the right to appeal. The activists had given up that right, meaning they accepted the fact that they had committed a crime, Lam said.
She added: "As a mother myself, I am speaking here to their mothers. Of course, I can understand your emotions, but I also remember what I said on October 21, 2014, when I, as the chief secretary, had an open dialogue over political reforms with five students from the Federation of Students, including Alex Chow and Nathan Law.
"I told them: however noble your ideals may be, you need to fight for it by legal and reasonable means, and I urged them to express their views in a lawful, peaceful and rational way that does not affect other residents."
About an hour later, Chow's father called a RTHK phone-in radio show and said: "[Carrie Lam] talked about safeguarding the rule of law. I absolutely agree with this, and I would not make any comments. But when she spoke as a mother and expressed her care for the mothers [of the jailed student leaders], I got worked up."
He also pointed out the timing of the meeting with student leaders that Lam had referred to.
"What the court handled this time was something that happened in September, before the students met Lam. Is there any meaning that she mentioned her advice to the young people [in the October meeting]," the senior Chow said. "She had used the wrong situation to express her maternal love … and this is not fair to the mothers involved."
Chow added: "I respect her a lot for the many things she has done for Hong Kong, but every mother has maternal love – don't use maternal love to increase your political capital."
Chow said he did not know which prison his son would be transferred to from Lai Chi Kok Reception Centre, where he has been staying temporarily since he was sentenced. Alex Chow spent his 27th birthday at the centre on Friday.