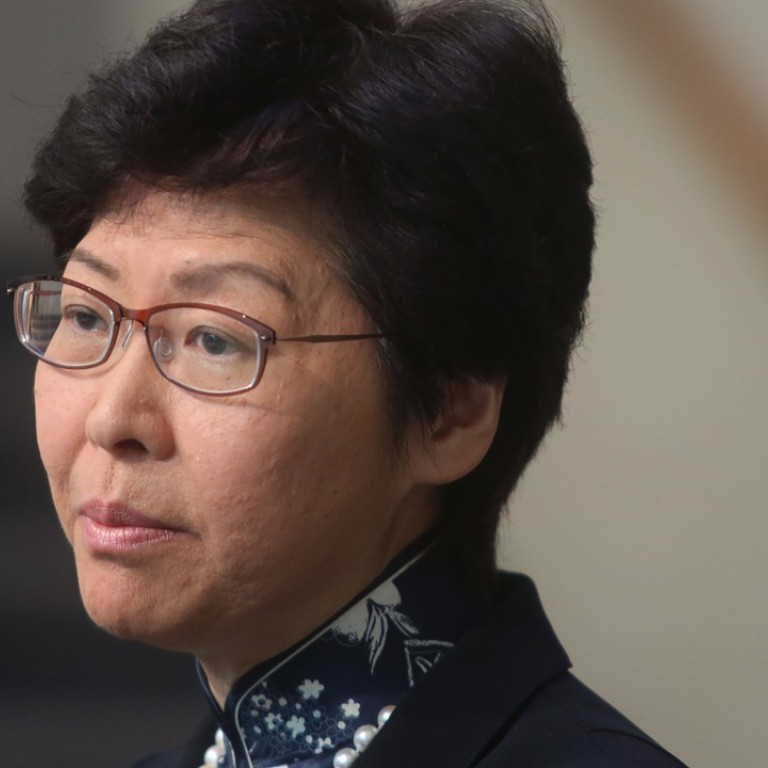 Hong Kong leader Carrie Lam condemns university posters on death of official's son, city's independence
Chief executive claims materials advocating city break from Beijing violate country's sovereignty
Hong Kong's leader denounced posters at Education University congratulating a senior education official on the death of her son as "extremely callous and insulting".
Chief Executive
Carrie Lam Cheng Yuet-ngor
claimed on Friday the entire city had been "shocked, grieved and enraged" by their appearance.
Lam also insisted academic freedom and university autonomy were no excuse for propagating fallacies as she condemned posters at Chinese University that surfaced this week
advocating Hong Kong's independence
from Beijing. She asserted their message ran counter to the "one country, two systems" principle and the
Basic Law
, the city's mini-constitution.
"I condemn the continued appearance of such remarks on university campuses, which is in violation of our country's sovereignty, territorial integrity and development interests," she said.
Lam's remarks on the campus controversies came on the heels of statements by Education University council chairman Frederick Ma Si-hang and school president Stephen Cheung Yan-leung about the death of Poon Hong-yan, son of Undersecretary for Education Christine Choi Yuk-lin.
Ma challenged Hongkongers to reflect on whether they would want their children to be educated by the pair, as the school trains future teachers. He also expressed his "strongest condemnation".
The message drew sharp criticism across the city, and the poster was removed by the university's student union responsible for administrating the wall.
Speaking before an event at Ngau Tau Kok on Friday, Ma said: "I would like to ask everyone in Hong Kong to answer one question: if they were parents, would they want their children to be educated by the two young persons?"
"There are definitely limits on freedom of speech, and we should all reflect on whether those words have gone beyond the bottom line," he added.
Ma emphasised the university would conduct a thorough investigation and handle the persons involved following its standard procedures.
In response, Education University's student union issued a statement stressing the importance of free speech.
"Although the nature of the message is highly controversial, it does not mean the school can take this as an opportunity to restrict freedom of speech," the statement read. "If any student is punished for making any ethically controversial remarks, we believe that students will become more afraid of expressing their own opinions ... and even indirectly lead to 'white terror' on campus."
Union president Lala Lai Hiu-ching said the wall came under the body's management and regulations. She added the union believed it was unnecessary for the school to have "jumped the gun" in pursuing the incident as it had already taken the statement down.
Lai claimed it was only right for students and school management to come together to decide on how the incident should be handled and determine whether the matter warranted being handed over to the school's disciplinary council.
Education University and Chinese University are two of Hong Kong's eight public universities.