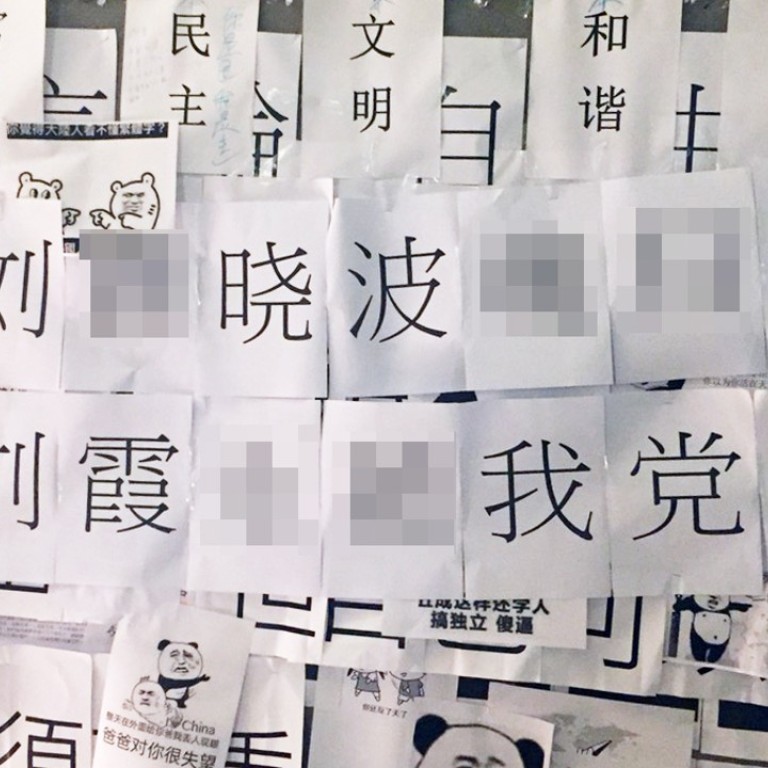 School heads condemn suicide taunt as employers 'vow never to hire' Education University students
Another poster making light of the dead, this time mainland dissident and Nobel laureate Liu Xiaobo, appears on campus
Hundreds of school principals have condemned the taunting of a top education official over the suicide of her eldest son, amid signs of a backlash by prospective employers against students from the university at the centre of the storm.
By Saturday night, schools had rejected 10 internships for Education University undergraduates as other employers threatened to never hire its graduates, said the student union president, quoting a university staff member at a meeting with union representatives. Students must complete internships before they can graduate.
The university received 1,700 signatures from various groups, including 524 school principals, voicing their disapproval over the message, which "congratulated" Undersecretary for Education Christine Choi Yuk-lin on the suicide of her 25-year-old son.
The identity of the culprits, and whether they even go to EdU, was still unknown.
The furore, however, did not stop a similar message being put up at another institution, City University, and another poster – this time in simplified, rather than traditional, Chinese – appearing at EdU "congratulating" late Chinese dissident and Nobel laureate Liu Xiaobo for dying and his wife Liu Xia for being under house arrest.
While the student union rejected the message, it defended the poster in the name of freedom of speech, drawing further ire as others, including Lam, made clear such freedoms do not override moral values.
According to union president Lala Lai Hiu-ching, university managers said they "received emails from school principals saying they would 'never hire any EdU graduates'. Some principals said that they would not hire any EdU graduates for the next few years".
"At the moment there is no evidence to support that it was done by EdU's students. I do not think it is fair to students and teachers," Lai said.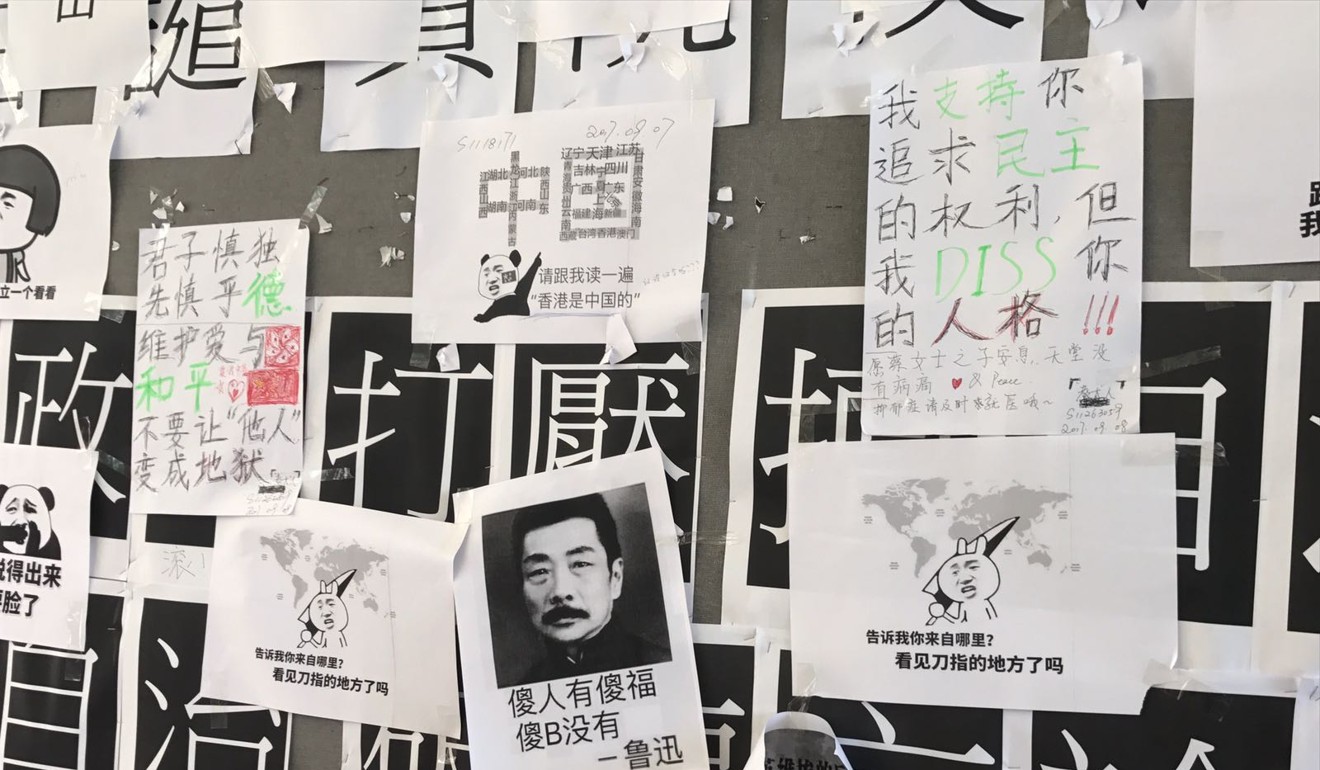 A university spokesman was more circumspect, and would only say it had received "strong reactions and opinions", including from educators.
"Some were relayed through joint statements with signatures collected," she said.
"Teachers are role models for students. The school understands that the education sector is especially concerned when it comes to the behaviour of our future teachers. We will continue to maintain communication ... and work hard to continue our training."
Education Secretary Kevin Yeung Yun-hung said principals he met "had concerns whether these people would become competent teachers." But no one had told him they would not hire the graduates or cancel internships, he said.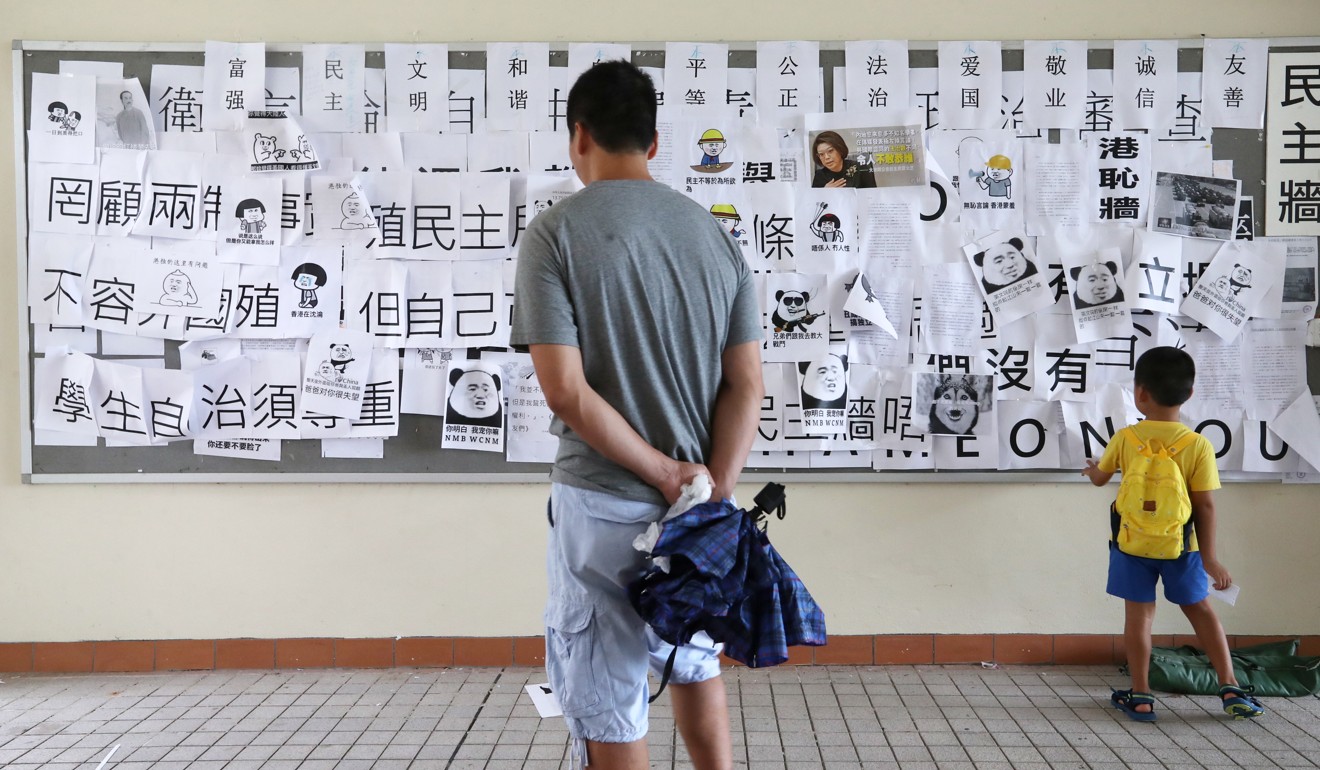 Despite the growing condemnation, a City University security guard discovered three people putting up a similar message of "congratulations" to Choi on the union's "democracy wall" late on Friday night. It was not clear if they were students, because the trio fled the scene.
The school said it "strongly condemned" those responsible and that they "completely disregarded and disrespected the lives of other people".

On Saturday, EdU staff removed another message "congratulating" Liu Xiaobo and his wife.
The student union attacked the university's reactions to the two messages as being "vastly different". While EdU president Stephen Cheung Yan-leung offered "emotional responses" rejecting remarks about Choi's son's death on Friday, such responses were absent for the Liu taunt, Lai said.
In Thursday's incident, two suspects, yet to be publicly identified, declared on the campus "democracy wall" their "congratulations" to the official after her son, Poon Hong-yan,
plunged to his death
from a luxury flat in Yau Ma Tei.
Since the poster surfaced, school staff have been looking through security footage to track down those responsible, and managers plan to step up campus security.
Reacting to the backlash, Lai said: "We are very disappointed. On the one hand principals are condemning the students for [making morally controversial statements], but at the same time they choose to destroy their chances at a future. The students should not all be tarred with the same brush."
A government spokesman said that "anyone, regardless of their motives and political stance, should respect others and society's moral values when exercising their freedom". He added that any personal attacks did not help foster development of Hong Kong as a "high-quality civil society".
This article appeared in the South China Morning Post print edition as: School principals condemn campus taunt on suicide