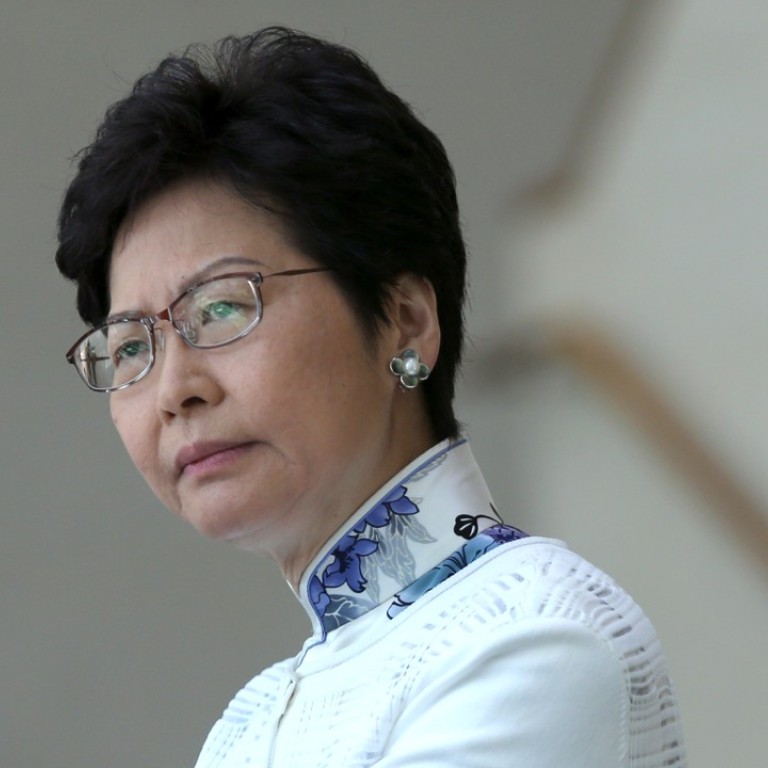 Carrie Lam voices support for universities' plan to remove Hong Kong independence banners
City's leader says government has no plan to intervene in controversy
Hong Kong's leader said on Tuesday that pro-independence banners flying at university campuses in the city "should not be allowed to continue" and gave her backing to school bosses who have said they would tear them down.
Chief Executive
Carrie Lam Cheng Yuet-ngor
also expressed confidence in universities' handling of the matter and said the government had no intention of intervening.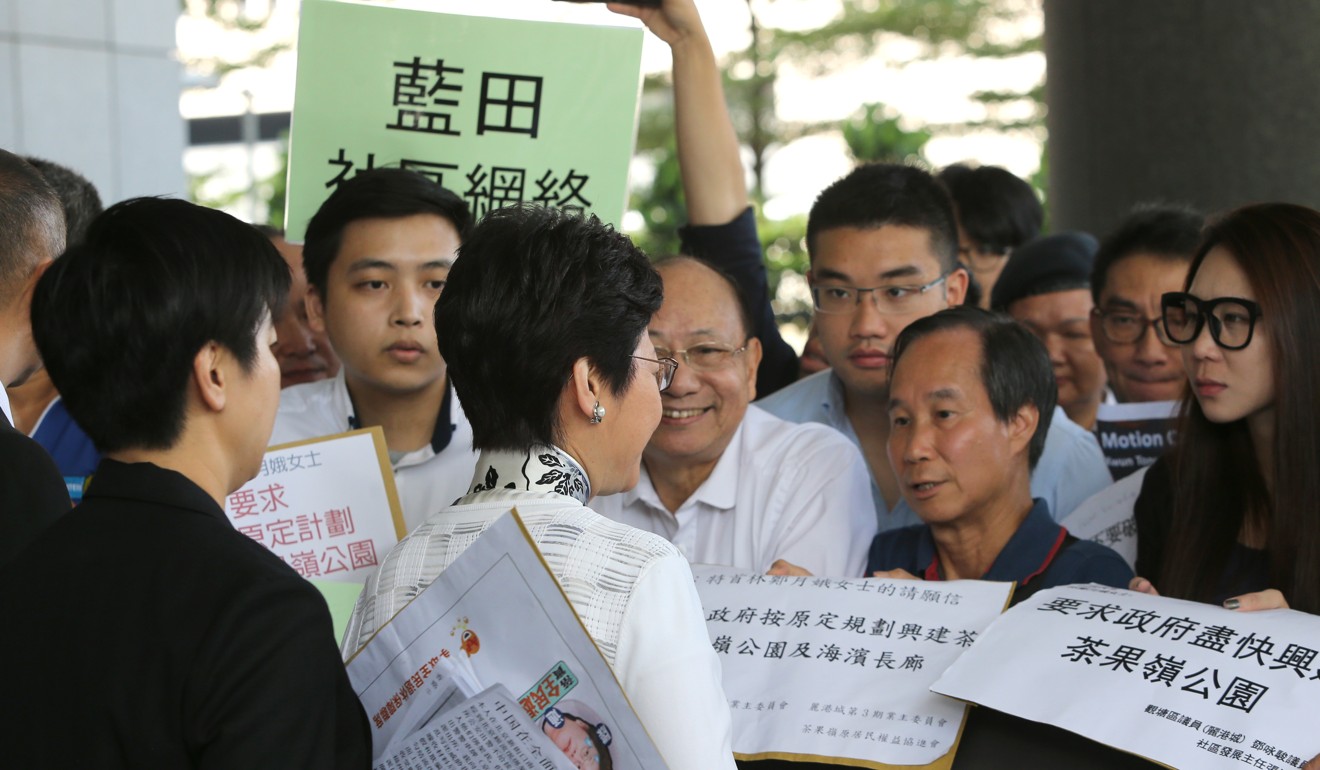 The controversy erupted on September 4 as posters and materials bearing the words "Hong Kong independence"
appeared at Chinese University
. Similar messages went up later, at other institutions in the city.
"There is no room for any discussion on the independence of Hong Kong because this breaches the 'one country, two systems' principle that underlies the prosperity and stability of Hong Kong," Lam said, referring to the city's governing formula.
She claimed such discussion violated the
Basic Law
, the city's mini-constitution, and was "absolutely not in the overall interest of Hong Kong".
The chief executive called the stunts "organised and systematic" and reiterated
her earlier comments on the matter
, asserting she did not intend to curtail freedom of speech or academic discussion.
Universities are for students to be educated, Lam said. For that reason, she added, advocating independence "should not be allowed to continue" at local universities.
Reminding students of the boundaries of freedom of speech was a duty for university heads, Lam continued, and institutions were being "responsible" by making clear the banners would be taken down.
"I have confidence in university management not to turn a blind eye [to the issue] and allow this unhealthy wind to spread," she said. "I have absolutely no intention right now of intervening in university management."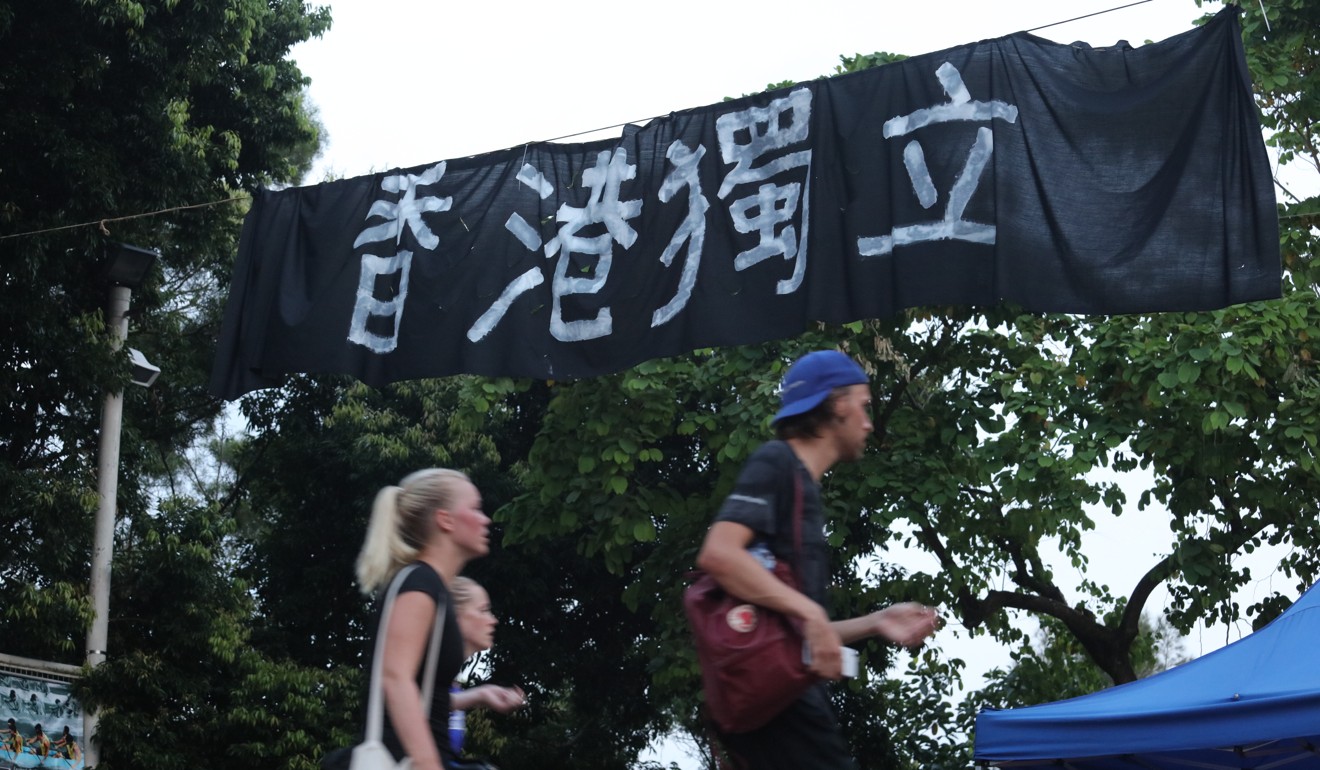 The leaders of different institutions differed over whether to allow such banners and posters on their campus 'democracy walls'.
Lingnan University president Leonard Cheng Kwok-hon said putting up posters to discuss Hong Kong independence was
acceptable as long as the material did not advocate it
. Polytechnic University removed all related slogans. It said the decision was meant to "respect and observe the Basic Law" and "protect students from potentially breaking the law".
At Chinese University on Tuesday, student union representatives were still guarding the banners from removal. They had set up a booth at Cultural Square where posters were put up, guarding them around the clock.
The student union had hung a new black banner bearing the words "Oppose Article 23 legislation", referring to the part of the Basic Law requiring Hong Kong to enact laws against treason, sedition and subversion.
"Even though the slogan is against the Basic Law, it is protected by freedom of speech," the union wrote on Facebook.
On campus, a student identifying himself only as a union committee member said: "If the posters are put on the wall following our rules, such as not covering other [posters], we should protect them from being torn down under the freedom of speech ... It's [the union's] responsibility to protect them."
"We're stationed here to guard against the school and any unknown person tearing down the posters and banners. We hope not to have any bodily conflict with them," he added.
At Lingnan University, posters bearings the words "Support Hong Kong Independent Media" had been put up, but the word "independent" had been ripped off. The union vice-president Issac Chan Tsun-hin said no one claimed responsibility for the act, but said he did not think university staff did it.
Meanwhile, Secretary for Education Kevin Yeung Yun-hung said the question of independence did not arise during any of his meetings with mainland officials over his three-day Beijing visit which ended on Tuesday.
"We didn't mention what happened in [Hong Kong's universities recently] because we consider them to be issues within our autonomy," Yeung said.
Additional reporting by Billy Wong
This article appeared in the South China Morning Post print edition as: banners in violation of Basic Law, lam says