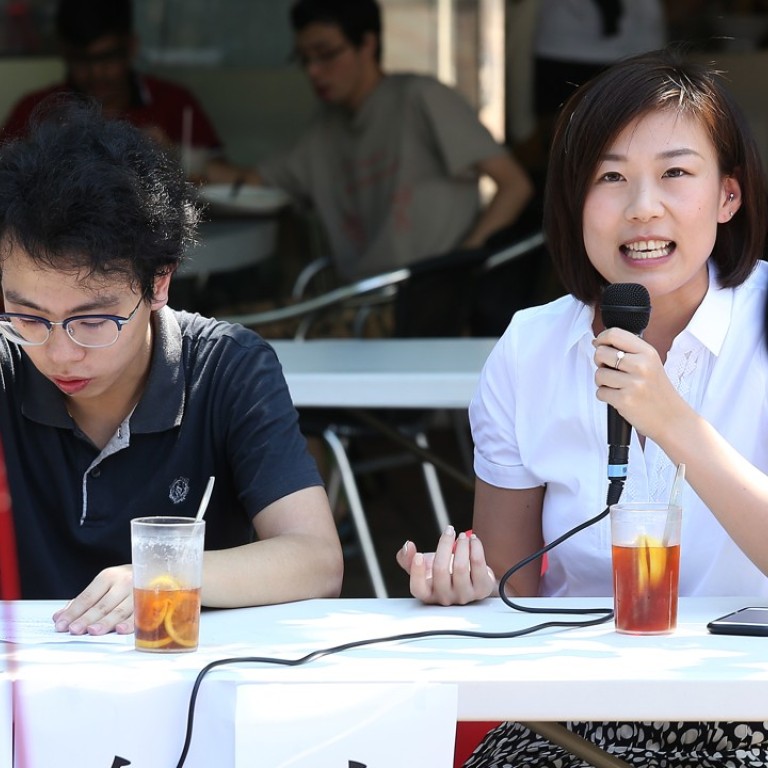 University pro-independence banner debate 'too emotional', academic says
Lecturer at Chinese University urges Hong Kong students and residents to consider their mainland counterparts' feelings
A Shanghai-born lecturer at Chinese University has urged Hong Kong students and residents to consider their mainland counterparts' feelings during political campaigns, as isolating them could mean losing a large group of pro-democracy supporters.
Sociology academic Minnie Li Ming, 32, has recently became an icon of the moderate voice as the city's universities were embroiled in a row on whether it is legal to
post banners advocating Hong Kong's independence
from China in university campuses.
Such posters were posted at Chinese University's student notice board, and triggered a heated debate between a group of mainland students who want to remove those posters, and local students who tried to stop them or verbally abused them.
On September 7, Li said on Facebook that she debated with several mainland students who posted their own posters on the board to protest against the "undemocratic" posting of pro-independence posters. The Facebook page attracted more than 7,000 "likes" and was shared more than 2,700 times.
Speaking at a public forum in front of the "democracy wall" notice board, Li said both local and mainland students were too emotional in the recent controversy.
"A mainland student told me she was not very angry about the pro-independence posters, but she was just hurt because she was never taught about individual value, her existence and well-being relied on the country ... so she felt attacked when people attack China," Li said.
"If we label people based on their birthplace, and refuse to talk to them ... we would lose a group of potential supporters."
Li believes that the mainland students who came out to confront local students only represented the "hardcore patriotic" minority.
Chinese University political scientist Chow Po-chung said instead of just putting up posters, local and mainland students should deepen their discussion with each other.
"Independence should be a serious academic topic that deserves discussion ... When various freedoms are being suppressed and restricted in the mainland, it will be difficult for Hong Kong to stay untouched, and the issue of freedom is no longer an abstract one for us," Chow argued.
Fourth year public administration student Horace Hung Ho-ming, former vice-president of the university's student union, said it was regrettable that the university's president Joseph Sung Jao-yiu demanded students to take down a pro-independence banner.
At the forum, sociology second year student Joyce To questioned how many students would care about "theoretical discussions on freedom of expression".
"University students' social status is much lower than in the 70s ... and we are not even qualified to look for a blissful life as we can only focus on survival," To said.
To was moved to tears when Li replied that an unmarried lecturer in Hong Kong might feel as lost as local university students sometimes.
"We don't know whether our contract will be renewed next year ... a lot of lecturers do not know where they will go next, so we are with you and understand how it feels to have a heavy burden on your shoulders," Li said.
This article appeared in the South China Morning Post print edition as: Independence debate protagonists 'too emotional'