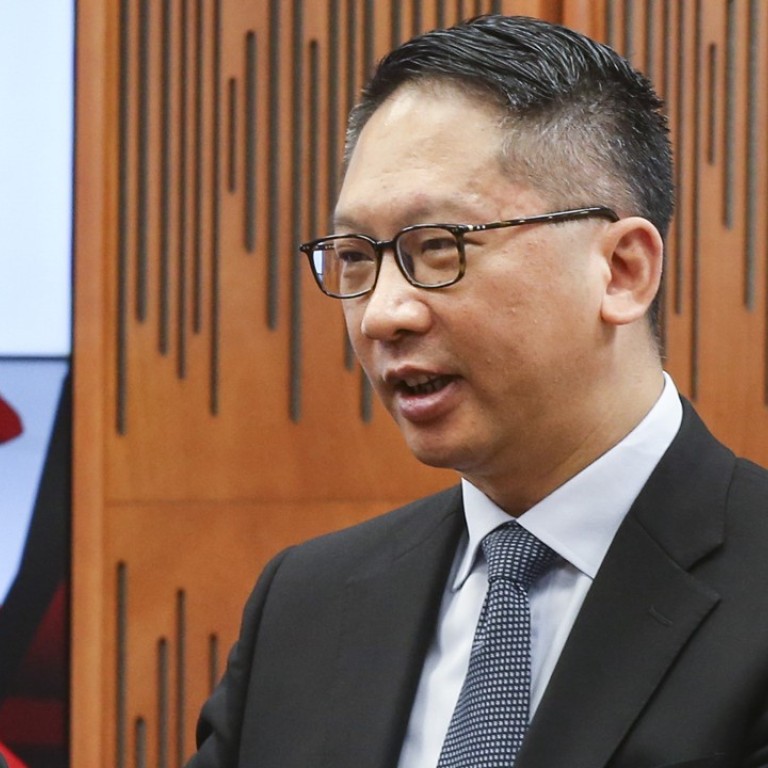 Justice chief defends Hong Kong courts after judicial independence ranking falls for third consecutive year
Rimsky Yuen Kwok-keung's remarks come amid accusations of political motivation behind recent rulings that saw activists jailed and opposition lawmakers disqualified
Justice minister Rimsky Yuen Kwok-keung put up a strong defence of Hong Kong's courts on Thursday after the city slipped five places in the judicial independence category of the latest global competitiveness ranking, compiled by the World Economic Forum.
Although the city's overall competitiveness
rose three places to sixth
, its judicial independence score, one of a variety of factors used to define competitiveness, dropped from eighth to 13th place. Hong Kong's rank in this category has fallen for three years in a row.
"Although we fell from No 8 to No 13, I am still fully confident in Hong Kong's judicial independence," Yuen said.
The justice chief said while the government was concerned about the ranking drop, he saw nothing undermining the independence of the legal system in the past year.
"Judges and judicial staff at all levels in Hong Kong have been handling every single case professionally, dedicatedly and independently," he said.
Yuen acknowledged that in the local and international community, there were some "subjective perceptions" about the city's judicial independence.
"We can't solely rely on subjective feelings but have to look at the facts," he said.
Yuen promised to put more effort into explaining the independence of Hong Kong's legal system to people at home and abroad "so that they will have a more objective, comprehensive and accurate understanding of the situation".
Last week, the city's leader, Chief Executive Carrie Lam Cheng Yuet-ngor, hit back at "disrespectful" and "disturbing" remarks by British politicians and commentators who objected to the jailing of three democracy activists last month.
The three former student leaders were jailed over an illegal protest in the run-up to 2014's Occupy campaign. A group of 25 foreign politicians and activists, including former British foreign secretary Malcolm Rifkind, had then
condemned the sentences
and demanded the release of "political prisoners".
The jail terms were prompted by a successful push by Yuen for a sentencing review after the activists were previously handed more lenient punishments by the courts.
From November to July, the courts also disqualified six pro-democratic lawmakers who insulted China or failed to take their oath of office properly.
The disqualification came after Beijing
effectively amended the Basic Law
, Hong Kong's mini-constitution, to make improper oath-taking an offence punishable by disqualification.
Law Society chairman Thomas So Shiu-tsung said he could not figure out why the city's judicial independence ranking had been downgraded, and urged the public to remain confident about the rule of law.
When asked if the fact that courts in Hong Kong have to obey Beijing's interpretation of law affected the ranking, So said it was the right of the National People's Congress Standing Committee to interpret laws in the city.
This article appeared in the South China Morning Post print edition as: Minister defends courts after judicial independence blow