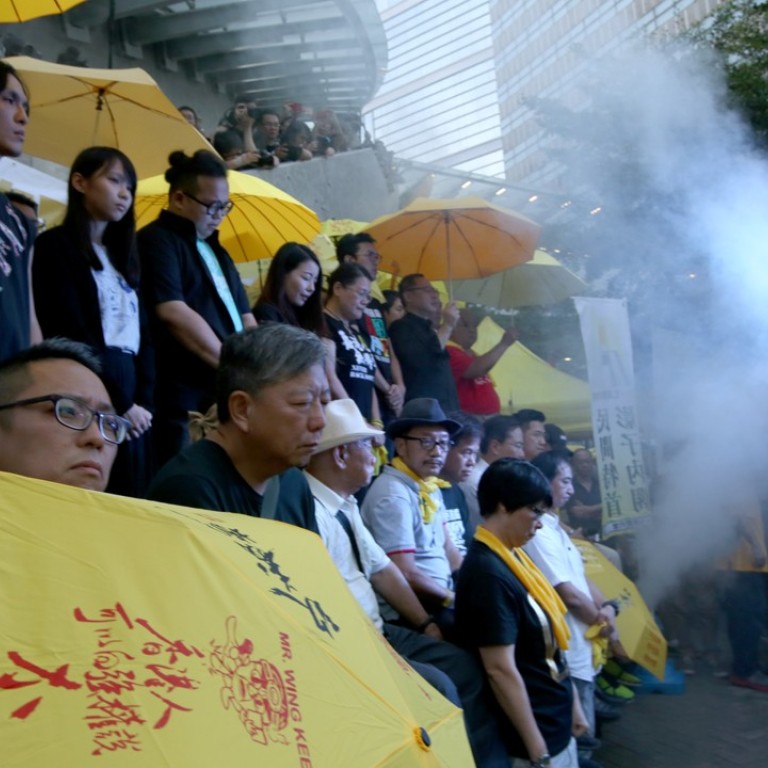 Hundreds rally to mark third anniversary of Hong Kong's Occupy democracy protests
Demonstration is first time the annual event has been held without any of the three student leaders of the 2014 movement
Hundreds of protesters gathered in Hong Kong's financial district on Thursday night to mark the third anniversary of the Occupy pro-democracy protests, with street booths, banners and yellow umbrellas reappearing in scenes reminiscent of the street blockades of 2014.
The three co-founders of the civil disobedience movement, Benny Tai Yiu-ting, Dr Chan Kin-man and Reverend Chu Yiu-ming, returned to the site in Admiralty, outside government headquarters, that protesters occupied for 79 days in the name of democracy.
It was their first visit to the area since public nuisance charges were brought against them over their roles in the protests three years ago.
It was also the first time the annual event was held without any of the three student leaders of the campaign. Joshua Wong Chi-fung, Nathan Law Kwun-chung and Alex Chow Yong-kang were sentenced to jail last month for storming the forecourt of the government's office compound in the run-up to the road blockades.
Law was also one of four Hong Kong lawmakers disqualified from the city's legislature by the High Court in July over improper oath-taking last year.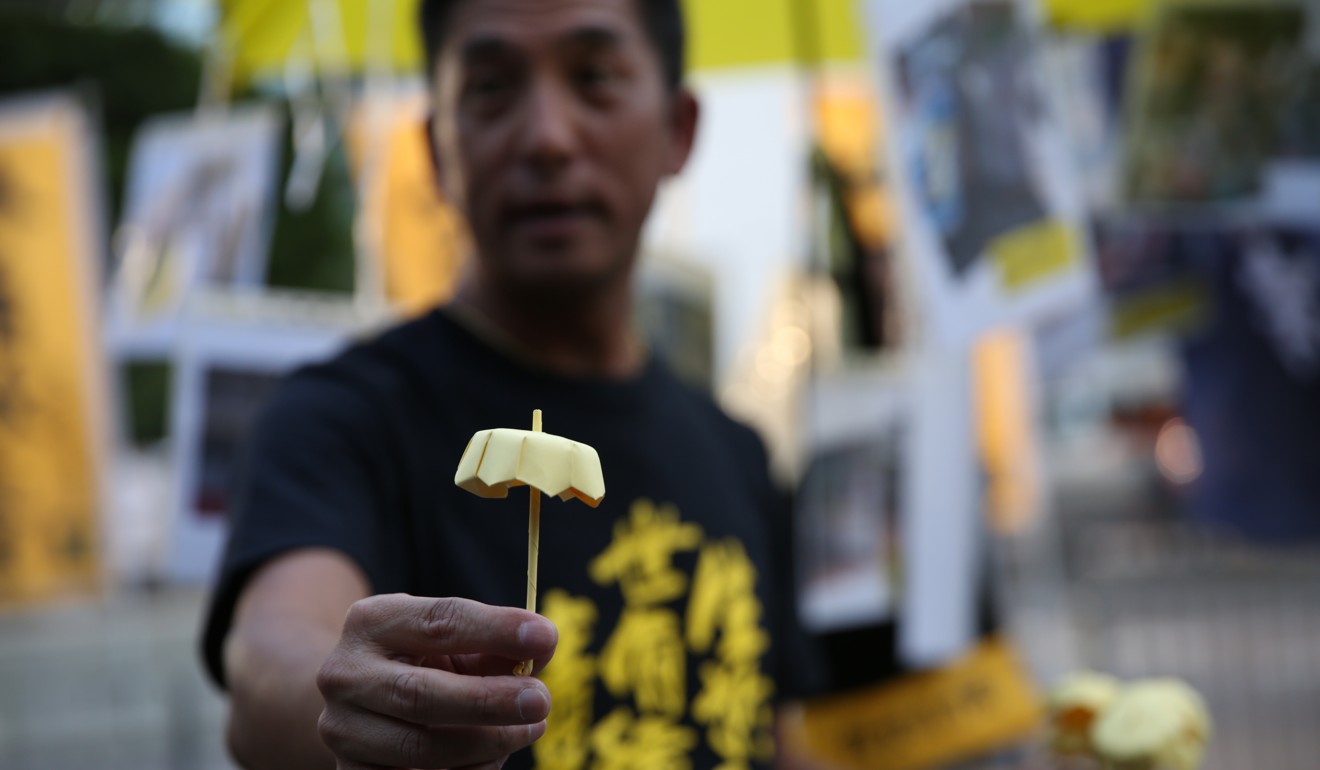 Participants at the rally included a group of third-year social work students from City University. One of them, C.Y. Ling, said he was there to remember what had driven people out into the streets three years ago.
"I'm here to support Hong Kong's values such as freedom and the right to universal suffrage," he said.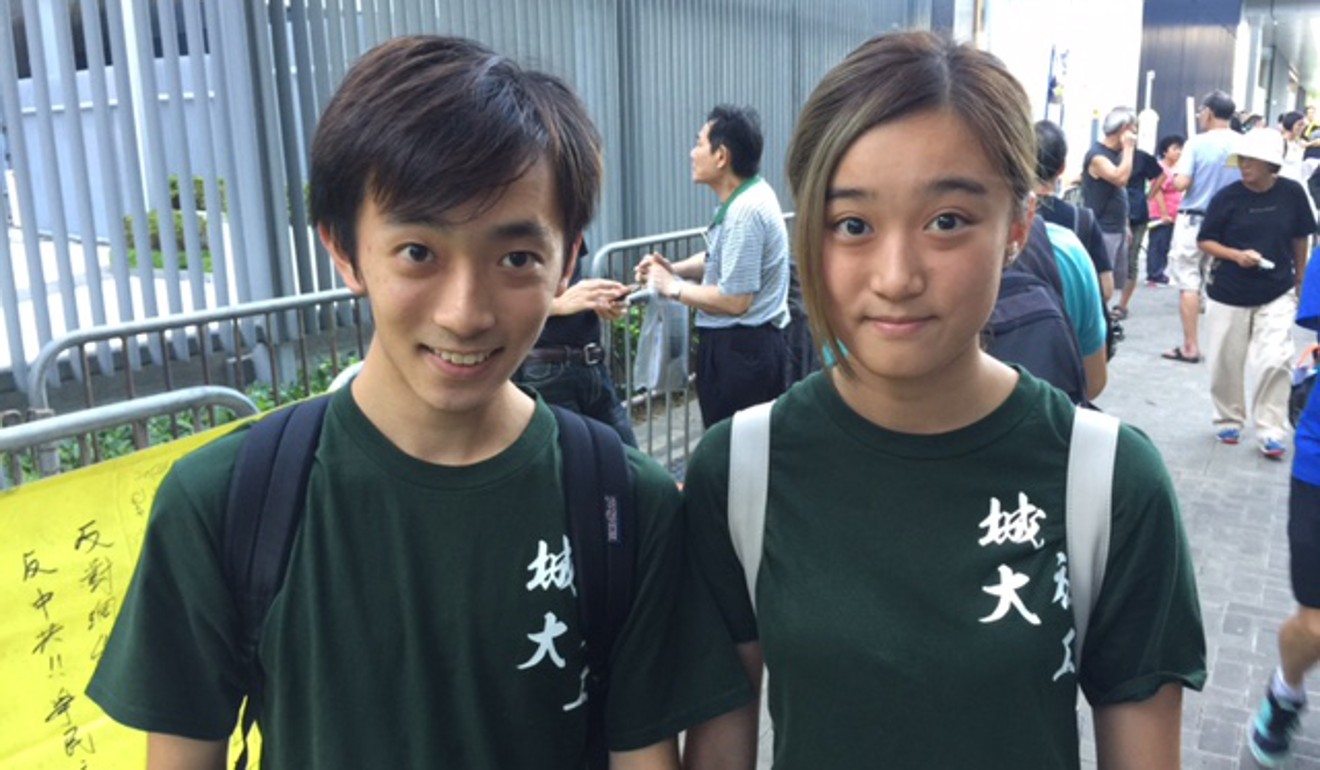 "The recent jailing of the three young activists] was part of the reason why I came, but a bigger reason is that social and political injustice persists – we don't have a say in this society ... and a lot of people are still homeless."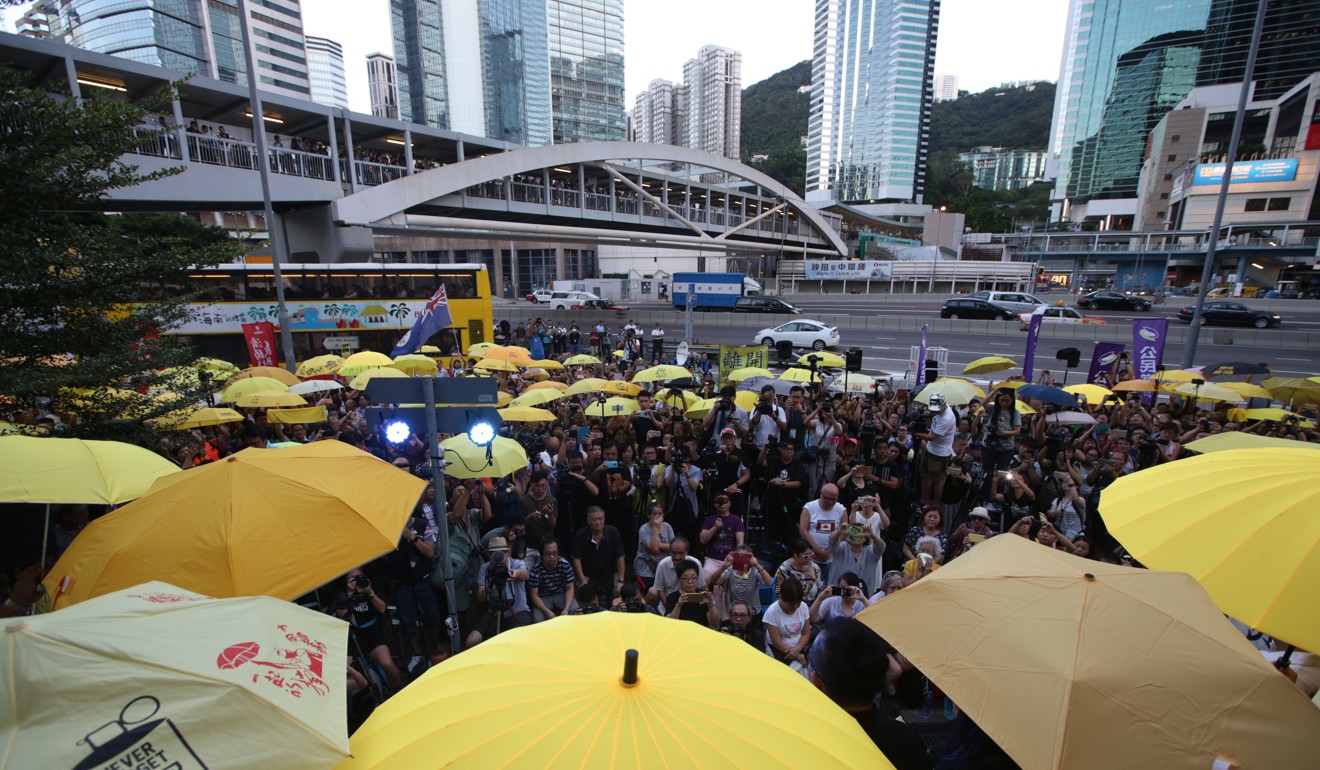 The rally was held in front of the so-called "Lennon Wall" outside the government compound which had been plastered with pro-democracy messages during Occupy.
At 6pm, a crowd that organisers said was more than 1,000-strong, gathered to watch about 30 lawmakers and activists on stage observe three minutes of silence to mark the moment riot police fired tear gas at protesters. Steam was used in a re-enactment of the moment when Tim Mei Avenue was filled with choking fumes.
Addressing the crowd, Tai criticised the local administration as "an autocratic government which is trying to force the people to obey it with intimidation and lies".
"Our hope is like a candle light and the autocracy will try to extinguish it. If we can defend this light, the day will come when Hong Kong enjoys democracy," Tai said.
"Our belief in democracy, fairness, human rights and justice ... will be the anchor for a boat in a raging sea."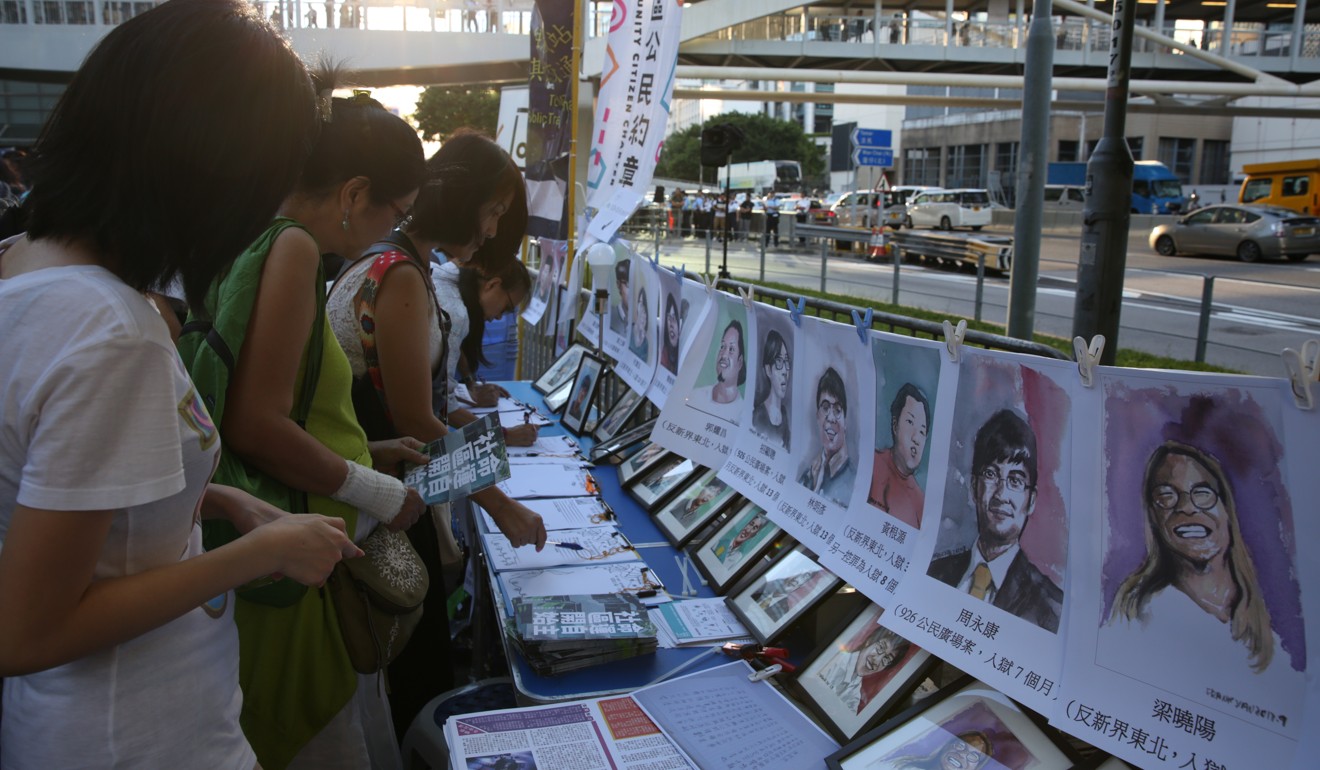 Chan urged Hong Kong people not to resort to hatred in the fight for democracy.
"We might be angry, but we must not lose our rationality ... Then we will see the light of humanity amid darkness," he said.
Agnes Chow Ting, a member of political party Demosisto, said: "I wonder if Hong Kong people will get used to disqualifications and imprisonment of young people in the next three years.
"We have fear amid this fight, but for this city we love ... we must fight on or our next generation will suffer from more fear and more reluctance to fight for democracy."
On a radio
programme earlier on Thursday
, the Occupy co-founders also implored Hongkongers to continue to fight for universal suffrage and defy what they saw as Beijing's repression of democracy in the city.
The trio, together with six other leading Occupy protesters, are facing variations of a public nuisance charge stemming from the movement. The three co-founders previously said they were prepared to be jailed eventually. A four-day pretrial review of their case is expected to start in January.
In a column published by British newspaper The Guardian on Thursday, Wong described prison as "an inevitable part of Hong Kong's exhausting path to democracy".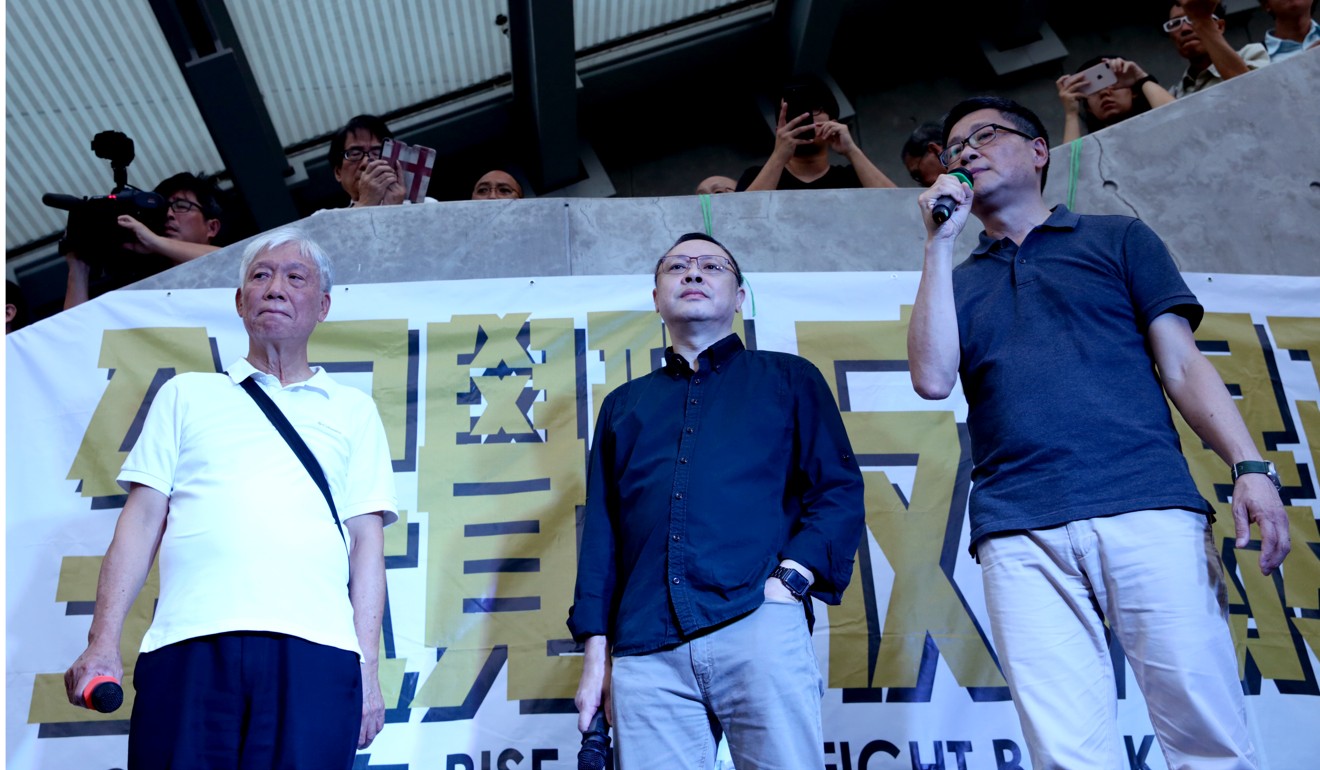 "Our bodies are held captive, but our pursuit of freedom cannot be contained. Adversity will only sharpen our wits and make us more strong-willed, resulting in the political awakening of more Hongkongers, not to mention the international community's support," the 20-year-old student leader wrote.
The 79-day sit-ins brought parts of the city to a standstill in late 2014, a month after Beijing laid down a stringent framework for Hong Kong's political reform seeking to achieve a popular ballot to select the city's leader in 2017.
The reform package decreed by Beijing was eventually voted down by opposition pan-democrats in the city's legislature in 2015.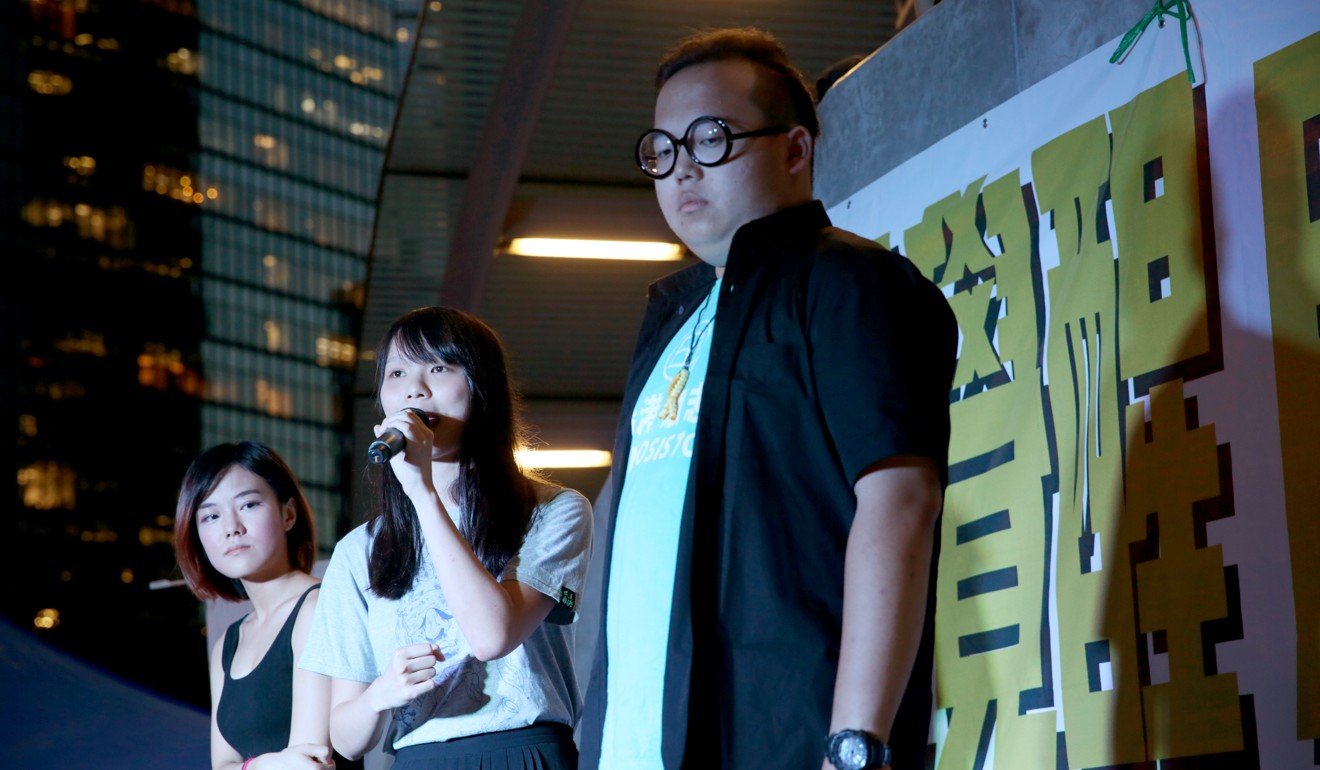 This article appeared in the South China Morning Post print edition as: Banners and umbrellas reappear in Admiralty