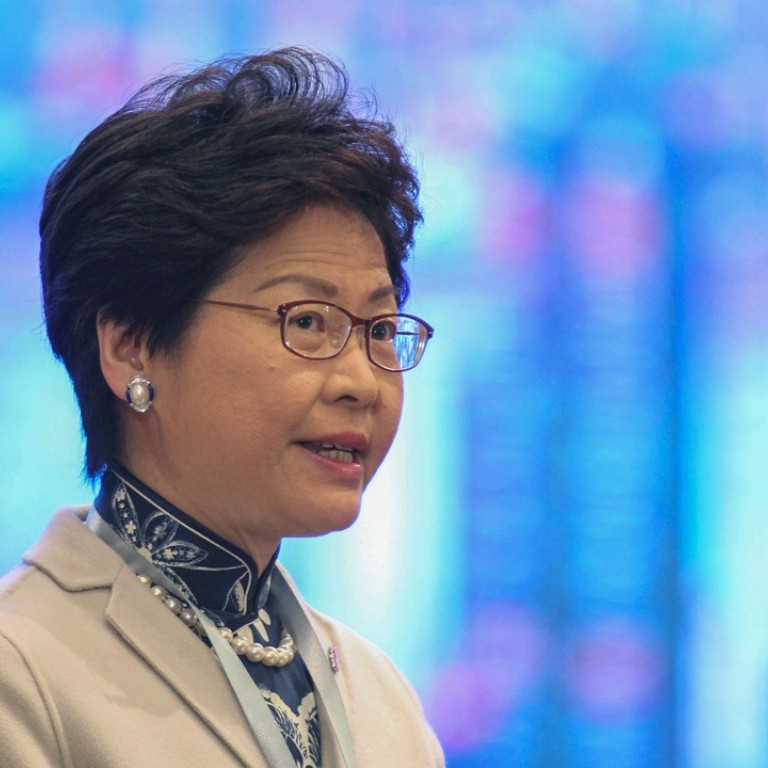 Hong Kong leader Carrie Lam hits out at US congressmen over Joshua Wong's Nobel nomination
The chief executive's remarks from Beijing come hours after her top official said foreign politicians lacked understanding of the local situation
Hong Kong's leader Carrie Lam Cheng Yuet-ngor hit out on Saturday at a group of American congressmen who nominated activist
Joshua Wong Chi-fung
and two allies for the Nobel Peace Prize, saying that it was "regrettable for foreign politicians to meddle with the city's affairs".
Lam's remarks came hours after her top minister, Chief Secretary Matthew Cheung Kin-chung, said the nomination showed that some politicians overseas lacked understanding of the city's situation and constitutional status.
He was speaking in his capacity as the acting chief executive, as Lam is on a Beijing trip.
Cheung was the first local official to comment on the matter, after it was revealed on Thursday that a group of 12 US politicians had
put forward Wong
, Nathan Law Kwun-chung and Alex Chow Yong-kang, as well as the 2014 Occupy campaign – popularly known as the "umbrella movement" – to the Norwegian Nobel Committee in Oslo.
China's foreign ministry on Friday urged the congressmen to
"stop meddling "
in the country's internal affairs, while Hong Kong's pro-establishment legislators warned that the nomination would do more harm than good.
Speaking at a media briefing in Beijing on Saturday, Lam said: "The Nobel Prize is an international prize respected by people around the world. It is regrettable that foreign politicians are using [it], apparently for political intervention ... and to send political messages."
She said "everyone knows the nature" of Occupy as the city's courts had issued judgments on some activists.
Earlier on Saturday, Cheung was asked to comment on the trio's nomination during a passing-out parade for police inspectors.
"It is of utmost importance that society is orderly. We all know that the Occupy movement was illegal, and we had to act in accordance with the law," he said.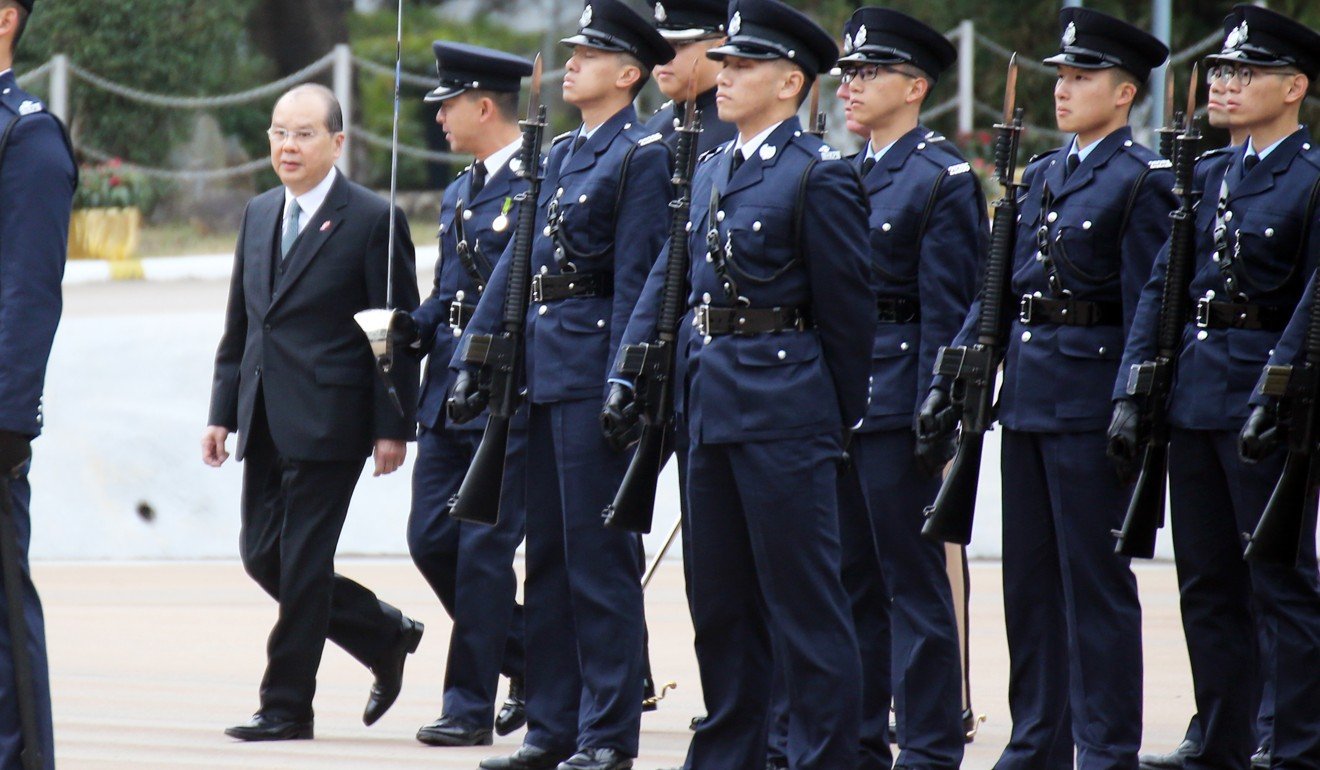 Cheung said it was "unquestionable" that the rule of law and the "one country, two systems" principle had been at the core of the city's success. Under the principle, Hong Kong is guaranteed a high degree of autonomy in its relationship with the central government.
He added that while the city enjoyed certain advantages under "two systems", it must also "safeguard national sovereignty, dignity, territorial integrity and security".
"I hope you understand that foreign politicians might not grasp the actual situation in Hong Kong, and individuals may have their own agenda," he said, without further elaboration.
"We need to be pragmatic: Hong Kong is a place with the rule of law ... and we respect the court's judicial independence."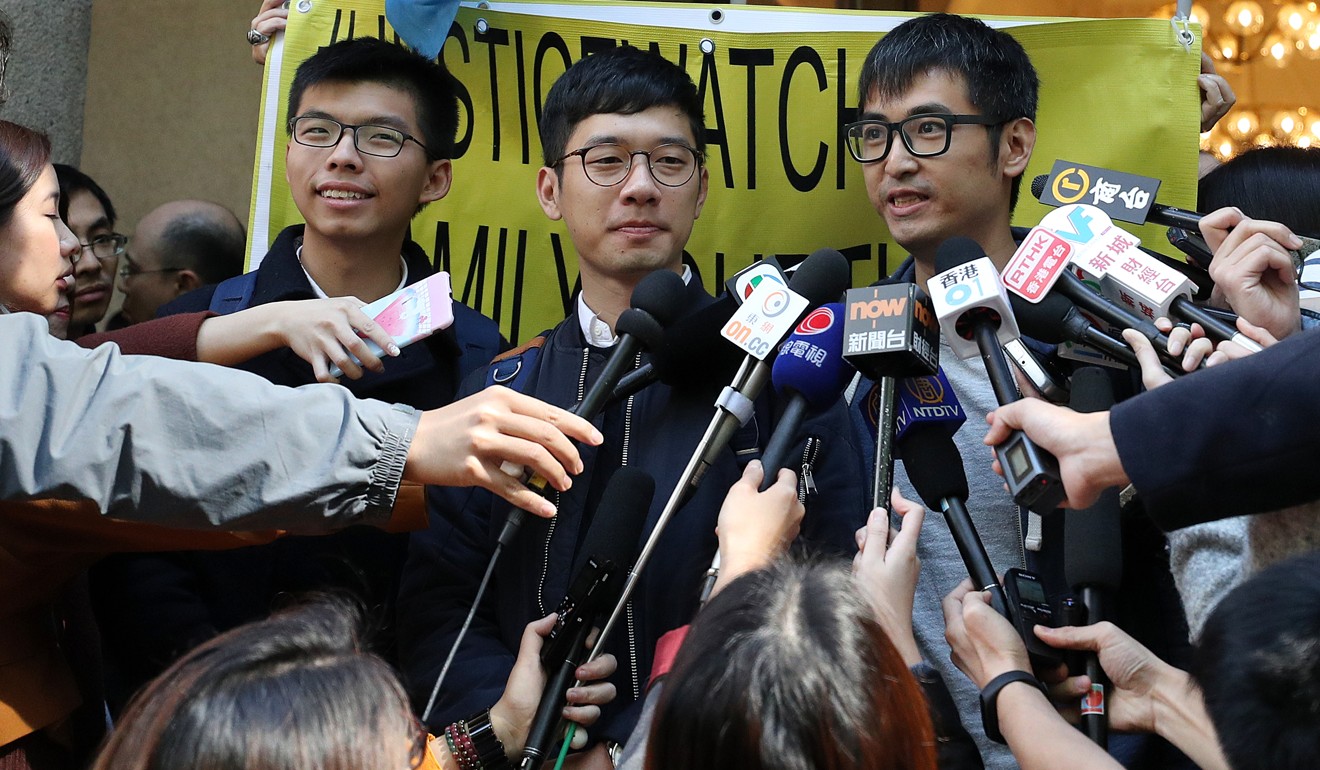 Wong, Law and Chow were jailed for their roles in an illegal protest in the run-up to the Occupy movement, and are out on bail pending appeals.
Wong was also
jailed for contempt of court
over a separate incident towards the end of the 79-day civil disobedience movement for greater democracy. He is appealing against that sentence.
During the ceremony at the Police College, Cheung also praised officers for removing
two wartime bombs
which were discovered at a Wan Chai construction site in the past week.
The chief secretary lauded police for being professional in dealing with recent public rallies. He noted that the number of such protests in Hong Kong had multiplied from about 2,300 a year in the late 1990s to more than 11,800 last year.
"The most worrying is that some participants of these activities ... provoked officers, or even resorted to violent confrontations. Frontline officers faced tremendous pressure as a result," he said.
On Friday, Hong Kong was once again
ranked the world's freest economy
for the 24th straight year by Heritage Foundation, a right-wing policy research institute based in Washington.
Cheung said he believed the city's police had a hand in its economic prosperity.
"Without good public order as the basis, how can we talk about a free economy?" he said.
Cheung also noted that last year, the city's crime rate fell to a new low since 1975.
Phila Siu is reporting from Beijing
This article appeared in the South China Morning Post print edition as: Lam takes aim at US 'meddling' politicians