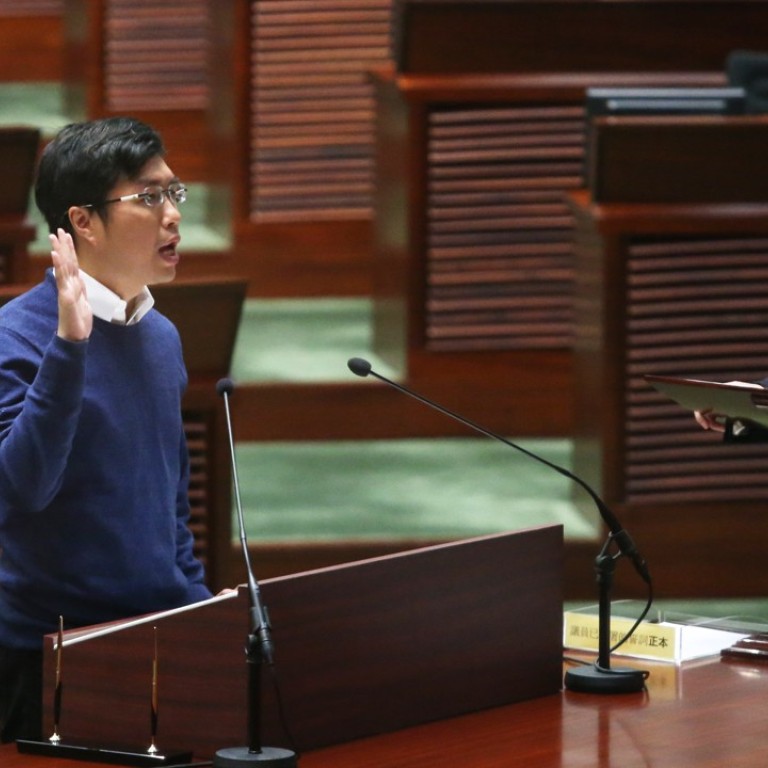 Exco member Regina Ip upstages new lawmakers by chanting slogans at Legco swearing-in
New People's Party chairwoman abstains from Au Nok-hin's oath-taking over 'integrity issue', citing pan-democrat lawmaker's burning of copy of Basic Law in 2016 
The four winners of the recent Hong Kong legislative by-election were sworn in on Wednesday, filling some of the seats vacated by six pro-democracy legislators disqualified 
for improper oath-taking
in 2016. 
While no one made any alterations to their oath this time around, New People's Party chairwoman and Executive Council member Regina Ip Lau Suk-yee and her party colleague Eunice Yung Hoi-yan stole the limelight by chanting slogans ahead of pan-democrat Au Nok-hin's turn.
"Shame on burning the Basic Law!" they chanted, referring to a 2016 incident in which Au burned a copy of the city's mini-constitution.
New People's Party's Judy Chan Ka-pui lost the
Hong Kong Island seat
to Au in the March 11 poll, with a thinner-than-expected margin.
"We decided to abstain from the oath-taking of Mr Au Nok-hin. It is a shameful act to burn the Basic Law and deny it," Ip said as she and Yung walked out of the chamber.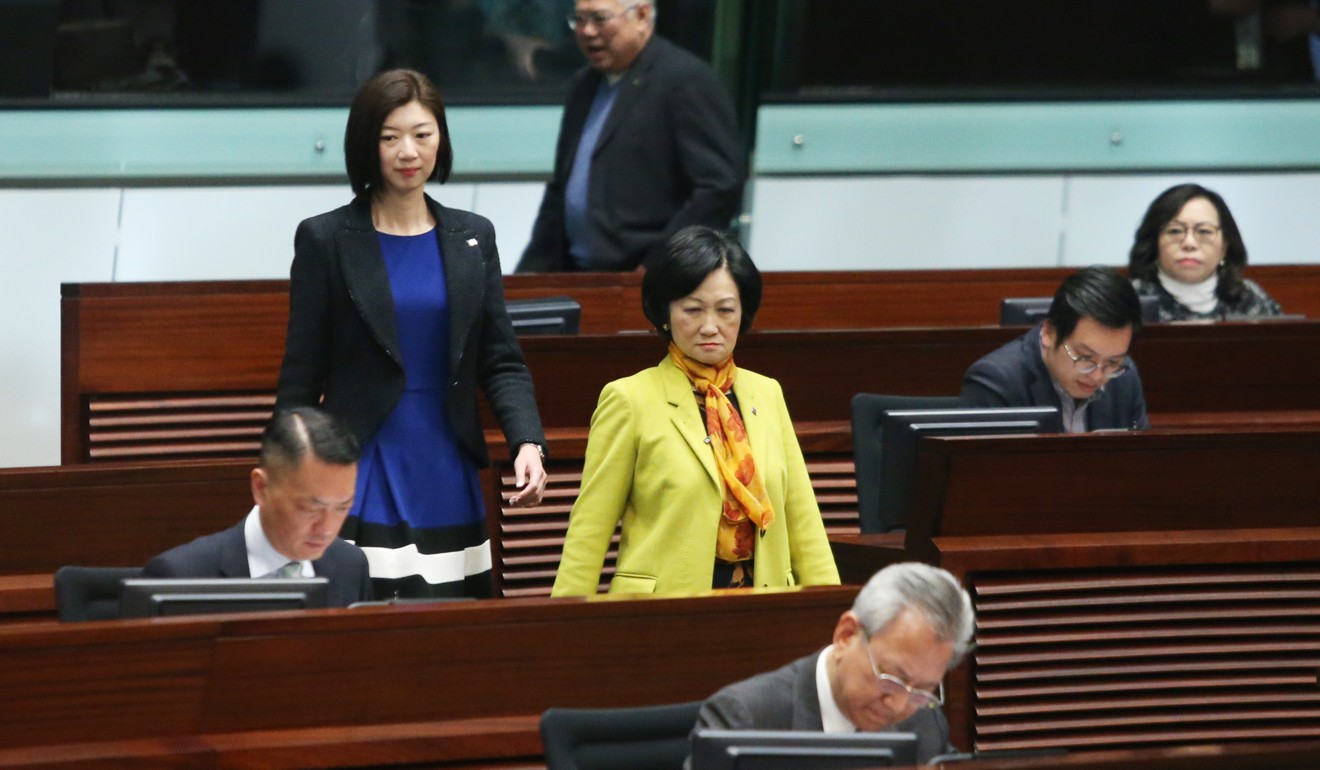 Ip said there was "an integrity issue" with Au, who despite the earlier stunt has claimed he would uphold the Basic Law "for the sake of qualifying".
Independent lawmaker Eddie Chu Hoi-dick also chanted "Shame on Democratic Alliance for the Betterment and Progress of Hong Kong to dish out freebies" when pro-establishment politician
Vincent Cheng Wing-shun
took his oath. An audio clip that went viral online earlier alleged that Cheng's team had given goodie bags to voters ahead of the by-election.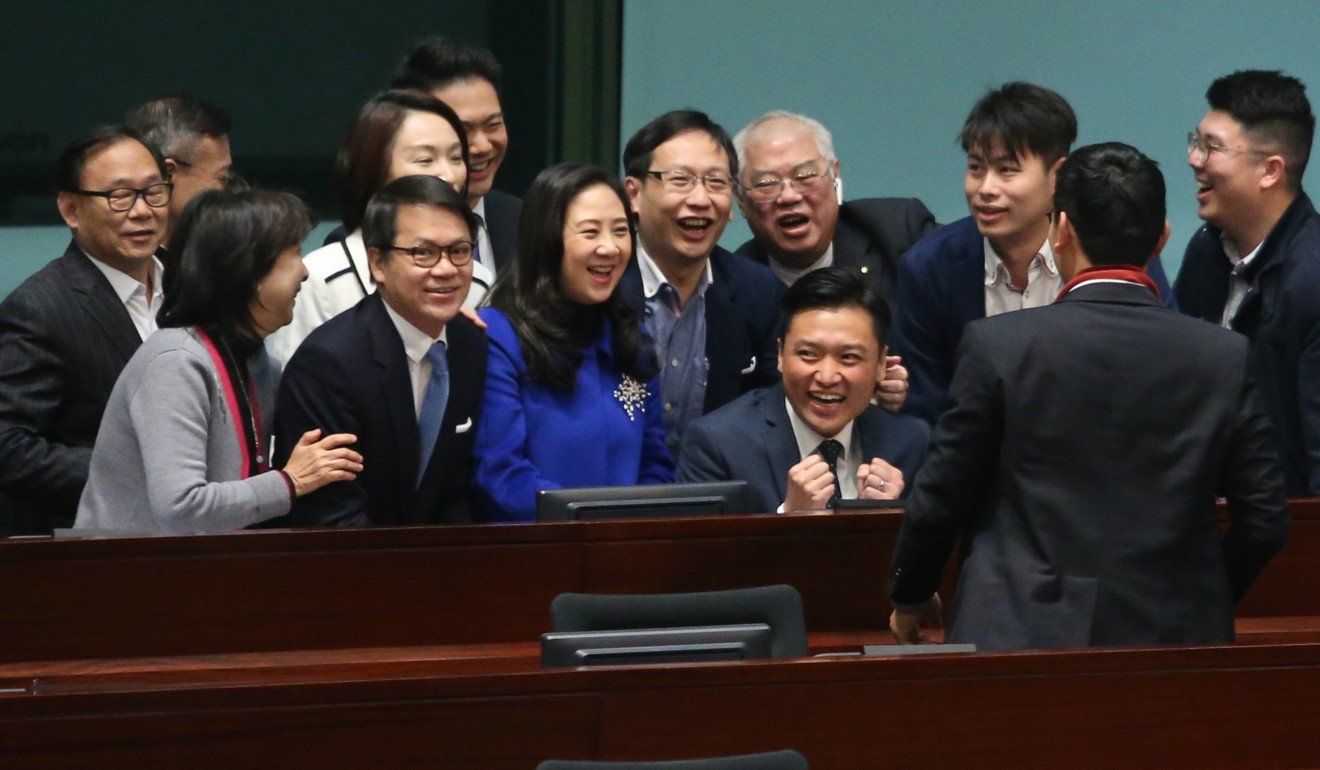 Earlier this month, Au, Cheng and Gary Fan Kwok-wai were elected in the Hong Kong Island, New Territories East and Kowloon West constituencies respectively. Pro-establishment politician Tony Tse Wai-chuen was elected in the architectural, surveying, planning and landscape functional constituency. 
Au and Cheng, of the DAB, are first-time lawmakers, while Fan, of the NeoDemocrats, and Tse are ex-legislators who lost their seats in the general election of September 2016. Au and Tse were non-affiliated.
The newcomers take the place of four of the six pro-democracy lawmakers ousted by a local court for failing to take their oaths properly in 2016.
The disqualified legislators who held the remaining two seats, "Long Hair" Leung Kwok-hung and Lau Siu-lai,
are appealing against the ruling
, and no date has yet been set for a by-election to fill their spots.
The Legislative Council session on Wednesday came days after former DAB chairman Tam Yiu-chung, currently a member of the National People's Congress Standing Committee (NPCSC),
warned in an exclusive interview with the
Post
that Hongkongers who use slogans calling for an end to "one-party dictatorship" in mainland China 
risk being barred
from future elections.
According to the Legislative Council Oath, an elected lawmaker needs to swear that as a Legco member, he will uphold the Basic Law, "bear allegiance to the Hong Kong Special Administrative Region of the People's Republic of China" and serve Hong Kong "conscientiously, dutifully, in full accordance with the law, honestly and with integrity".
Au said he took the oath with mixed feelings, as his election was triggered by the disqualification saga.
The new lawmaker pledged to unite the pro-democracy bloc and "put up a good fight for Hongkongers" as – according to him – Beijing tightened its grip on the city.
Au said Tam's remarks were an apparent attempt to "test the water" and restrict the political rights enjoyed by Hongkongers, adding that his bloc would present a united front in the face of such challenges.
The 30-year-old Southern district councillor refused to comment on Ip's protest as the incident was part of legal proceedings, though he called on different parties to respect the election results.
Au is 
facing a court battle 
mounted by pro-establishment supporter Wong Tai-hoi, who lodged a judicial review application challenging his candidacy. Wong claimed it was wrong for Au to be allowed to run given that he had once burned a copy of the Basic Law in public.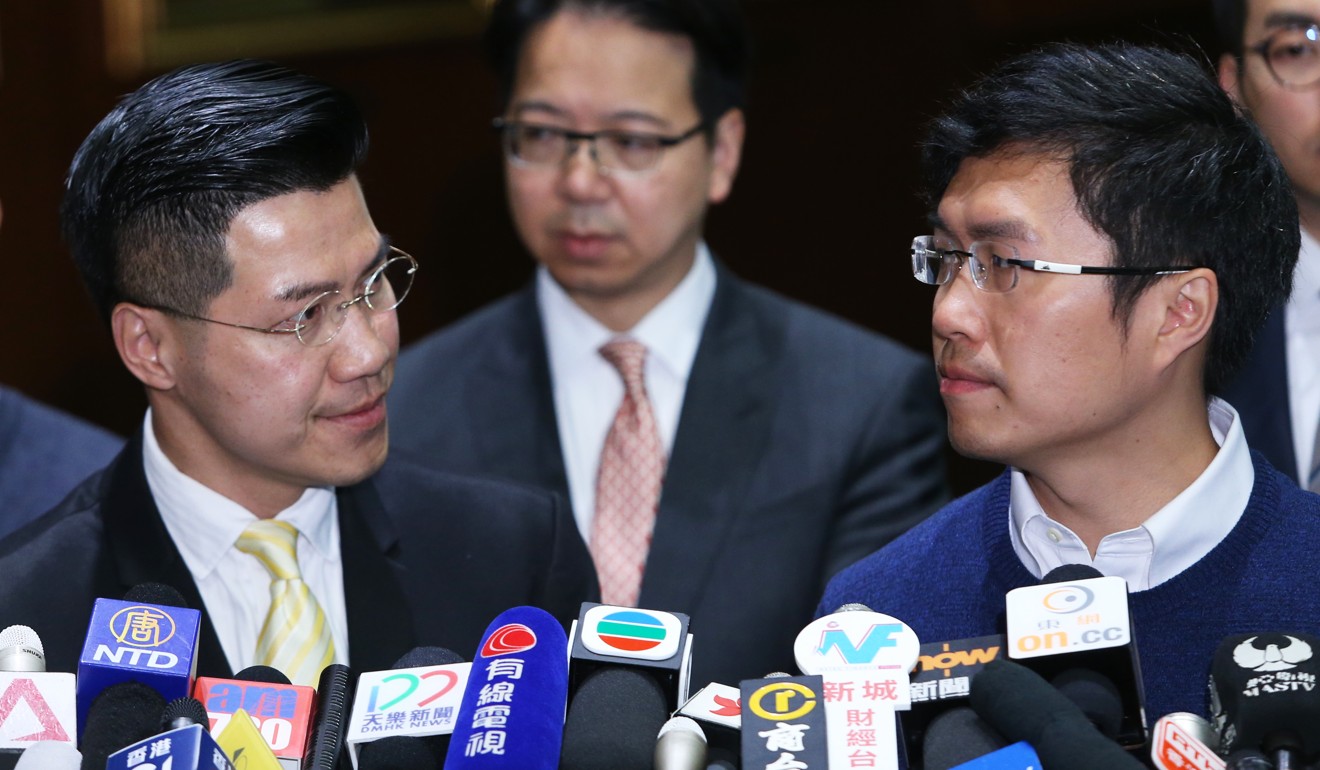 Cheng defeated disqualified lawmaker Edward Yiu Chung-yim in Kowloon West to become the first pro-establishment candidate to win a legislative by-election in a geographical constituency since Hong Kong was returned from British to Chinese rule in 1997.
He said he would focus on housing, development and education issues. 
In response to the slogan Chu chanted, Cheng said he had contested various elections, all of which had been held in a fair and open manner.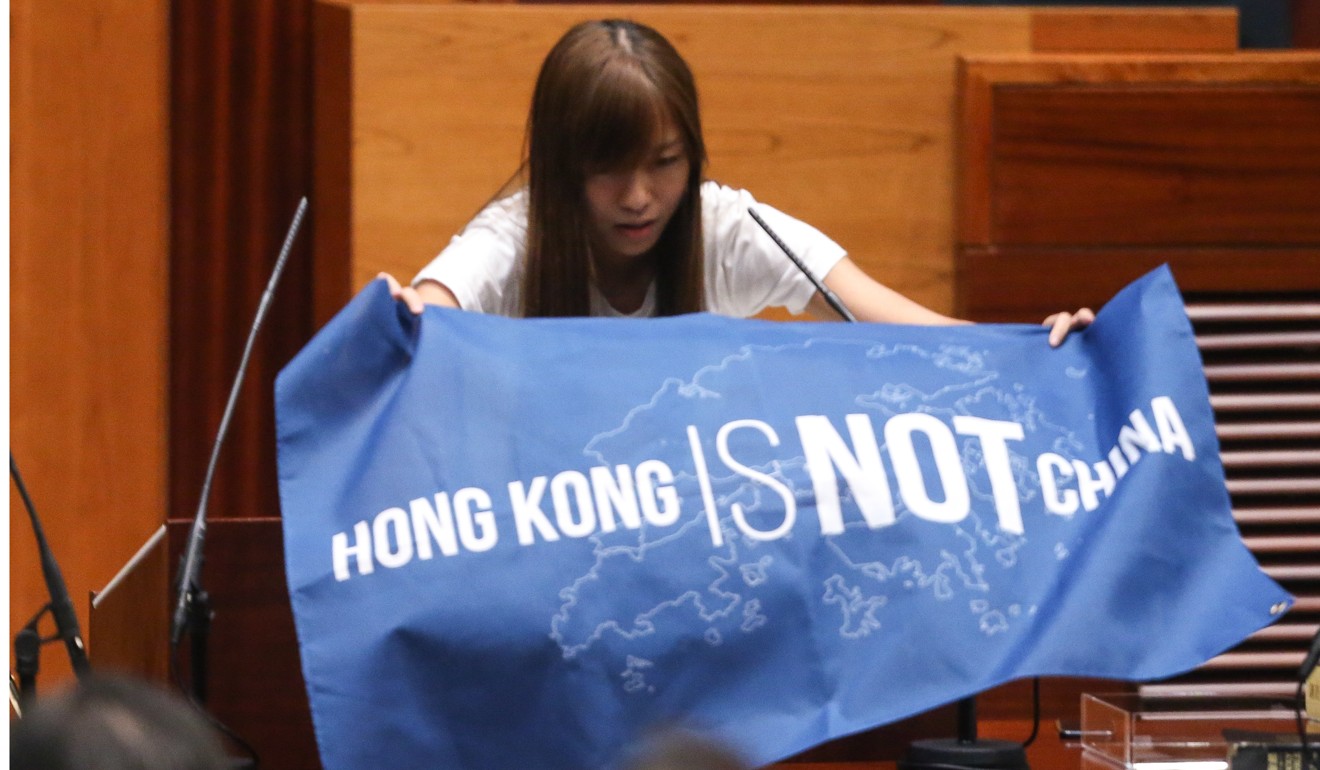 The oath-taking saga erupted in October 2016 when two newly elected Legco members uttered pro-independence slogans and insults against China as they were being sworn in.
The pair and four other lawmakers were later removed from their seats by a local court for failing to take the oath properly.