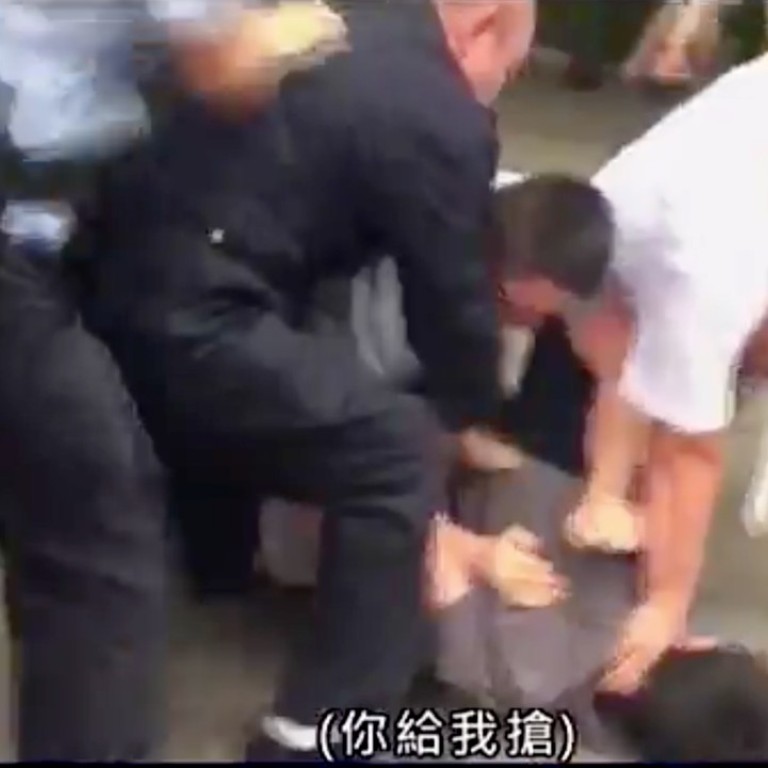 Beijing police release Hong Kong journalist after he was detained covering hearing of human rights lawyer Xie Yanyi
Now TV slams 'unreasonable and violent obstruction' of cameraman Chui Chun-ming in incident that comes four days after another Hong Kong journalist was beaten in Sichuan
A Hong Kong video journalist was released from custody after he was bloodied, handcuffed and dragged into a van by police in Beijing while trying to cover a hearing involving a human rights lawyer on Wednesday.
Chui Chun-ming, a cameraman for Now TV, was released at 1pm after being hauled away at about 9am. The State Council's Hong Kong and Macau Affairs Office had "mediated" at the request of the Hong Kong government.
Speaking to Hong Kong media after his release, Chui said he was made to sign a "statement of repentance".
"[An officer] insisted I was wrong and told me to admit it. He said if I don't, I will lose my press pass," Chui said.
The statement claimed Chui had tried to "grab" his press pass from an officer. Chui admitted he was emotional but denied any physical contact with Beijing police.
Although he initially refused to sign the statement, Chui said he "had no choice" but to sign it, as he was not allowed to make contact with his company at the time.
He said he was allowed to use his phone in the police station, but was barred from making contact with other people while he was taken to a hospital.
Now TV lashed out at Beijing police, calling the incident an "unreasonable and violent obstruction" of its reporting crew. 
The station said Chui had a press permit allowing him to work in Beijing.
The 
Post 
understands the hearing related to Xie's past work defending Falun Gong practitioners. Xie was one of the lawyers arrested in the "
709 crackdown
" of 2015, during which the Chinese government arrested about 300 lawyers and activists.
On Now TV video footage, Chui could be seen being held down by at least three men in plain clothes and then handcuffed by two uniformed officers.
A woman could be heard asking police: "Why are you doing this? On what grounds are you handcuffing him?"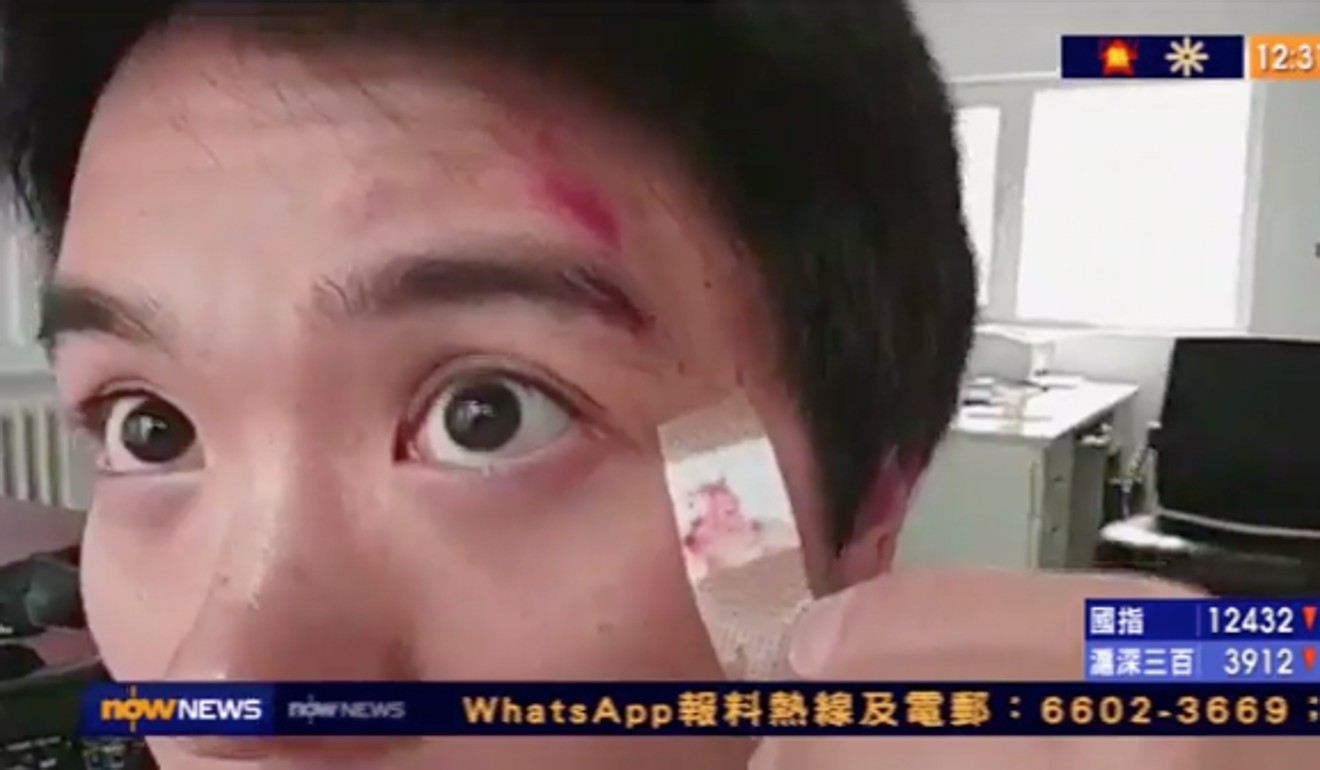 The cameraman was seen bleeding near his left temple before being dragged into a police van.
A source on site said that just before the incident, the Now TV crew had approached Xie but were stopped by officers.
The crew cooperated with police and gave them their press passes and ID cards, the source said.
For unknown reasons, the officers held on to some of the documents for a long time.
When Chui asked for the documents back, the source said, the cameraman was forced to the ground and taken away.
Xie's wife, Yuan Shanshan, told the Post Chui was beaten by "five to six policemen" as dozens of officers stood by.
"The policemen asked [Chui] for his ID and promised to let him in after checking his documents. But after examination, the officer refused to return the ID and pressed him to the ground when he asked for it," Yuan recalled.
"It was total chaos. Five to six policemen beat the reporter, hit his head until he was bleeding and forcibly dragged him into a police car. My husband [Xie] was beaten and dragged into a police car as well when he tried to stop the officers from taking the reporter away," Yuan said.
Xie was then taken directly into the lawyers' association building. He was not allowed to remain outside when he tried to check on Yuan and their young child.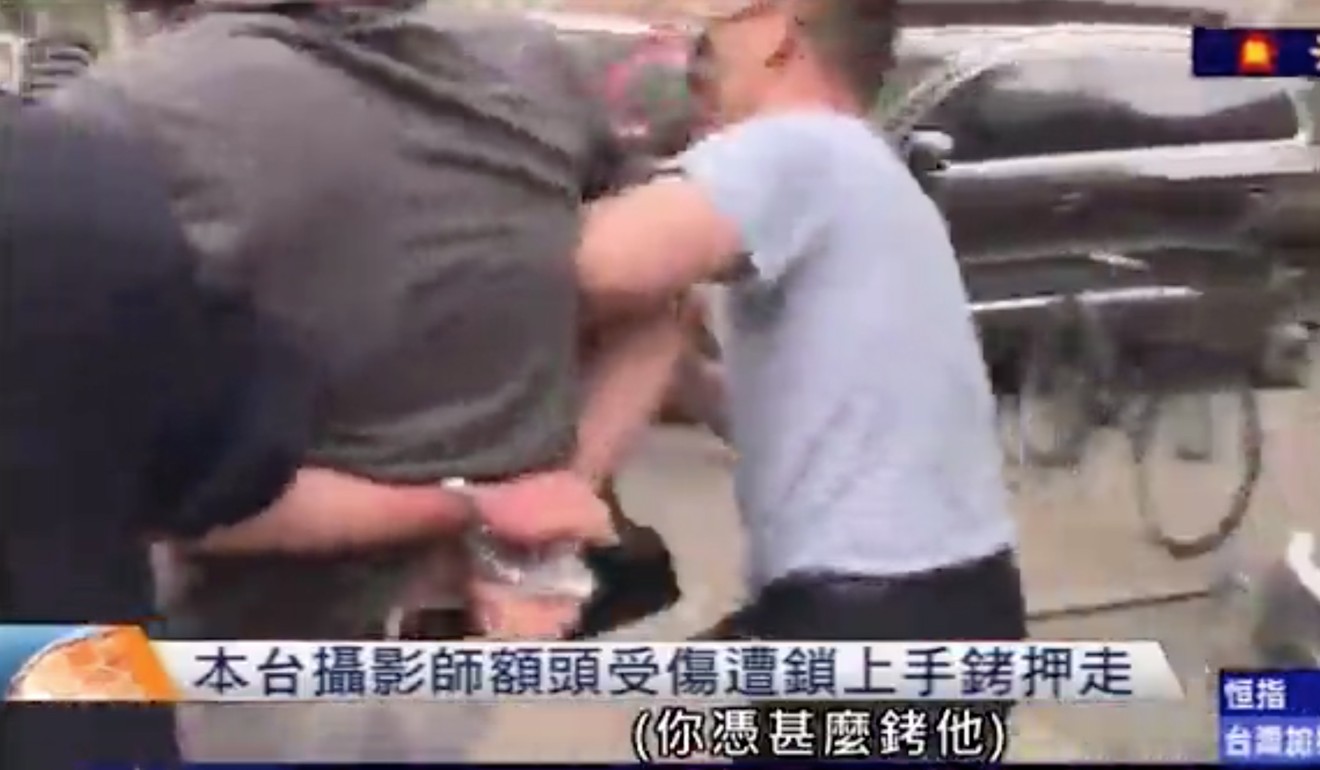 At 11am, Chui was taken to hospital by Beijing police where he was uncuffed and his wound was examined.
Acting chief executive Matthew Cheung Kin-chung – standing in while Chief Executive 
Carrie Lam
Cheng Yuet-ngor is away – said the Hong Kong government was concerned about the personal safety and freedom of Hong Kong reporters working in mainland China and expected no recurrence of similar incidents.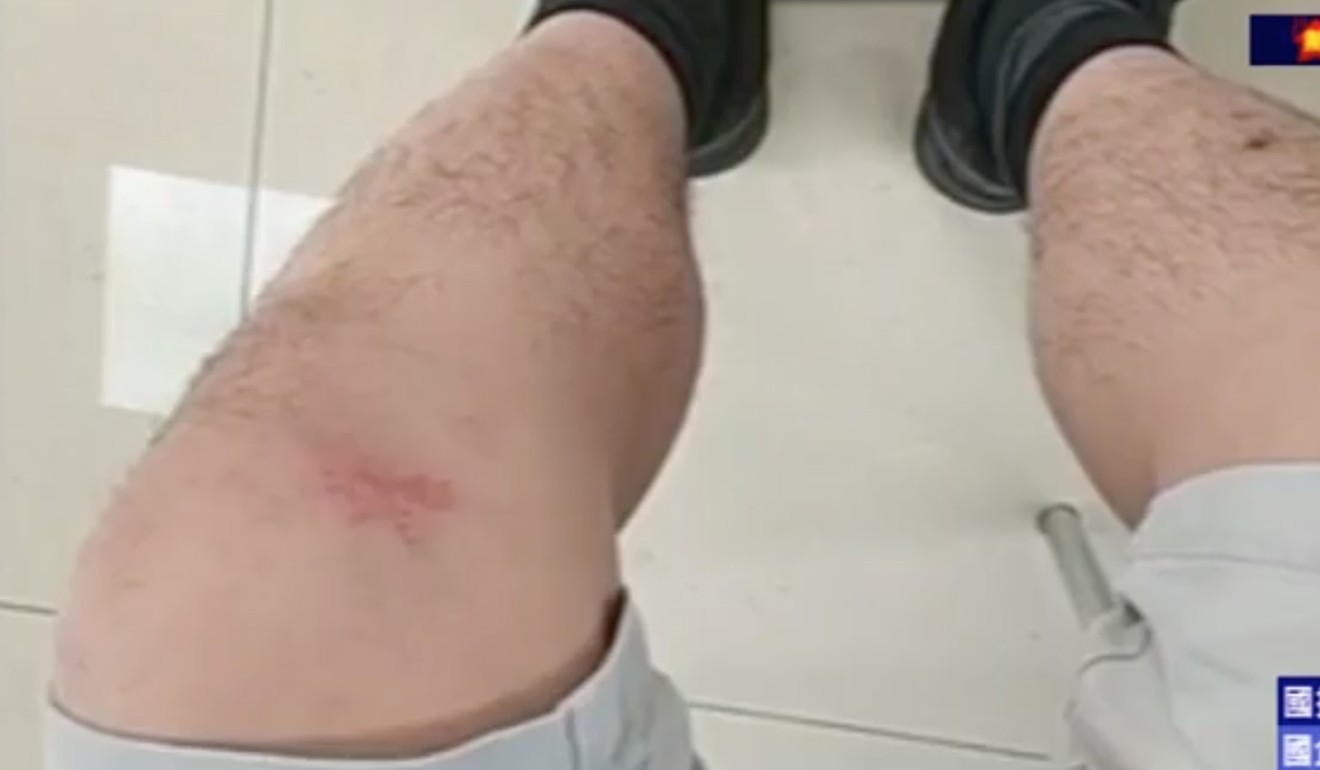 Members of the Hong Kong Journalists Association protested against Chui's treatment outside Beijing's liaison office in Hong Kong on Wednesday afternoon.
The group submitted a letter condemning Beijing police's "violent" and "unreasonable" treatment of Chui.
Chris Yeung Kin-hing, the association's chairman, called the use of handcuffs on Chui "uncivilised".
The Hong Kong News Executives' Association also issued a statement condemning the act.
"The reporters were conducting normal reporting work, they should not have been subjected to violent treatment," the statement read.
Secretary for Development Michael Wong Wai-lun, former director of information services, said he had great respect for journalists.
"Whenever these incidents – which we do not want to see – happen, I know the Information Services Department and the Constitutional and Mainland Affairs Bureau will liaise with the relevant departments of the mainland authorities," he said.
But Wong ducked the question of whether he would condemn the acts.
Secretary for Constitutional and Mainland Affairs Patrick Nip Tak-kuen said the Hong Kong government was concerned about the incident, but he refused to comment on whether the officers' act was violent.
"I would not make a judgment at this stage on whether the law enforcement action was appropriate," he said, adding it would be best to let the relevant mainland department look into the incident.
Beijing-friendly lawmaker Ma Fung-kwok, of the sports, performing arts, culture and publication sector, which represents journalists, said the mainland Chinese law enforcement agency owed the public an explanation, and that it should apologise to the reporter if there had been any wrongdoing.
Ma, also a delegate to the National People's Congress, said he had already written to both the local government and the national legislature regarding the incident.
He called the matter regretful, saying that no violent act should be tolerated. But Ma dismissed the suggestion press freedom in mainland China had dwindled.
Civic Party lawmaker Kwok Ka-ki said he found the responses from the Hong Kong government – including Cheung's – "entirely unsatisfactory".
"It is already the second time a Hong Kong journalist has been treated violently and unfairly in four days, which has severely affected the journalists' freedom to report on the mainland," he said. 
"But the local government has failed to issue a strong and firm response towards these unfair incidents and has not done anything to protect the safety of Hong Kong journalists."
Kwok said he had sent Lam a formal letter on Wednesday morning requesting she follow up on the two incidents, adding that Hongkongers would be disappointed if the government's response remained – as he saw it – feeble.
Meanwhile, Legislative Council president Andrew Leung Kwan-yuen rejected Democrat Ted Hui Chi-fung's call to hold an urgent debate in the legislature over the incident, saying the matter was not of urgent public importance.
Hui slammed Leung's ruling as "ridiculous" and "incomprehensible", saying that the Hong Kong public had expressed serious concern over the saga.
Later on Wednesday, on a trip to Guangzhou, Hong Kong's chief executive expressed regret over both incidents and said she hoped this would not occur again. She added that the city's government had followed up on the cases and she hoped that mainland authorities would also take the matter seriously.
Asked why she did not condemn the violence, Lam said: "I don't want the public to adopt an antagonising attitude ... The public is clear that the government cares about this."
Additional reporting by Jeffie Lam, Su Xinqi and Danny Mok
This article appeared in the South China Morning Post print edition as: Journalist freed after being dragged away in Beijing