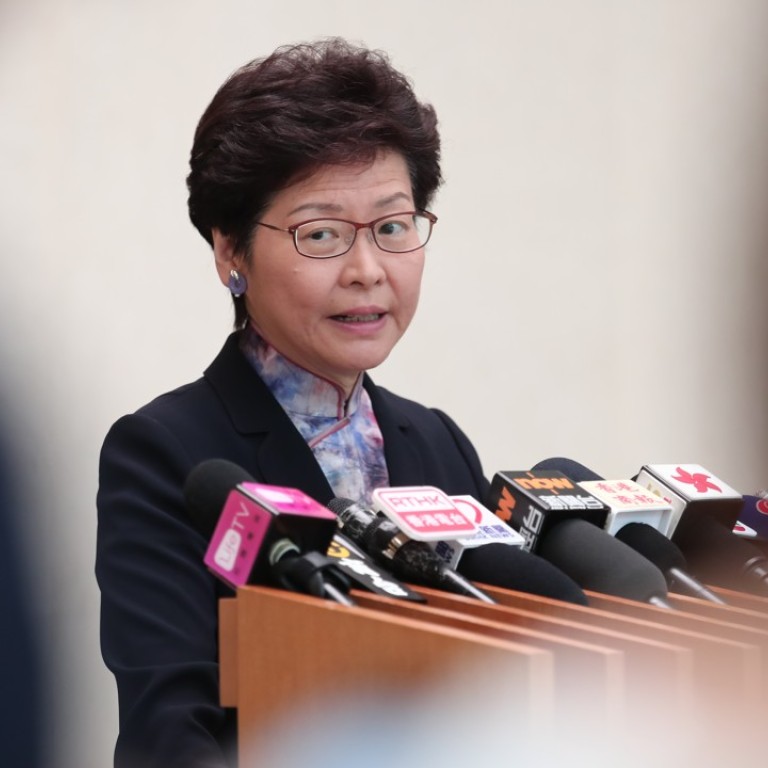 Hong Kong leader Carrie Lam apologises for causing 'confusion' in dismissing English question, stresses her commitment to the language
In a late night apology on Tuesday, Chief Executive Carrie Lam says there is 'no question' of her or the government attaching less importance to the use of English
A blunt response to a reporter that sparked a row over whether Hong Kong's leader was sidelining the English language forced her to issue a late-night apology on Tuesday for any confusion caused.
Chief Executive Carrie Lam Cheng Yuet-ngor said: "There is no question of the government or myself attaching less importance to the use of English."
Lam said she would not change the format of media briefings held before her weekly cabinet meeting on Tuesdays, where questions are posed in both English and Chinese, despite hinting at the possibility earlier in the day.
She was responding to the outcry over her remarks earlier on Tuesday when she was asked a question in English by a reporter for government radio.
She kept up a smile but sounded impatient as she replied that she had answered the question in Cantonese and would ­repeat the response in English.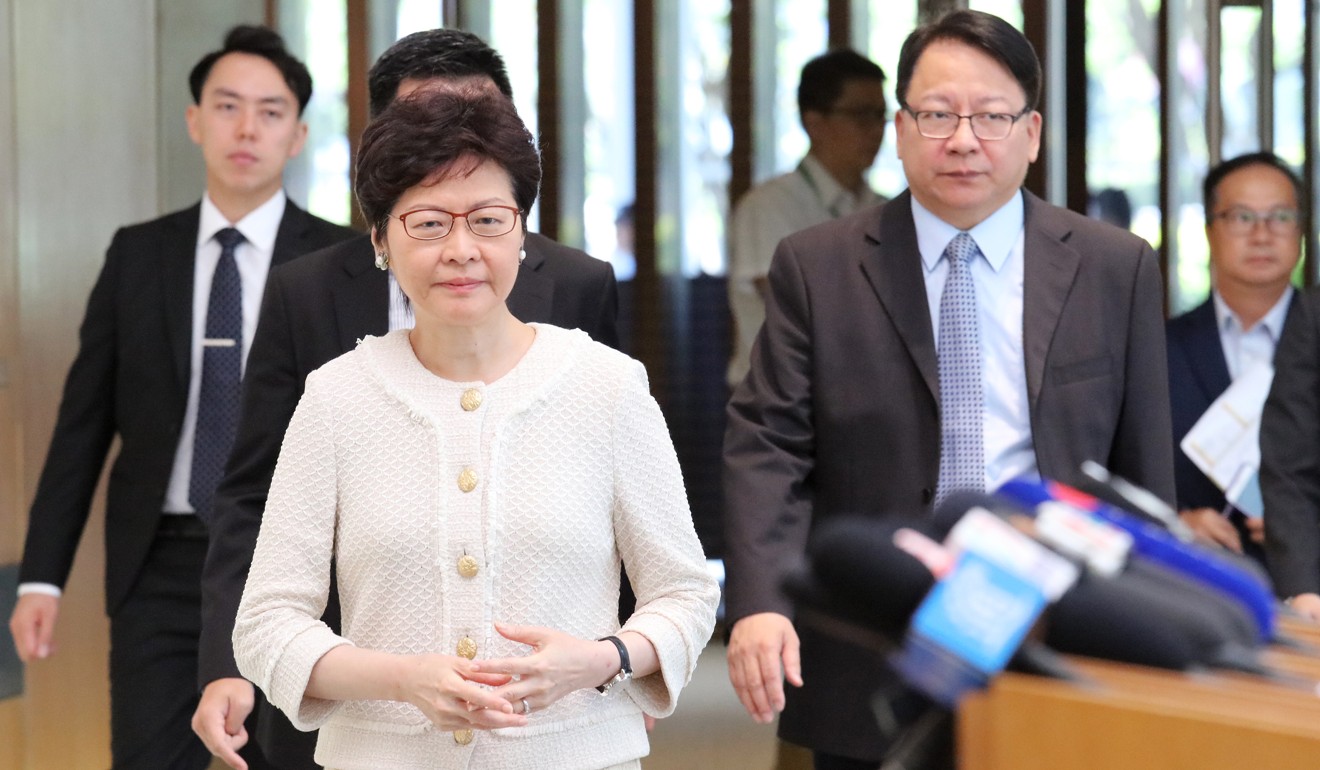 The chief executive went on to tell Cathy Chu Man-ling, the director of information services, to consider "a better arrangement" than have her repeat answers.
"In future, we'd better arrange simultaneous interpretation for this media stand-up, because I [keep] on repeating the answers … I have answered exactly the same question in Cantonese, so I'm going to repeat what I said in Cantonese. But in future, the director of information services may consider a better arrangement so that we don't need to waste time," Lam said, before going on to answer the question in English.
While the chief executive assumed both questions were the same, they were actually different. The first reporter asked her if she would unveil plans for land reclamation during her policy address in October, while the question in English was on whether she would take public opinion on the matter into account.
The exchange sparked an uproar among the city's English-speaking community, which is used to the regular practice of reporters asking government officials to repeat answers in English for the benefit of the non-Chinese media.
Lam's critics also chimed in to ask whether she was no longer going to take questions in English, an official language in Hong Kong along with Chinese.
On Tuesday night, Lam explained her remarks were prompted by her consideration that the briefings lasted for a shorter duration than press conferences.
Responding to the same question in different languages would take up time that might otherwise be used by reporters to raise more questions.
"Those remarks were not targeted at the English language," she said.
The chief executive highlighted how she had been answering questions in the language they were asked and would continue to do so. Since taking office last July, she added, she had made sure that important statements were made or released in both Chinese and English.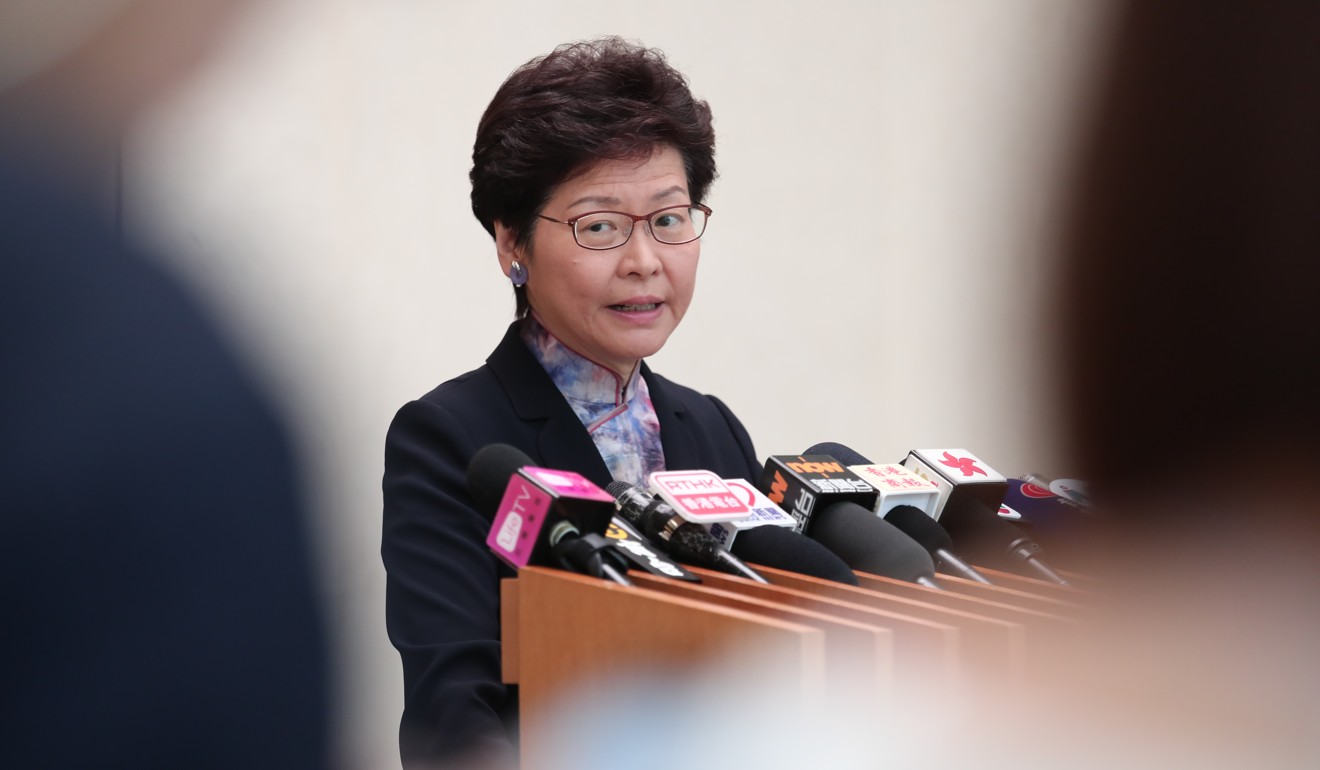 "When a question was asked in English at the media stand-up today, I naturally responded in English. There should be no doubt about my commitment to responding to questions from reporters in the same language that the question is asked," Lam said.
The director of the Chief Executive's Office, Eric Chan Kwok-ki, had earlier told the Post Lam had no intention of skipping questions in English at future briefings.
"The chief executive is always happy to speak English, and reply to media questions in English when asked in that language," Chan said.
"It's only that in Hong Kong, reporters from different backgrounds can speak either Cantonese, Mandarin or English, so she thought that if she needed to repeat her answers in all three, time for more questions would be limited."
While the question at the centre of the storm came from a reporter with public broadcaster RTHK, sources close to Lam suggested she had been unaware that the English-language media, particularly broadcasters, needed English sound bites, and she was reminded of this afterwards.
In a statement on Tuesday night, Lam said she had taken advice from her colleagues at the Information Services Department and had no intention of changing the format of her media briefings on Tuesday.
"I apologise for any confusion thus caused," she said.
RTHK spokeswoman Amen Ng Man-yee said the reporter involved had been doing her duty and asked a "proper question".

"She was asking in a normal and proper way," Ng said.
Former secretary for security and New People's Party chairwoman Regina Ip Lau Suk-yee said government officials must engage with the English-language media.
"I see no reason why ­answering questions in English can be seen as a waste of time," Ip said.
However, Lam's response could have been "a slip of the tongue, or because she was getting tired".
In comments made before Lam's late-night apology, Chris Yeung Kin-hing, chairman of the Hong Kong Journalists Association, said the chief executive's remarks were "extremely regrettable".

Yeung, a former editor of the Post, said the remarks were "slightly insulting" for English-language media in Hong Kong.
"It gives the impression that [the government] does not value international society or the English-speaking community," Yeung said.
He suggested Lam was setting a bad example for other officials, and the incident might explain a decline in the English skills of Hongkongers.

This article appeared in the South China Morning Post print edition as: Lam sorry after 'confusion' over answers in English