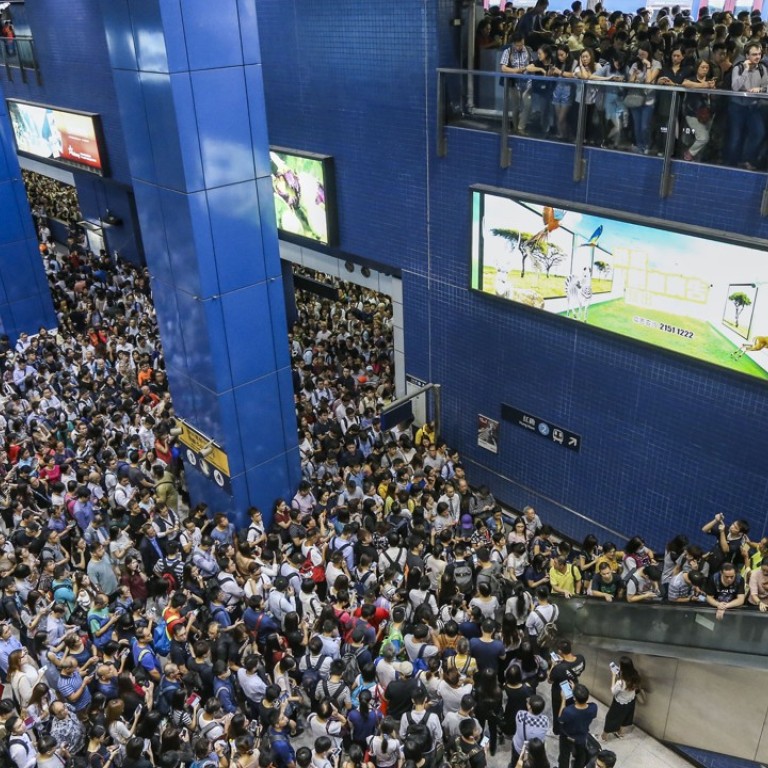 Hong Kong to review post-storm work and travel arrangements after Typhoon Mangkhut chaos
Not responsible to declare public holiday without assessing impact on all sectors, chief executive says
Hong Kong's leader has ordered a review of how the government should handle work and travel arrangements after being criticised for underestimating the chaotic start to the week due to widespread damage caused by the most intense typhoon on record.
Chief Executive
Carrie Lam Cheng Yuet-ngor
insisted on Tuesday it would have been irresponsible for her to declare Monday a day off to recover from the disruption and destruction brought by
Typhoon Mangkhut
over the weekend, but she asked Secretary for Security John Lee Ka-chiu to conduct a review of the various arrangements for coping with major storms.
She found herself on the defensive after commuters were left confused and angry trying to reach work amid large-scale suspensions of rail and bus services caused by Mangkhut.
Lee said the review, involving various departments and organisations, would start with a cross-bureau meeting next month looking into areas such as the administration's contingency plans for natural disasters and post-storm management.
He admitted Monday's chaos had been "undesirable".
"We came across a traffic issue this time … The city experienced a peak hour shortly after the storm signal was cancelled," Lee said. "We will look into ways to address that and come up with different proposals … to prevent the situation happening again."
The review, Lee said, would also explore how to strengthen channels for bringing the public the latest information on natural disasters and how to improve internal communication within the government – a problem Lam also acknowledged.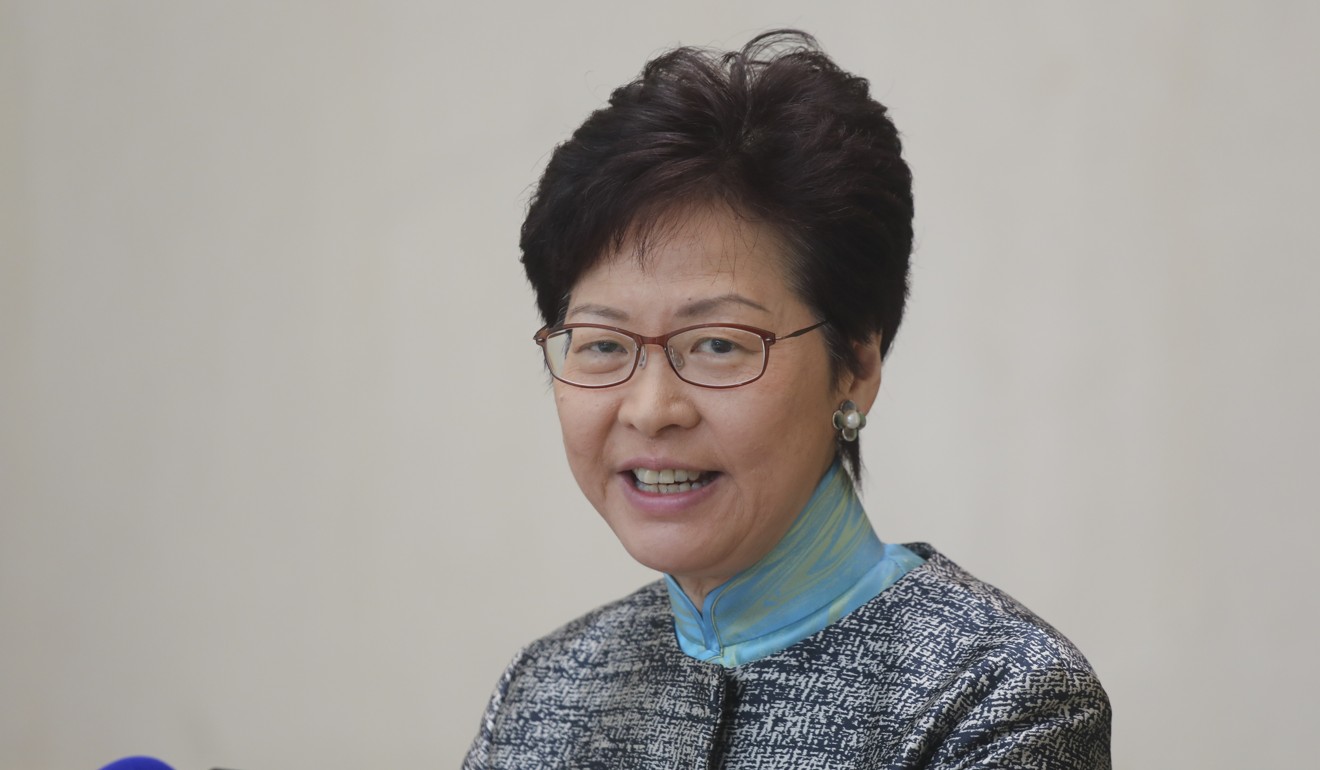 While many in the private sector complained about the struggle getting to work on Monday when public transport was still severely crippled because of blocked roads, flooding and damage, civil servants also said they had been unaware of flexibility regarding work arrangements.
Some 13 bus routes operated by KMB remained suspended on Tuesday night, and 75 were being diverted.
CLP Power said some 1,500 households, mainly in remote northern New Territories villages, were still without electricity but services would resume by Wednesday.
Mangkhut forced Hong Kong's weather authority to issue its highest typhoon warning for 10 hours on Sunday as it brought a record storm surge, uprooted 1,500 trees, smashed hundreds of windows and left more than 1,000 roads blocked. All schools were forced to suspend classes for two days, but were set to reopen on Wednesday.
"I have seen all the pictures [from Monday] and some very creative videos. I totally understand the discontent and anger of the citizens who were stuck in rail stations for so long, not knowing whether there would be a train or not," Lam said.
"It is fine to vent your anger towards the chief executive under such circumstances as the chief executive can be blamed as well."
But Lam said the government had never considered declaring Monday an official day off as there was no mechanism in place for officials to assess the legal consequences and impact of such a move.
It would have been unsuitable for the government to invoke the Emergency Regulations Ordinance to declare a public holiday, Lam said in response to an idea floated by the opposition Civic Party.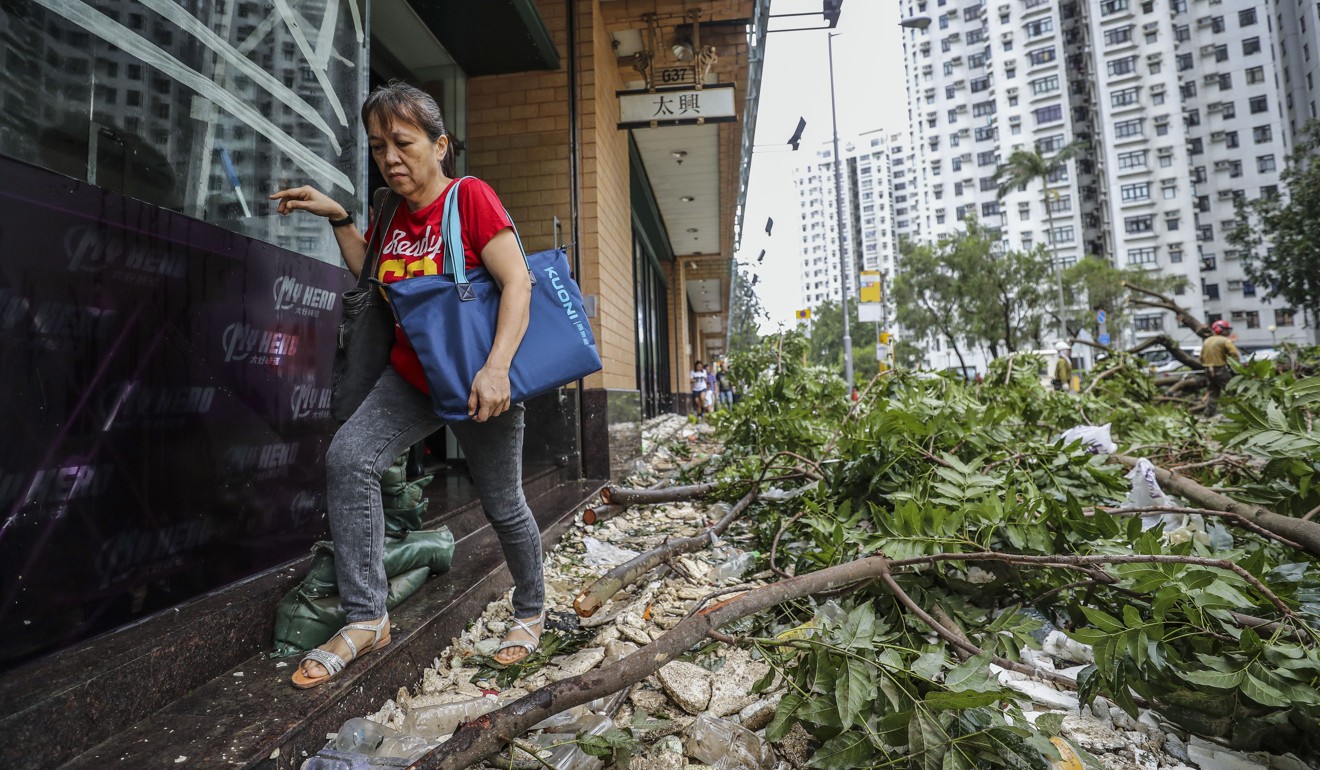 The chief executive insisted the best course of action had been her call for employers to show understanding and flexibility to staff facing difficulties getting to work.
Former Labour Party chairman Lee Cheuk-yan had suggested earlier that the law should be amended for non-emergency workers to stay home during and immediately after severe storms, while emergency workers should be paid double and given a transport subsidy.
The veteran unionist's plan was supported, in principle, by Jimmy Kwok Chun-wah, chairman of the Federation of Hong Kong Industries. But Kwok said such a law should specify how close the typhoon had to be for the rules to take effect.
Lawyers were also left divided on whether the Emergency Regulations Ordinance could be used. The law stipulates the chief executive may institute any regulations desirable in the public interest when considering it an occasion of emergency or public danger.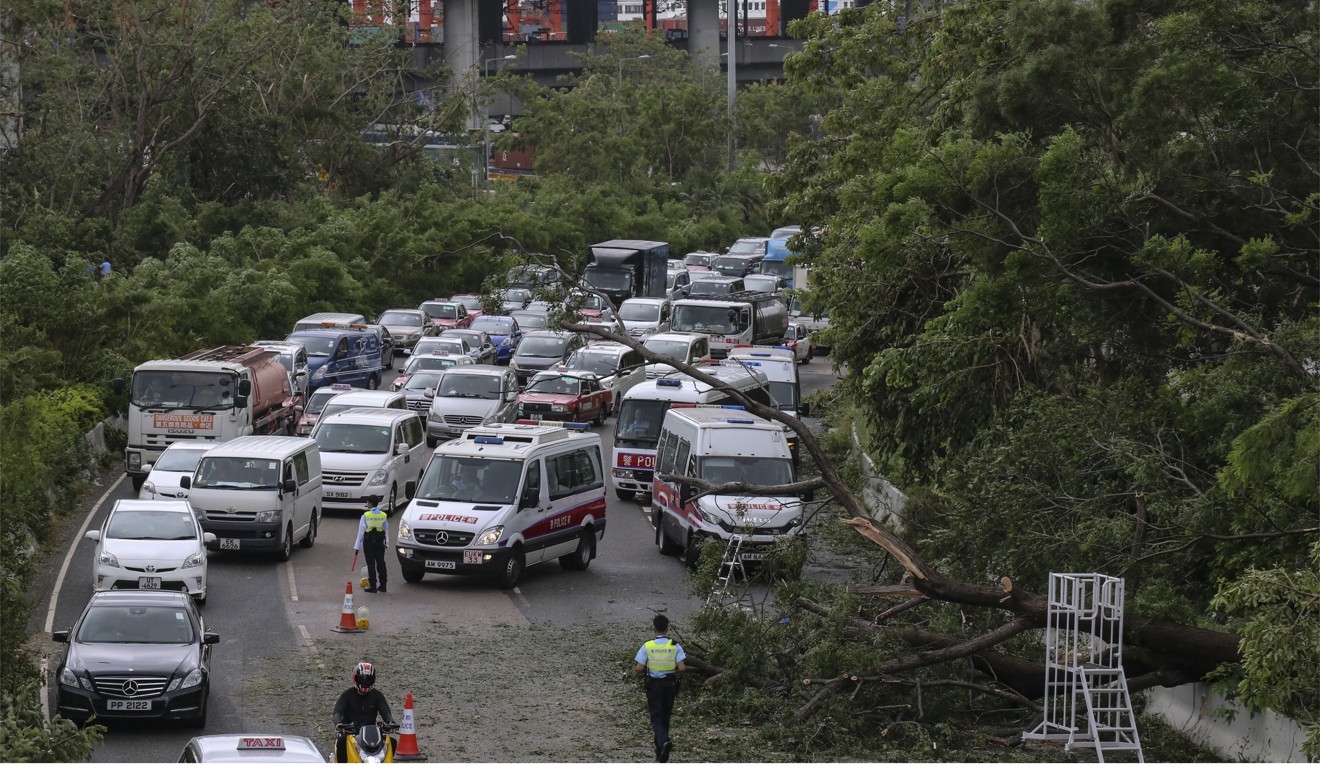 Former Bar Association chairman Ronny Tong Ka-wah, one of Lam's advisers in the Executive Council, said the ordinance was not applicable as it was meant to handle riots or curfews, not traffic disruptions.
But legal sector lawmaker Dennis Kwok, of the Civic Party, argued it would be in the public interest for the chief executive to have regulations in place stipulating the legal implications of a No 8 or higher typhoon signal on the day of a storm and the following day.
That would give authorities time to clear roads while employees stayed at home, he said.
Additional reporting by Michelle Wong
This article appeared in the South China Morning Post print edition as: Carrie Lam orders review of city's post-storm strategy