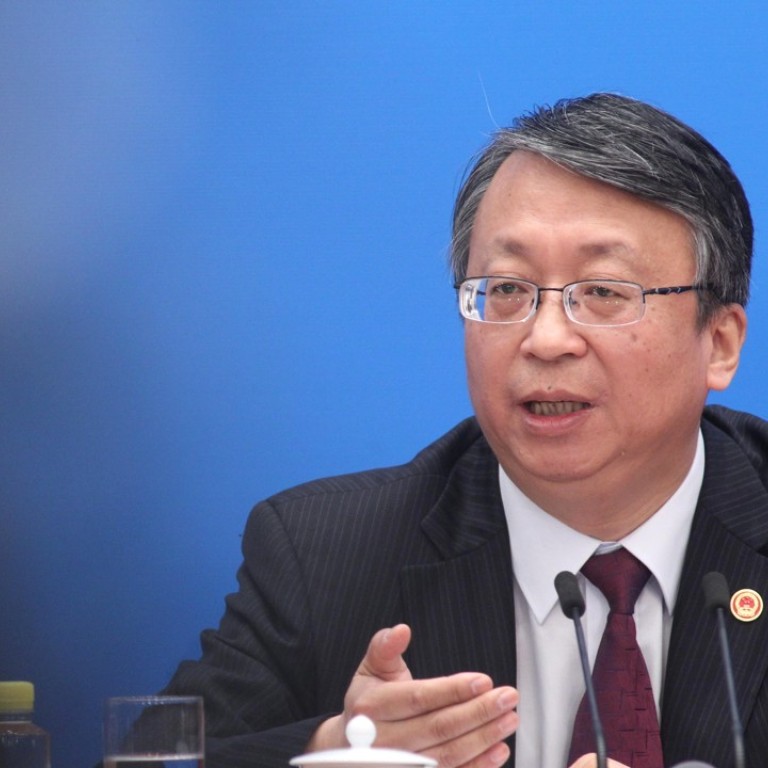 Beijing renews call for Hong Kong to pass national security law after pro-independence party ban
Delegation of local pro-establishment group visiting capital says Basic Law Committee chairman urges enacting bill, citing separatist advocacy
Beijing on Tuesday renewed its call for Hong Kong to enact controversial national security legislation, a day after local officials took the unprecedented step of banning a party advocating independence from China.
Shen Chunyao, chairman of the Basic Law Committee – a body that advises the Chinese government on Hong Kong's mini-constitution – was quoted as making the appeal during a two-hour meeting with the pro-establishment Hong Kong Professionals and Senior Executives Association in the capital on Tuesday.
Association president Thomas Lee Kang-bor quoted Shen as saying Hong Kong officials needed to enact national security legislation, especially in light of pro-independence advocacy in the city.
"Today's situation is different from what we saw in 2003 ... and the constitutional responsibility of Article 23 needs to be fulfilled," Lee said referring to the section of the
Basic Law
under which national security legislation falls. "At that time, [advocacy for Hong Kong's independence] did not exist."
On Monday, the city's security minister, John Lee Ka-chiu, officially
banned
the pro-independence Hong Kong National Party. He said the group posed a threat to national security, public safety and public order.
Under Article 23, the city must enact its own law to prohibit acts such as "treason, secession, sedition and subversion" against the central government.
A bill on the matter was shelved in 2003 after half a million people took to the streets of Hong Kong to oppose it, with many fearing an erosion of civil liberties. However, since taking office in July last year, Chief Executive
Carrie Lam Cheng Yuet-ngor
and her administration have faced mounting pressure from Beijing, as well as pro-establishment politicians in Hong Kong, to revive the legislative process.
A source speaking on condition of anonymity quoted Shen as saying at the meeting that local officials needed to do more to protect national security.
"[Shen] mentioned that in the past there were hardly any organisations that publicly advocated the city's independence, but there were changes in recent years," the source said, noting the mainland official did not name any group in particular.
"He said we should pay attention to these changes ... and that Article 23 needed to be enacted as no separatist act could be tolerated," the source added.
Last month, Zhang Xiaoming, director of the State Council's Hong Kong and Macau Affairs Office, said the HKNP saga had
revealed the city's "inadequacies"
in protecting national security. But Lam remained non-committal on setting a timetable to reintroduce the controversial legislation, saying only that "a favourable atmosphere" would be necessary.
The meeting with Shen was the first item on the association's schedule as its 30-strong delegation kicked off its trip to Beijing on Tuesday.
Comprising Hong Kong lawmakers, professionals and politicians, the delegation was expected to meet other officials, including those from the Hong Kong and Macau Affairs Office as well as a state leader on Thursday.
Since June, Han Zheng, the Chinese vice-premier overseeing Hong Kong affairs, has met two delegations visiting Beijing. They included a 120-member delegation in August of Hong Kong law enforcement officials led by the city's security minister.
Speaking on a radio programme on Tuesday, Tam Yiu-chung, Hong Kong's sole representative to China's top legislature, reiterated his hope that the city's administration would push through a national security law.
Tam warned that any advocacy of Hong Kong separating from China would lead to a dead end.