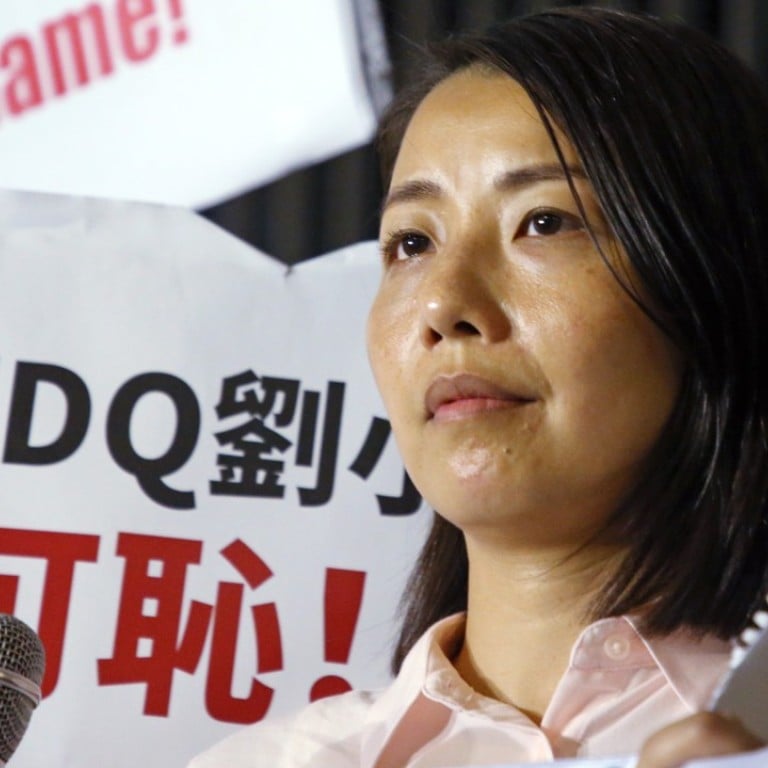 Ousted pro-democracy Hong Kong lawmaker Lau Siu-lai barred from Kowloon West Legislative Council by-election
Removed over oath-taking controversy last year, Lau had hoped to return to the chamber
A fresh political storm erupted on Friday after the government banned the ousted opposition lawmaker Lau Siu-lai from running for a seat in the legislature on the grounds that she once advocated self-determination for Hong Kong.
Citing her remarks made two years ago, the returning officer appointed by the Electoral Affairs Commission argued that Lau had not genuinely changed her stance even though she had ditched the self-determination calls over the past months in preparation for the Kowloon West by-election on November 25.
Lau's pan-democratic supporters and some legal experts slammed the decision as essentially stripping her of her political rights for life, and accused the government of violating procedural fairness by not giving her a chance to defend herself.
The controversial disqualification, set to further hamper the pro-democracy bloc's chances in the ballot, also has wider implications – it means other lawmakers who once called for self-determination, such as Eddie Chu Hoi-dick, could be barred from running in the next citywide Legislative Council elections in 2020.
"The move clearly shows [the] government is trying to use fear against dissident voices," a statement issued by 24 pan-democratic lawmakers read.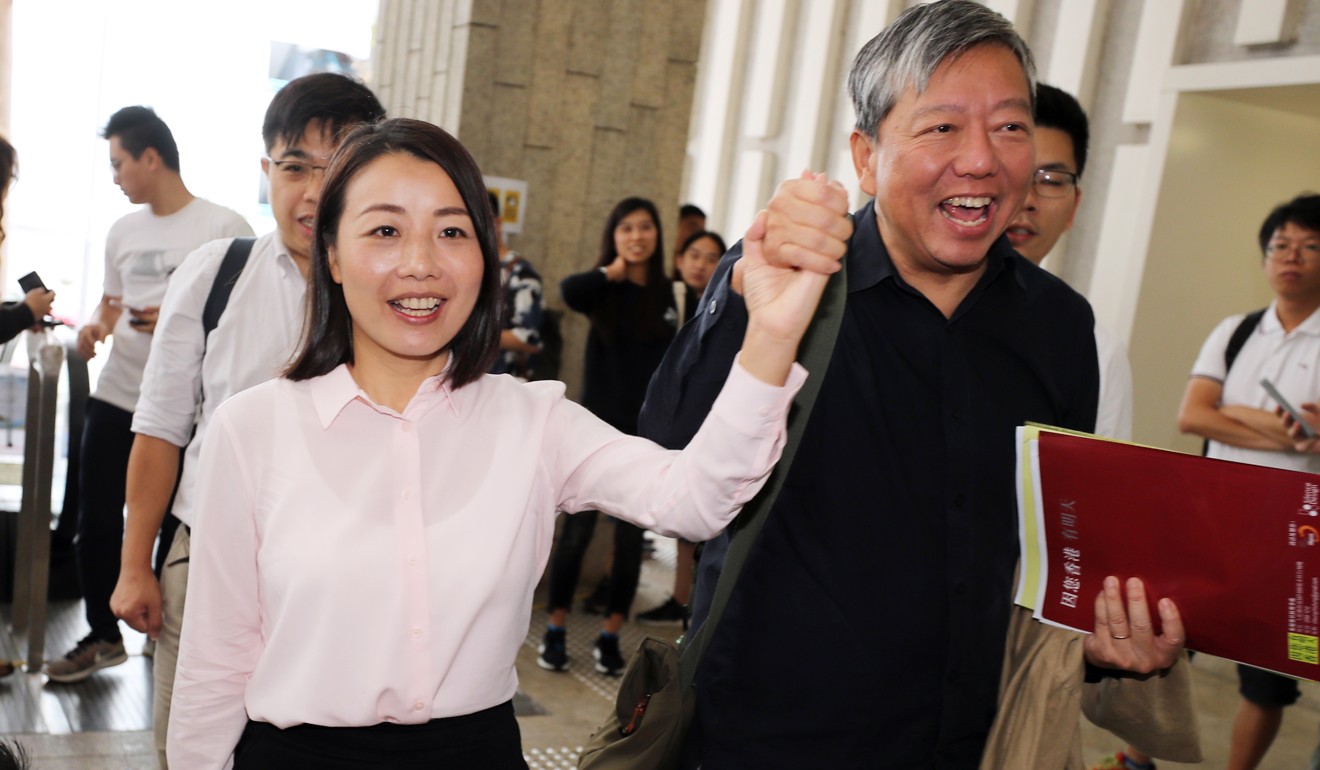 In the seven-page reasoning for the disqualification, returning officer Franco Kwok Wai-fun argued that Lau did not accept China's sovereignty over Hong Kong. He cited her declaration in July 2016, made jointly with political party Demosisto and Chu, calling for "democratic self-determination" while keeping open the option for independence.
Kwok also cited Lau's Facebook statement of October 13, 2016, in which she said the Basic Law, along with the city's political system and leader, were all illegal as they had no mandate.
He said Lau had been "consistently holding the same political stance" and "had not taken any step to dissociate herself from such political stance until very recently".
While noting Lau had recently ditched the self-determination call in her election platform, Kwok did not accept it as a genuine change of stance. He said the change was "nothing more than a plot to reduce the risk of an adverse decision on the validity of her nomination".
Lau complained she had received no questions from the returning officer since she signed up on October 2 for the by-election, despite a High Court ruling that electoral officials must give contenders a "reasonable opportunity" to address any concerns.
Philip Dykes, chairman of the Bar Association, said a lack of inquiries from the returning officer would contradict the court ruling, even if it was considered an obvious case.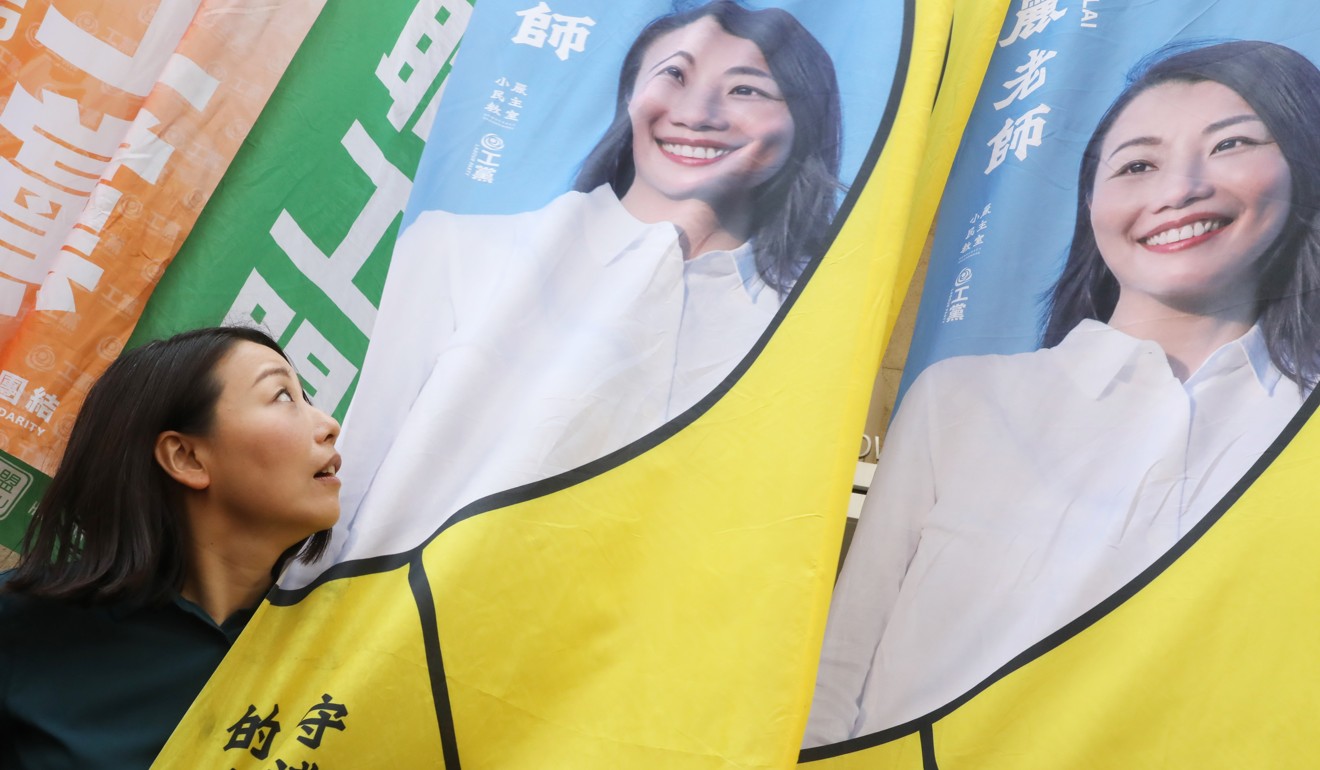 "It's basic procedural fairness. If you don't do it, the decision maker could make a factual mistake before you make a final decision," Dykes said.
He also criticised the idea of judging a person on beliefs held two years earlier.
"Disqualifying a person from standing for political office for life because of what he or she once said is disproportionate. How can you possibly blacklist someone? The reasoning put forward would mean she could never, ever stand for election. That's nonsense," he said.
On Friday night, Lau, alongside a dozen pan-democrats, staged a protest outside the government headquarters in Admiralty and marched to the chief executive's office afterwards.
"This is unreasonable … my political views from 2016 have been completely twisted," Lau said.
She accused the government of using disqualification as a weapon to alter election results in favour of the establishment by screening out opposition candidates.
"What people will this administration allow into politics? Is it only those who kneel before them?" Lau said.

Council Front lawmaker Chu, who was named in the ruling, urged Hongkongers to stand united against such "political retaliation".
"My political ideals have not changed since I was elected," he said.
Lau was stripped of her Legco seat last year over improper oath-taking in October 2016.
She is the ninth person in Hong Kong to be barred from running in a Legco election since 2016. In January, the government banned young Demosisto activist Agnes Chow Ting from running in a March by-election because her party's advocacy of self-determination.
The government issued a statement supporting Kwok's decision, saying it was essential to ensure the by-election was held in accordance with the Basic Law and other applicable laws.
"There is no question of any political censorship, restriction of the freedom of speech or deprivation of the right to stand for elections, as alleged by some members of the community," it said.
A legal source said the Department of Justice gave legal advice to the returning officer before he made the decision and Secretary for Justice Teresa Cheng Yeuk-wah had been notified.
Pro-Beijing lawmaker Wong Kwok-kin, of the Federation of Trade Unions, said Lau's disqualification was to be expected, as "anyone who touches on issues of national security should be prepared to face the consequences".
Earlier on Friday, Labour Party veteran Lee Cheuk-yan signed up for the race as a "plan B" in case of Lau's disqualification.
Former journalist and government political assistant Chan Hoi-yan and former pan-democratic lawmaker Frederick Fung Kin-kee, previously with the Association for Democracy and People's Livelihood, will also run in the poll, against Lee.
Political scientist Ivan Choy Chi-keung said it would be tougher than ever for the pro-democracy bloc to recapture the seat.
While Fung is set to snatch a number of votes from the pan-democratic camp, veteran unionist Lee might be less appealing to young and middle-class voters, he said.
This article appeared in the South China Morning Post print edition as: Pan-dem uproar at by-election ban on ousted lawmaker