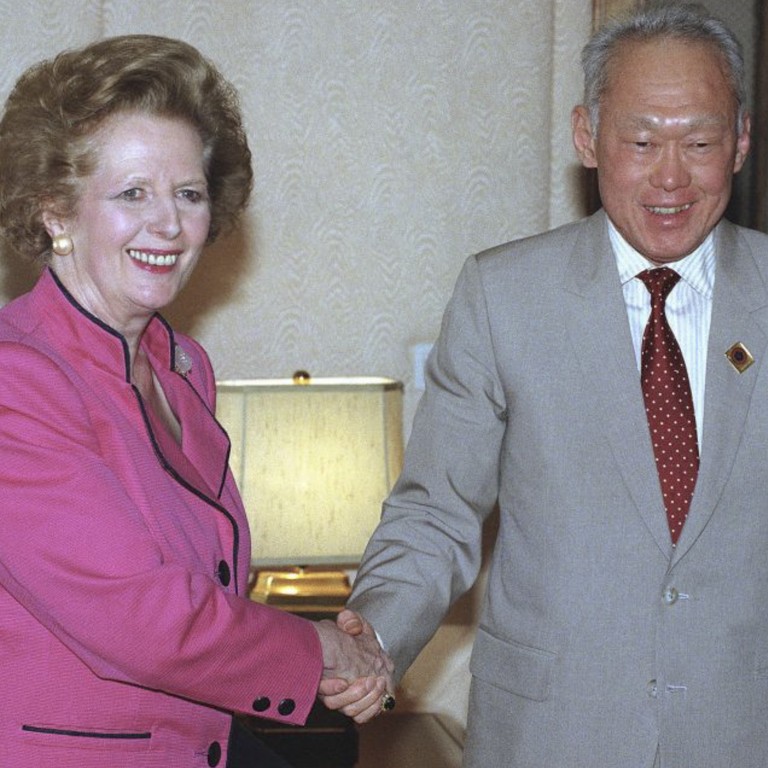 After Tiananmen crackdown, Singapore's Lee Kuan Yew said 200,000 influential Hongkongers should 'band together' and bargain if Beijing interfered in city's affairs
Declassified British files show Lee told Margaret Thatcher he met delegation of Hong Kong Exco and Legco members in 1989
Singapore's founding father Lee Kuan Yew had a piece of advice for Hongkongers in the wake of the Tiananmen crackdown: "band together" 200,000 people on whom the city's success hinged and bargain with China by threatening to leave if Beijing interfered with Hong Kong's affairs.
The Southeast Asian strongman said China would have to listen to the views of Hong Kong if the city adopted a "non-confrontational approach" to dealing with Beijing, rather than "fighting China".
Lee made the suggestion when he met a delegation of the city's Executive Council and Legislative Council members soon after the Chinese government forcibly suppressed pro-democracy protesters in Beijing in 1989. He said Hongkongers should plead or negotiate with China.
His remarks were documented in a note on October 20, 1989, written by Charles Powell, private secretary to then British prime minister Margaret Thatcher.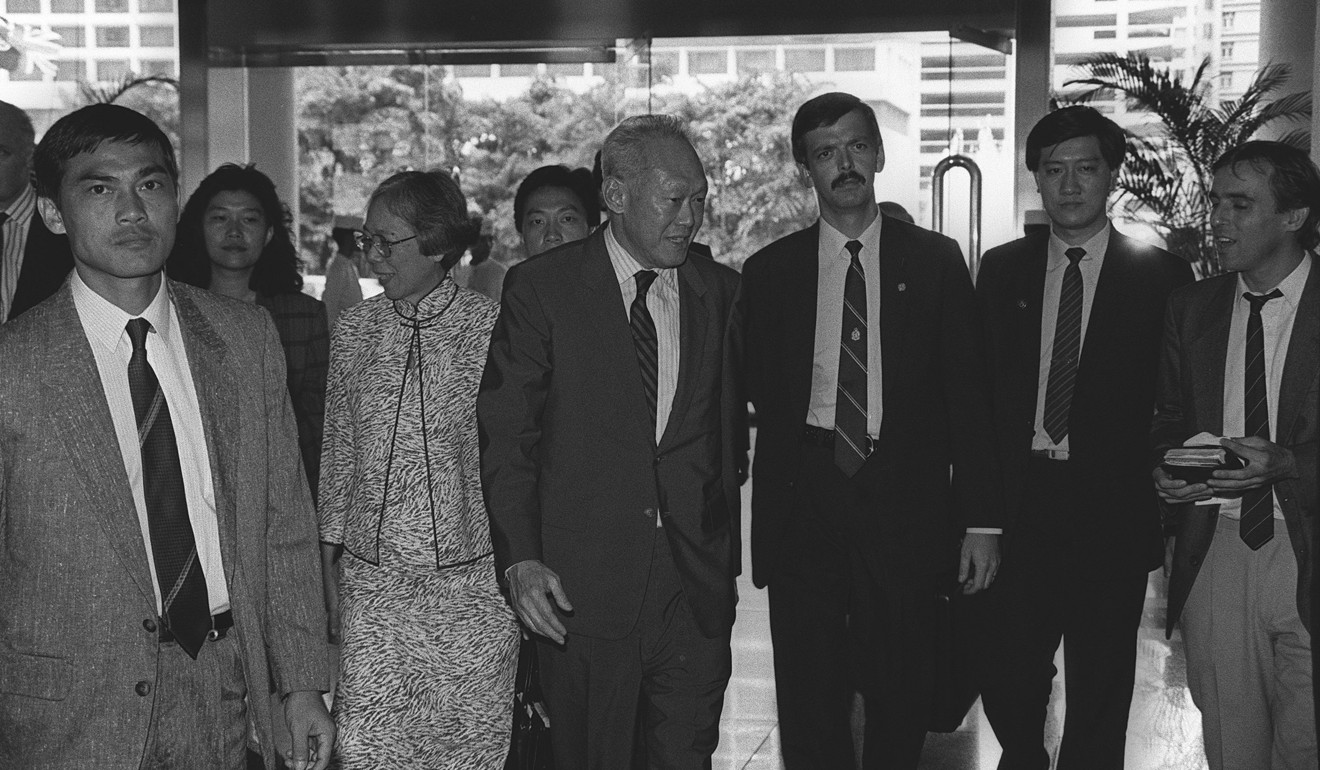 According to files declassified this week from Britain's National Archives in London, Lee, then prime minister of Singapore, discussed the situation in Hong Kong and China with Thatcher at a meeting in Singapore on October 20, 1989.
Powell wrote that contrary to press reports, Lee had not said he would urge Britain to open its doors to people from Hong Kong.
"Rather, he had said he would not dream of offering gratuitous advice. His actual advice, to the Hong Kong delegation, was that they should not fight China; sovereignty was absolute in international law.
They should plead or bargain with China, and organise themselves so that they could do potential damage to China's interests," Powell wrote.
"[Lee said] there are about 200,000 people in Hong Kong who really mattered. They should band together and threaten to leave Hong Kong, bringing down its administration and economic life, if the Chinese interfered," the records said.
The two leaders were attending the Commonwealth Heads of Government Meeting in neighbouring Malaysia in October 1989.
Lee told Thatcher he had met the delegation of executive councillors and lawmakers from Hong Kong earlier in Kuala Lumpur.
He said other countries would need to be ready to make the special arrangements for the 200,000 Hongkongers by granting them citizenship without a qualifying residential period.
"[Lee said] this would allow them to stay in Hong Hong while all was going smoothly, but give them the right to leave if necessary.This was the way to deal with China, using a non-confrontational approach, and the Chinese would have to listen," Powell wrote.
The Singaporean leader said Hongkongers had to come to terms with the reality that there would be "nothing to stop Beijing from doing what it wanted" after the city returned to Chinese rule in 1997. "When China is involved in a power struggle it could not care less about its international reputation," Powell wrote of Lee's comments.
It would be a great mistake to challenge China over the pace of the introduction of democracy, Lee had said.
"If there were fully democratic elections, China would simply send in the cadres, there would be clashes and confidence would decline," Powell wrote.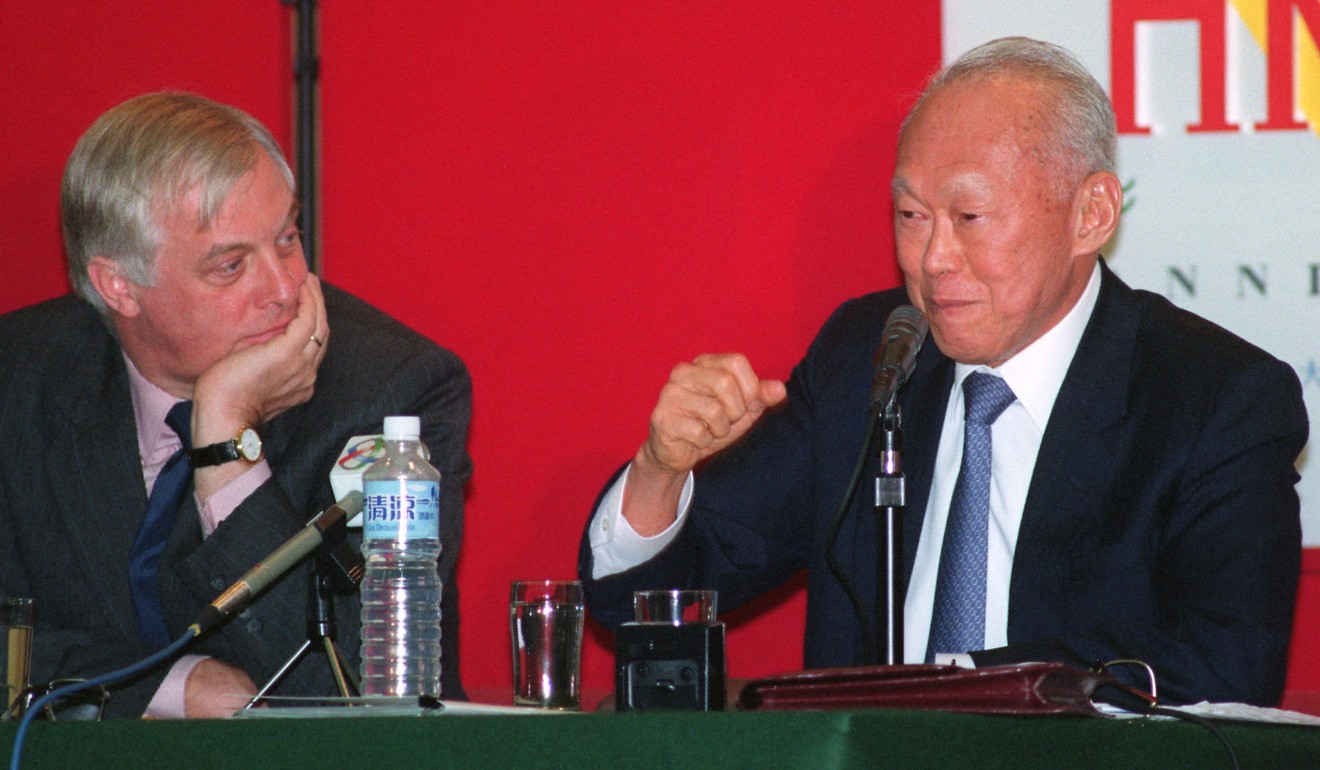 Lee said he recalled a statement by China's paramount leader Deng Xiaoping who had said whoever governed the former colony must "love China and love Hong Kong".
But Lee also told the "Iron Lady" that the only way to win democratic local elections would be "to love Hong Kong and hate China".
Lee maintained that the Sino-British Joint Declaration, signed in 1984, was the best agreement possible for the city.
In the 1991 and 1995 Legco elections, the pro-democracy camp won landslide victories on the platform of condemning the Tiananmen crackdown and opposing Chinese interference in Hong Kong.
According to National Archives documents declassified two years ago, Lee warned after the 1989 incident that Beijing would reject any assertion of a separate and democratically based Hong Kong identity.
He sounded the warning during a conversation with two senior British diplomats in Singapore in July 1989.
Lee wrote in his memoir, From Third World to First: The Singapore Story, that there was a "wide and deep gap" between what Hong Kong people wanted for themselves and the expectations of China's leaders.
In the book, published in 2000, just three years after the handover of Hong Kong to China, he said: "Over the next 47 years both sides must move towards each other and converge. It may not be as difficult as Hong Kong people now fear.
"It will be two more generations before they meet in one country, one system," he wrote, in a reference to "one country, two systems", the principle by which Beijing governs Hong Kong.
Lee, who was prime minister of Singapore between 1959 and 1990, died aged 91 in March 2015.