Crime
Get more with myNEWS
A personalised news feed of stories that matter to you
Learn more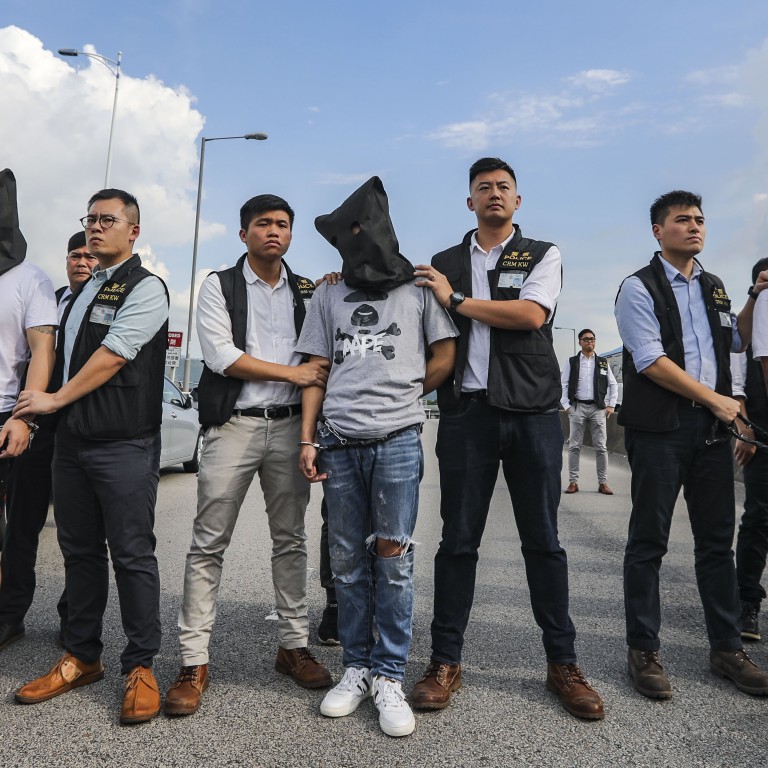 Security chief John Lee defends Hong Kong's fugitive extradition proposal, citing positive public feedback
Of 4,500 submissions, 3,000 support allowing fugitive transfers to mainland China, Taiwan and Macau
Former Chinese official presses for deal, saying more than 300 'important fugitives' had fled to Hong Kong
Hong Kong's security chief on Wednesday hit out at growing opposition to a government proposal to allow the transfer of fugitives from the city to mainland China, Taiwan and other jurisdictions not covered by existing extradition agreements, saying that two-thirds of 4,500 public submissions received so far supported the idea.
Secretary for Security John Lee Ka-chiu stuck to his guns on the proposal, as former Chinese vice-minister of public security Chen Zhimin stressed the need for such an arrangement by revealing that more than 300 "rather important fugitives" had fled across the border to Hong Kong.
Lee pointed to the case of Chan Tong-kai, a Hongkonger accused of killing his pregnant girlfriend in Taipei before fleeing home in February 2018.
"If some people try all possible means to make the Hong Kong government unable to send this suspect to face justice in Taiwan, I will be sad and disappointed. Because justice is justice, and politics should not override justice," Lee said.
Lee said that the Taiwanese authorities had requested Chan's extradition but that police and the Department of Justice were told by an appointed legal adviser they did not have sufficient evidence to take action against Chan in Hong Kong.
"In fact, we have been communicating with the Taiwan side on the principle of mutual respect [and] on the principle of dealing with the case according to its merits," he said.
The Hong Kong government has drawn fierce criticism from the city's pro-democracy camp and business sector over its proposal to amend the existing extradition law.
The amendment would allow the handing over of fugitives – on a case-by-case basis – to jurisdictions with which the city had no formal transfer policy, such as mainland China, Taiwan and Macau.
But Lee said that most of the responses the Security Bureau received about the proposal during a three-week public submission campaign were positive. The feedback period ended on March 4.
"We have received 4,500 submissions of public opinion, among which 3,000 were in support of the amendment, 1,400 opposed it, the rest offered suggestions," Lee said.
He said that handing Chan over to Taiwan was among the main reasons cited by those in favour of the proposal. Opponents were concerned about mainland China's judicial system, the impact on Hong Kong's business environment and the possibility of turning over political dissidents.
Lee stressed that safeguards in the existing extradition law would be maintained to ensure fugitives would not be prosecuted for their race, religion, nationality or political opinion.
He also dismissed the business sector's concerns, saying an offence of white-collar crime might not be constituted if it was done inadvertently.
Lee said the bureau was still studying the public feedback and had not made any final decisions.
On Tuesday, Taiwan's Legislative Yuan passed a non-binding motion, urging Hong Kong to enact a separate extradition agreement rather than putting the self-ruled island under the same mechanism that applies to mainland China.
In Beijing, Chen said the authorities had been "going to all lengths" to catch and return fugitives from Hong Kong – and that the city should reciprocate.
Chen, the former public security official, did not specify when the number of 300 fugitives was recorded, but said he had talks with Lee and his predecessor, Lai Tung-kwok, on the fugitive transfer arrangement. He said it was unfortunate that the sides failed to reach a consensus.
Across the strait, two visiting Civic Party members met representatives from Taiwan's Mainland Affairs Council and Ministry of Justice on Wednesday.
The Taiwanese officials brought up criticisms of the extradition proposal, including how mainland China could "affect human rights safeguard in Hong Kong".
In contrast to Lee's remarks on the Chan murder case, the officials said that Hong Kong did not respond to three requests from Taiwan for legal help and extradition.
Hong Kong has extradition agreements with 20 countries, including the United States, Britain, India, Singapore and the Philippines. More than half of these countries do not have a similar agreement with mainland China.
This article appeared in the South China Morning Post print edition as: Security chief slams critics of extradition plan