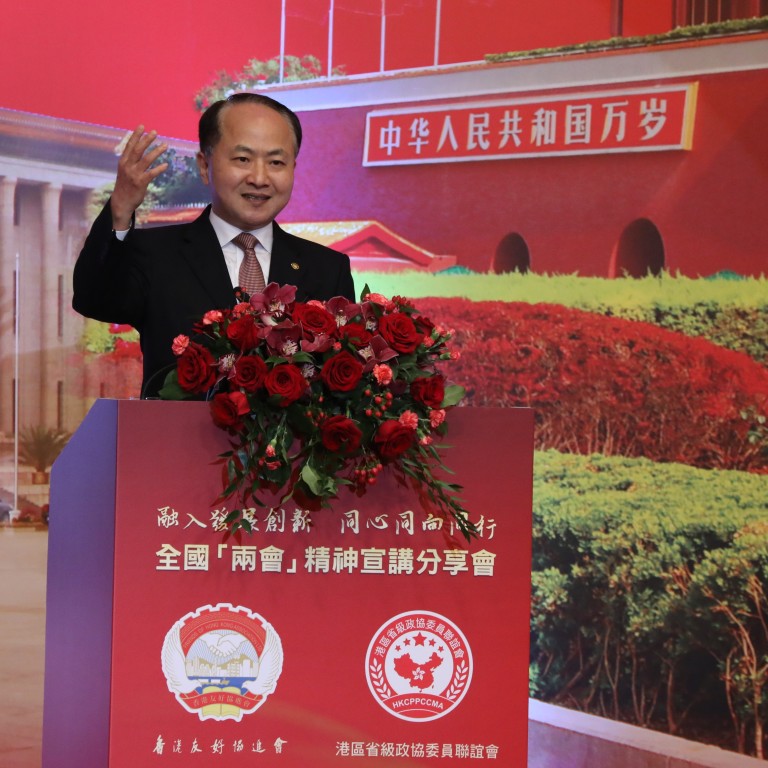 Beijing's top official in Hong Kong taunts Washington over Huawei executive Sabrina Meng's arrest, calling it 'world's biggest advertisement'
Director of mainland China's liaison office says 'Now, many of my friends and I are using Huawei phones'
Wang Zhimin's remarks came at forum to discuss outcomes of nation's annual political sessions
Beijing's top official in Hong Kong has taken a swipe at the United States, saying Canada's arrest of Huawei's chief financial officer last year at Washington's request only boosted the tech giant's global fame.
Wang Zhimin, director of Beijing's liaison office in Hong Kong, said on Wednesday that the arrest of Sabrina Meng Wanzhou was actually "the world's biggest advertisement for Huawei's 5G technology".
"Now, many of my friends and I are using Huawei phones, and we are proud of our nation's technological leadership. I believe Hong Kong will play a more important role as the nation innovates," Wang said.
Meng, who was
arrested in Vancouver
on December 1, was wanted in the US on fraud charges relating to alleged breaches of sanctions against Iran. Washington ordered Meng's extradition from Canada, where she remains awaiting legal proceedings.
Wang's remarks came as he addressed hundreds of local politicians and businessmen at a forum on the outcomes of the annual sessions of the Chinese People's Political Consultative Conference, the nation's top advisory body, and the National People's Congress (NPC), which concluded on March 15.
Ma Fung-kwok, an NPC deputy who has been using a Huawei phone for more than a year, said he agreed with Wang.
"It was objectively true that Huawei gained international fame," he said.
Another NPC deputy, David Wong Yau-kar, said Wang was just highlighting China's technological strength.
"China started much later than many other countries, and it has done well in areas such as 5G and high-speed railways," he said. "There is still much to be done in some other areas, but the US, Japan and Germany are not the world's leaders in all technological fields."
Wang said President Xi Jinping and Premier Li Keqiang made important remarks during the annual sessions which would guide the nation and influence Hong Kong's economic development in the years to come.
In his annual report on March 5, Li said Hong Kong and Macau would develop and progress with the mainland as they seized opportunities under Beijing's ambitious "
Greater Bay Area
" plan. The plan aims at turning the two cities and nine neighbouring cities into an innovation and technological powerhouse rivalling Silicon Valley by 2035.
Wang said Li's remarks meant Hong Kong, especially its technology sector, would thrive under the bay area project.
"Some people questioned if the plan would weaken the 'one country, two systems' principle," Wang said, referring to Beijing's governing principle under which Hong Kong is guaranteed a high degree of autonomy.
"But, in fact, it will enrich the implementation of the principle. Hong Kong will always be the homeground and a protagonist in the planning and implementation of the plan," he added.
Wang suggested that some political groups in Hong Kong had ignored the public's support for the plan and insisted on opposing it.
"If you bury your head in the sand and do not respect public opinion, you will be eventually left behind in this societal trend. So don't oppose for the sake of opposition," he said.
He said that when the bay area blueprint was drafted, Beijing had accepted all policies recommended by Chief Executive Carrie Lam Cheng Yuet-ngor.
This article appeared in the South China Morning Post print edition as: Arrest of Meng hailed as global boost for Huawei