US House speaker Nancy Pelosi has expressed 'deep concern' over Hong Kong plan to extradite fugitives to mainland China, visiting opposition politicians say
Civic Party lawmaker Dennis Kwok says Hong Kong government's proposal was among key issues discussed in Washington meeting with Pelosi
Speaker particularly concerned about potential implications for the personal safety of Americans in Hong Kong
US House speaker Nancy Pelosi has expressed deep concern over a Hong Kong government plan to allow the transfer of fugitives to mainland China, according to a delegation of pro-democracy politicians who met her on Tuesday.
The group quoted her as saying she would make sure the congressional chamber's new Democratic majority trained a spotlight on Hong Kong in the face of alleged increased intervention in the city's affairs by Beijing.
Civic Party lawmaker Dennis Kwok, among three pro-democrats who are on a 10-day trip to the United States at the invitation of the White House, said the government's fugitive plan was among the key issues discussed in their meeting with Pelosi.
"Speaker Pelosi is fully aware of developments in that area. She expressed concern – deep concern – about the implications of such legislative amendments," he said in Washington, adding that she was particularly concerned about the potential implications for the personal safety of Americans in Hong Kong. "They will continue to pay much greater attention to Hong Kong's development."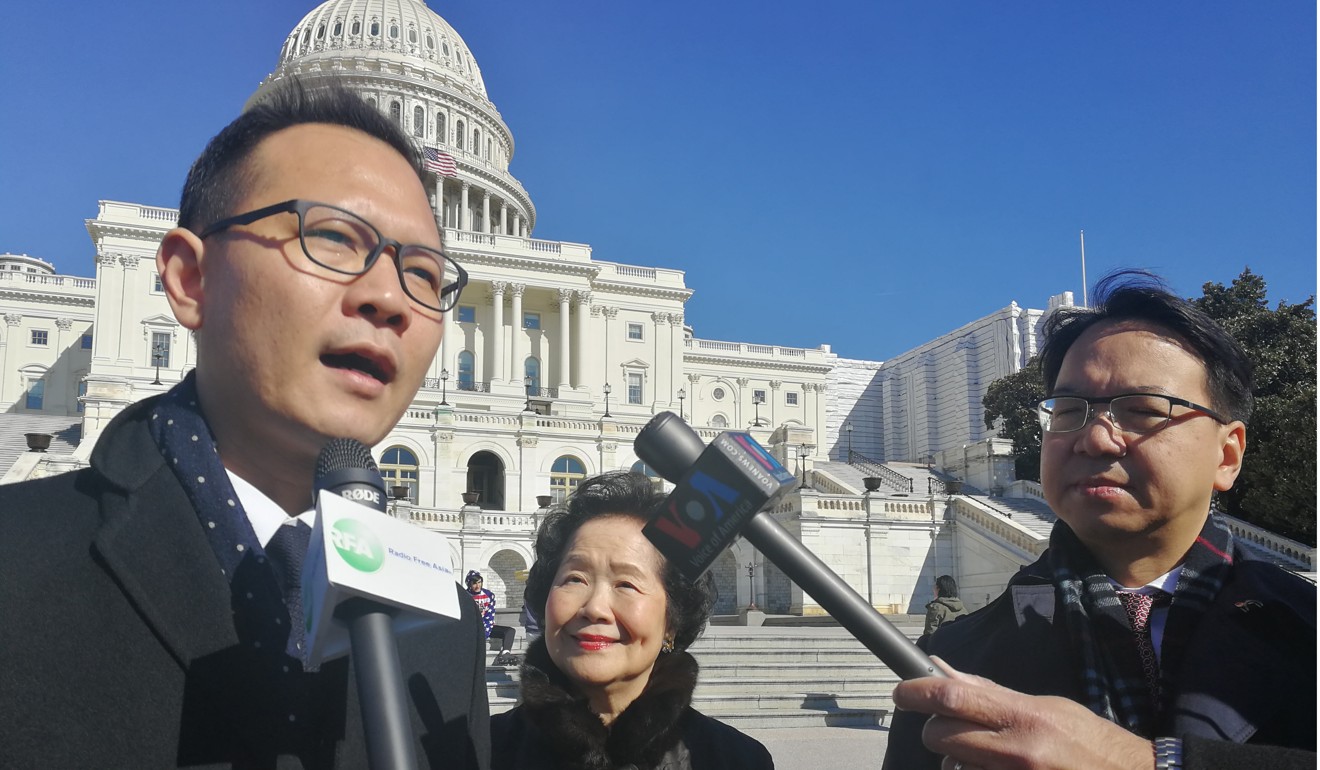 The Hong Kong government on Tuesday watered down the proposal amid mounting pressure from the business sector by
exempting nine economic crimes
from the list of 46 extraditable offences.
Also in the delegation are former chief secretary Anson Chan Fang On-sang and opposition lawmaker Charles Mok. Chan, who served as Hong Kong's No 2 official before and following the city's handover to Chinese rule in 1997, said she left the meeting with the impression Pelosi would harness the Democratic Party's new majority in the House of Representatives to sustain scrutiny of the city's political situation.
Under the "one country, two systems" framework, Beijing agreed to give the Hong Kong Special Administrative Region autonomy over its judicial, legislative and economic affairs. According to critics, including the US government, that autonomy is deteriorating.
"[Congress] will hold China accountable for the promises they made," Chan said. "Not just to the people of Hong Kong but to America and to the international community."
The delegation's visit, which included a
White House meeting
with Vice-President Mike Pence on Friday, coincided with the release of a State Department report that found "diminished" levels of autonomy in Hong Kong.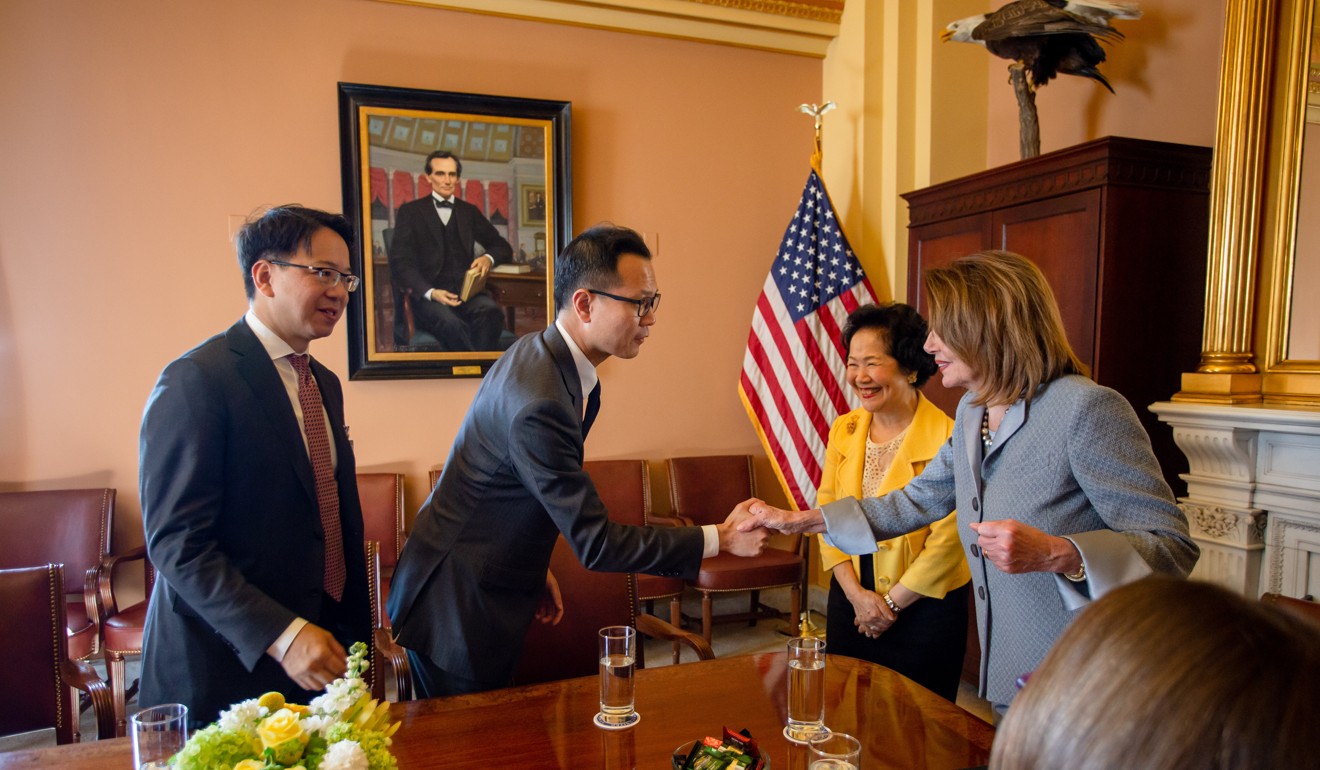 Pelosi, the country's most powerful Democrat and the highest ranking elected female politician in US history, is seeking to rally her party following the release of preliminary findings from special counsel Robert Mueller's investigation that found no evidence of collusion between Donald Trump's 2016 presidential campaign and Russia, Politico reported on Tuesday.
Among her priorities is securing the public release of the full report of the investigation.
"She has so much on her plate, but she made time to see us," Chan said of Pelosi, who on Tuesday also celebrated her 79th birthday. "I think this underlines and underscores her continuing interest in and concern for Hong Kong, and in particular what's happening to rights and freedoms and to the increasingly narrow political space for those of us living in Hong Kong."
The speaker's office did not respond to a request for comment, but Pelosi has a track record of advocating democratic causes in Hong Kong, having engaged repeatedly with members of the city's pro-democracy bloc. Those include activist Joshua Wong Chi-fung, whom she has met numerous times in both Hong Kong and Washington since the
Occupy
movement of 2014.
Following Wong's resentencing in 2017 for his role in leading those protests, Pelosi said the US had "a moral duty to speak out against such injustices, because if we do not stand up for human rights in China because of economic concerns, then we lose all moral authority to talk about human rights in any other place in the world".
Pelosi has also co-sponsored numerous bills in Congress aimed at committing the US to supporting the protection or furthering of democratic freedoms in Hong Kong. One such bill, titled "Expressing support for freedom in Hong Kong", was slammed by Beijing as "wanton interference" in Hong Kong's affairs when it was passed unanimously by the House in 2004.
Kwok suggested on Tuesday that Pelosi had expressed a commitment to continue using her legislative power to sustain scrutiny of the city's political situation.
"Obviously I don't want to be quoting what the speaker said, but all I can say is that she and other Democrats – and including Republicans – will use the existing legislative framework that we already have to follow up on Hong Kong," he said.
"So we got some very firm indications from her today."
The delegation travels to New York on Wednesday to visit the city's Bar Association and the Council for Foreign Relations, a think tank.