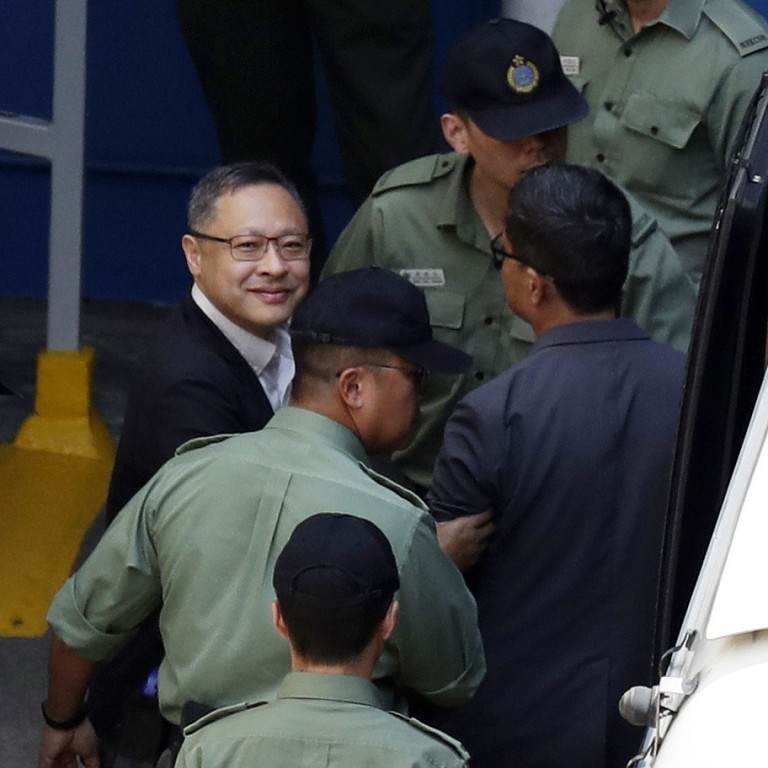 Will academic Benny Tai and Hong Kong lawmaker Shiu Ka-chun hold on to their jobs after being jailed over Occupy protests?
Uncertainty surrounds law professor Benny Tai's tenure at the University of Hong Kong and Shiu Ka-chun's seat in the Legislative Council
They were sentenced to 16 months and eight months in jail respectively for their roles in 2014 movement
For two leaders of Hong Kong's 2014
Occupy
movement protests, jail terms are not their only problem as their positions at the city's oldest university and in the legislature are also now on the line.
Uncertainty surrounds law professor Benny Tai Yiu-ting's tenure at the University of Hong Kong (HKU) and Shiu Ka-chun's seat in the Legislative Council after they were sentenced to 16 months and eight months' jail respectively on Wednesday for their roles in the city's biggest civil disobedience campaign.
Tai, known for his vocal stance on politics, is likely to face a university disciplinary inquiry.
"In light of the verdict and sentence, the university will follow up in accordance with the procedures stipulated in the University of Hong Kong Ordinance and related rules and regulations," an HKU spokesman said.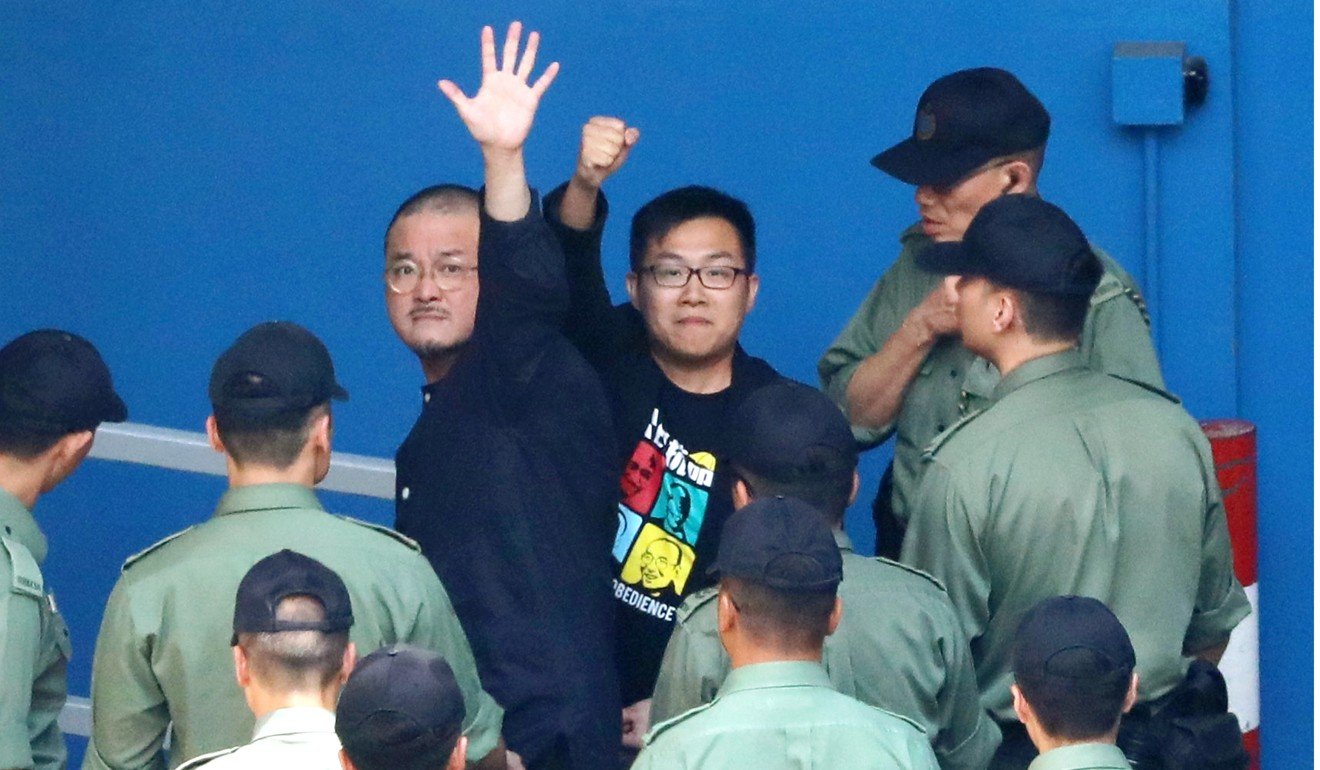 Based on procedures, vice-chancellor Zhang Xiang has "absolute discretion" to trigger an investigation if he feels there is "good cause" behind terminating Tai's tenure or if he receives a complaint.
Dismissal on good cause would need to demonstrate an employee suffered from an "inability to perform efficiently the duties of the office", had neglected their duty or there had been "misconduct whether in an official or a private capacity".
A committee of inquiry would be set up to review the allegations. The university senate would then make a recommendation to the governing council for a final decision on the position. Tai has the right to a lawyer and make submissions to the committee, senate and council.
But former HKU law dean Johannes Chan Man-mun said a criminal conviction was not necessarily grounds to fire an employee, since the nature of the offence should also be considered.
"It is up for debate whether what Tai did was right or wrong – after all, he was not doing it for private gain but out of genuine belief," Chan said. "His case is not so serious as to attract dismissal and can be handled by other means."
HKU Academic Staff Association chairman William Cheung Sing-wai echoed Chan's views, and said Tai could apply for unpaid leave while serving his sentence.
They both said any inquiry should only start after the result of an appeal by Tai was known.
Meanwhile, Legco president Andrew Leung Kwan-yuen did not give a clear indication on how he would deal with Shiu's seat, given the lawmaker was in prison and likely unable to attend council meetings in person. Leung said there was no precedent for such a situation and he would need to look into it further.
"Firstly, I will make reference to cases from another regions," Leung said. "I will also seek legal advice and reach out for external advice if needed."
He said extra caution was needed as such an important decision was expected to face judicial review.
Under the
Basic Law
, Hong Kong's mini-constitution, lawmakers absent from Legco meetings for three consecutive months without valid reasons can be disqualified.
The president's predecessor Jasper Tsang Yok-sing earlier said Leung should not be able to disqualify lawmakers jailed for more than three months, as the power should rest with Legco collectively.
Adding to the uncertainty over Shiu's case was that Legco's summer recess was in mid-July, which was less than three months away.
Pro-establishment lawmaker Elizabeth Quat of the Democratic Alliance for the Betterment and Progress of Hong Kong did not rule out employing another means to unseat Shiu, including lodging a motion which can be used to remove a member jailed for more than one month. However, such a motion had to first secure a two-thirds majority in Legco.
The pro-establishment camp held 43 seats in the 69-member Legco, meaning it still needed at least three more votes to oust Shiu.
"It is true we do not have enough votes. But we still want to sit down and discuss the best way to do it so as to issue a proper message to society," Quat said.
Council Front lawmaker Claudia Mo Man-ching said although the pro-democracy camp had enough votes to block such a motion, she was worried Leung could use his powers to remove Shiu.
"Honestly, we are more worried about Section 2 of Article 79," Mo said, referring to the three months' absence rule.
Although Shiu would not be able to attend Legco meetings, his absence was justified, she argued.
Accountancy sector lawmaker Kenneth Leung said Shiu would continue to exercise his duties as a lawmaker from behind bars, including raising inquiries with the government.
But even if Shiu keeps his seat, an eight-month jail term means he is barred from seeking re-election. Any candidate who is sentenced to more than three months' imprisonment cannot take part in an election within five years.
There was only one instance where a lawmaker was ousted because of a criminal conviction. Financial services lawmaker Chim Pui-chung was unseated in 1998 after being convicted of plotting to forge share transfer documents.
Activist "Long Hair" Leung Kwok-hung was sentenced to two months' jail but the pro-democracy camp blocked the motion to unseat him in 2012. His jail term was reduced to four weeks on final appeal. What remained unclear from his case was whether a jailed lawmaker could still exercise his duty from behind bars. Leung was denied permission to leave prison to attend Legco meetings.
Additional reporting by Sum Lok-kei
This article appeared in the South China Morning Post print edition as: Jobs on line for jailed protest leaders Tai and Shiu