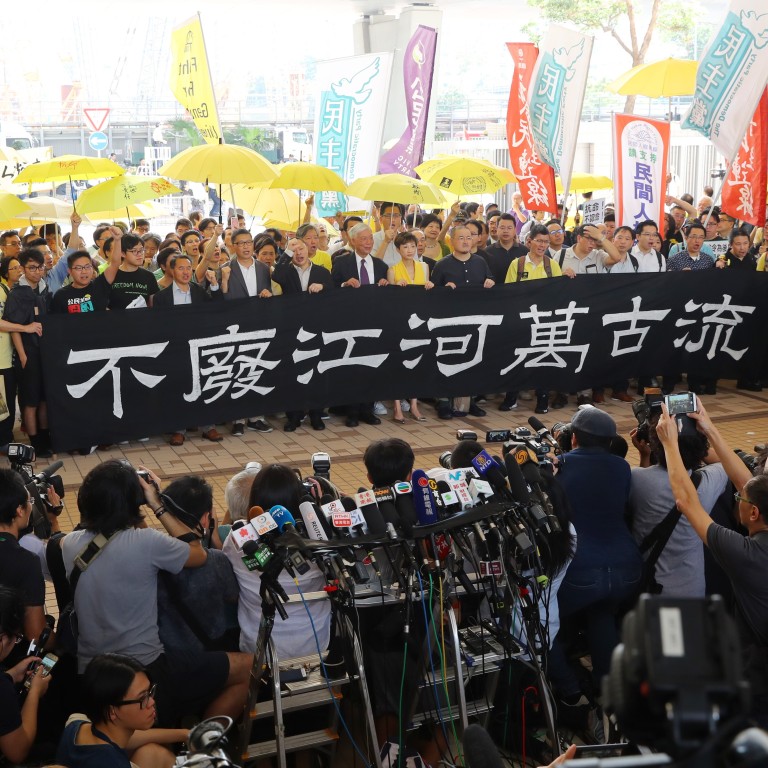 Hong Kong's politicians and legal profession split over jail terms for four Occupy leaders – some say sentences are too harsh while others think they should be stiffer
Nine leaders were convicted of public nuisance charges, with four jailed for up to 16 months
Foreign diplomats voice concern over freedoms of speech and assembly
Jail terms of up to 16 months for four of nine
Occupy
leaders have divided Hong Kong's legal and political sectors, with some finding the penalties too soft and others seeing them as overly harsh.
Foreign diplomats in Hong Kong, meanwhile, voiced concern over Hongkongers' freedoms of speech and assembly in light of the jailings.
At West Kowloon Court on Wednesday, the three co-founders of the 2014 Occupy movement – Benny Tai Yiu-ting, 54, Dr Chan Kin-man, 60, and Reverend Chu Yiu-ming, 75 – were each
sentenced to 16 months in jail
.
Four others – lawmaker Shiu Ka-chun, 49, League of Social Democrats vice-chairman Raphael Wong Ho-ming, 30, former legislator Lee Wing-tat, 65, and former student leader Eason Chung Yiu-wa, 26, were jailed for eight months for their roles in the protests.
Former student leader Tommy Cheung Sau-yin, 25, was ordered to complete 200 hours of community service. Chu, Lee and Chung had their sentences suspended for two years for reasons including age and past service.
Sentencing on lawmaker Tanya Chan
, who must undergo surgery on a brain tumour, was adjourned to June 10.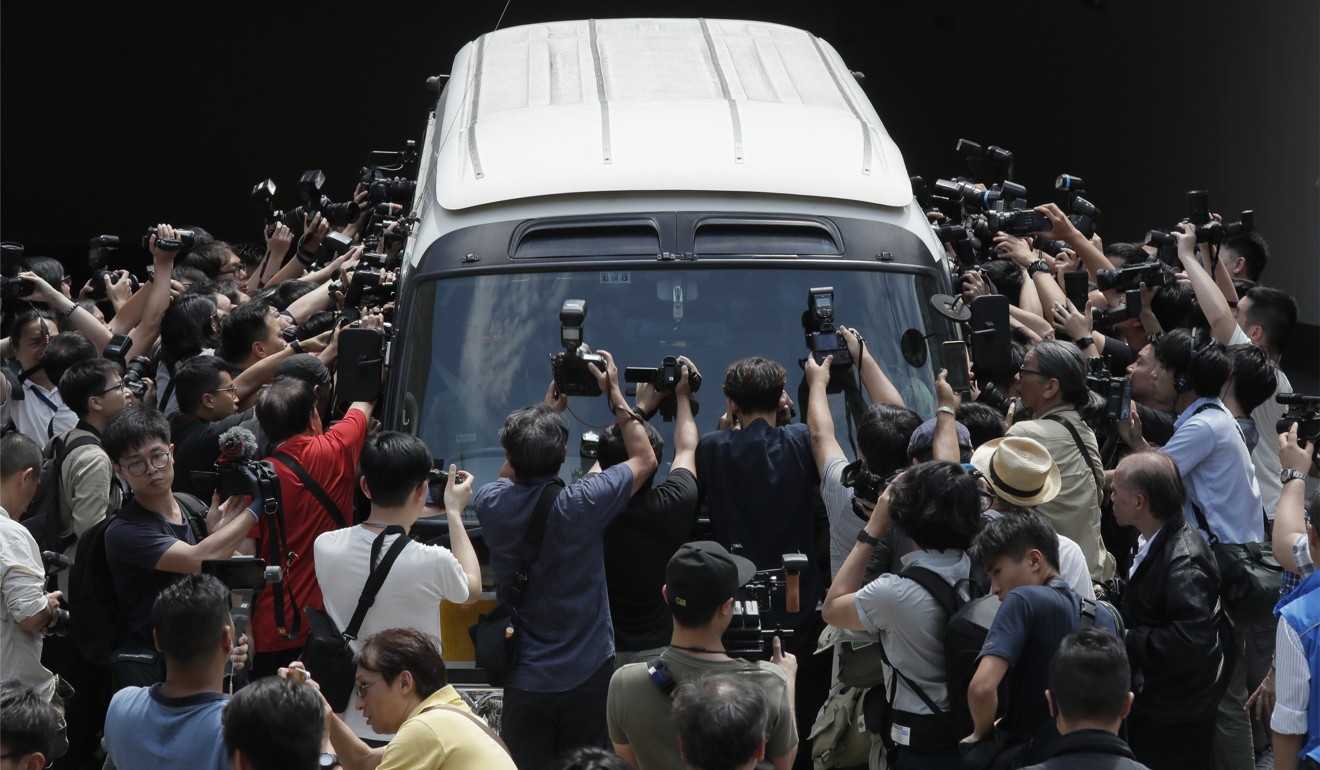 The nine leaders were convicted of public nuisance charges. The maximum penalty for each charge is seven years' imprisonment.
Criminal barrister Cheng Huan said the penalties appeared to be lenient, given the protests were "perhaps the biggest public nuisance created in Hong Kong's history".
He said the judge had "adopted a humane approach".
Former director of public prosecutions Grenville Cross also believed the sentences on the three co-founders were light. But he said the Department of Justice was unlikely to seek a review.
"It would not be easy to show either that they are 'manifestly inadequate', or that this is an exceptional case requiring a review," Cross said.
University of Hong Kong legal scholar Eric Cheung Tat-ming, however, said the sentences were severe.
"There was no weight given to civil disobedience as a mitigating factor for sentencing," Cheung said, adding that there could be room to appeal.
Council Front lawmaker Claudia Mo Man-ching, convenor of the pro-democracy camp's meeting, said the sentences were "within expectations".
She noted Judge Johnny Chan Jong-herng had given about half of the activists jail terms, while sparing the rest. "[The judgment] gives the impression of being a draw. There's some political message there," Mo said.
But the sentencing also heightened tensions between the administration and the opposition. Twenty-two pro-democracy lawmakers co-signed a letter calling on Chief Executive Carrie Lam Cheng Yuet-ngor to resign, the first time that had happened since she took office in 2017.
"[Lam] acted like Beijing's puppet, repeatedly using the law as a political weapon," their statement read.
The pro-establishment camp, on the other hand, felt the sentences were too lenient.
Starry Lee Wai-king, chairwoman of the Democratic Alliance for the Betterment and Progress of Hong Kong, said the justice department should consider whether the sentences sent the right message to society.
"If the department thinks this may send the wrong message, such that young people may think that joining or organising large-scale and illegal gatherings leads only to mild sentences, it should consider seeking an explanation from a higher court," Lee said.
Priscilla Leung Mei-fun of the Business and Professionals Alliance agreed the penalties were too light.
The department said it was studying the ruling.
A police spokesman said the force respected the court's ruling and urged people to abide by the law when they took part in protests.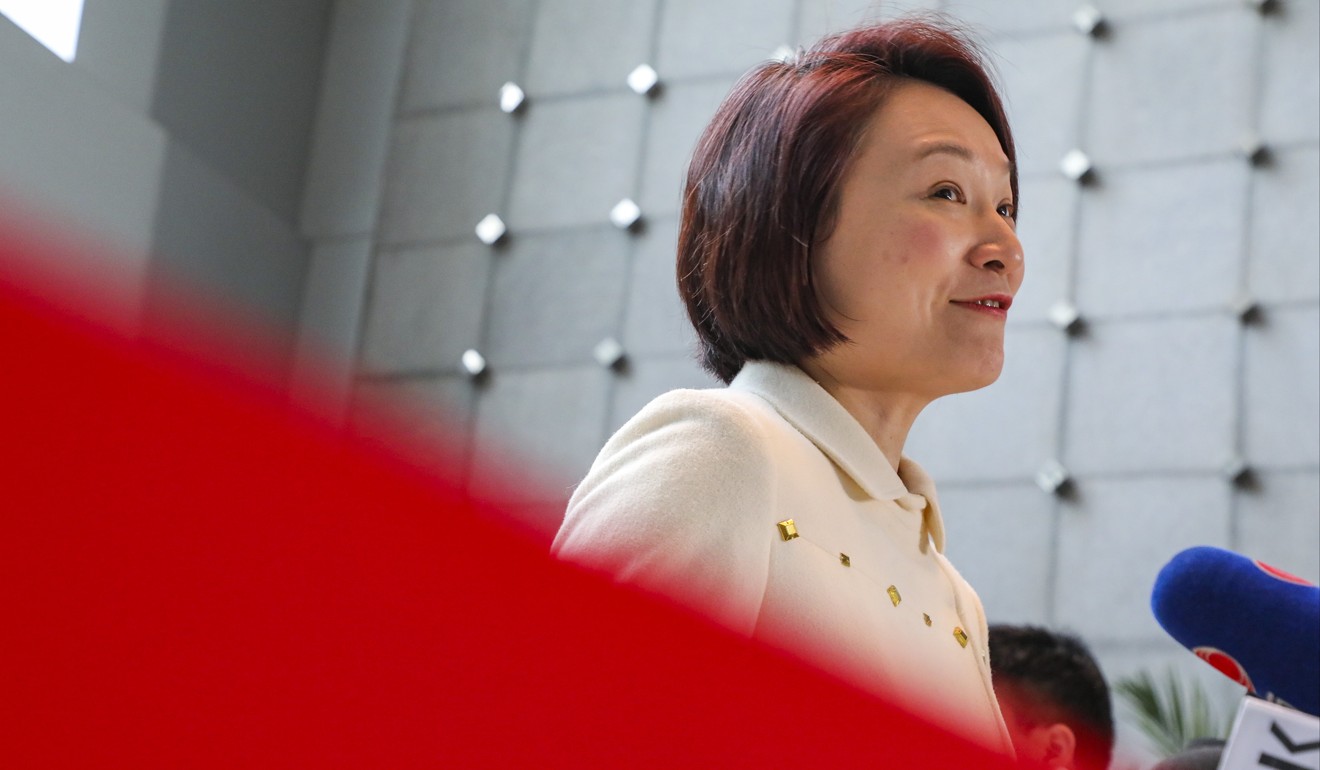 Meanwhile, a spokesman for the US consulate said the charges the activists faced and the sentences were a cause for concern. "Such prosecutions can stifle the exercise of the basic freedoms enshrined in the
Basic Law
," he said, referring to Hong Kong's mini-constitution.
A spokesman for the British consulate said it would be deeply concerning if people were deterred from taking part in peaceful protest.
The European Union's office said the sentences "may hinder Hong Kong people from exercising their rights to peaceful assembly and pursuing their aspirations for universal suffrage".
Taiwan's Mainland Affairs Council said it was "deeply regretful" the activists were convicted and sentenced for peaceful protests.
"On one hand, the central government puts stress on telling positive stories about 'one country, two systems'," it said, referring to the framework under which Beijing governs Hong Kong.
"On the other hand, it shrinks the space for democratic autonomy and human rights in Hong Kong, exposing its own shortcomings."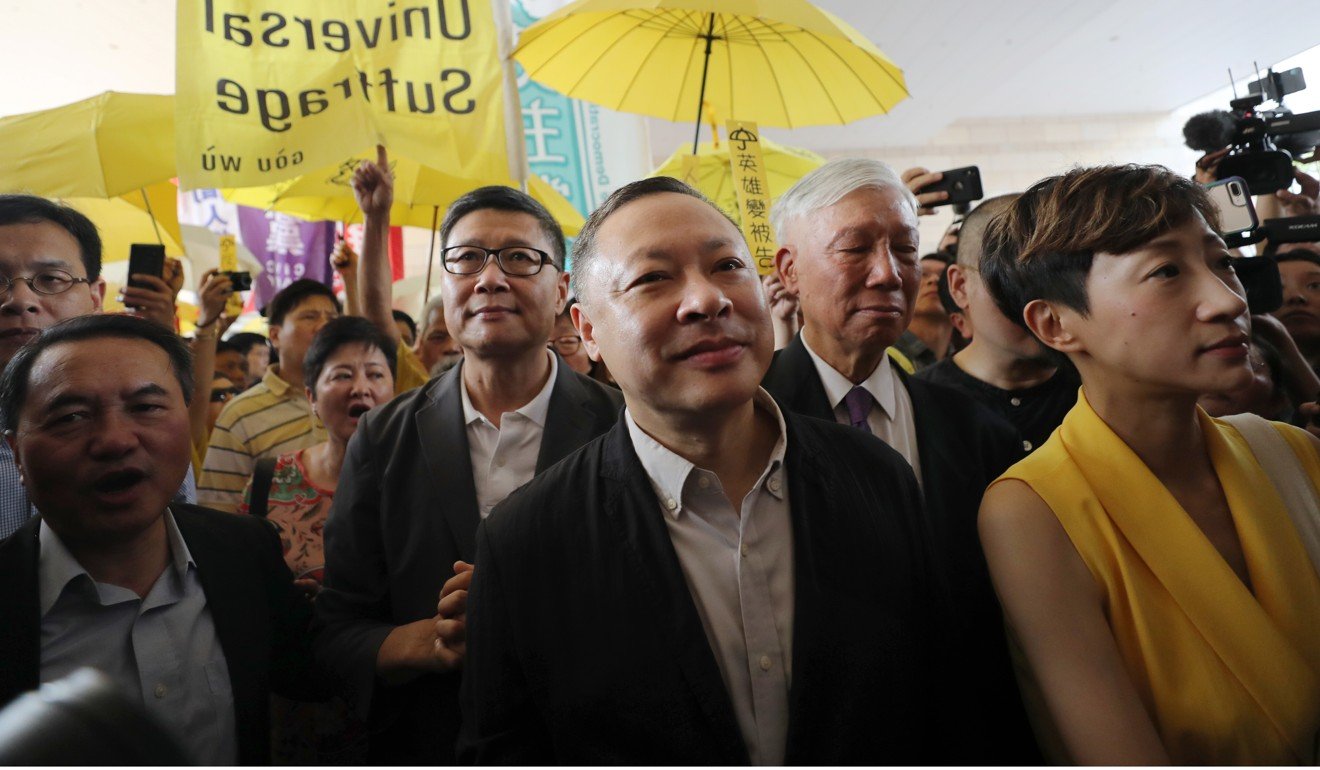 The jailings are not the first in connection with the 2014 protests and related events.
In August 2017, the city's appeal court jailed student leaders
Joshua Wong Chi-fung
, Alex Chow Yong-kang and Nathan Law Kwun-chung for six to eight months for storming into the government headquarters two days before the Occupy protests began on September 28, 2014.
Originally, they were given a suspended sentence or community service when convicted of unlawful assembly charges at a magistrates' court. But prosecutors complained that non-custodial sentences were too lenient and the trio were jailed. However, in February last year the Court of Final Appeal ruled the original non-jail sentences were adequate.
Weeks before Wong learned of the top court's decision, he was jailed for three months on another Occupy-related charge with activist Raphael Wong Ho-ming.
They were among about two dozen people prosecuted for contempt of court for failing to leave a protest site in Mong Kok during a court-ordered clearance. Raphael Wong was jailed for four months and 15 days.
Another activist, Alvin Cheng Kam-mun, was jailed for three months, while Lou Tit-man, a street sleeper, was sentenced to four months' prison. The rest were given suspended sentences or fines of up to HK$15,000 (US$1,923).
This article appeared in the South China Morning Post print edition as: Politicians, legal profession divided as jail terms begin