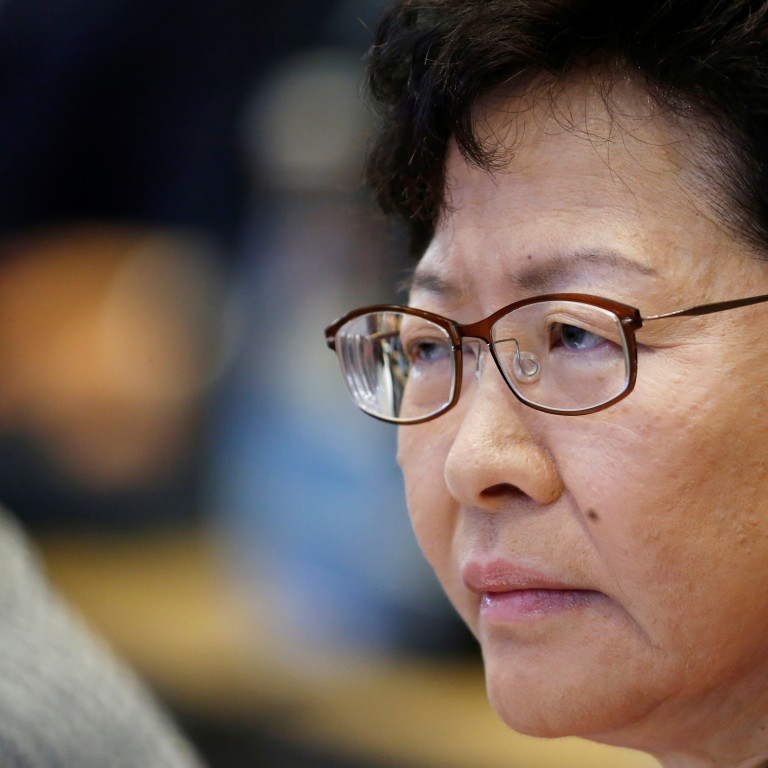 Hong Kong leader Carrie Lam voices 'strong objection' to Germany granting asylum to Mong Kok riot fugitives Ray Wong and Alan Li
Chief Executive Carrie Lam makes strongly worded complaint to Berlin's top diplomat in city
Lam questions whether German authorities' move was based on facts
Hong Kong's leader has made a strongly worded official complaint to Germany's top diplomat in the city, nearly three days after the news broke that the European nation had granted asylum to two local fugitives wanted by police on rioting charges.
Chief Executive
Carrie Lam Cheng Yuet-ngor
called for a meeting on Friday with acting consul general David Schmidt to express her strong objection and deep regret over Germany's decision to offer protection to pro-independence activists Ray Wong Toi-yeung, 25, and Alan Li Tung-sing, 27, who skipped bail in 2017 to avoid facing criminal charges relating to the
Mong Kok riot of 2016
.
According to a statement by the Chief Executive's Office, Lam questioned whether the German authorities' decision had been based on facts, as anyone accused of breaching the law in Hong Kong would face an open and fair trial under an independent judicial system.
"She expressed deep regret and strong objection to the reported granting of asylum to the two bail jumpers by Germany, which had unjustifiably undermined Hong Kong's international reputation in the rule of law and judicial independence," the statement said.
Lam had been under pressure from her own political allies to set the record straight and contain the damage to the city's reputation after several international media outlets reported on Wednesday that the two fugitives had sought asylum in Germany in 2017, and that authorities there had granted their request last May.
The statement cited Lam as stressing that Hong Kong's rule of law, law enforcement agencies and judicial independence had long been held in high regard by both local and international communities.
"She said the two men are facing serious charges including riot and assaulting police in relation to the Mong Kok riot in February 2016. The riot involved the hurling of bricks and wooden pallets, burning cars, attacking police, surrounding police vehicles, wounding others and destroying public property," the statement read.
Lam pointed out to the German diplomat that the violent actions of the rioters had resulted in injuries to more than 80 police officers and unsettled many people in Hong Kong.
"Given Germany's long-standing diplomatic presence in Hong Kong, such facts, which were on the public record and easily available, should have been duly taken into account," the statement read.
"She said she was dismayed that apparently such a basic assessment of facts had not been made."
Lam asked Schmidt to convey her deep regrets and strong objections to his bosses in Berlin.
"She said that 14 eminent overseas judges from the United Kingdom, Australia and Canada currently sit on our Court of Final Appeal as non-permanent judges, which in itself is a testimony to the integrity of Hong Kong's rule of law and independent judiciary," the statement said.
The German consulate did not respond to the Post when asked for comment.
Earlier this week, Beijing's foreign ministry insisted Hong Kong upheld the rule of law, which sufficiently guaranteed citizens' rights.
Without referring directly to the two fugitives' case, Germany's foreign ministry earlier voiced concern over the situation in Hong Kong, despite considering human rights in the city to be "good as a whole".
According to German policy, the Berlin government would have to consider whether the two fugitives faced persecution at home based on their political opinion or a disproportionate or discriminatory judicial proceeding when granting them asylum and subsequently a settlement permit equivalent to citizenship.
This article appeared in the South China Morning Post print edition as: lam blasts berlin for sheltering riot pair