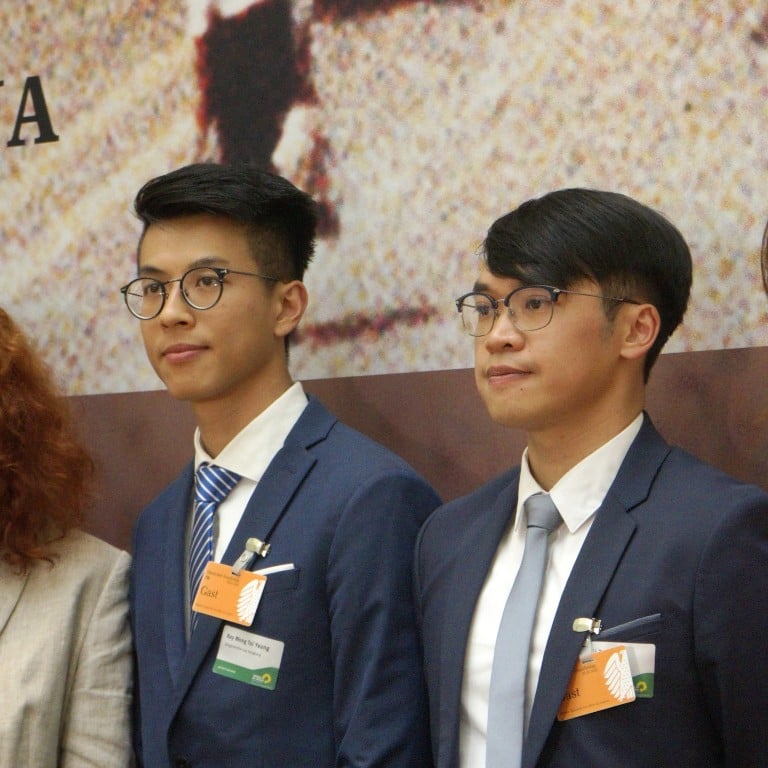 Fugitives granted asylum in Germany say they faced 'unfair trial' and call on international community to oppose Hong Kong's extradition bill
Ray Wong and Alan Li, who skipped bail in 2017 while awaiting trial on charges related to Mong Kok riot, granted refugee protection status last year
Pair appeared at a seminar organised by German Green Party commemorating the 30th anniversary of the Tiananmen Square crackdown
Two Hong Kong fugitives granted refugee protection status in Germany say they decided to flee because they faced an "unfair" trial, arguing they had a responsibility to draw international attention to the erosion of freedom in their hometown.
Ray Wong Toi-yeung and Alan Li Tung-sing, who skipped bail in 2017 to avoid facing trial on charges related to the Mong Kok riot the previous year, made their first public appearance on Tuesday since news of their status came to light last month.
Wong said the pair left Hong Kong thinking the charges would be stacked against them in their trial.
"I thought the trial would be unfair, because the government had launched charges against us under the Public Order Ordinance, which was criticised by the United Nations Human Rights Council and [former Hong Kong governor] Chris Patten," Wong said.
"Since we thought we would not have a fair trial, we had good reason to leave."
Patten wrote to the
Post
last year that the use of the ordinance was a "direct contravention" of the International Covenant on Civil and Political Rights, adopted in Hong Kong's
Basic Law
, the city's mini-constitution.
He also said the use of charges under the ordinance might lead to excessive restrictions on the right to participate in public gatherings.
Wong also called on the international community to oppose the city's controversial
extradition bill
, which he said could further weaken the legal boundaries between Hong Kong and China.
"This extradition bill is breaking the 'firewall' between Hong Kong and China. It will spell the end of 'one country, two systems', as well as Hong Kong," Wong said as he attended a seminar organised by the German Green Party to mark the 30th anniversary of the
Tiananmen Square crackdown
on Tuesday.
"For me personally, I will never be able to go back to Hong Kong."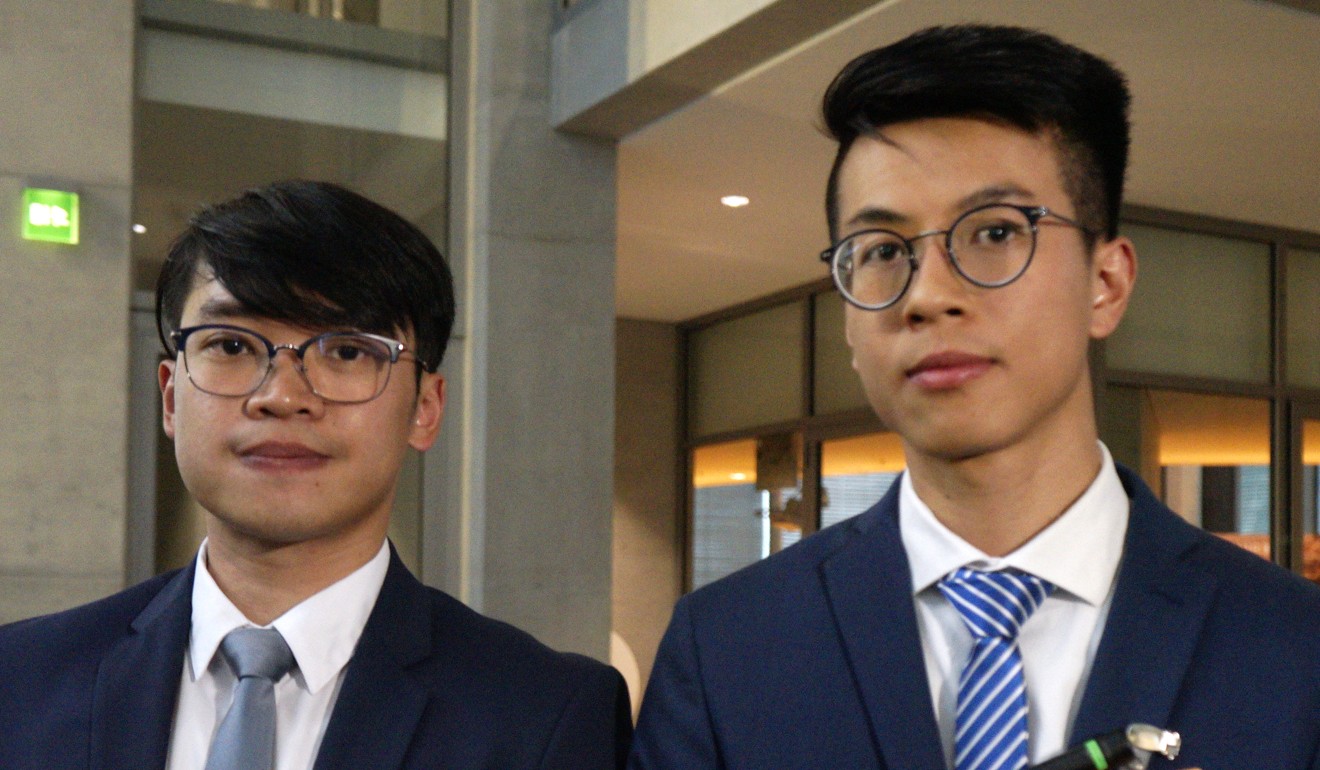 The bill, if passed, would allow the transfer of fugitives to any jurisdiction the city lacks an extradition treaty with, including mainland China. Critics have expressed concern over the lack of human rights safeguards and fair trials on the mainland.
Wong and Li, members of the separatist group Hong Kong Indigenous, said they no longer advocated breaking away from China as they thought the biggest issue for the city now was how to regain and safeguard the freedoms it once had.
Wong also said the group originally intended to have Edward Leung Tin-kei, the poster boy of the pro-independence movement, skip bail, and he himself would stay in Hong Kong.
"But Edward changed his mind and decided to face trial in Hong Kong; that's when I started to think about fleeing," Wong said.
Leung was eventually jailed for six years for rioting.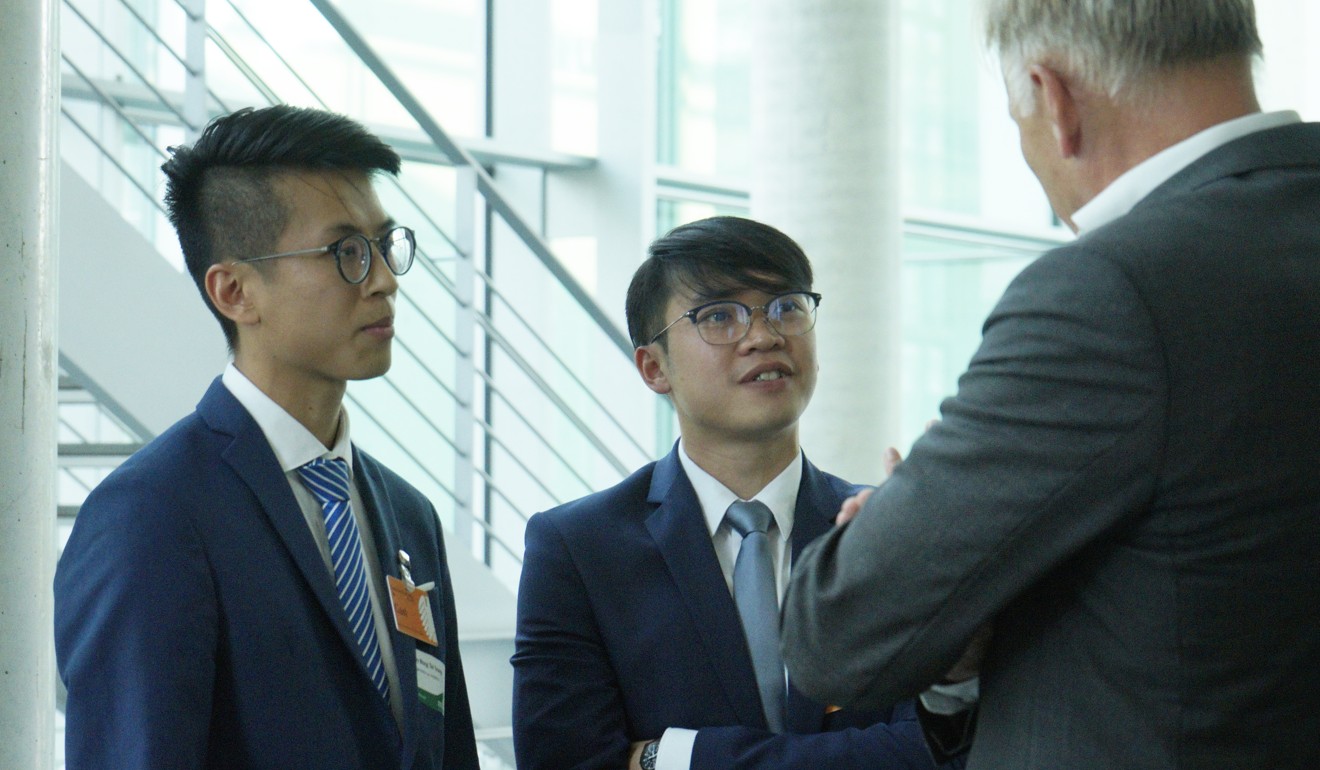 Responding to criticism at home for jumping bail, Wong said the trial was not a fair one in the first place.
"Someone has to spread the message and draw international attention to what's happening to Hong Kong," he said, adding it was not an easy decision to leave.
"The two of us may not be able to go back to Hong Kong, to the city where we grew up, where our family and friends are. I had a breakdown one time, thinking there's a chance I may never be able to go back."
In a written reply to the Post on Wednesday, Hong Kong's Security Bureau said it would not comment on Wong's allegations about an unfair trial as judicial proceedings had not ended.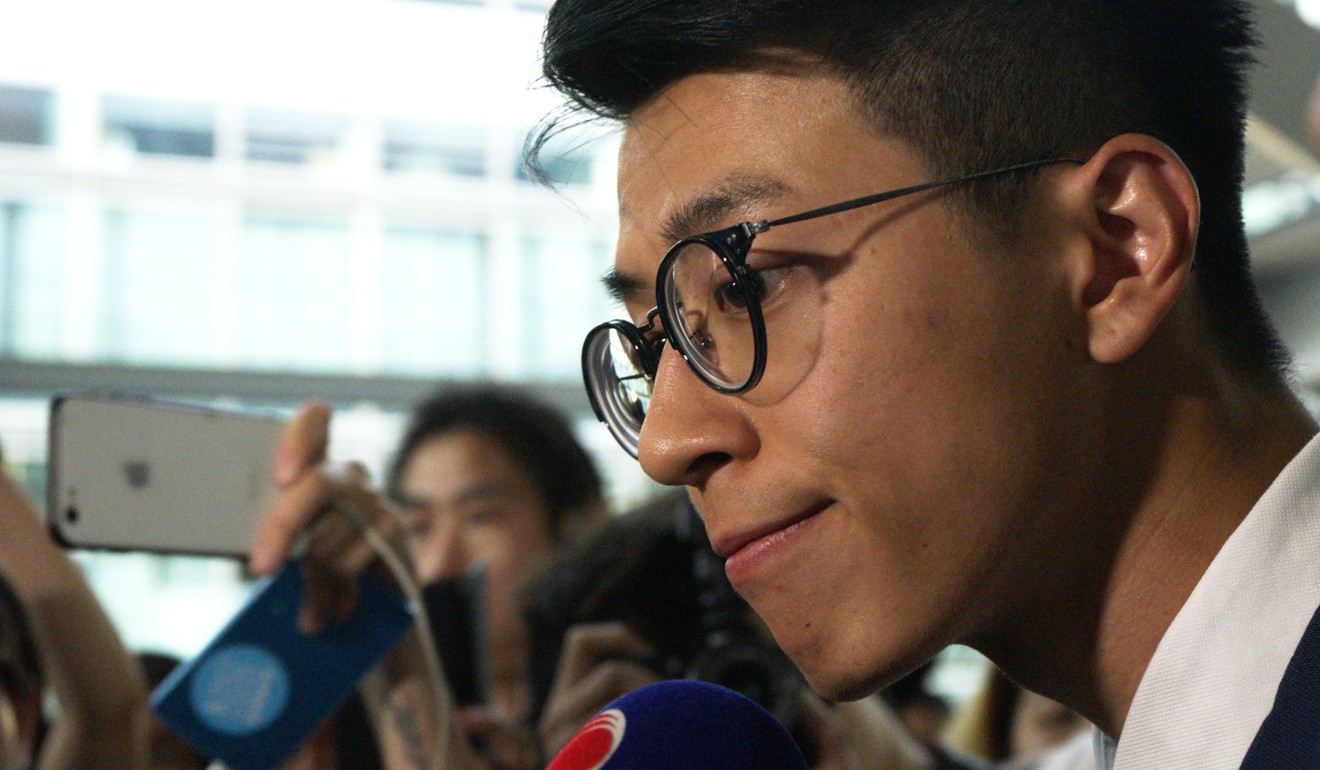 "The Department of Justice has all along upheld its constitutional duty … in handling all prosecution work in an impartial and professional manner, free from any interference," the statement said.
"The [department] makes all prosecutorial decisions fairly and impartially … after careful and comprehensive consideration of the applicable law and the relevant evidence.
"In every criminal prosecution in Hong Kong, defendants face a fair and open trial and have access to legal representation."
It added that "if a defendant is convicted after trial and sentenced, there is a sound appeal mechanism for him to appeal against his conviction and/or sentence."
Wong and Li also revealed they were told Beijing had tried to intervene in their asylum application in Germany.
Documents obtained by their lawyers, which included email exchanges between Germany's Federal Office for Migration and Refugees and the local authorities of Goettingen, showed China contacted Germany in 2018 to demand the asylum applications for the two be denied, Wong said.
"So I believe both the Chinese and Hong Kong government were aware of our applications by June 2018," he said.
The pair said that learning German would now be their priority, and that for democratic development in Hong Kong to move forward the support of the international community was vital.
"There are many people here who are not aware of the political situation in Hong Kong. Many know about what's happening in Tibet, Xinjiang, or even Taiwan. I would like to spread the message that Hong Kong is also facing a critical situation," Wong said.
Additional reporting by Su Xinqi and Sum Lok-kei
This article appeared in the South China Morning Post print edition as: Fugitives who fled to Germany speak about their fears