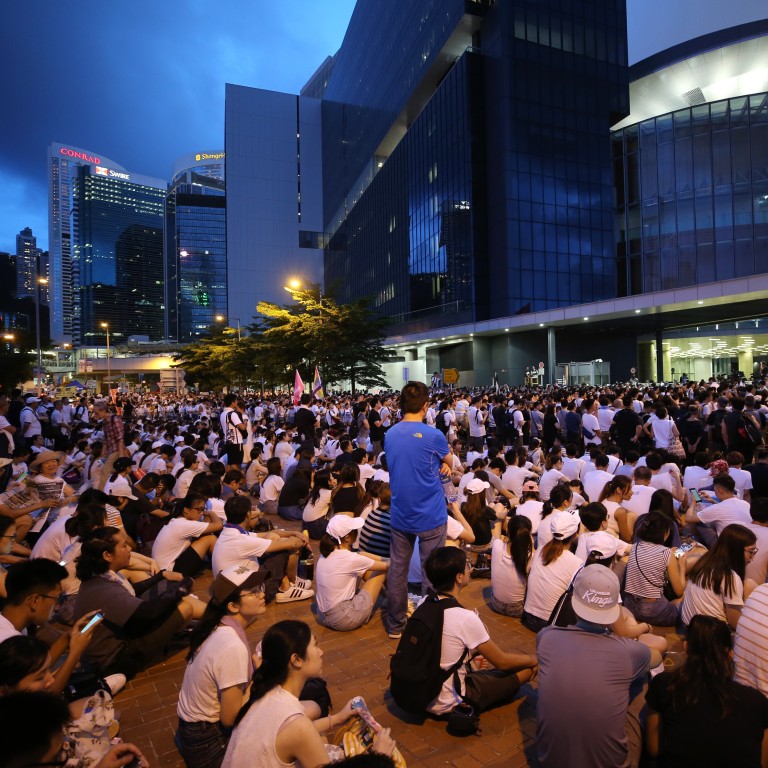 Hong Kong extradition bill: police to flood streets with 5,000 officers as city braces for second wave of protests
Force to be deployed as controversial amendments head back to Legislative Council for second reading
Protesters expected to start gathering on Tuesday night around government headquarters
Hong Kong police are planning to flood the streets with 5,000 officers in response to calls for a second wave of protests outside the city's legislature and administrative headquarters on Tuesday night, law enforcement sources have said.
The deployment from a total force of 30,000 will see officers drafted in from all over Hong Kong, and comes in response to the
running battles
that took place between police and protesters in the early hours of Monday morning.
Describing it as "a huge operation", one source told the Post "police will mobilise workforce from all districts".
The number of officers is only slightly fewer than those deployed when senior Chinese officials visit the city.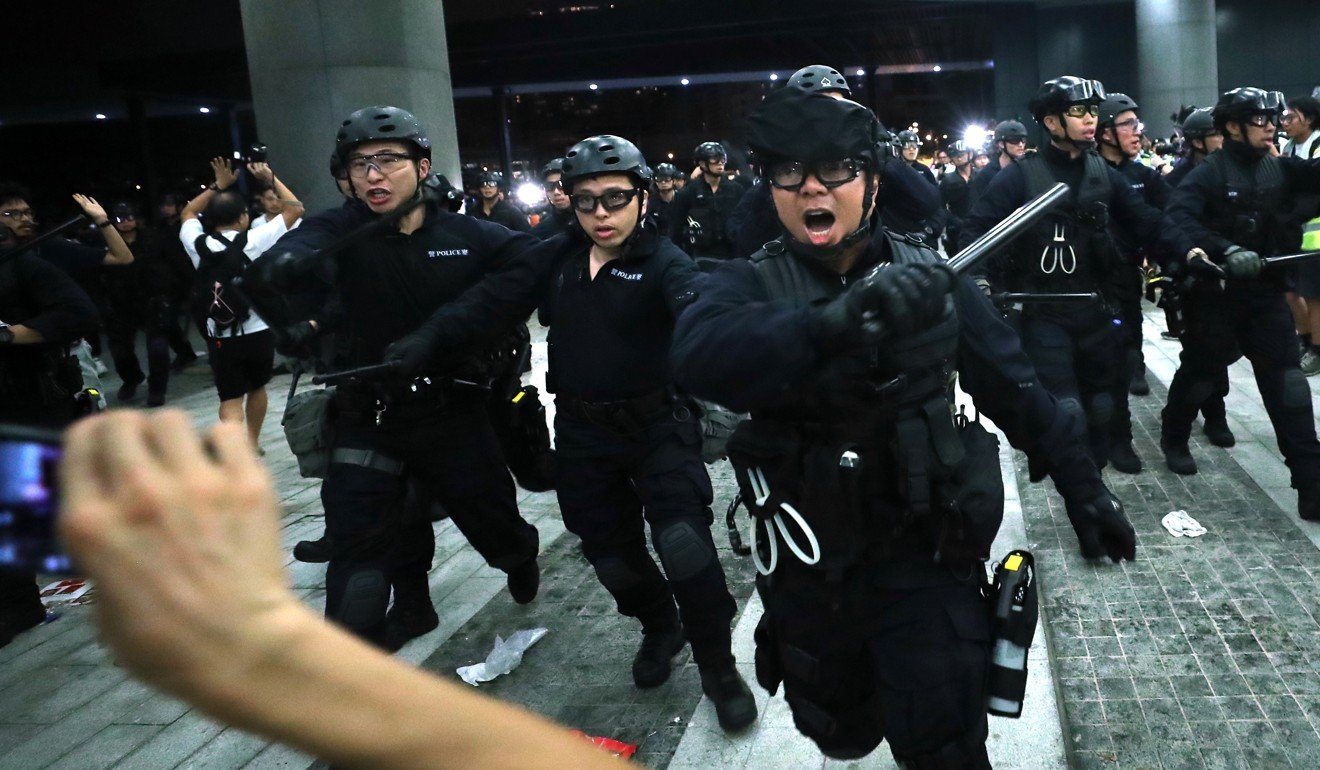 Police are expecting a moderate risk of violence, according to another source. He said: "At this stage, the use of water cannons is not an option."
The source added that operations set to begin on Tuesday could last for more than a week.
Another insider said in addition to pepper spray, batons and shields, anti-riot equipment such as shotguns used to fire beanbag rounds and guns for tear gas rounds were on standby if necessary.
Officers from the force's Cyber Security and Technology Crime Bureau at the Wan Chai headquarters are monitoring online forums and chat rooms used by radical groups.
Personnel from various formations, such as the Police Tactical Unit and Emergency Unit, were told to report for duty at 6pm on Tuesday.
One of the sources said all five regional response contingents would rotate in 12-hour shifts daily throughout the operation. The units, each with 600 officers, were set up after the 2014 Occupy movement.
Elite officers from the special tactical squad, known as blue team, will be among thousands deployed to combat any possible unrest. The elite squad comprises officers from the force's counterterrorism division and airport security unit.
The Post was told most of the uniformed officers across the city have been on standby since the weekend to handle possible clashes.
In an attempt to tighten security around the Legislative Council Complex, the source said officers would stop and search suspicious people along the routes in Admiralty.
Police insiders said the deployment of more than 5,000 officers was needed following the pitched battle that occurred after Sunday's peaceful demonstration against the city's controversial extradition bill. The organisers of the demonstration said 1.03 million people attended, but police estimated the event peaked at 240,000.
The police plan came after Wen Wei Po, a pro-Beijing newspaper in Hong Kong, reported that pro-independence protesters were planning to besiege Legco at 12am on Wednesday. The second reading of the bill is expected to be held that day.
Police arrested 19 people on Sunday and early Monday over the violence that erupted at the end of Sunday's march.
Officers also intercepted 358 protesters, most of them younger than 25 years old, for their roles in the clashes that left injuries on people from both sides.
The latest security blanket will be as tight as the one thrown over the city to protect senior Chinese official Zhang Dejiang, when the force used 6,000 officers a day to protect the then chairman of the National People's Congress Standing Committee on his visit to Hong Kong in 2016.
The scale is, however, smaller than the protection for state leader President Xi Jinping. More than a third of the entire Hong Kong Police Force was deployed to protect the president during his visit in 2017 to mark the 20th anniversary of the city's return to Chinese sovereignty.
The force normally deploys between 200 and 1,600 officers to handle the annual July 1 rally each year, depending on its size.
Meanwhile, two major protest zones outside the Legco Complex and government headquarters have been closed.
In a statement, the government's Administration Wing announced on Tuesday that the East Wing Forecourt, or so-called Civic Square, would be closed until further notice. The area is a popular zone for demonstrations.
The Legco Commission said the closure of a zone outside its complex, with limited access to the building, came from an "amber" security alert in force.
According to Legco's rules, a two-tier alert system is issued by the secretariat, with "red" being the more severe. Under either alert, individuals seeking to enter Legco are required to go through security screening procedures.
At a press meet on Tuesday evening, police refused to officially disclose the exact manpower number and equipment reserved for protests, citing operational concerns. They said the force would conduct a risk assessment for deployments.
Senior Superintendent Kong Wing-cheung from police public relations warned that online users had breached the law by appealing online for people to attack officers at protests.
"Some even suggested snatching our guns. Anyone who follows such messages and take action would be engaging in a serious crime," he said.
Kong added that police had also noticed online messages asking protesters to bring along tools such as gypsum powder, smoke-producing materials and dry ice to create chaos and throw officers off their guard.
"I am confident that all of our officers are ready for every challenge in the coming events," he said.
Kong added that a man was arrested in Kowloon West on Sunday after officers found a knife and self-made shield on him. He did not disclose further details or comment on whether the man was linked to the protests.
The force said it had received applications from five groups to protest outside the legislature on Wednesday.
Three groups had stated they expected 1,500 people to gather outside the legislative building and government headquarters between 7am and 8pm, while two other groups claimed 600 people would be present in the same areas between 7.30am to 10pm.
Police have only approved the application of one group as of 5pm on Tuesday, while negotiations with the other groups are under way.
This article appeared in the South China Morning Post print edition as: Force of 5,000 police officers readied in wake of pitched battle after mass rally