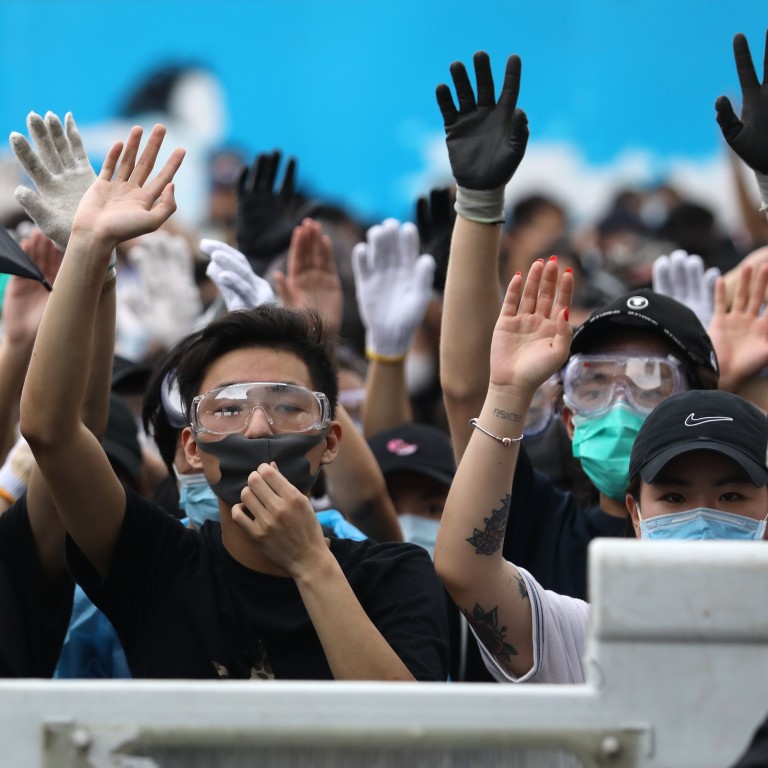 Hong Kong protests against extradition bill may look like Occupy – but young, leaderless demonstrators have learned lessons from the past
Spirit of camaraderie palpable as new allies look out for one other, whether through sourcing asthma medication or reminders to wear a mask
Clear division of labour also evident as lookouts on barricades report back on police movements while others run supply booths and first aid stations
Their faces wrapped in masks and T-shirts turned home-made balaclavas, eyes protected by goggles and arms covered in cling film, the hordes stood at the junction of Harcourt Road and Tim Wa Avenue, waiting for their cue.
"Advance now!" one young man standing on the metal barricades separating them from police shouted into a megaphone. Immediately, the protesters pushed forward, counting "one, two; one, two" almost in lockstep.
It was after 3.30pm but energy levels remained high. Many in the crowd had camped overnight to prepare for the day of reckoning – some said mourning, pointing to their funereal white and black outfits – as they tried to surround the legislature and block all roads leading to it.
While the morning began peacefully, both sides grew restive as the afternoon wore on. When
police began firing tear gas, smoke bombs and rubber bullets
as the protesters surged forth, the response was calm, as if the youngsters knew instinctively what to do. Makeshift first aid stations popped up, towels were whipped out and volunteers went around giving saline to those who had their eyes burnt by the tear gas and pepper spray.
Earlier, the spirit of camaraderie among many who said they did not know the crowds beyond their immediate circle of friends was palpable. Someone shouted: "Anyone has asthma medication?" and the plea was repeated and echoed one by one throughout their ranks. Aid came within minutes, to applause from the appreciative crowd.
"In the absence of a leader, we all hope to go the extra mile and be more devoted in our protest," 23-year old Bevis Lo, who was at Lung Wo Road on Wednesday morning, said.
"Scrap it! Scrap it!" the protesters shouting against the hated bill, chanting these slogans on and off, and clapping in rhythm to keep the atmosphere upbeat. "No retreat if it's not scrapped!"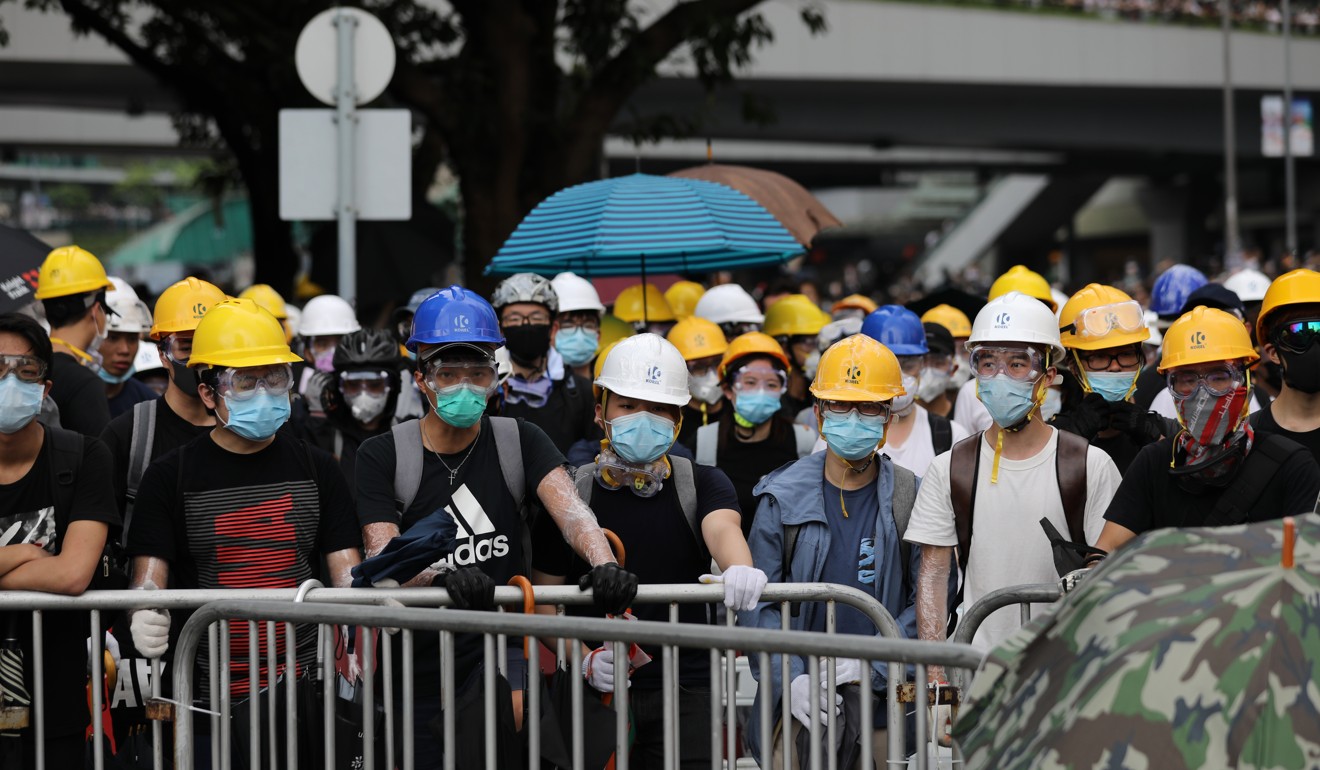 In scenes reminiscent of the Occupy days in 2014, one conspicuous difference from five years ago was the near absence of obvious leaders in the crowd. If egalitarianism has found a home in Hong Kong, it is in the spirit of the young protesters.
It also appeared to be a lesson these young people had learned from Occupy; a new tolerance towards different views and different camps, various protesters repeatedly told the Post.
"We all share the same goal, but sometimes we might have done something that others do not totally agree with – such as how and where to place the barricades," said a 24-year old student, managing a first aid station, who only wanted to be identified as R.
"This accommodation is definitely what we learned from the past experience."
And unlike five years ago, the protesters – a majority of whom seem to be in their early 20s – were noticeably more leery of cameras, either of police officers or journalists.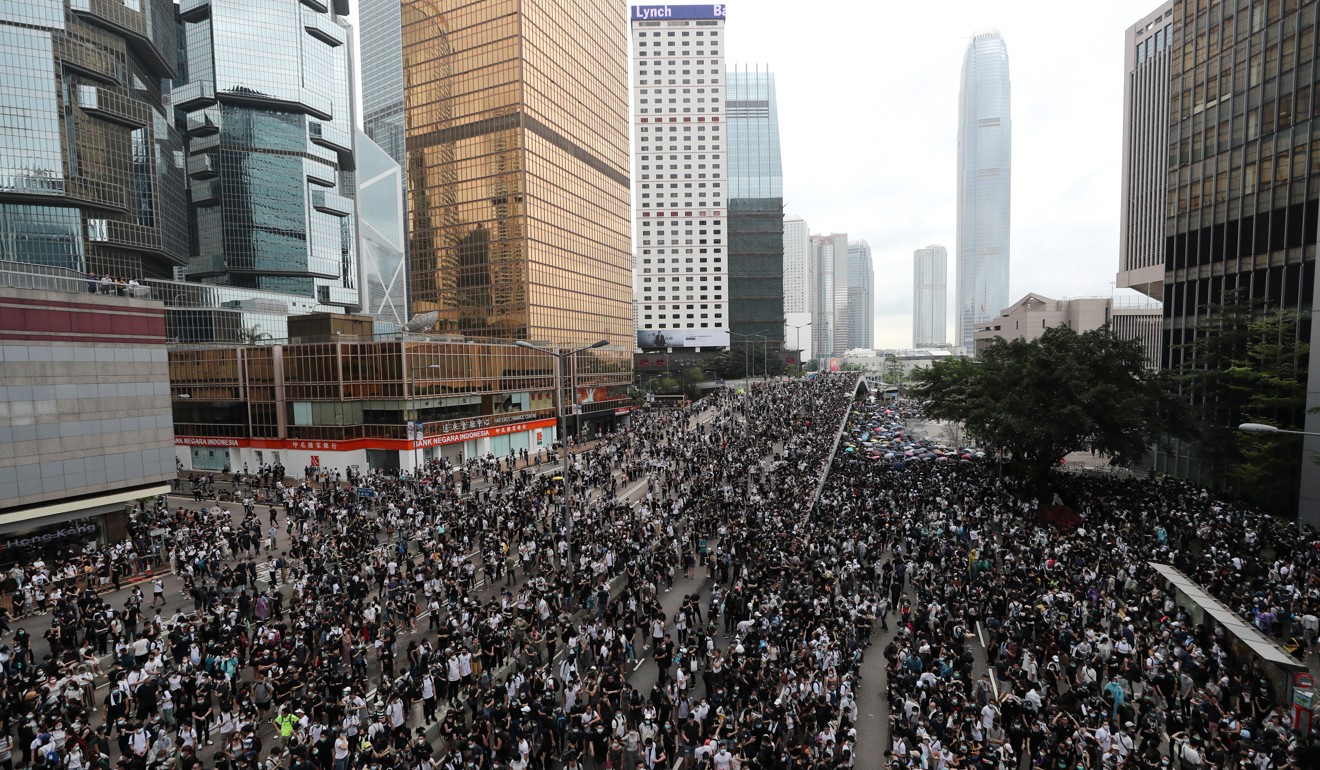 They repeatedly reminded each other to put on face masks "to protect themselves", reluctant to have their pictures taken, even less their identity revealed while being interviewed.
Over the past week in the lead-up to the protests, tens of thousands of Hongkongers
exchanged tactics on how to block lawmakers
from scrutinising the embattled extradition bill on Wednesday through several encrypted channels on Telegram.
Harcourt Road and Lung Wo Road were successfully taken over at around 8am by protesters with barricades, while at least six private cars blocked Queensway by stopping in different locations – strategies executed smoothly after being discussed in the encrypted channel.
Protesters also appeared to have a clear understanding of division of labour. At least one person would always be spotted standing on a barricade at each junction to monitor police officers' latest movements, as others ran supplies booths and manned first aid stations.
"There were some hiccups at the beginning but we soon knew how to play our own roles," Lo, who works in the events industry, said.
"Everyone somehow wants a leader, but there are just so many different opinions, stances and approaches among ourselves."
After the Occupy protests of 2014 that were to oppose Beijing's restrictive electoral recommendations for the city, the movement soon splintered. Acrimony, leadership tussles and blame games ensued while others grew cynical about the effectiveness of civil disobedience to fight for democracy.
But a 31-year-old freelancer, who only gave her name as NC, said the lack of a clear leader or organiser this time actually allowed people from a broader swathe of society to make common cause again.
In the hurly-burly of their chants, there was a moment – of unity, and asking of each to give only what they could – that moved her deeply, she said.
"As people tried to occupy Lung Wo Road, they called on each other to think clearly and decide how much risk they would like to take," she recounted. Some eventually decided to hang back while others moved forward to confront the police.
"Unlike the Occupy days when there was a lot of finger-pointing, we have now come to respect each other more."
The Civil Human Rights Front – which organised the Sunday march that drew hundreds of thousands of people – alongside the pro-democracy lawmakers have also cautiously remained low profile, studiously avoiding stealing the limelight or taking the lead in the protests.
They set up only a small stage near Citic Tower, far from the centre of occupation and the site of major stand-offs.
Jimmy Sham Tsz-kit, the front's convenor, thanked Hongkongers for taking action even without a central organiser.
"There is only one convenor of this movement: Carrie Lam," he declared on stage. "All people here come because of Lam and only Lam can dismiss the crowd by shelving the bill."
The group said it wanted to provide a platform for participants hoping to participate in a peaceful rally but pledged not to distance itself from those who might take more radical action, such as storming the legislature.
Occupy student leader Nathan Law Kwun-chung also made an emotional appeal.
"There are bound to be differences, but we have to learn to trust our comrades, learn to communicate with each other," Law said.
"Only by staying united can we win this fight in such difficult times."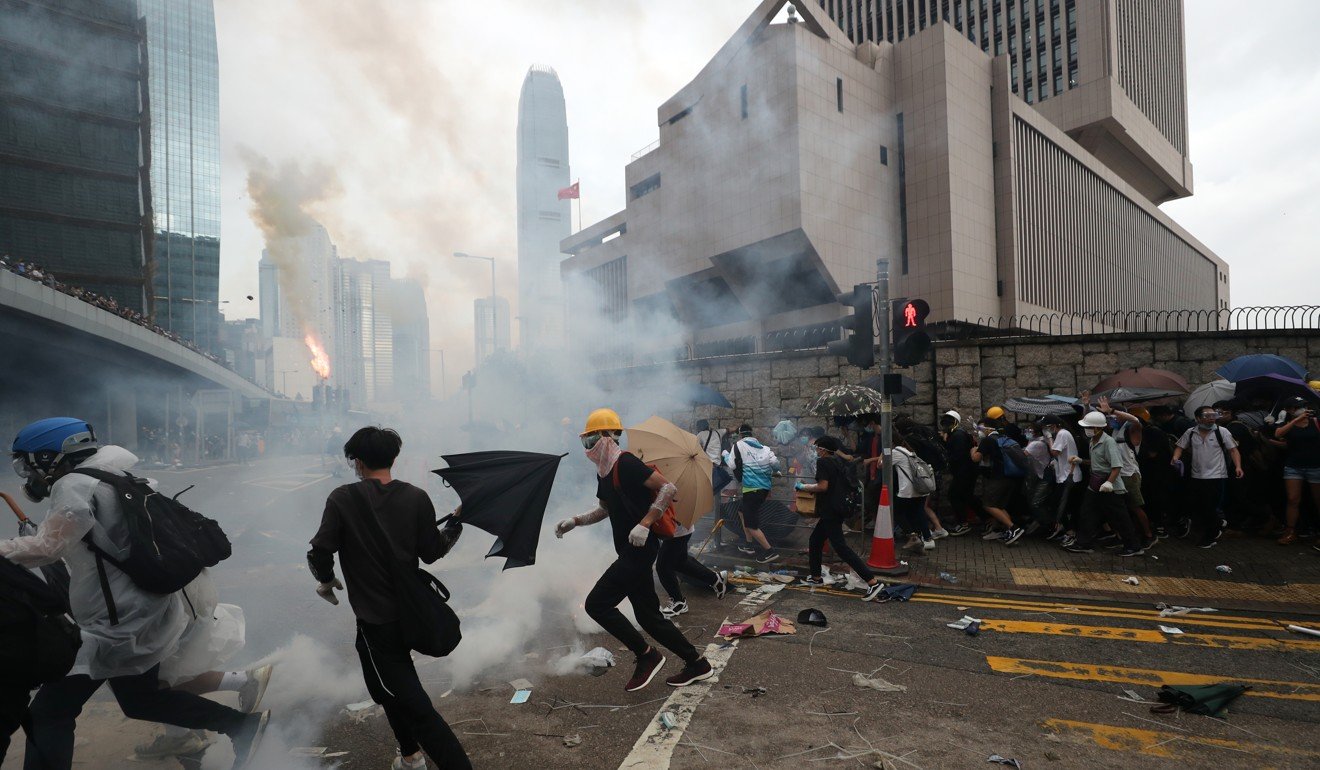 With his comrade Joshua Wong Chi-fung still in jail for his role in the Occupy movement, Law said it would only be reasonable for the young protesters to protect themselves from being identified.
"A lot of them have lost confidence in the judicial system of Hong Kong," he said.
Jas, a 24-year old nursing student said she took the day off to stand as one with the protesters for this very reason.
"I do not know whether this will make a difference or not," she said. "I only know that if I do not resist now, there might not be a second chance in future."
Yesterday was her birthday. But the party had to wait because the protest couldn't.