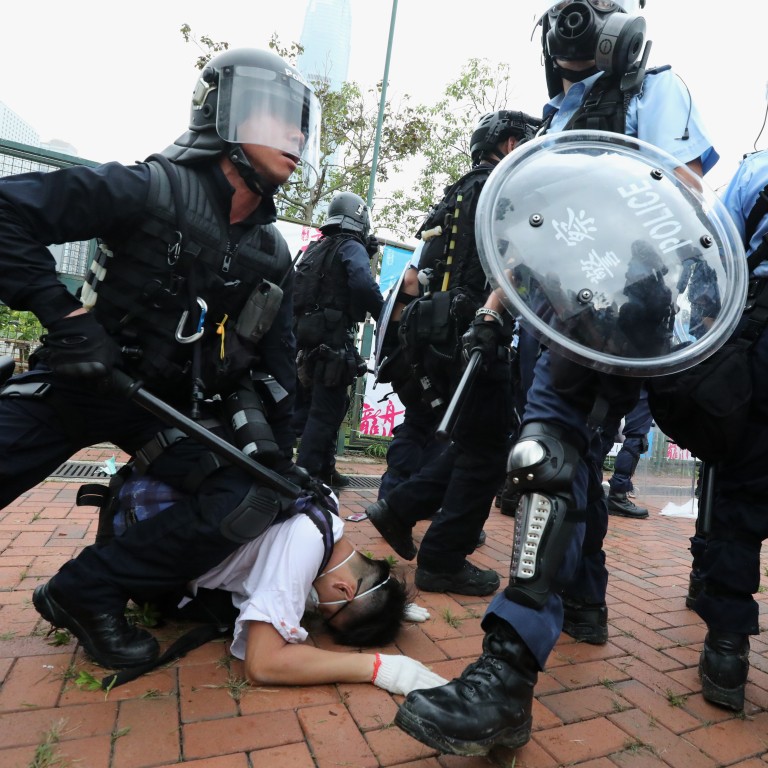 In Hong Kong protests, did police use excessive force or issue a proportional response?
With at least 80 people injured, both sides of city's political divide levelled accusations over whether police or protesters were the more violent
Commissioner of Police Stephen Lo dismisses 'excessive force' claims, pointing to how 22 of his officers were hurt
Hong Kong police have drawn flak for their handling of protesters, several of whom were shot in the head by rubber bullets during Wednesday's clashes, but the police chief rejected accusations of excessive use of force, countering that his officers were also in grave danger.
The city's top lawyers, legal academics, human rights groups and a journalists' association issued statements denouncing police actions in clearing protesters during clashes over the unpopular
extradition bill
. At least 80 people, including 22 police officers, sustained injuries.
A day after the mayhem that ensued when protesters tried to storm the legislature, both sides of the city's political divide levelled accusations over whether police or the protesters were the more violent.
Accusations of police brutality surfaced as pictures and videos of bloodied protesters circulated on social media while former officers defended their erstwhile colleagues, pointing out they had projectiles such as metallic items thrown at them.
Among those injured in the crowds were a contract driver of public broadcaster RTHK, whose heart stopped once after he was hit by a tear gas round, and a secondary school teacher who suffered a gash above his right eye.
Among video footage being circulated was a clip of a police officer spritzing pepper-based spray onto the face of a man sitting next to bushes on Lung Wo Road. Another clip showed officers from the Special Tactical Squad repeatedly dealing blows to protesters with batons even after they were already restrained by others.
"We are deeply concerned about the excessive and gratuitous use of force by the police against peaceful protesters, journalists and civilians who happened to be there for work or other good reasons," a group of 39 legal academics said in a statement. Chinese University's law dean Professor Christopher Gane was among the signatories.
Some 30 lawyers who hold voting rights in the election of a chief executive – including six senior counsel such as Edward Chan King-sang and Bar Association chairman Philip Dykes – also joined in the condemnation.
They urged the law enforcers to strictly observe the requirements in the Police General Orders – which state officers should exercise a high degree of restraint when dealing with the public – and demanded an independent inquiry into the incident.
Concern group Civil Rights Observer accused police of using "significantly excessive" force against protesters, warning them officers could be held criminally liable for causing grievous bodily harm.
The group noted that rubber bullets and beanbag rounds could cause "grievous bodily harm", which was out of proportion to disperse demonstrators and a "gross violation" of the United Nations Basic Principles on the Use of Force and Firearms by Law Enforcement Officials.
But Commissioner of Police Stephen Lo Wai-chung on Thursday dismissed "excessive force" claims, pointing to how 22 of his officers were also injured in the clashes.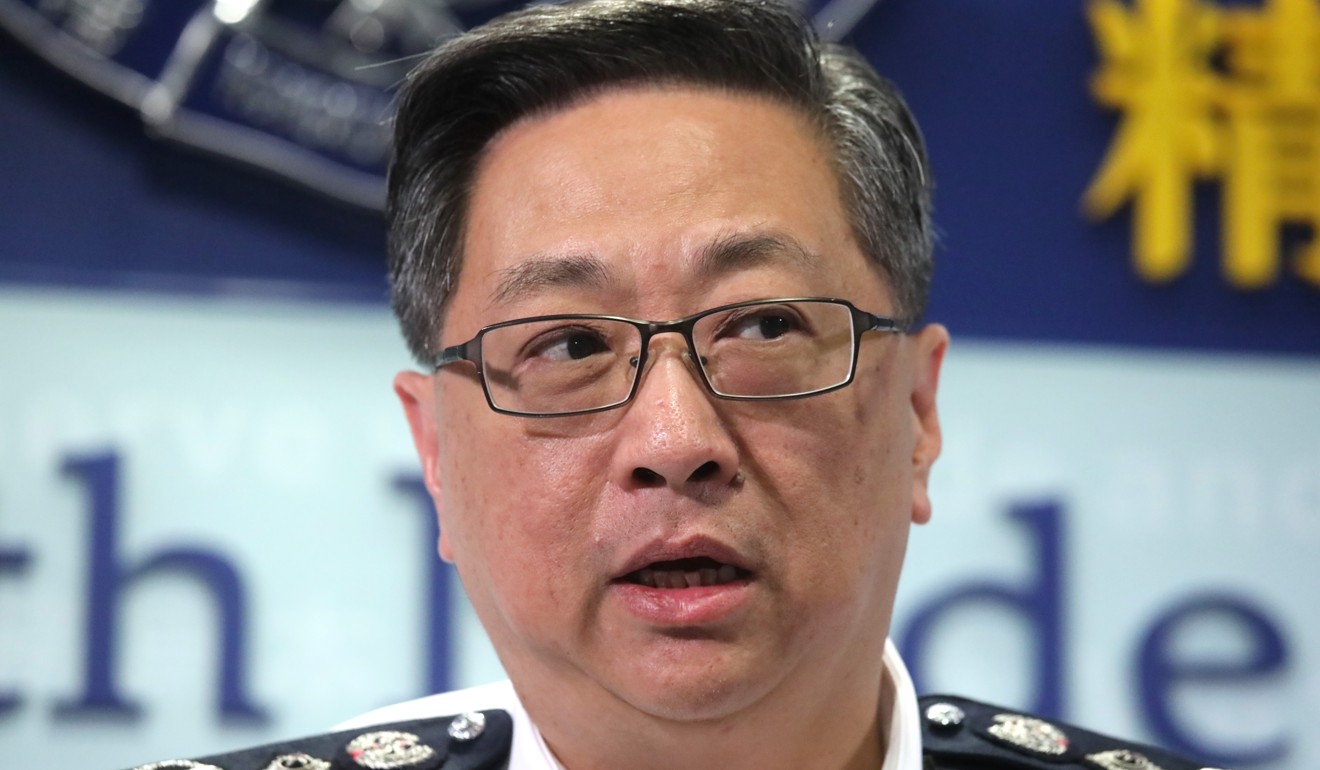 "[The protesters] started to use weapons to charge our cordon lines, then we had to respond. I consider my officers were acting in accordance with our guidelines and they rightfully used force to protect themselves and other people at the scene," Lo said.
The chief said the weapons used – including batons, pepper spray, pepper jet, pepper balls, tear gas, beanbag rounds and rubber bullets – were up to international standards and were widely used by other countries when dealing with riots.
Lam Chi-wai, chairman of the Police Junior Officers' Association who helped arrange the tear gas on Wednesday, also defended the force's actions, arguing that officers were not deliberately shooting at the protesters' heads and eyes.
"We are trained to shoot at the large area of a body, but the situation was so chaotic as protesters were running around," Lam said.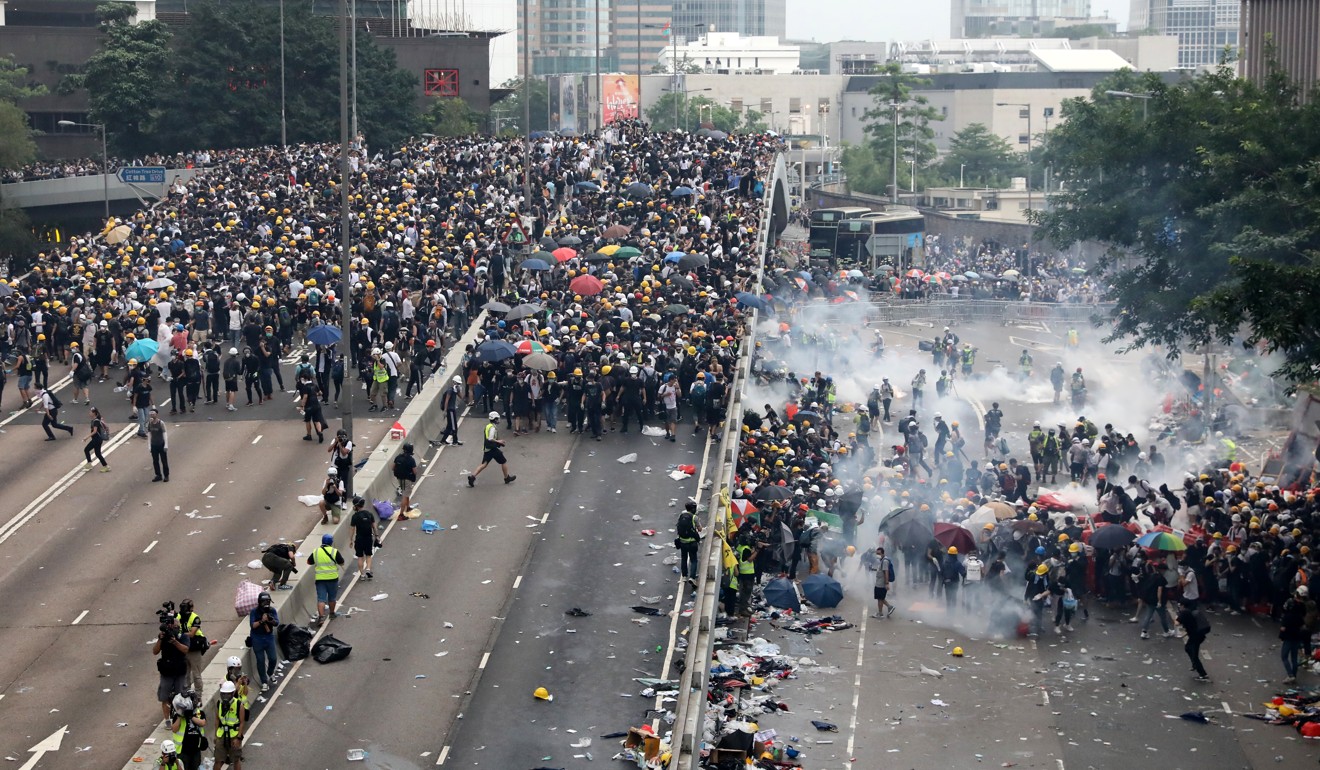 According to Police General Orders, officers could discharge a firearm for protection from serious injuries, to effect the arrest of a suspect who was believed to have committed serious crime or to quell a riot or insurrection.
Security consultant and former police superintendent Clement Lai Ka-chi said officers had used rubber bullets and beanbag rounds as protesters, who had gone through the
Occupy movement
in 2014, were now well-equipped with goggles and masks to protect themselves from tear gas.
Their attempts to hurl bricks at officers and the weather had also justified the usage, he added.
"The tear gas could not scatter quite as well because of the rain," said Lai, adding officers had to take examinations and undergo regular training to fire beanbag rounds and rubber bullets.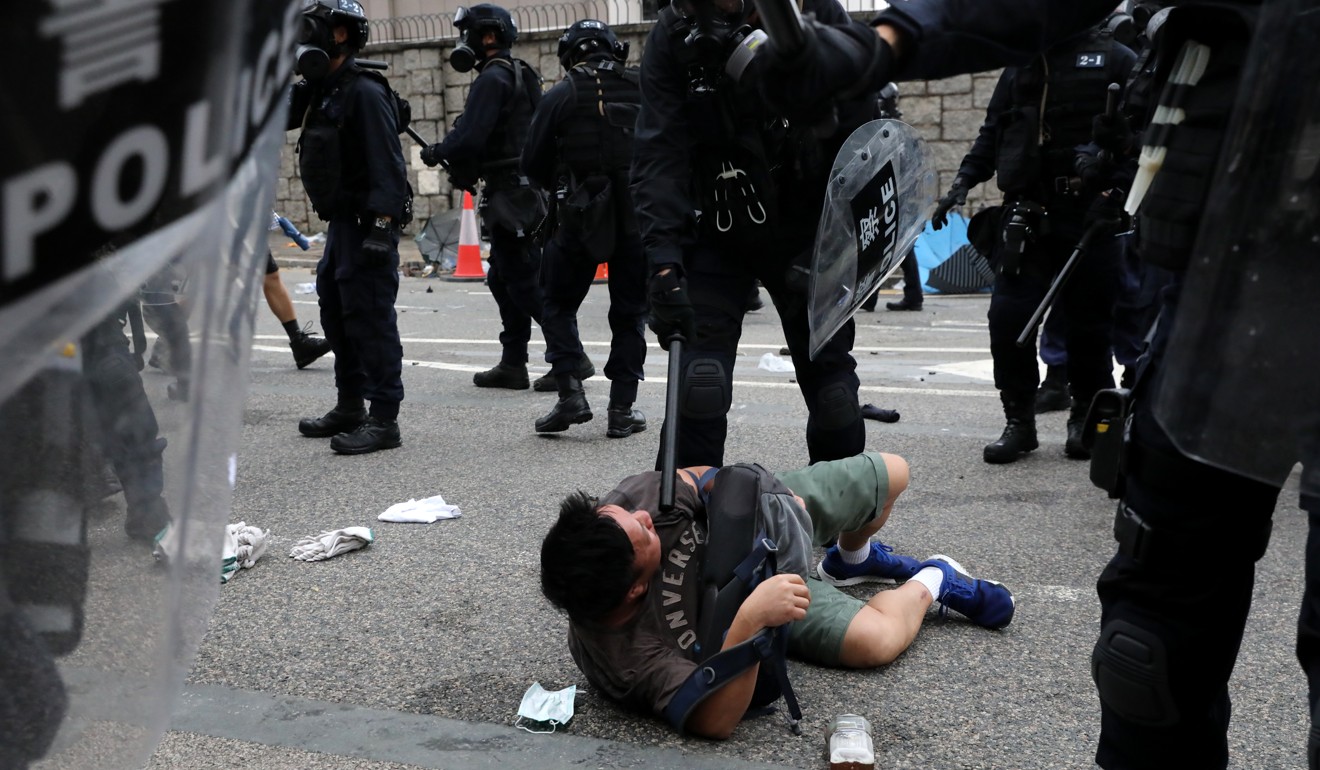 Steve Vickers, a former senior superintendent and now head of risk management consultancy SVA, said he was saddened by the incident but defended police operations given how the protesters were behaving.
"This was driven by an ill-conceived draft law and an inflexible and arrogant government attitude resulting in such anger and division," he said. "The police should not be held responsible for the decision to clear the protesters … any blame lies squarely at the door of the chief executive."
Meanwhile, more than 100 reporters wore helmets, masks and vests at a press conference held by Lo to protest against the ill-treatment of police towards the press during the protests. Among complaints towards the police were the use of profanities on at least one reporter at the scene on Wednesday evening.
Lo apologised to reporters if they felt they were mistreated but added that he had always treated the press in the most polite manner.
"I feel sorry if you were treated in an impolite way. But I hope you will show some understanding as many of my officers worked more than 30 hours like you guys. It is from my heart," Lo continued.
He said a few protesters had also disguised themselves as reporters.
"When bricks were flying in the air, perhaps our officers did not have time to be polite," he said.
The Hong Kong Journalists Association had condemned the force for jeopardising the safety of reporters and eroding press freedom with their actions on Wednesday, saying officers had fired tear gas at journalists at close range at least four times and used batons on two of them.