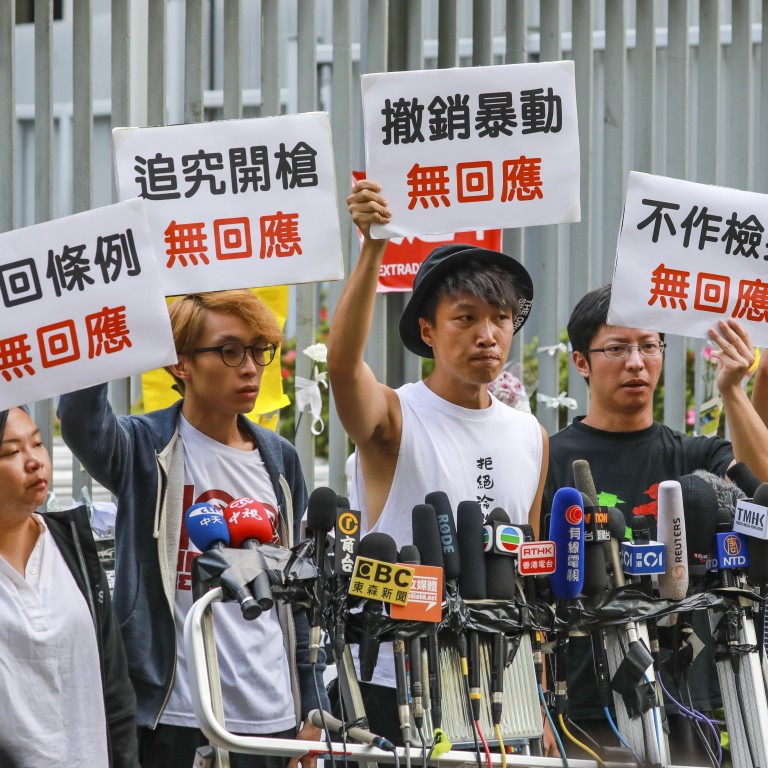 Hong Kong officials bid to ease tensions in city as students and activist groups vow to escalate action with another protest if demands are not met
Beijing accuses unnamed forces of seeking to undermine stability in city while US President Donald Trump says 'very effective' protest is China's affair
Second sensitive piece of legislation delayed while police and security chiefs call on public not to vent frustrations at city's beleaguered officers
Top government officials and advisers on Wednesday were going all out to ease lingering tensions over Hong Kong's now-suspended extradition bill, even as students, activist groups and opposition politicians threatened to stage another major protest on Friday if their demands were not met.
On the diplomatic front in Beijing, State Councillor Wang Yi accused unnamed forces of seeking to undermine stability in Hong Kong by opposing the bill, which he said was fully in line with the interests of the city but probably needed further discussion.
"This is the right attitude," Lu said.
Trump had earlier said in Washington: "I'm going to let the protesters speak for themselves. I have our own argument with China, and I think it's going to work out successfully, but I'm going to let China and the protesters work out their own problem. It looks like it's going to be worked out."
A day after Hong Kong's leader, Chief Executive
Carrie Lam Cheng Yuet-ngor
, offered a personal apology to the public over her mishandling of the bill and the conflicts it had caused, the government revealed it was delaying another politically sensitive piece of legislation, this time on making it a criminal offence to disrespect the national anthem.
But in a reflection of the challenge facing Lam's administration, two prominent religious leaders issued a rare joint statement joining the chorus of calls for her to completely withdraw, rather than suspend, the extradition bill, which would allow the transfer of suspects to mainland China and other jurisdictions with which the city has no relevant agreement.
Cardinal John Tong Hon, leader of the city's Catholic Church, and Hong Kong Christian Council chairman Reverend Eric So Shing-yit, also
called for an independent inquiry
into allegations of police brutality against protesters.
The Provisional Trust revealed more than HK$12 million (US$1.53 million) had been raised during Sunday's mass rally, which would be used to fund assistance for anyone hurt or arrested in the clashes.
While police have clarified that most protesters were peaceful, and only a handful had been arrested for riot-related offences after frontline officers were attacked with sharpened metal rods and bricks outside the Legislative Council compound on June 12, a public campaign against them has been gathering steam.
Commissioner of Police
Stephen Lo Wai-chung
on Wednesday met representatives from the four unions in the force to listen to the grievances of officers facing abuse and bullying.
At a Legco meeting, Secretary for Security John Lee Ka-chiu also appealed to the public not to blame police for the political row over the bill.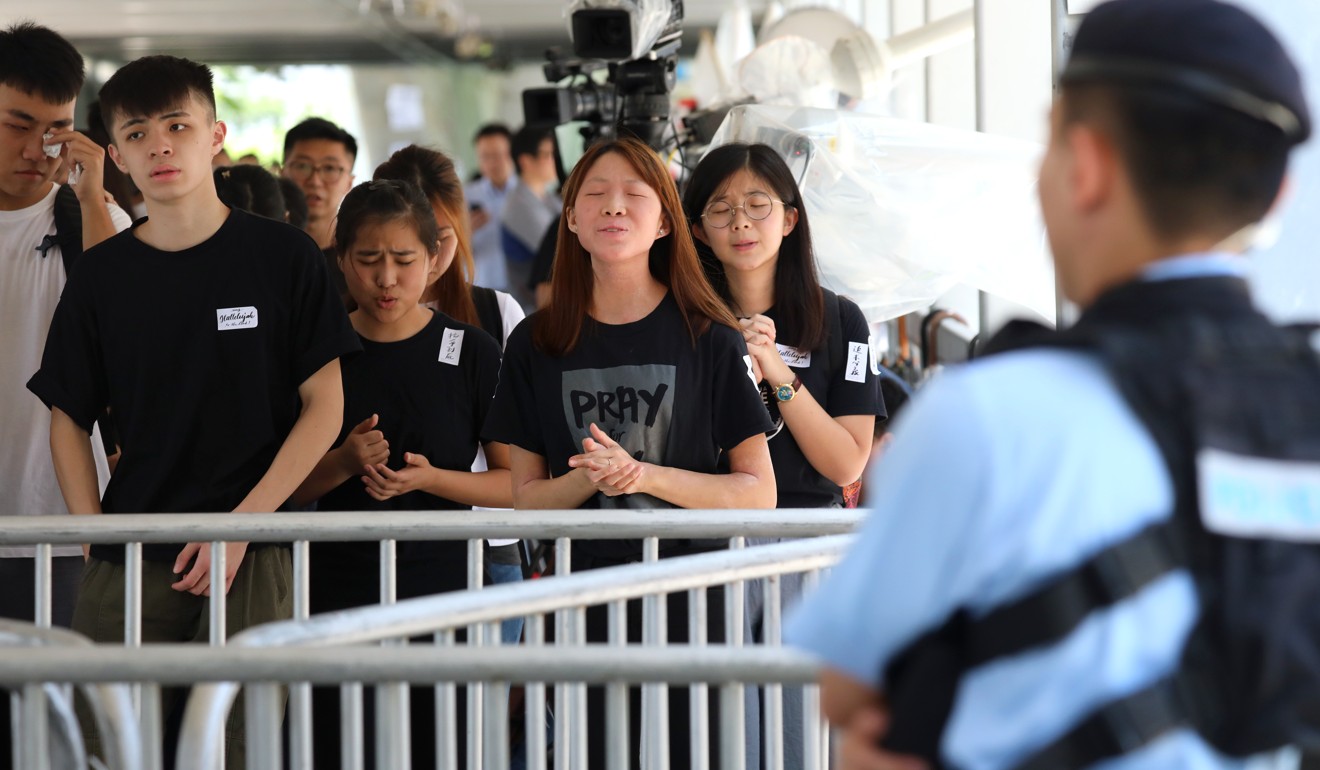 He joined two of Lam's advisers in the Executive Council in
apologising to the public
for the government's mishandling of the bill in trying to bulldoze it through the legislature, but Lee repeatedly brushed aside opposition politicians' demands that he step down to take responsibility.
Lee echoed the chief executive's line that it was time to heal wounds and that the government would redouble its efforts to improve the economy and people's livelihoods.
In a reflection of the government's unwillingness to rock the boat any further, mainland affairs minister Patrick Nip Tak-kuen wrote to the legislature's House Committee chairwoman, Starry Lee Wai-king, telling her he would only seek to resume the second reading of the national anthem bill in the coming legislative year, which begins in October.
The government had previously planned to get the legislation approved before the start of Legco's summer recess in mid-July.
Nip attributed the move to a lack of time to scrutinise the anthem bill, but it came after Legco's president advised the government to "put political issues aside".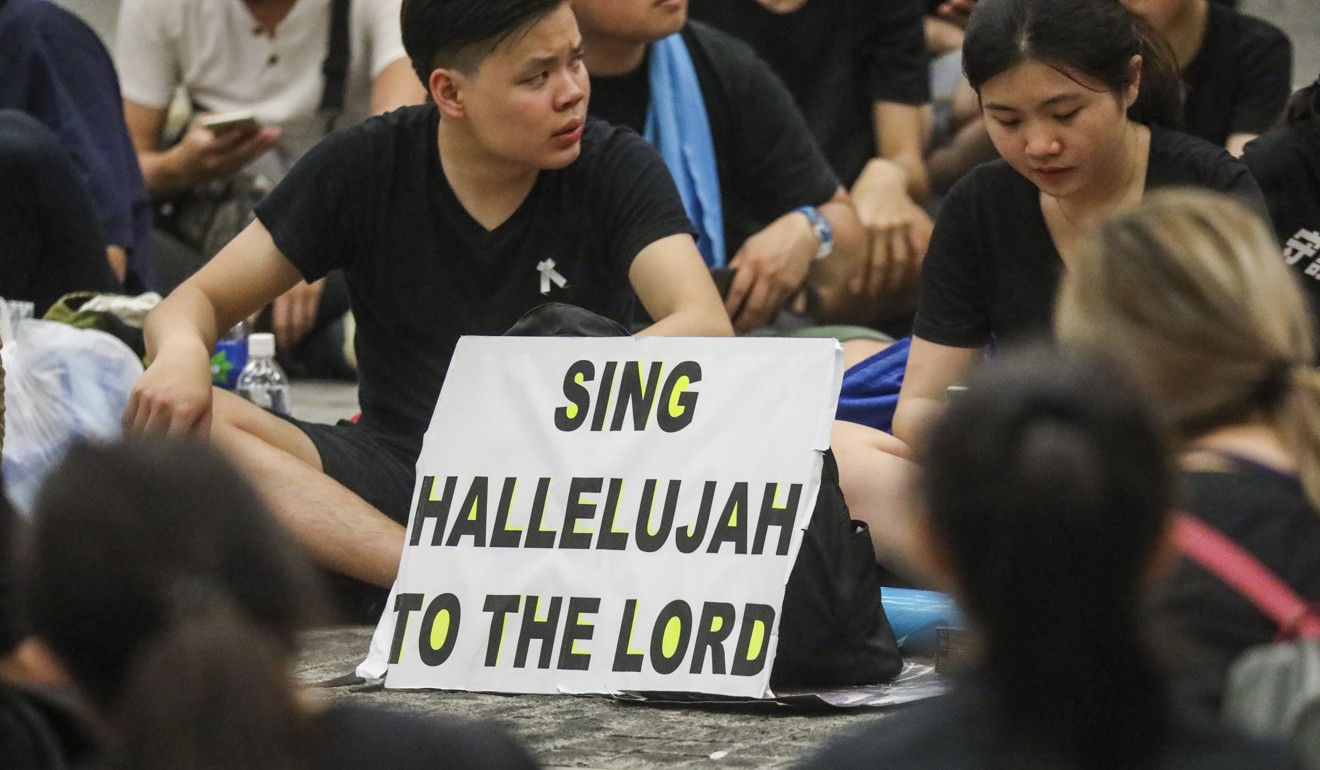 It was also confirmed on Wednesday that a contentious funding proposal to kick-start the government's plan to build artificial islands off Lantau had been reshuffled to the bottom of the agenda for Legco's Finance Committee meeting on Friday.
But core opposition to the extradition bill is refusing to die down.
Students from six universities on Wednesday made another push for four demands on the government: fully withdraw the extradition bill; retract all references to the June 12 protest being a riot; release all arrested protesters; and punish police officers who used excessive force.
Their demands were identical to those issued by a group of internet users, who also warned of escalated protest action on Friday if the government did not respond by Thursday.
Joey Siu, a member of the provisional executive committee of City University's student union, said many of her peers were not satisfied with Lam's apology.
"If we don't get a response by tomorrow, we will escalate our protests," Siu said.
William Chan Wai-lam, acting president of the standing committee of the Hong Kong Federation of Students, said escalated action meant students would lay siege to government headquarters in Admiralty on Friday morning.
Chan also called on Hong Kong citizens to join "self-initiated civil disobedience movements by any peaceful means possible" on Friday, including flooding train stations with protesters.
Council Front lawmaker Claudia Mo Man-ching, convenor of the pan-democratic bloc, said her camp would join the peaceful protest on Friday, should students' demands not be met.
"We urge [students] to stick to the principle of 'no bloodshed, no arrests, no sacrifice'," Mo said.
The Civil Human Rights Front, which estimated that 2 million protesters joined the mass rally it organised last Sunday, said it would also join the students on Friday, but would not take part in any unlawful action.