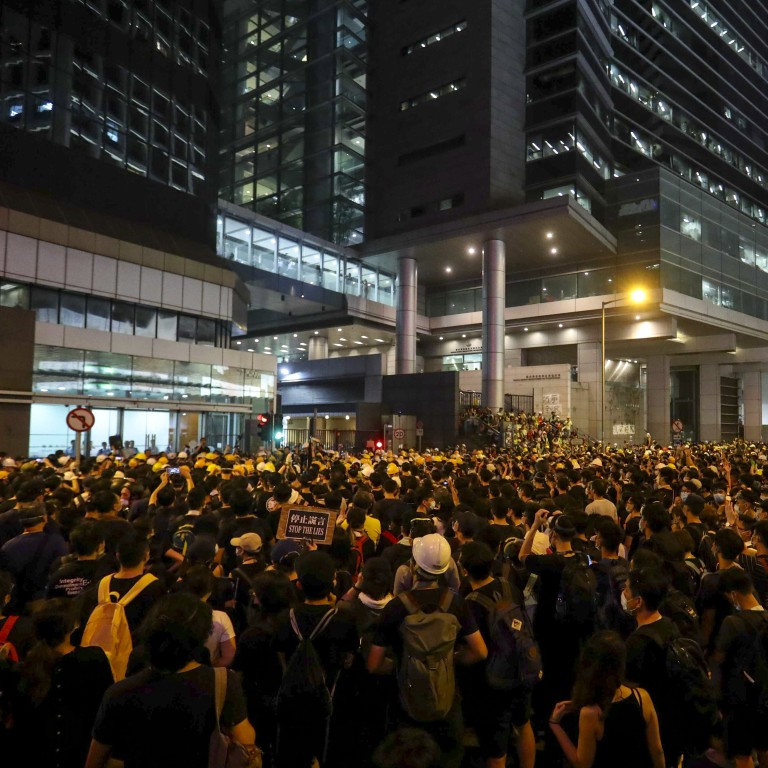 Hong Kong extradition bill protesters besiege police headquarters into Friday night after day of mobile rallies
Police maintain hands-off approach all day – while government officials are nowhere to be seen
Protesters back in streets to demand extradition bill be scrapped and charges against those arrested in clashes be dropped
Thousands of mostly young protesters took over Hong Kong's main roads on Friday in an unprecedented
protest
against the now-suspended extradition bill, besieging police headquarters and government buildings by using tactics adapted from legendary martial artist Bruce Lee's "be water" philosophy.
Demanding the complete withdrawal of the bill and exoneration of protesters arrested during previous clashes, they trapped police inside their Wan Chai headquarters for the entire day and into the night, pelting the building with eggs while officers retreated inside and made no attempt to disperse them.
They began in the morning by spilling out into Harcourt Road at the city's administrative and legislative centre, which was closed for the day because of security concerns, then moved on to Gloucester Road and Arsenal Street to trap police in their offices and besiege civil servants in Revenue Tower and Immigration Tower in the afternoon.
Splinter groups spread over to the Queensway Government Offices, but upon finding the compound closed for business, they regrouped with the main body of protesters to continue the siege of police headquarters into the night.
Using an effective combination of text messaging and word of mouth on the ground to communicate and mobilise, they kept their actions peaceful, their strategy based on Bruce Lee's famous quote about adaptability: "Water can flow or it can crash; be water, my friend."
There was no sign of the city's leader, Chief Executive Carrie Lam Cheng Yuet-ngor, or her top officials throughout the day, but the government issued a statement at night spelling out the disruptions to public services and transport caused by the protesters.
"The protests today caused much inconvenience to the community by disrupting traffic and many public services … dozens of 999 emergency calls could not be dealt with immediately. More than 100 bus and minibus routes were diverted or suspended," a spokesman said.
He also reiterated that the government had completely stopped work on the bill, which would have allowed the transfer of fugitives to mainland China and other jurisdictions with which the city has no extradition deal.
"The current term of the Legislative Council will end in July next year, after which the bill will lapse. The government accepts this reality," he said.
While protesters were out in the streets demanding government officials face them, the health and civil service ministers were the only ones to speak about public hospitals passing information on previously injured protesters to police, and the closure of public offices affected by the sieges.
While religious leaders have been sympathetic towards the protest movement, the seeming lack of an end game and uncertainty over how far protesters are prepared to go has started to cause some anxiety among them.
Catholic Auxiliary Bishop Joseph Ha Chi-shing issued a video message calling for calm and expressing fears over the safety of youngsters on the streets.
"You have been in the streets for a very long time, done a lot of things, and you have stated your demands very clearly," he said. "I hope your struggle will not affect the mass of ordinary people, otherwise public opinion can sway [against you]."
Lam ended her campaign to bulldoze the extradition bill through the legislature and made a personal apology after an estimated 2 million Hongkongers took to the streets on June 16 to oppose it.
That was not enough to pacify many who were angered by her refusal to scrap the bill and a police crackdown on protesters trying to storm the Legco compound on June 12 who were beaten back with tear gas, rubber bullets and beanbag rounds. More than 80 were injured in the clashes.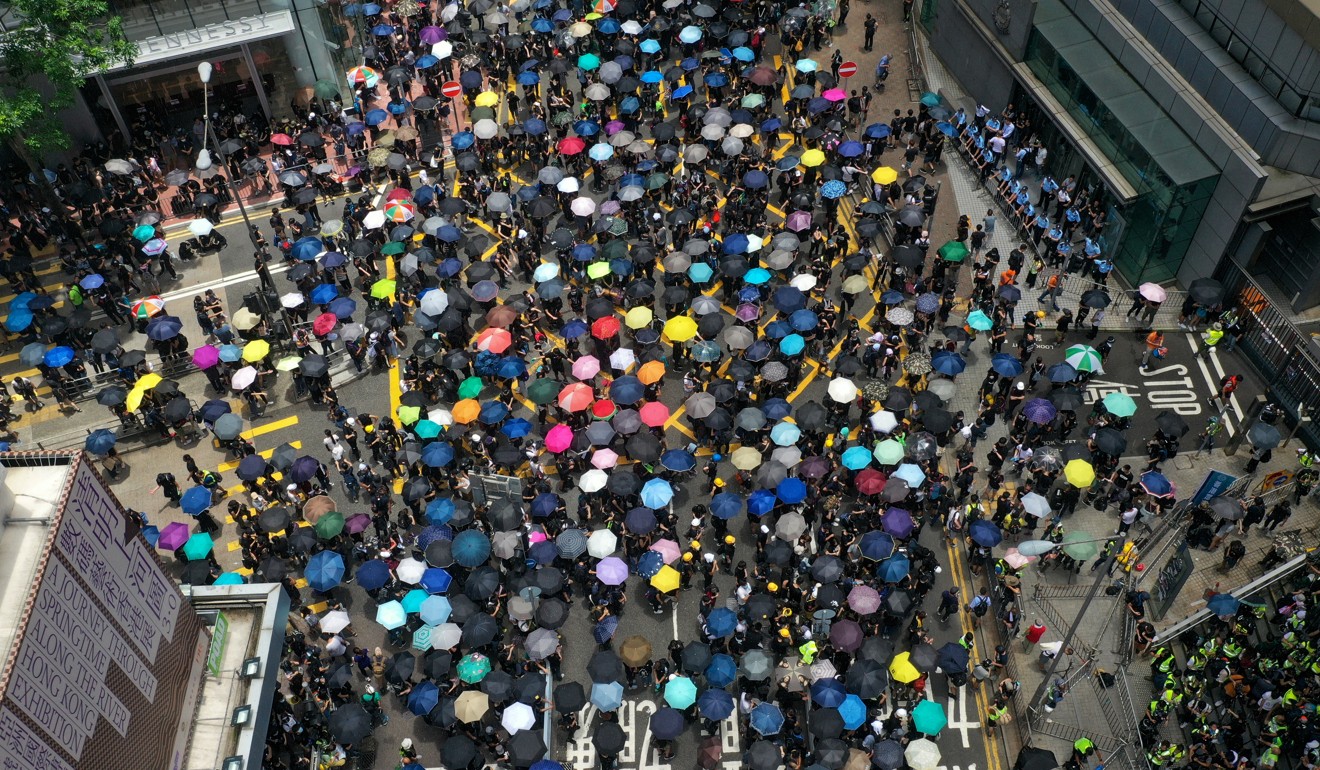 The protesters returned to the streets after a Friday deadline passed for Lam to meet four demands: withdraw the bill; exonerate those arrested earlier; retract all references to the protest on June 12 as a "riot"; and punish police officers who used excessive force that day.
Daniel Yiu, a 19-year-old protester returning home for his summer break while studying in London, said he was glad to see no violence so far this time.
"It's good to see both sides actually not struggling, both sides standing their ground. Us protesting peacefully and police not doing a lot, standing there, not using any violence to get rid of us," he said.
Protesters outside police headquarters used umbrellas to block CCTV cameras on the walls of the building, and moved barricades to block its entrances.
Traffic in Wan Chai and Admiralty came to almost a complete standstill at one stage, with protesters simultaneously occupying parts of Gloucester Road, Queensway and Hennessy Road.
At Revenue Tower earlier, dozens of people trying to hand in tax forms and other documents were turned away by security guards.
Piling more pressure on the government, the Hong Kong Bar Association called for a top-level investigation into police guidelines on use of force against protesters, while the Civil Human Rights Front, organiser of the two mass rallies this month, announced plans for another major protest in the Central business district on Wednesday.
The next protest would be aimed at ramping up pressure on Lam ahead of the Group of 20 leaders' summit in Osaka, during which Chinese President Xi Jinping is expected to meet his US counterpart, Donald Trump.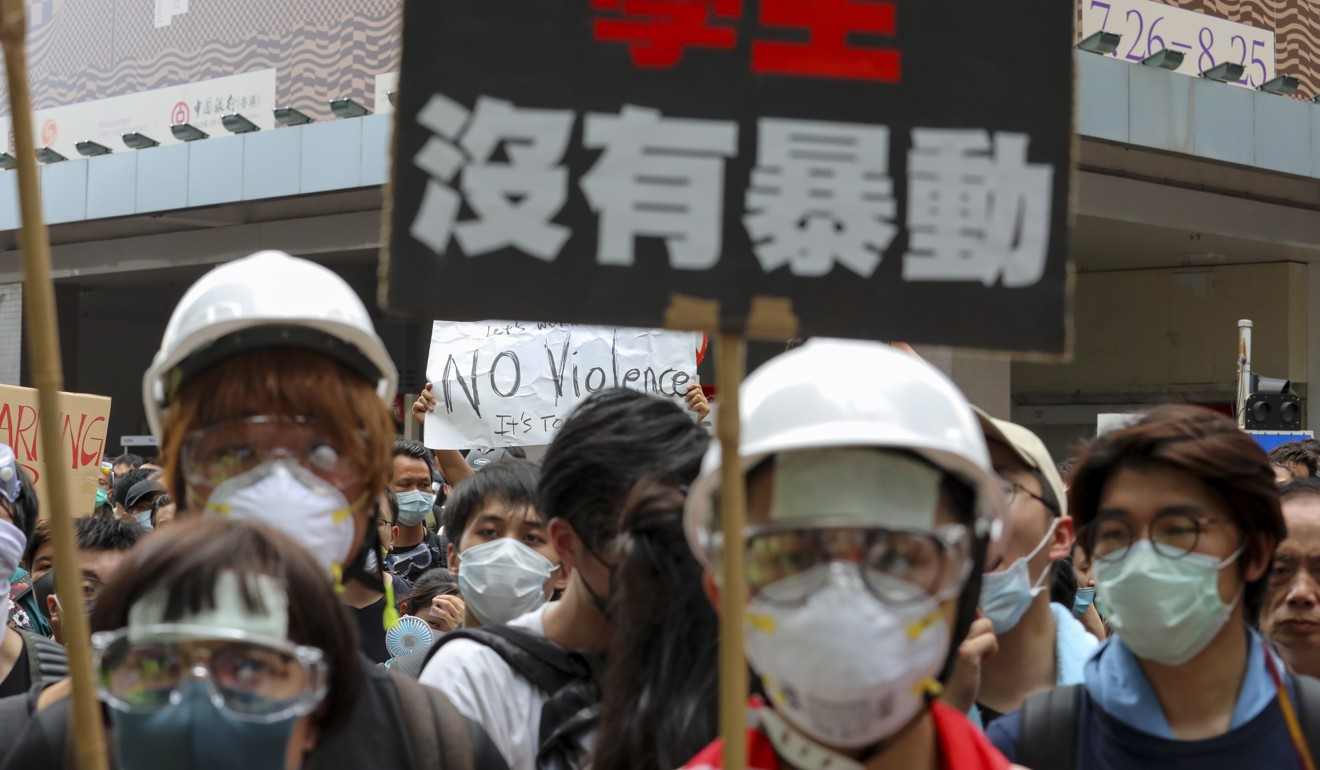 Protesters on Friday were further antagonised by pro-establishment lawmaker Ann Chiang Lai-wan who suggested the government should reintroduce the bill in a couple of months after a major publicity campaign to win public support.
The government was quick to distance itself from her suggestion, as was her party, the Democratic Alliance for the Betterment and Progress of Hong Kong, which clarified that Chiang was speaking for herself.
Justice minister Teresa Cheng Yeuk-wah on Friday morning became the latest top official to apologise for the mishandling of the extradition bill, but protesters dismissed it as too little, too late, and mocked her for doing it through her blog.
Most of the protesters at police headquarters had headed home by 2am on Saturday morning but hundreds remained camped out on Arsenal Street and Lockhart Road and showed few signs of planning to moving.
According to a police source, 13 people – nine women and four men – who had been trapped inside the besieged police buildings were taken away in ambulances for treatment late on Friday.
Reporting by Su Xinqi, Kinling Lo, Danny Lee, Alvin Lum, Kanis Leung, Athena Chan, Denise Tsang, Joyce Ng, Shirley Zhao, Naomi Ng, Chris Lau, Sum Lok-kei and Tony Cheung.
This article appeared in the South China Morning Post print edition as: protesters use siege tactics to keep up pressure on lam