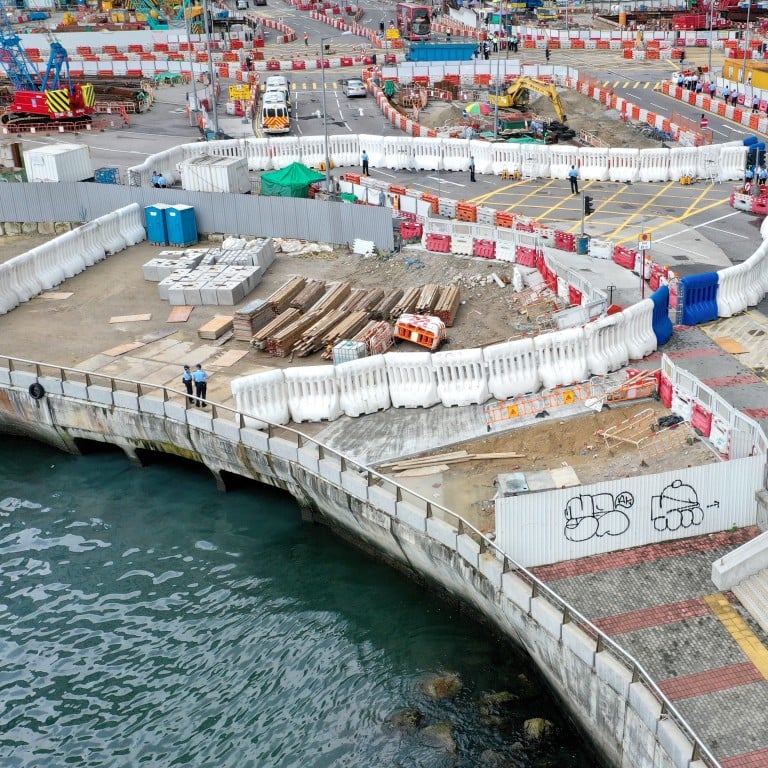 Hong Kong begins unprecedented lockdown to head off protests at events marking return of city to China
Force preparing for possibility of clashes with extradition bill protesters on July 1
Security tightened at several sites including Golden Bauhinia Square, and the Convention and Exhibition Centre
Thousands of riot police are on standby and an unprecedented lockdown has begun to discourage any major disruption by
extradition bill
protesters ahead of one of the most important official events of the year for Hong Kong – the July 1 anniversary of the city's handover to Chinese sovereignty.
Sources told the Post on Saturday that around 5,000 riot personnel would be ready for any trouble, while the government announced that the city's main convention centre in Wan Chai would be sealed off from Sunday because of security concerns, given that protesters were planning to target the flag-raising ceremony nearby which would also be scaled down for the first time.
A government source said the authorities were preparing for a wide range of scenarios at the flag-raising ceremony in Golden Bauhinia Square and the cocktail reception after that at the Hong Kong Convention and Exhibition Centre to mark the 22nd handover anniversary.
San Tsz-kin, police deputy district commander for Central, would only say: "We have received information that someone will disturb the flag-raising ceremony, therefore the police have made some appropriate arrangements after conducting risk assessments."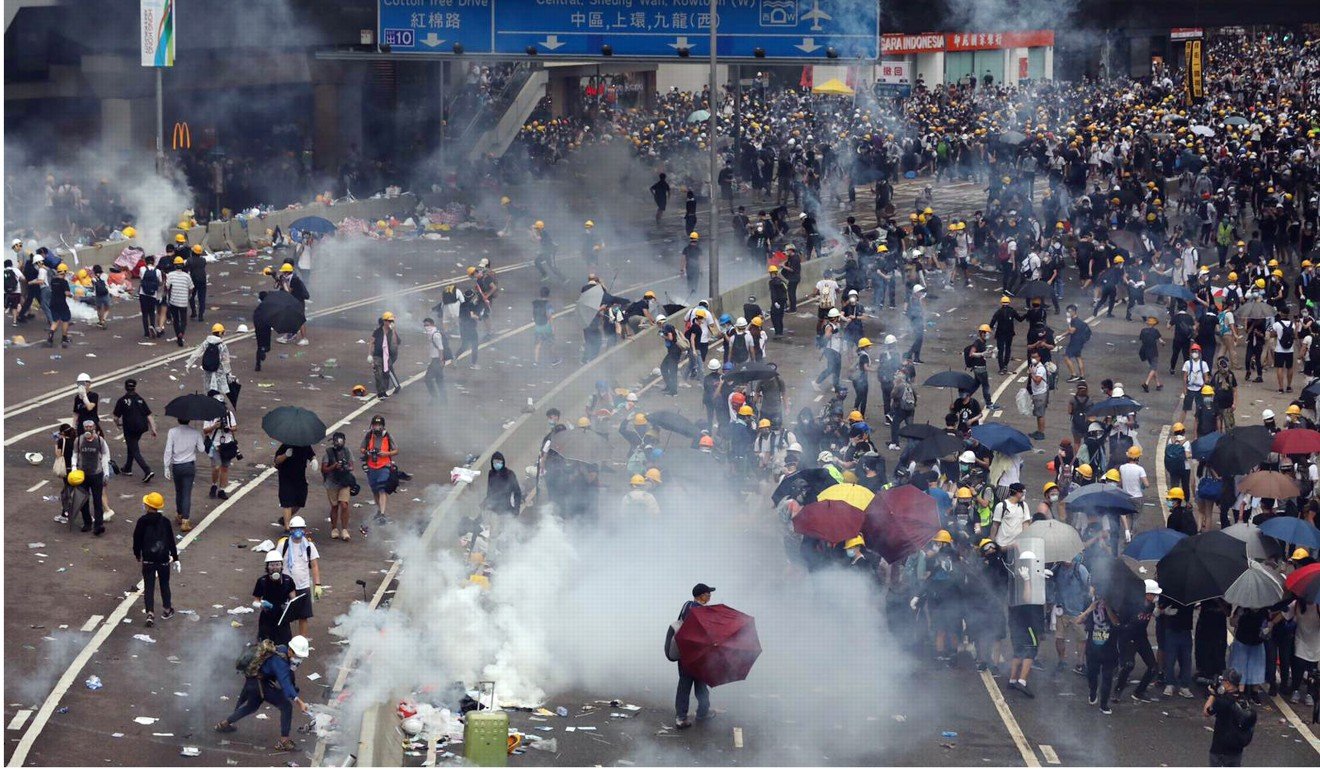 But force insiders, speaking on condition of anonymity, said they were prepared for the possibility of violence by protesters demanding the complete withdrawal of the now-suspended bill, which would have allowed the transfer of fugitives to mainland China and other jurisdictions with which Hong Kong does not have an extradition deal.
Police were already limiting access to the flag-raising venue on Saturday, while security was also tightened around the convention centre as well as the city's legislative and administrative headquarters in Admiralty.
Measures were also being taken to head off any future siege of the Arsenal Street police base after it was surrounded by protesters who trapped staff inside for hours and vandalised the building front twice in a week.
Chief Executive Carrie Lam Cheng Yuet-ngor, who has not appeared in public since June 18 when she apologised for her government's mishandling of the unpopular bill, is among the Hong Kong and mainland officials, business leaders and other dignitaries attending the July 1 event.
Lam, whose office issued a photograph of her
morale-boosting meeting
with police union leaders on Friday,
has doubled down
on her refusal to completely withdraw the bill or exonerate protesters arrested for earlier clashes with police.
Protesters in turn have called on the public to gather at Golden Bauhinia Square at 9.30pm on Sunday to rehearse and sing the national anthem overnight, before staging a protest there at 6.30am the following day to disrupt the official ceremony.
The government has not only scaled back this year's ceremony, with students and uniformed groups who took part in previous years staying away, it has also said the celebration could be moved indoors in the event of a rainstorm – which has never happened since the handover in 1997.
The Civil Human Rights Front, which organises the annual pro-democracy march on July 1 from Victoria Park to government headquarters in Admiralty, is expecting a massive turnout this time.
The group organised two mass rallies against the extradition bill on consecutive Sundays this month, the second of which drew an estimated 2 million people onto the streets.
In response to the sieges at police headquarters, top brass met on Friday night to discuss counter-strategies.
"A robust plan will be in place," a source said.
Another source said police had studied different strategies to stop protesters from besieging its base, including an option to set up a cordon before the arrival of demonstrators.
In the two sieges on June 21 and June 26, officers stood passively behind glass doors and gates as protesters sealed off all entrances, pelted the building with eggs, and painted obscene graffiti on the walls.
Officers took no action during the
15-hour siege
by thousands of protesters on June 21.
The
six-hour siege
on June 26 ended after officers standing by at the headquarters and nearby streets chased away the remaining protesters at about 3am the following day, when their numbers had dwindled from hundreds at the peak.
Hong Kong's police force has more than 30,000 officers and nearly 4,600 civilian staff. About 8,000 of them are anti-riot officers, who include serving Police Tactical Unit (PTU) personnel and those who receive regular anti-riot and tactical training.
But a force insider said all officers received basic anti-riot training when they were recruited, and many had joined the PTU previously.
"If necessary, officers will also be drafted in from more than 20 police districts across the city," the source said, adding that auxiliary officers would be deployed to maintain a regular presence on the streets. "At that stage, police will continue to be tolerant unless our cordon lines are stormed and under attack. It is to avoid unwanted clashes with protesters."
Meanwhile, a first-year student from Education University jumped to her death in Fanling in an apparent protest against the extradition bill.
Lo Hiu-yan, 21, who was studying creative arts and culture with a major in music, left a message at a staircase on an upper floor of Fuk Tai House in Ka Fuk Estate, calling for, among other things, the complete withdrawal of the bill. She was confirmed dead at the scene by ambulance crew.
Lo, who lived in Sheung Shui, had emotional issues and had sought medical help, a police source said. She had previously attempted suicide when she was in Form Five. She broke up with her boyfriend in March, the source said.
A university spokesman said the institution was shocked and grieved her death. It was trying to reach her family to provide help. A 24-hour hotline for students was also available at 8208 1155.
The university's student union will hold a vigil on Sunday afternoon at the Central Plaza of its Tai Po campus.
If you, or someone you know, are having suicidal thoughts, help is available. For Hong Kong, dial +852 2896 0000 for The Samaritans or +852 2382 0000 for Suicide Prevention Services. In the US, call The National Suicide Prevention Lifeline on +1 800 273 8255. For a list of other nations' helplines, see this page Additional reporting by Danny Mok
This article appeared in the South China Morning Post print edition as: Huge lockdown ahead of handover anniversaryMassive lockdown ahead of ceremonies to mark 22nd anniversary of handover