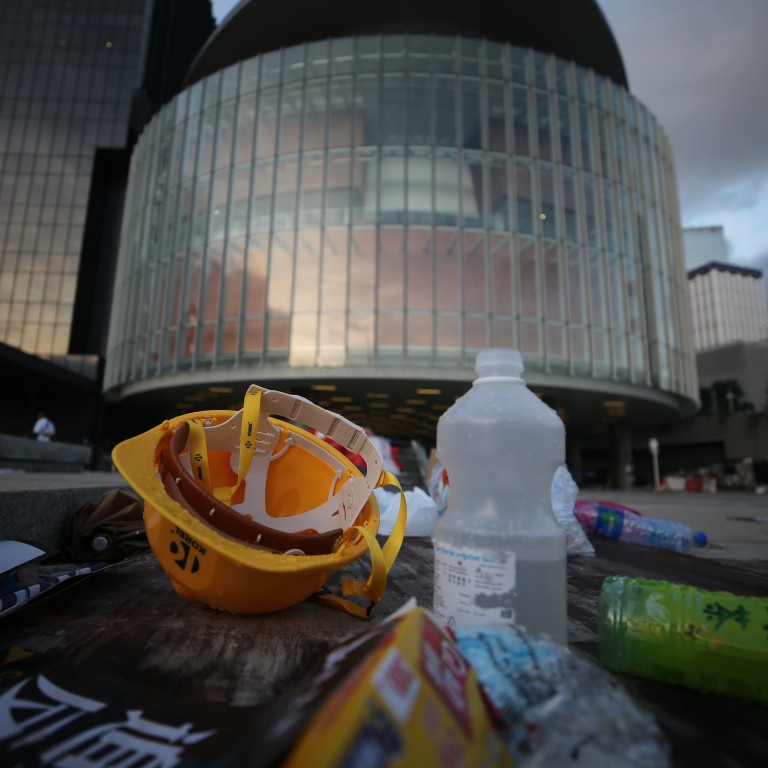 Trashed Hong Kong legislature out of action for two weeks because of damage caused by protesters, says council president Andrew Leung
Meetings cancelled at Legislative Council after raid brings down security system, power supply and fire alarms
Council president says 'many things are lost' after declining to confirm whether computers were stolen by protesters
Hong Kong's trashed legislative headquarters will be out of action for the next two weeks with all meetings cancelled as violent protests drew renewed global attention to political unrest in the city.
Legislative Council president Andrew Leung Kwan-yuen, expressing his sadness and deep regret over the incursion, said on Tuesday the building's entrance, meeting facilities and security system were vandalised during the incident, with crucial infrastructure brought down.
While the government's headquarters were also temporarily closed for security reasons, forcing thousands of civil servants to work elsewhere, the Executive Council's weekly meeting – which had been cancelled for the past two weeks – went ahead but at Government House.
A day after hundreds of protesters stormed the city's main political hub, with some
breaking into the legislature itself,
calm was restored although the complex remained in disarray and was sealed off by police.
Situated next to government headquarters, metal barricades, helmets, umbrellas, placards, broken glass and other rubbish, were strewn across the complex, while most of its metal fence had been ripped away.
After inspecting the Legco building for about an hour on Tuesday morning, Leung said a full restoration would take a long time to complete.
He said it would not be feasible for the council to hold meetings in rooms within the complex that were not damaged, or at other venues.
"Secretariat staff must first focus on resuming operations in Legco, so it's not feasible for the council to hold meetings at other venues in the near future," Leung said.
"Although some rooms in the Legco building are not damaged, the security system, power supply and fire alarm systems are down."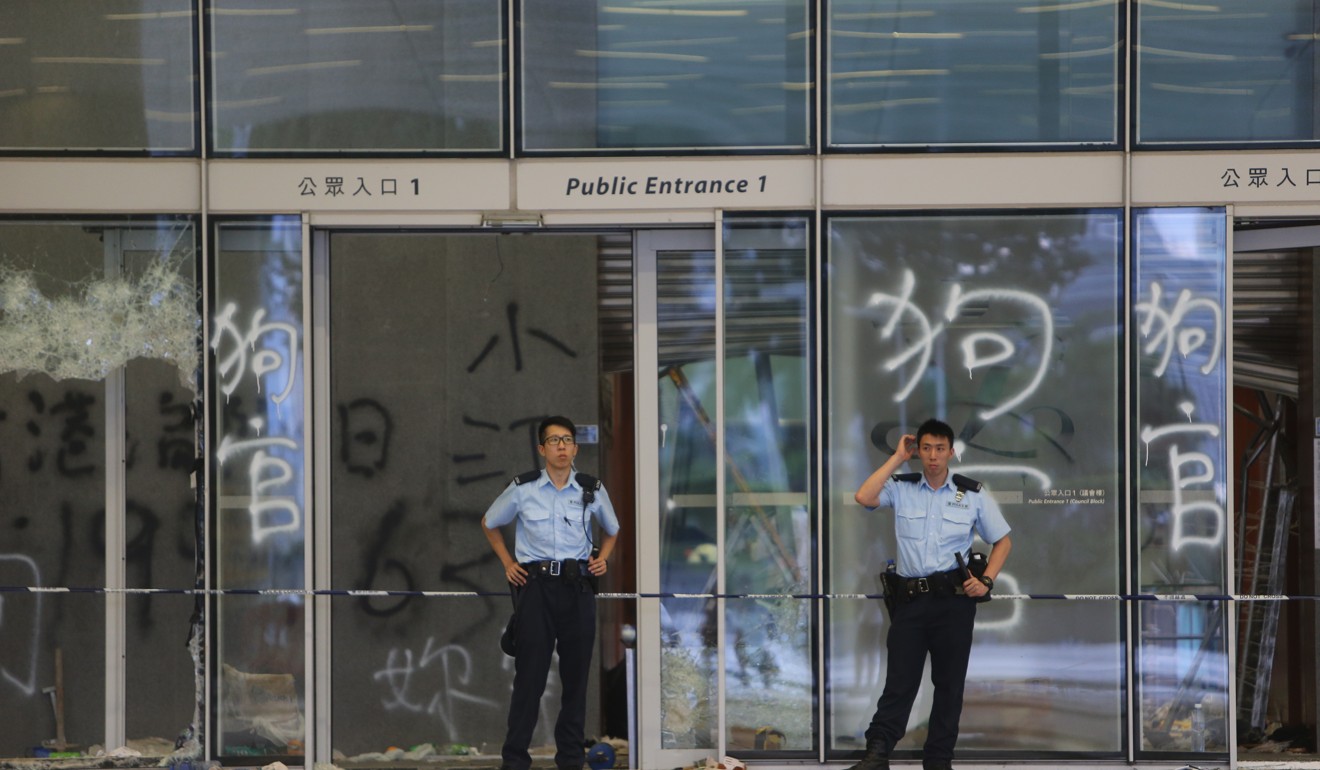 Leung declined to confirm if computer hard drives and storage devices in the building were missing. "Many things are lost. We are still counting," Leung said.
When asked about the destruction of his portrait by protesters, Leung said he was "saddened and heartbroken", but did not take it as a special message from the protesters.
"My portrait is simply a portrait … I don't have time to think about the issue," he said.
Leung also declined to comment on the police's decision to leave the building on Monday evening, when protesters were trying to break in. "We left the decision of operations to police," he said.
As of Tuesday, all members of the public, including cleaning staff, were banned from entering the premises.
After battering their way into the Legco complex, hundreds of protesters vandalised the interior and tore down portraits of the city's political leaders.
They broke into the main chamber and sprayed slogans on the walls, covered Hong Kong's official emblem with black paint, and draped a British colonial flag over the president's podium.
The Finance Committee was set to hold extra meetings up until July 20 to pass financial allocations in 44 policy areas, including preliminary research funding for the controversial East Lantau Metropolis scheme.
Speaking separately from Leung, the committee chairman Chan Kin-por said the committee had to suspend for two weeks as well.
"I have told [convener of the pan-democratic camp] Claudia Mo about the arrangement and she didn't hold an opinion against it," Chan said.
Chan added he was concerned with safety issues and whether the electronic voting system in Legco would be in working order.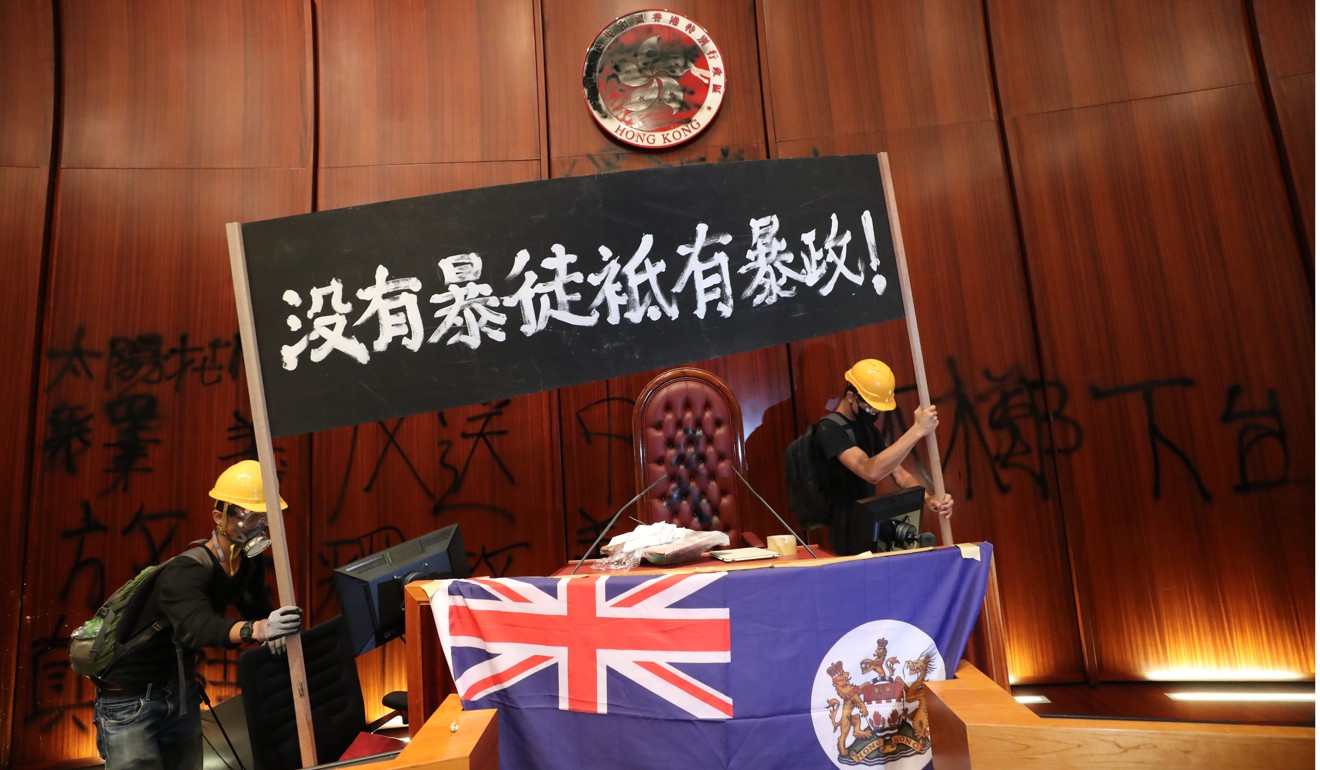 "If we rush to have meetings, would legislators focus on financial issues, or will they use the chance to criticise the government, and attract more people to the Legco?" Chan said.
Chan said he thought about moving the meeting outside Legco, but added there might be legal and technical constraints.
"I think there are one to two places where council meetings can be convened but if we want to declare a place our chamber, we will have to pass some legal procedures and even gazette the arrangement," Chan said.
"To be honest I don't know what are the procedures for the Financial Committee because I never expected such a situation."
The secretariat of the Civil Human Rights Front, the organisers of the annual July 1 march, called on "friends who care and love Hong Kong" to stand in solidarity with protesters who stormed Legco on Monday, and said they sympathised with the tactics.
In a statement issued on Tuesday morning, the group said: "The students last night ... were actually taking a more courageous step than all of us."
The front appealed to supporters of the movement not to disown their actions.
"The fight hasn't ended," the statement said. "Let's fight against lies, cynicism, fear and the sense of helplessness in face of totalitarianism in our family, circle of friends and communities."
Pro-establishment lawmaker Priscilla Leung Mei-fun, who went back to Legco to retrieve some documents on Tuesday morning, decried the acts of violence and suggested those involved should hand themselves into police.
"This is our workplace, it's wrong for them to vent anger this way," Leung said, urging protesters to come forward and take responsibility for their actions.
Lawmaker Eddie Chu Hoi-dick said the police and the Legco secretariat were set to establish a temporary registration system later on Tuesday for people going in and out of the building.
"The police said it had become a crime scene, so they should be in charge of admission," Chu said. "I didn't argue with them because we all understand the situation now and we should give them some time to handle it."
Chu said staff from the Electrical and Mechanical Services Department have also been sent into the complex to inspect the power system.
"The complex is under emergency power supply, meaning that only toilets and some emergency facilities are supported," Chu said.
The lawmaker and his colleague, Lam Cheuk-ting, could not get into their offices on the 9th floor of the building, and Chu said he had to "find a random place" inside to spend the night.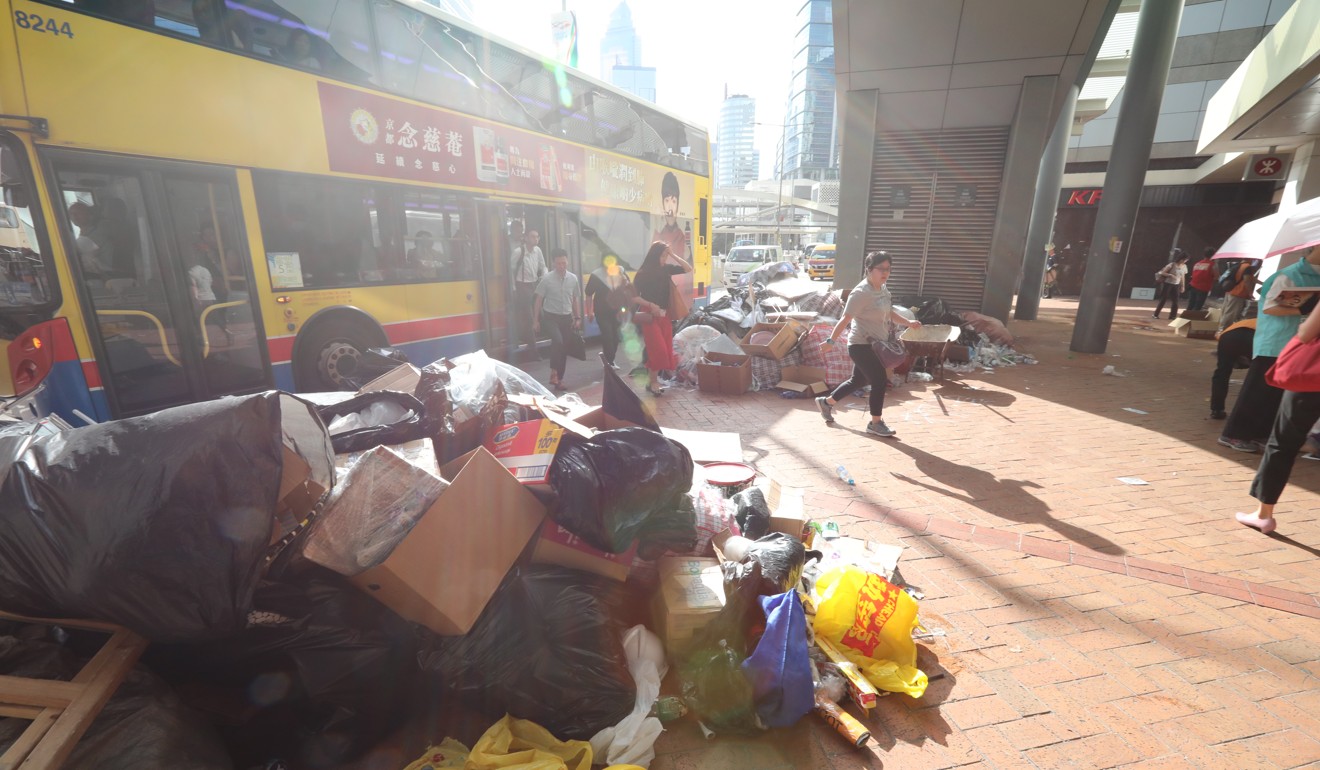 Democracy activist Joshua Wong Chi-fung, who is also a legislative assistant for opposition lawmaker Au Nok-hin, expressed his dissatisfaction with not being able to get into the building to retrieve a computer and other personal belongings.
He claimed he had been stopped from entering by police, while assistants for pro-Beijing lawmakers could 'enter smoothly'.
Earlier, protesters repeated their demands for the city's leader, Carrie Lam Cheng Yuet-ngor, to resign and for the government to formally withdraw the now-suspended extradition bill.
The crowd was finally dispersed at about 1am after the police fired rounds of tear gas outside the building on Tim Mei Avenue.
The protest made front-page headlines in nearly a dozen newspapers in New York and Britain.
In a press conference at 4am, Lam condemned the violence and chaos of the protest, and vowed to go after the culprits to the end.
In the aftermath, Admiralty, the area where the trouble was largely concentrated, was left in disarray, with the streets littered with helmets, umbrellas, and cardboard that had been used as makeshift shields.
On Tuesday at about 7am, traffic returned to normal on Harcourt Road, one of the main arteries running through the city's business district.
Cleaners picked up rubbish left on the streets with a crane truck, and with no protesters in sight, only a few police officers stood guard.
At 6.30am, New World First Bus and Citybus diverted four bus routes, the 40M, 905, 905P and 914X.
The Education Bureau issued a warning to schools in Admiralty and Wan Chai about possible delays caused by congestion, and urged them to be flexible in handling late arrivals.
Two panel meetings at Legco scheduled for the afternoon have been cancelled.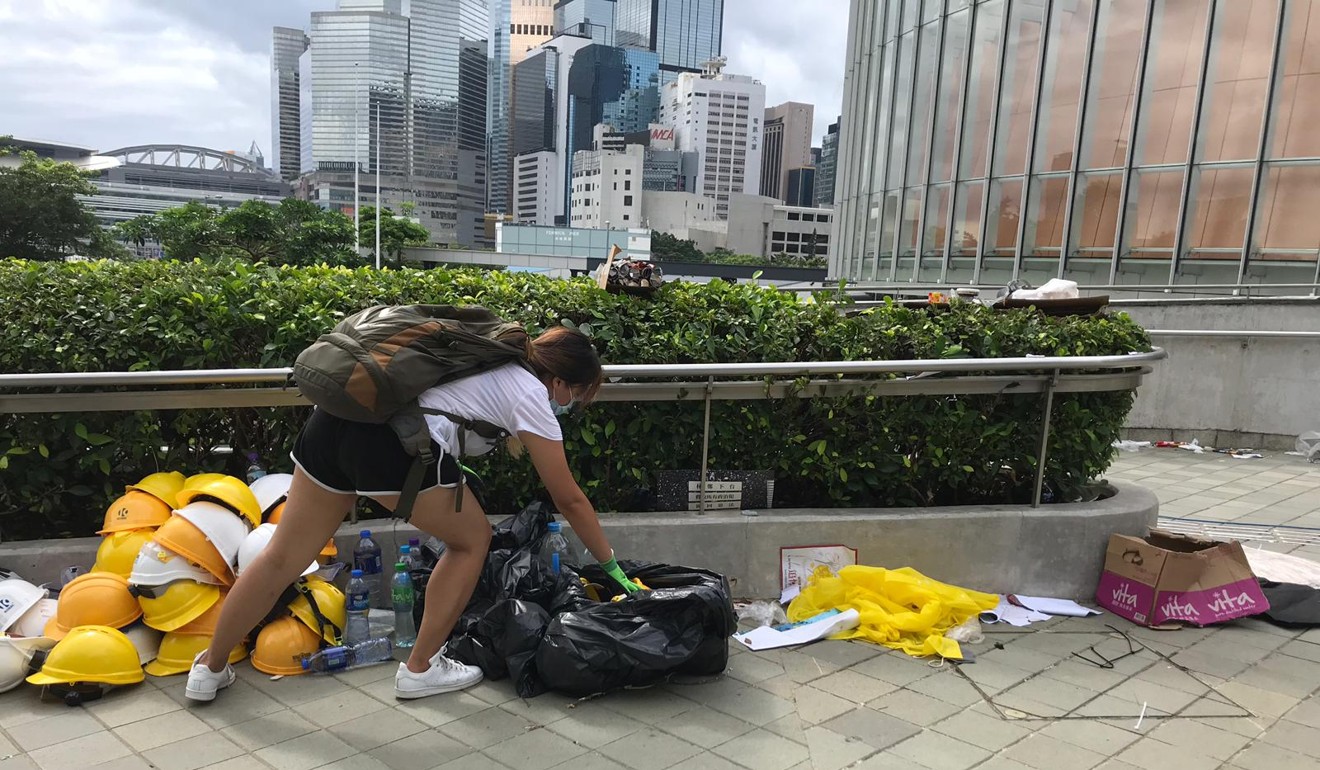 On the streets of Admiralty, 25-year-old Blue Wong was cleaning up after protesters since 6am on Tuesday.
"I couldn't sleep well last night because I was so worried that people would get injured or arrested," she said.
Wong was one of the hundreds of thousands of people who joined the July 1 march on Monday, but did not take part in the storming of Legco.
"I do not agree with it, but I won't oppose it," Wong said. "No matter what means we [protesters] have adopted, we share the same goal.
"I haven't spoken enough with those who joined the action, so I haven't fully understood them."
Wong was not worried that the violence would compromise public sympathy for the protesters.
"It appears to me that many of the moderate ones have begun to support those who took action, because they are doing something," she said.
Wong said she was suspicious of the way the government and police handled the situation.
"So much violence was deployed when people were rallying peacefully [on June 12], but they did nothing when protesters were smashing glass and pounding on doors?" she said.
Additional reporting by Sum Lok-kei