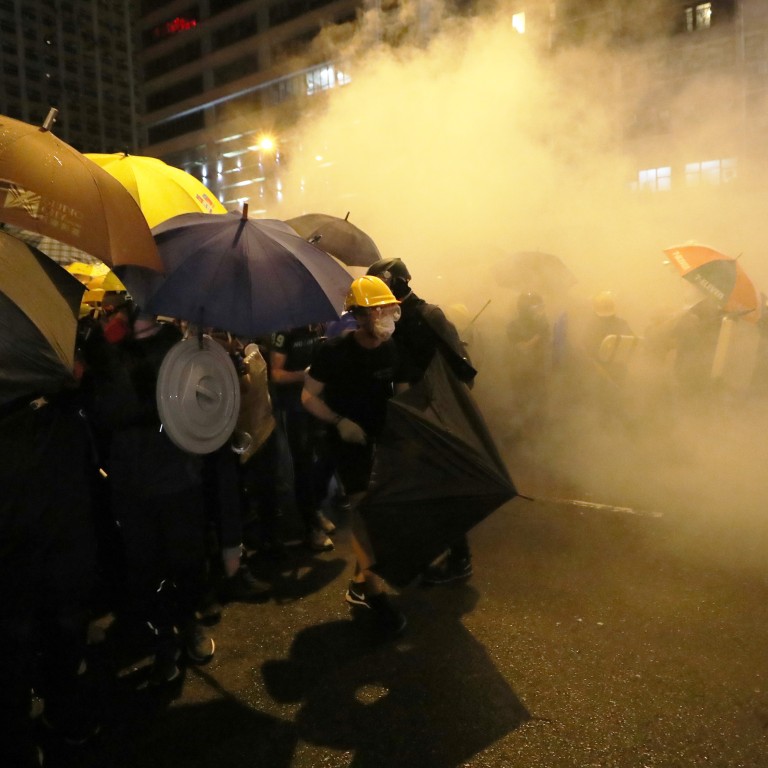 Central Hong Kong becomes battleground as riot police clash with protesters after third major march against extradition bill and siege of Beijing's liaison office
'We have nothing to lose now, I am not afraid', protester shouts as late-night clashes erupt between riot police and masked, helmeted youths in black
Government condemns protesters for changing the approved march route and vandalising China's national emblem at liaison office
The heart of Hong Kong's business district was turned into a war zone on Sunday night as riot police fired tear gas and rubber bullets into crowds of protesters to chase them off the streets, after a day of defiance that saw them lay siege to Beijing's liaison office for the first time in the social unrest over the now-suspended extradition bill.
After another massive anti-government march from Causeway Bay to Wan Chai in the afternoon broke up into rolling waves of protests that spread to Admiralty, Central and Sheung Wan, the main road outside the Hong Kong-Macau Ferry Terminal became the smoke-filled battleground for late-night clashes between heavily geared riot police and masked and helmeted youths in black.
Nearly two hours after police warned they would move in to clear the roads, fully equipped officers from the elite Special Tactical Squad let loose with tear gas and rubber bullets, while protesters fought back or counter-attacked with bottles, bricks, poles, and umbrellas.
"We have nothing to lose now, I am not afraid," one of them shouted, while fires lit by protesters burned at the barricades they set up.
The government issued a late-night statement to strongly condemn protesters for deviating from their mandated march route and challenging Beijing's sovereignty by besieging the liaison office, where they vandalised the national emblem.
The government vowed to investigate the attack, and the liaison office followed up with a statement saying while it respected those who expressed their views peacefully, marches had repeatedly ended in unlawful demonstrations, with protesters charging police cordons, laying siege to police headquarters and occupying roads.
The liaison office statement said: "The Hong Kong Special Administrative Region (HKSAR) Government strongly condemns the protesters who blatantly challenged the national sovereignty by maliciously besieging and storming the [liaison] building as well as defacing the national emblem. The HKSAR Government will deal with these acts in a serious manner in accordance with the law."
It also recapped how, a day earlier, authorities seized what was billed as the largest amount of the deadliest explosives ever uncovered in the city, along with pro-independence materials, from a home-made laboratory in a Tsuen Wan industrial building.
"The [local government] is concerned that a small number of radicals incited the masses in an organised manner, challenged the rule of law, and even stormed the [liaison] office in Hong Kong," the statement said.
"Such acts threaten the law and order in the SAR and 'one country, two systems'. It is totally unacceptable to society."

That was after masked protesters threw eggs at the front of the liaison office building in Sai Ying Pun, the symbol of Beijing's presence in the city, spray-painted obscenities on the walls, blackened security cameras and shone laser light beams at staff trapped inside, before they retreated when they were warned that the riot squad would move in to clear the area.
In a separate outbreak of late-night violence, witnesses said scores of men in white shirts stormed into Yuen Long MTR station and attacked passengers with rods.
Multiple injuries were reported as people on the concourse were also indiscriminately attacked, including opposition lawmaker Lam Cheuk-ting. Reporters at the scene were attacked as well.
At around 11pm, the MTR announced that trains running on the West Rail Line would not stop at the station.
Police arrived at the scene half an hour later.
Hundreds of thousands joined the peaceful main march from Victoria Park in Causeway Bay to Southorn Playground in Wan Chai, but many splintered off in different directions at around 5.30pm, going well beyond the mandated end point.
The Civil Human Rights Front, the organiser of the march, said 430,000 people attended. Police put the figure at 138,000 at its peak.
Large groups advanced to Central, heading for the Court of Final Appeal, occupying Harcourt Road in Admiralty, bringing traffic to a chaotic halt, and later blocking major arteries Connaught Road Central and Connaught Road West.
They also took over Des Voeux Road Central and Pedder Street, among others, many of them taking the protest all the way down Connaught Road Central to the terminal.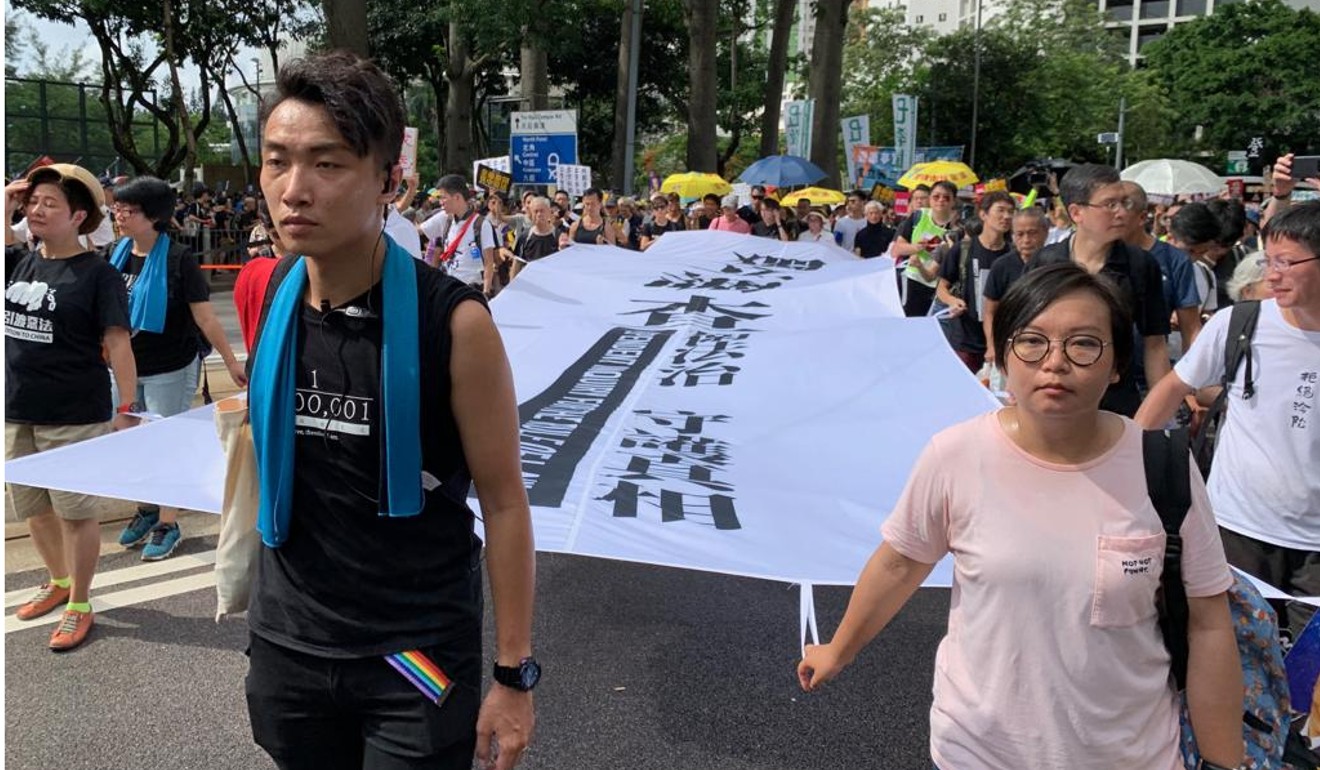 Earlier, brawls broke out between protesters and drivers, one of whom was beaten up when he tried to take them on, arguing they had no right to block his vehicle.
A group of protesters assaulted him with fists, feet and umbrellas, while others attacked his van, smashing its windows.
"You can play and do whatever you want, but don't do this to me," he said, pleading that his vehicle was his livelihood, after some protesters pulled him away from the angry crowd.
Hundreds laid siege to police headquarters in Wan Chai again, this time with the building protected by massive water barricades which protesters turned into another Lennon Wall of Post-it notes criticising law enforcers. They also hurled abuse at officers monitoring them from inside and flashed laser lights at them.
Protesters also attacked the Central Police Station with bricks and spray-painted obscenities on the walls.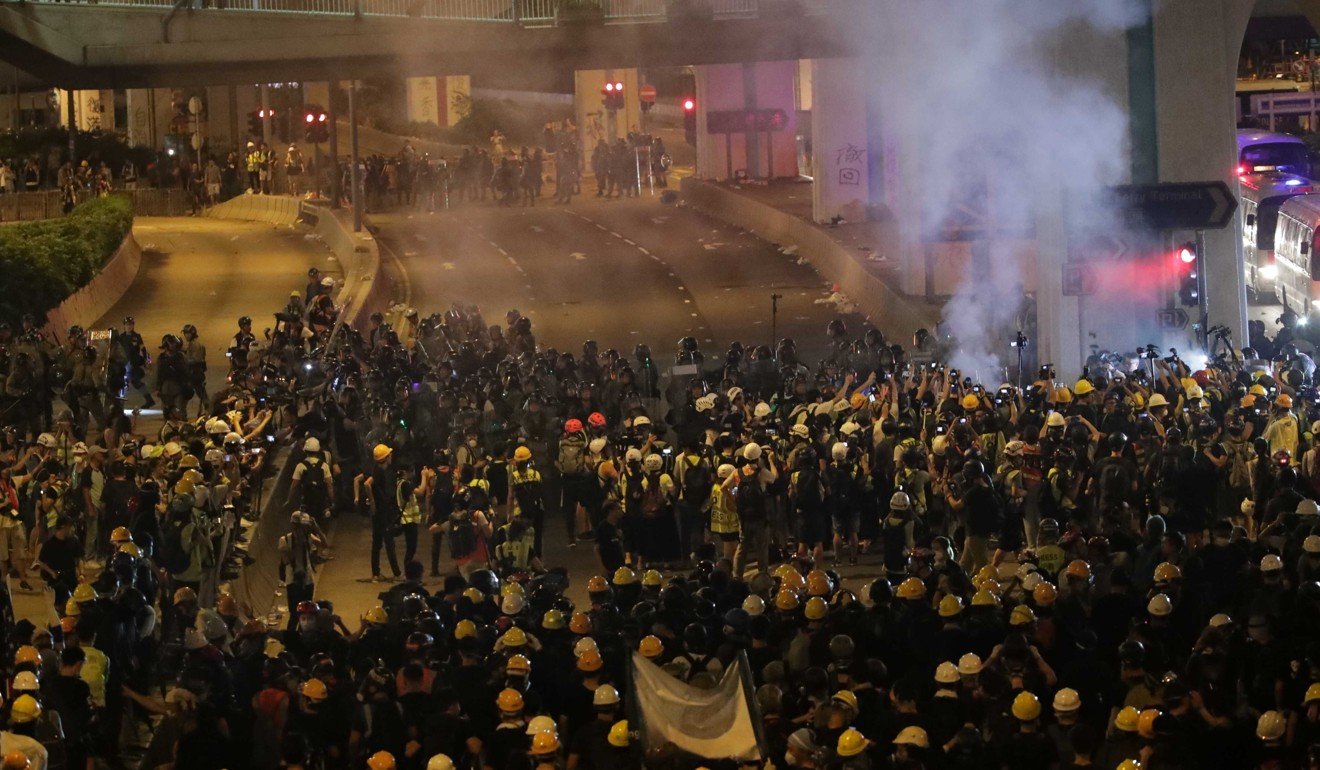 The violence came after a third massive march against the extradition bill and the city's embattled government, amid tightened security measures by police over fears of escalating violence.
The original destination of the march was the Court of Final Appeal in Central. Organiser Civil Human Rights Front had lost its appeal a day earlier against police, who wanted to shorten the route for safety reasons.
Leading the procession were Jimmy Sham Tsz-kit, convenor of the Civil Human Rights Front, lawmakers Helena Wong Pik-wan, Gary Fan Kwok-wai, singer Denise Ho, and media mogul Jimmy Lai Chee-ying.
"Since March 31, time and time again Hongkongers have pounded the streets. Not just with rallies and protests. Now we see
Lennon Walls
blossoming across the city. Our five demands are crystal clear," Sham said.
The front held two massive peaceful marches on June 9 and 16, drawing an estimated 1 million and 2 million people respectively.
The theme of Sunday's march centred on demands made by protesters, among which is the setting up of an independent commission of inquiry to look into complaints about police brutality.
Over the past weeks, protesters and police have clashed in running battles after marches, resulting in casualties and arrests.
Sham also slammed police's crowd control measures as "ridiculous".
"There is no clear guidance from police on how to leave Wan Chai after the march, except to say we should leave from the south side of Wan Chai. But there are big crowds in the same area heading to the book fair, as well as people everywhere in Causeway Bay and Admiralty.
"If there are any disturbances or accidents today, the responsibility lies squarely with police," Sham said.
This article appeared in the South China Morning Post print edition as: city's heart becomes a war zone after day of defiance