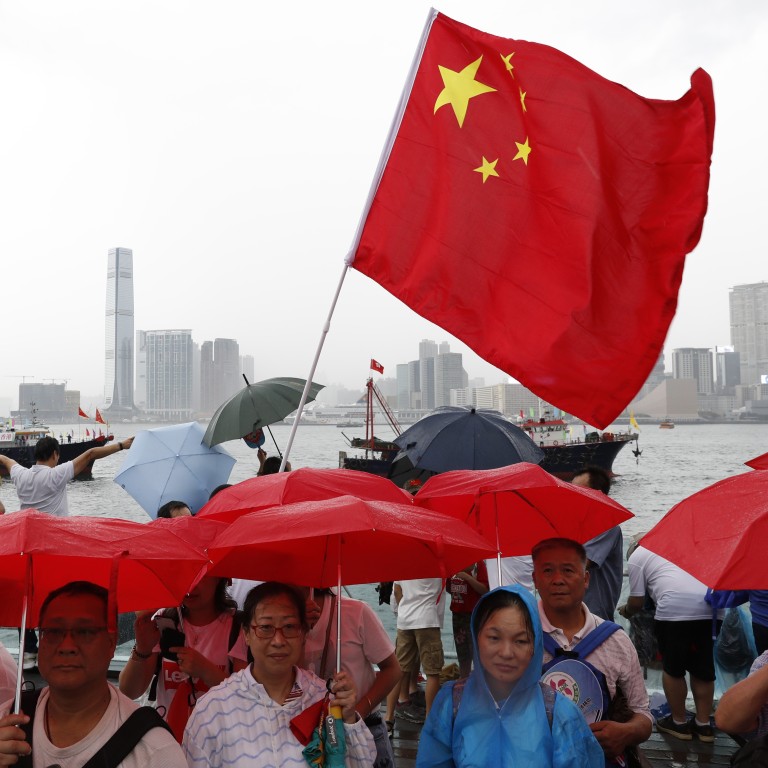 China state media takes aim at 'violent extremists' in Hong Kong
Minority with 'evil intentions' using protest chaos to undermine Chinese development
Xinhua mentions 'external forces' but People's Daily does not
China's main official news outlets have accused "extremists" of using the "chaos" and violence in Hong Kong to disrupt the country's development in commentaries published late on Saturday, ahead of the latest rally against the now-suspended extradition bill on Sunday afternoon.
The tone of the commentaries – by Communist Party mouthpiece People's Daily and state news agency Xinhua – focused on the need for protesters to avoid violence and followed a day of pro-Beijing, pro-police rallies in Hong Kong which organisers said drew 316,000 people on Saturday. Police estimated 103,000 attended at the peak of the event.
The pro-Beijing rally was dubbed "Safeguard Hong Kong" by organisers and denounced the violence used by some protesters against police over the weeks of demonstrations.
"A minority of people harbouring evil intentions, and external forces, not only never condemn the violence, but defend acts of violence … Under their agitation and conniving, violence by extremists has escalated," Xinhua said.
"The mobs and the people behind them do not hesitate to undermine the peaceful life of citizens, and block the future development of the city … what they want to do is nothing less than to paralyse the [Special Administrative Region] government, undermine 'one country, two systems', struggle for governing control of the SAR, and to use chaos in Hong Kong to contain the overall development of China."
People's Daily similarly blamed "extremists" for recent violent acts – citing in particular the damage caused to Hong Kong's Legislative Council building by protesters – in a commentary entitled "opposing violence together, and cherishing the rule of law".
People's Daily also warned that Hong Kong's economy would be hurt "if Hong Kong society cannot firmly say 'no' to violence" and reiterated the central government's support for Lam's administration and the Hong Kong police.
While the Xinhua commentary mentioned the influence of "external forces" for the violence in Hong Kong, the People's Daily piece did not.
Beijing has sharply criticised foreign governments that have spoken in support of protesters. On Thursday the European Union passed a resolution that denounced police violence in Hong Kong and condemned "the constant and increasing interference by China in Hong Kong's internal affairs."
China has demanded that other foreign governments, including the US and Germany, stay out of the city's affairs after they issued statements of concern about the deteriorating room for political expression and freedom of speech in Hong Kong.
On July 1, a number of protesters stormed the Legislative Council building following a peaceful march by hundreds of thousands of Hongkongers demanding the resignation of Chief Executive Carrie Lam Cheng Yuet-ngor. Hong Kong hospital authorities said dozens of people sustained injuries, and police said several officers were injured.
There was further violence in a shopping centre last Sunday following a large rally in the New Territories.