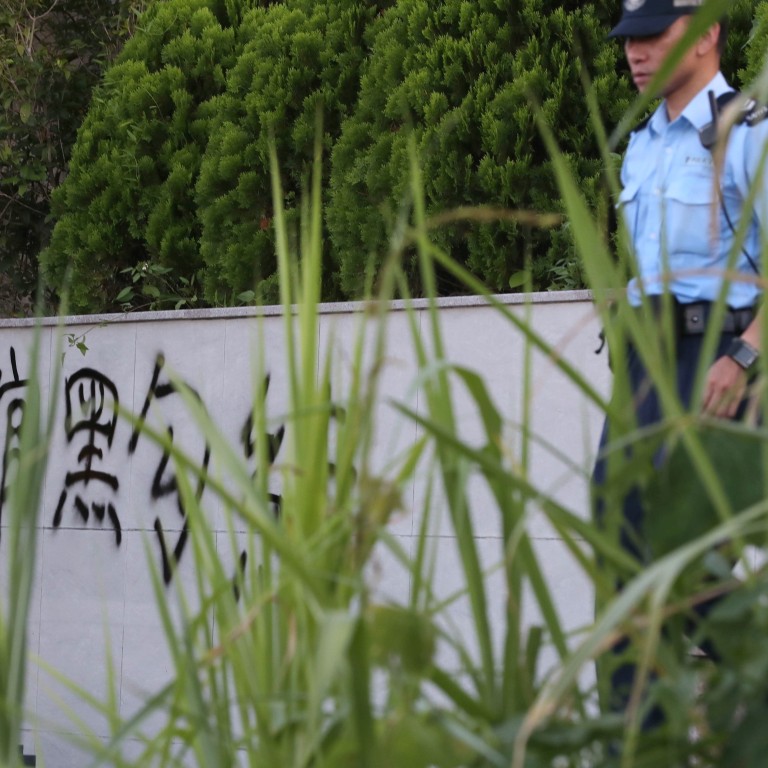 Hong Kong protest hate figure Junius Ho's parents' graves vandalised amid extradition bill anger
The rural leader has come in for criticism over alleged links with masked men who attacked subway passengers on Sunday
Earlier in the day Ho stormed out of a TV interview after a heated row with a pro-democracy legislator
A fiery pro-Beijing lawmaker who has become a hate figure for Hong Kong's anti-government protest movement suffered a deeply personal attack on Tuesday when his parents' graves were trashed.
Many opposing the now-suspended extradition bill have made Junius Ho Kwan-yiu the target of their anger after he was seen shaking hands with men in white T-shirts who were accused of assaulting protesters and train passengers in the northern town of Yuen Long.
While police had cordoned off the site in Leung Tin village on Tuesday afternoon after the news broke, pictures showing the vandalised headstones were posted on Facebook and popular online forum LIHKG. One showed someone aiming a middle finger at one of the graves, which also had also been defaced with a spray-painted profanity.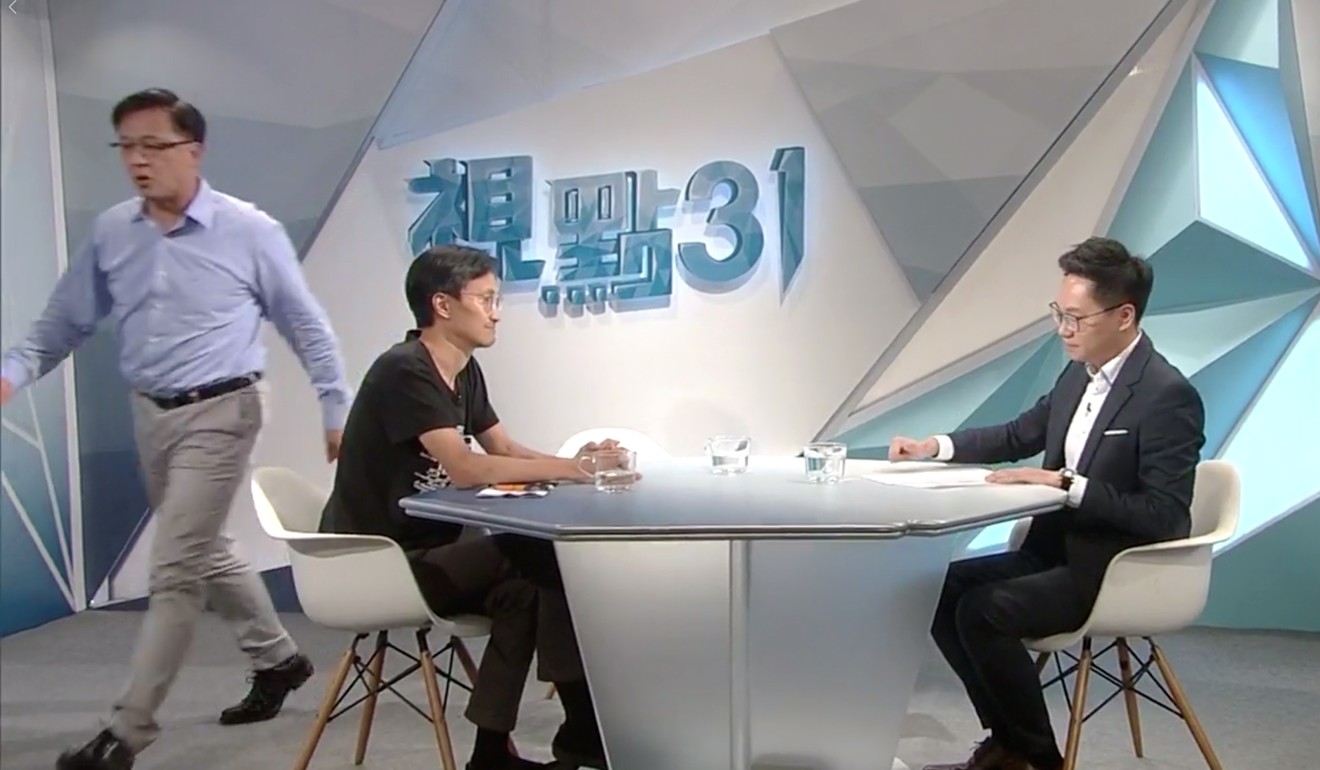 The Chinese words for "official-triad collusion" had also been painted on the wall behind the gravestones, referring to the involvement of suspected gangsters in Sunday night's attacks on protesters and travellers at Yuen Long's MTR station.
After inspecting the graves in the evening, a visibly upset Ho, who filed a police complaint, called on the perpetrators to surrender themselves to the authorities because they had done "something hated by both man and God". 
"You can come to me and talk if you have issues with me," he said. "You don't have to mess with my parents' graves … If you are willing to confess, my parents and I will forgive you."
The desecration of graves is deeply offensive in Chinese culture because of Confucian concepts of filial piety and reverence for ancestors.
Thirty-nine pro-establishment lawmakers issued a joint statement on Tuesday night deploring the vandalism and urging police to pursue the culprits.
The outspoken lawmaker stormed out of a live television interview earlier in the day, after opposition legislator Eddie Chu Hoi-dick refused to call for a halt to more anti-government protests that are planned for the coming weekend.
The pair were taking part in a current affairs programme when Ho lost his temper and pounded his fists on the table.
"You are a lawmaker who brought violence into the Legislative Council," Ho said. "Now you are spreading violence to communities on a scale a hundred times larger. You are an outright scumbag!"
At least 45 people were injured when the mob attacked anyone in their path at Yuen Long's MTR station, including passengers on a train, passers-by and protesters returning from
a major march against the extradition bill
.
Police later said that more than 100 men were involved in the attacks, including members of the notorious 14K and Wo Shing Wo triad gangs.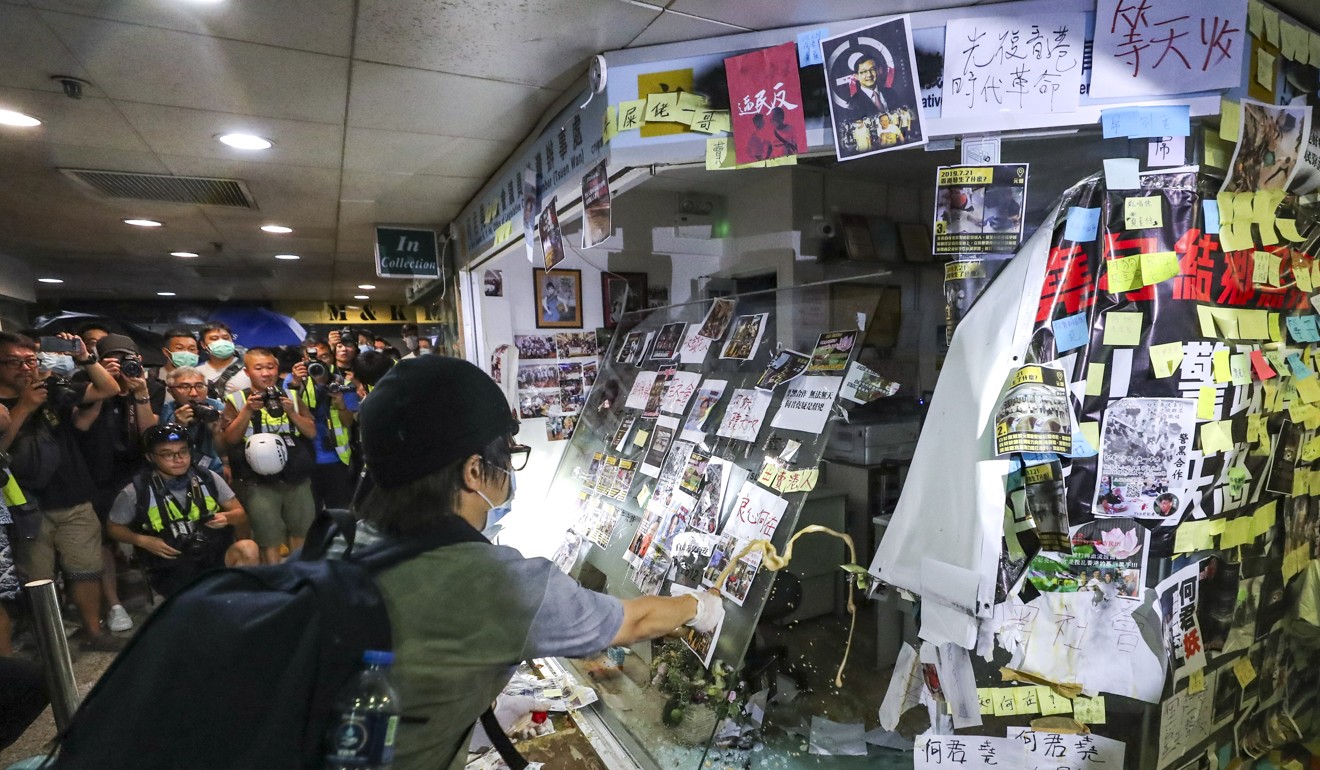 Ho raised eyebrows when a video clip circulated online showed him shaking hands and thanking some of the men, dressed in white T-shirts that night.
Ho denied online rumours that he had applied for, or was seeking, United States citizenship.
A group of 20 young protesters rallied outside Ho's Tin Shui Wai district office, a day after others smashed glass panels and pelted eggs at his base in Tsuen Wan.
Chanting "evil Ho harms citizens, colludes with thugs", protesters put up a Lennon Wall of paper messages that included offensive references to his mother.
By the time police officers arrived after receiving a complaint from a member of Ho's staff, the protesters had already left.
Ho's Tuen Mun office at Melody Garden was closed when dozens of masked protesters turned up to post colourful stickers and notes on the gate at 3.30pm.
Separately, an online petition was started on Tuesday morning by people claiming to be from the sports community, urging the Jockey Club to revoke Ho's membership and retire his horses. 
The initiators wrote in the petition that they had collected thousands of signatures and would announce further actions when the number reached 10,000.
Ho's Wikipedia page had been revised more than 70 times since midnight on Sunday, with additions including phrases such as "is known for advocating violence against his opponents".
This article appeared in the South China Morning Post print edition as: Attackers desecrate graves of lawmaker's parents Attackers desecrate graves of lawmaker's parents